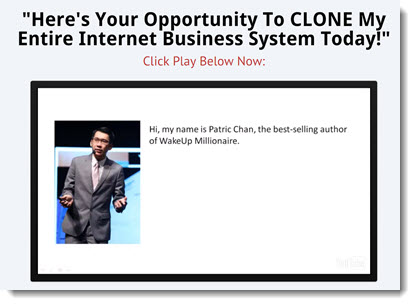 Imagine if you had an entirely automated system to make money online! That's what Patric Chan is promising to you. So, is CB Passive Income 3.0 a Scam or legit?
Find out the truth withing my review below.
As you will see, Patric's system doesn't live up to its promises. If you want to learn about the strategy I am using to make $500/month (and growing), check out my #1 recommendation.
CB Passive Income 3.0 Review
---
 Product Name: CB Passive Income 3.0
Website: www.cbpassiveincome30.com
Price : $37 ( monthly payment) or $97 (one time payment) 
Business Type: Internet Marketing
Owner: Patric Chan
Recommended?

NO

[yasr_overall_rating size="medium"]

2.2/5
What is CB Passive Income?

 
---
CB Passive Income 3.0 is a product aimed at generating an income mainly through email marketing.
The owner, Patric Chan, uses the principles of affiliate marketing, which is a legit and great method to make money online.
However, the way he is promoting his product makes people believe he created an innovative way to succeed online without too much effort.
Unfortunately, many people buy into this idea and end up very frustrated once they realize it's not as easy as they thought it would be. Even worse, they end up losing faith in internet marketing altogether.
How Does it Work?
---
Patric states that he has created a unique software that generates a unique link (affiliate link). When someone clicks this link, it directs the person to what he calls a secret web page, which in fact is a simple subscription page.
This page, also known as a squeeze page or opt-in page, is used to entice people by providing a marketing software, training courses and reports for free.
This is an example of Patric's secret page: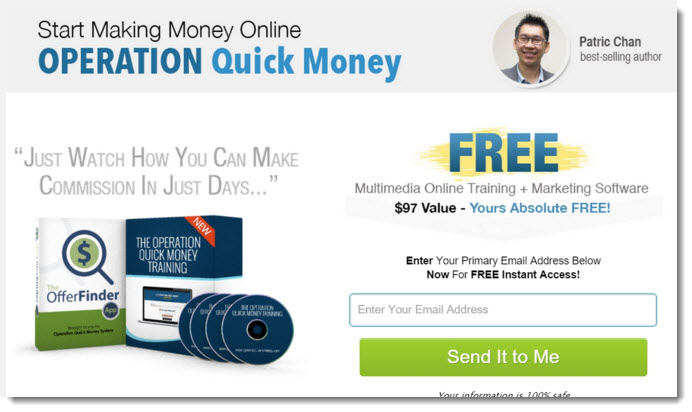 By submitting an email account in this squeeze page, your subscribers will have access the gift entitled Operation Quick Money.
It includes a very basic training on how to earn money online and the "valuable" software (a simple APP) named APP Offer Finder. This APP searches for profitable Clickbank affiliate programs.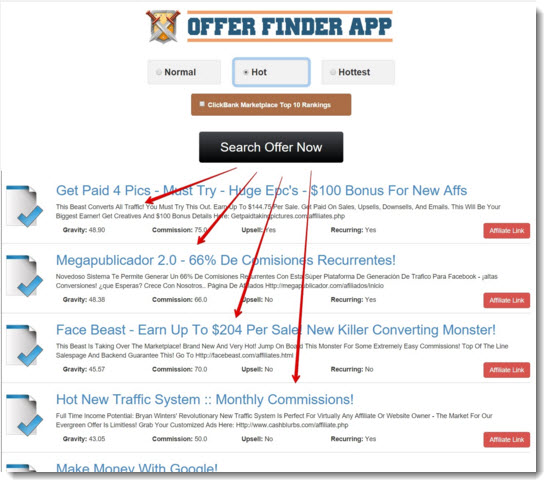 The system will then keep sending reports and promotional emails of ClickBank products (including CB Passive Income) with your affiliate link attached to your subscribers.
If someone clicks it and buys a product, you earn 50% commission on the sale.
Only One Simple Task  
---
Patric says that building an online business on your own from scratch is tough and time-consuming. Thus, he is trying to convince people that his system does all the heavy lifting!
The reason why he does that is simply to make you buy his affiliate marketing system. Here is a list of all the things Patric says you won't need to do: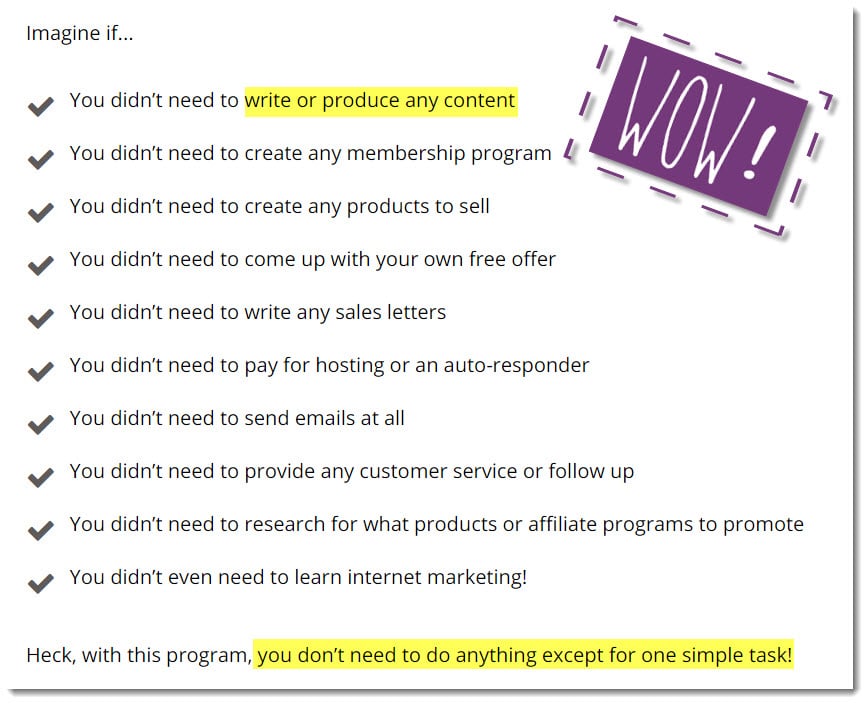 The squeeze pages, free "gifts" and the recurring emails (email marketing) will all be done for you.

But, there will be only one simple, straightforward, elementary task for you to accomplish.
Your task is to promote the squeeze page to build a list of subscribers. Wait a minute, this is not so simple as he wants you to believe!
He doesn't provide any information as to how you are supposed to do that. He only says he will give training on how to get traffic.
Who Works for Whom? 
---
A website is a strong foundation for any online business. When you provide valuable and helpful content, you can attract visitors from all over the world and build trust.
Now, in Patric's system, the website creation is neglected in the first moment when he is selling the idea of easy money for you. At the beginning of his talk, it looked like everything would be taken care of.
Take a look at this statement:
And you don't need to do any work at all, because I AM WORKING FOR YOU, for free.

It's like having me create content for you, do all of the marketing for you and continue to think of ways how you can make even MORE money.
According to him, there would be no need to write content and even learn internet marketing.
However, the training itself is focused on the same internet marketing techniques he said you wouldn't need.
In fact, one of the bonuses of The CB Passive Income License Program 3.0 is actually training on search engine optimization for your website.
Now, read the statement below:
Imagine if I have just 10 additional students who can create a new passive income system for me to use too – I've just added another 10 new income streams, without doing any work at all.
In my opinion, there is no such thing as "work for you" system in internet marketing. YOU are the one who has to work hard to earn YOUR passive income.
The Training 
---
The training includes video tutorials and ebooks that cover some techniques used in internet marketing. The training taps into the following topics:

Video Marketing (Youtube)
Social media marketing (Facebook, Google +, Tweeter)
Forum marketing
Email Marketing
Search engine optimization (use of keywords and Google ranking factors)
Paid Advertising
Other methods such as guest blogging, viral reports, StumbleUpon and Squidoo.
There is a lot of training inside, but they are quite basic. The lack of instant support is also another negative point. You can only request it by email, and there is no community to provide instant help or feedback.
The Price
---
There are two options:
The monthly option – $37
The one-time investment option – $97
There is an option to try the system for $1. You can try it for 14 days, and after that, you will be automatically be charged $37 monthly.
My Final Opinion 
---
CB Passive Income tries to grab the attention of newbies by promising an easy job. The system consists of squeeze pages, training, and an APP given as a freebie to attract subscribers.

This reward platform is going viral! Cash out via PayPal, Visa, Gift Cards, and in-game currencies - Click here to find out how to generate an extra $10+ per day! 
The problem is that the owner neglects the hard work involved in getting significant traffic.
Finally, I just would like to highlight that there is no easy road to success. However, if you feel comfortable writing helpful articles for your website, you will be able to get traffic and make sales.

It is only a matter of time and perseverance.
Verdict:

Not Recommended 
My #1 Recommendation
---
If you want to build an online business, I suggest you check out my No.1 recommended platform.
They will give you in-depth training, excellent support and all the tools you need without charging you an arm and a leg.
In fact, they have a free account that allows you to take a peek at the member's area and see how everything works without spending a dime.
I was a complete newbie 2 years ago, but after watching all the lessons and taking massive action, I built a website that is now generating over $900/mo in affiliate commissions.
Click this link if you want to learn more about it.
Do you have any experience with CB Passive Income? What do you think about Patric's so-called automated system? You can leave your thoughts or questions below! Thanks for reading this review! I hope it was helpful.
Your Friend,
Stefan
PS. This review is based on my own opinion and experiences with the product.