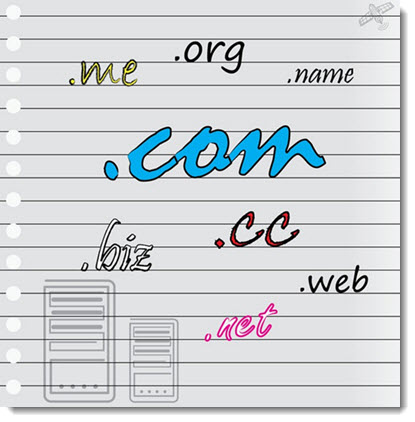 After choosing your website builder platform and your niche market, the next step is to decide on a domain name. A domain name represents the brand and the internet address of your business.
It is important to choose it carefully because of the influence it can have on how your business  is and on how your website is going to rank in the search engines.
You have an important choice ahead! But don't worry, this post is a guidance for selecting an amazing domain name for your website.
Importance of Having Your Own Domain
---
Having your own domain is very important because of 3 main factors:
Factor #1:  it is your own asset with the potential to generate revenue and to increase in value over time.
Factor #2: you have complete control of it. It is like owning a property where you can do whatever you like with it (make it bigger, refurbish or sell it).
Factor #3: the search engines will rank it much better than a subdomain. This is crucial because the amount of traffic and conversions that results from it will be highly affected by your rankings in the search engines.
Where to Find a Domain? 
---
I highly recommend domain registrars such as Namecheap.com or GoDaddy.com to buy your new domain. They are ICCAN accredited (very reliable) and charge around $5 to $30 per year. My domain, for example, I purchased with Namecheap for a bargain of $10.
Choose a Clean and Memorable Name
---
It is a good idea to choose a website name which is easy to pronounce and type. The idea is to make it simple so that when someone is recommending your website via text or even word of mouth, they can easily remember and make no mistakes. Therefore, it is advisable to include short and simple words, avoid numbers, dashes, slangs and especially misspellings.
These are some domain types you should avoid:
http://how-2-prepare-healthy-snacks.com
Why not? Dashes and numbers!
http://avoiddodgyscamsontheinternetnow.com
Why not? Use of slang word (dodgy) and extremely long!
Brandable VS Keyword Rich Domains
---
There are two types of domains and both have their pros and cons. Here are them:
Keywords:
Keywords are simply words or phrases people type in the search engines to look for specific information. If your website domain has the exact keyword people are typing, it can have a slight advantage over other websites and get a lot of traffic for that specific search. I said, "slight advantage" because it used to be more efficient in terms of rankings than now.
In the past, many people took advantage of keyword rich domains. They created poor content websites because it used to rank high and get tons of traffic no matter what. With Google's ever-improving algorithm, this easy traffic is long gone. However, you can still use popular keywords for your domain to get the edge for that specific query, as long as you keep focus on quality content and other critical factors (click here to know the 5 critical factors).
Here are some examples of keyword rich domains:
http://waystoavoidscamsonline.com
http://losebellyfast.com
http://thebestwinterboots.com
One disadvantage of using this type of domain is that if you target a specific kind of products, as in thebestwinterboots.com, it will be awkward to promote in a wider niche in the future. For example, what if you want to promote winter jackets?
Just remember that tons of other keywords will be naturally ranked from your content, so you don't need to be worried about ranking for one in particular as to make this influence on your brand name.
Brandable – My Favorite Option
This type does not contain an exact match keyword, but it can be memorable and reflect the essence of your business.
I highly encourage you to choose a brandable domain because it can give you more flexibility in terms of content creation, product, and services promotion, etc.

In addition, as you build up your reputation/authority within your niche, your brand will become well-known and people will connect with what your business is all about. This can be really powerful!
Take, for example, Apple, Google, BMW, Sony and many others. The brand name itself tells nothing about the kinds of products and services each company offers, but everybody has an emotional connection with what they represent in terms of quality, reputation, exclusivity, and so on.
Use a Top Level Domain Extension (TLD) for Better Rankings 
---
When you go to a domain registrar to buy a domain, you are faced with many extension options such as .com, .org, .net, .news, .info among many others. Considering you are creating a website for a business and want to target an international audience, I suggest you give priority for the following extensions:
Among them, the .com is your best choice for two main reasons:
Reason #1: Your website is going to gain much more visibility in search engines like Google, Bing, and Yahoo. This will ultimately have an impact on traffic and conversions. If your competitor has the same domain name as yours but a .com website, you will probably have a hard time ranking higher than him with an unconventional extension. You don't want to have this disadvantage!
Reason #2: It is much easier for people to remember. The .com extension is already fixed in people's minds when it comes to typing a web address on their browser.
If you have decided on a domain which is not available as a .com, your next good option is .org. However, I highly encourage you to rethink about your brand name if you cannot find a .com version available. The benefits will definitely be worth the change.
If your focus is on a local audience, a good option is to choose a top level domain specific to a country. Some examples include .ca (Canada), .uk (United Kingdom), .de (Germany), .br (Brazil).
Still Undecided? Start Your Website with a Free Subdomain
---

When I got started in internet marketing, I had a hard time deciding on a domain name for myroomismyoffice.com.
Fortunately, this didn't prevent me from start working on it because I used a free subdomain with SiteRubix. In the beginning, my sub-domain website was myroomismyoffice.siterubix.com.
After I felt confident enough, I bought my domain, and I transferred my entire SiteRubix website to my own domain with a simple click. That was great!
Starting your website or blog with a sub-domain is ideal, especially for a newbie. It is really common in the beginning to feel indecisive about a niche and/or a domain name and I think it is comforting to have the power to go back and change things. This can save you money and headaches.
Just to clarify, a sub-domain is a part of a larger domain. It won't rank as well as your own domain but it will not make much difference in the beginning, considering you will have only a handful of articles.

You can create 2 free websites with SiteRubix, which also offers:
WordPress optimized servers
Highly secure hosting – yes, you don't have to pay for hosting service!
Daily backups
24/7 website monitoring
Email & forwards
Site Health analyzing
Website auto login
SiteRubix is a website tool inside one of the most reputable training provider called Wealthy Affiliate (Click here to read my full WA Review).
Once you create a free account with them, you also have access to 10 lessons of the Online Entrepreneur Certification (Level 1) and amazing support from the owners (one-on-one) and from a community of 1000s of internet marketers. Ah, and they don't ask you for your credit card, so there is no commitment!
Learn How to Create a Free Website With SiteRubix in Less Than 1 Minute! 
Conclusion
---
Choosing a domain name for your website is a big step for your online business. That's why you have made a good decision when you came to this page looking for information. Just to recap, this is my guidance for making a good choice:
Make it simple, memorable and avoid numbers, dashes and misspellings.
Choose brandable domains for versatility and emotional connection
Choose keyword rich domains for a slight advantage in rankings for a high traffic keyword
Give preference to Top Level Domains (TDL)
Finally, I just would like to highlight that your success as an internet marketer will derive, first and foremost, from your great content.

This reward platform is going viral! Cash out via PayPal, Visa, Gift Cards, and in-game currencies - Click here to find out how to generate an extra $10+ per day! 
Choosing a good domain will only be effective if you offer quality and consistency to your readers. At the end of the day, people will care about what you write and that is what will ultimately result in sales.
If you are having any trouble choosing a domain or would like to comment on anything that was covered in this article, please leave me a message below.

Thanks for taking your time to read this article.
Peace