So, you have decided to work from your room, from a coffee shop or perhaps in front of your favorite beach. Well, it could be anywhere you want!
The process is very interesting and rewarding. In this article, I am going to explain how to create a website to make money so you can have freedom to work whenever and wherever you want.
Understanding One Important Process of Making Money Online 
---
Building a website is your best chance to own an online business and, as a result, the best chance to make significant money online.
The purpose of your website, in this context, is to offer valuable information and help other people find the right products or services for them.
There are many ways to earn money from your website. One of the most popular and efficient ways is through a model called Affiliate Marketing, in which your website will be a platform of promotion.
Simply put, you (the affiliate) will get paid to promote products and services of companies (the merchants).
You have probably already noticed an Amazon link in a website promoting a product. Well, you were in front of an Affiliate Link. If you clicked that link and ended up buying a product, the owner of that website would have earned a commission on that sale, which is around 4-6%.
So, for example, if someone buys a $400 laptop, you will make around $24. If the product or service you are promoting requires a monthly subscription, then the company may pay you recurring commissions, which is great!
The Foundation of Your Online Business is Your Website
---
It looks like constructing a building. You set up the foundation first and after you start placing the bricks, one at a time.
The foundation is your website and the bricks are the content you write on it. Place a strong foundation and choose a high-quality brick. Then you have your business ready to make a profit.

This reward platform is going viral! Cash out via PayPal, Visa, Gift Cards, and in-game currencies - Click here to find out how to generate an extra $10+ per day! 
The process of making a website these days is very straightforward as you don't have to learn HTML, FTP, Photoshop or any other complicated codes.
You just have to take advantage of online website building platforms, such as WordPress.
Build Your Website With Siterubix – An Amazing WordPress Tool
---
Siterubix is a WorldPress tool inside Wealthy Affiliate, my recommended internet marketing training platform. It allows you to build websites using WordPress while offering significant advantages. 

Site Rubix was designed for business! When you create a SiteRubix.com website with your WA free account, you can start monetizing it as if you had purchased your own domain, as it allows unlimited advertising programs in it.
In addition, here are some important advantages of building your SiteRubix website:
Hosting: You don't have to pay extra to host (service that provides space for your website on the internet).
Your website is going to be completely free of third party ads.
WordPress optimized servers with potential to rank high in Google
It comes with pre-installed plugins.
It comes with a step-by-step training – The Online Entrepreneur Certification – Getting Started. This is a 10-lesson course ran by Kyle, the co-founder of Wealthy Affiliate and a successful online entrepreneur.
Help and support from the owners (Kyle & Carson) themselves and from a community of over 10.000 people for the first 7 days. This will make a HUGE difference in your learning process.
Creating Your Free Website
---
Creating your website is a very simple and quick process through Wealthy Affiliate. In fact, it can take less than 1 minute! Having decided on your niche (the audience you are interested in promoting to), you can insert your sub-domain in the box below:
You will then land on the main SiteRubix page, with the sub-domain already inserted (if you typed it above). Just click "Build My Free Website".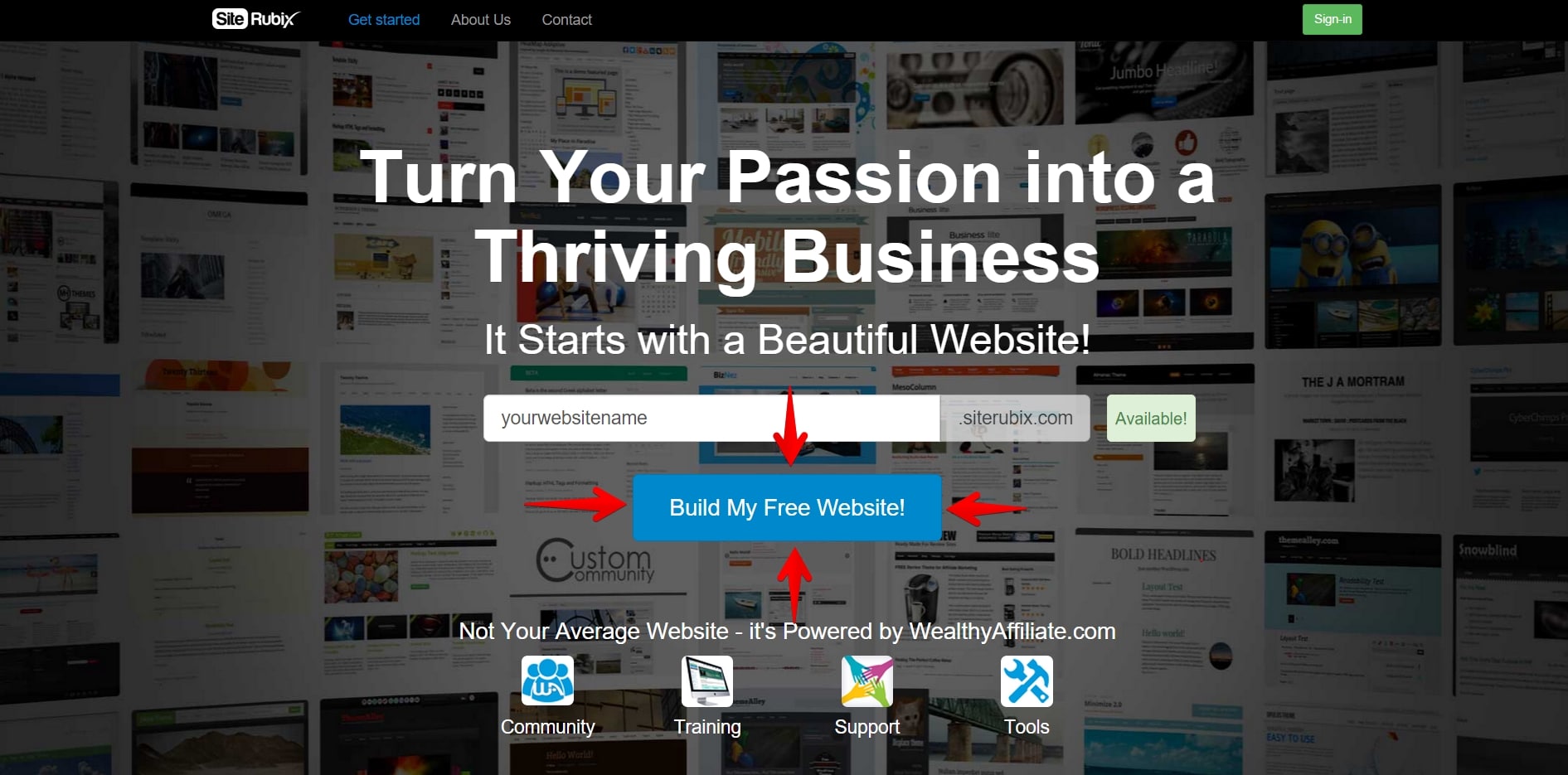 If you are not a member of Wealthy Affiliate, just create your free account. It is really straightforward and you don't need to provide credit card, just your e-mail address.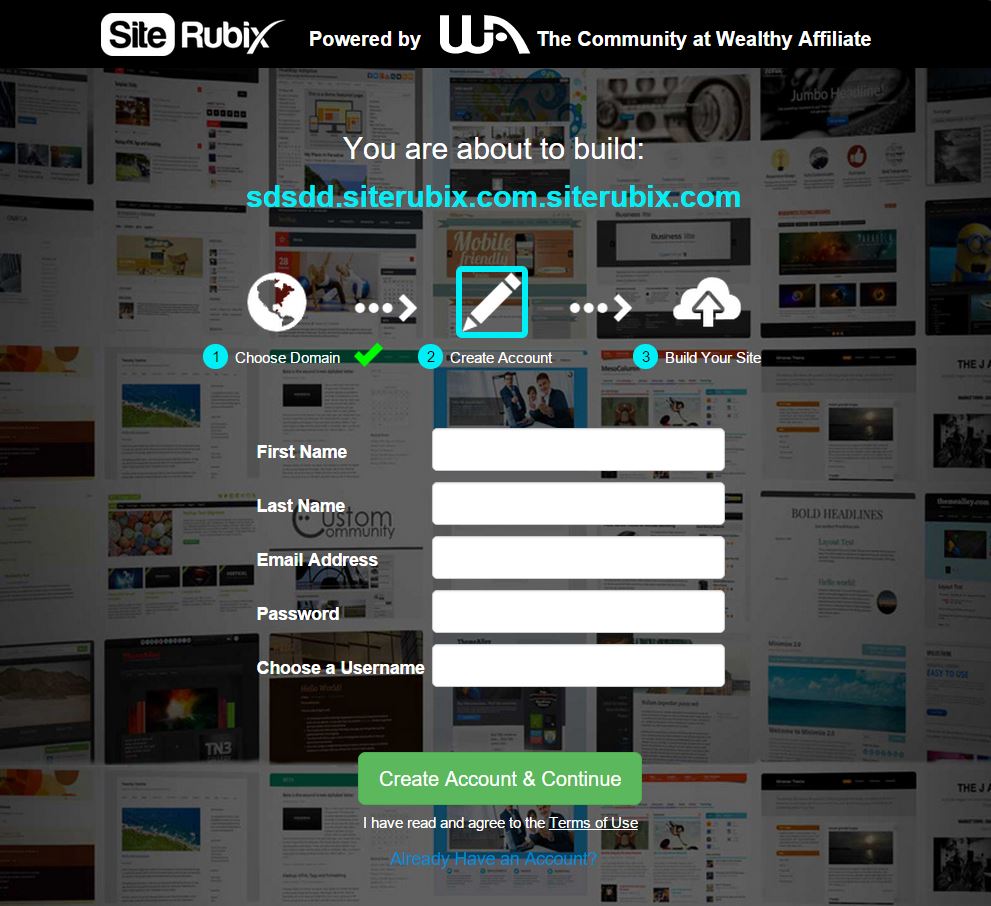 Step 1– Your sub-domain will be inserted in step one, with the "Free Website" option already selected.
Step 2 – Choose your website name. It can be changed later on, so don't worry if you are not completely sure yet.

Step 3 –  Choose a nice theme!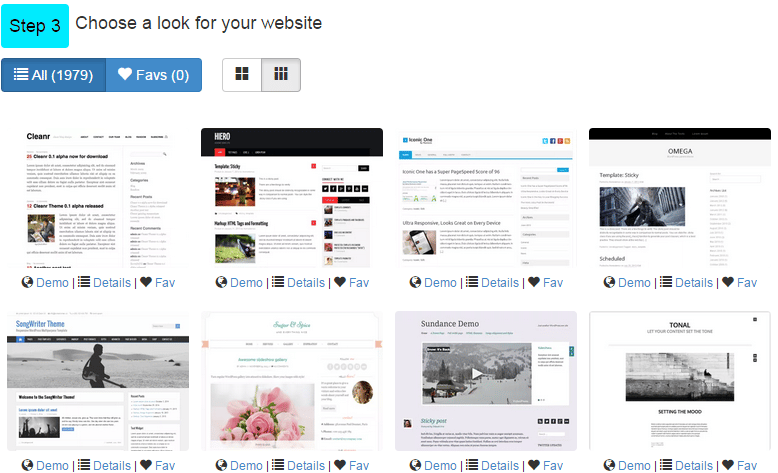 Step 4 – Just click on "I'm Ready, Build My Website Now!"

This is Just The Beginning
---
In this post, I went through the process of making money online through affiliate marketing and also creating your free website.
Although creating a website is straightforward, being able to earn money with it is going to take time and effort. That's because you need to rank high in the search engines (Google, Yahoo, Bing) so your website becomes more accessible to people.
Remember, this is not a "Get Rich Quick Scheme" and it all depends on you. However, you can be sure to be on the right track if you follow the superb step-by-step training at Wealthy Affiliate and take advantage of all what it has to offer (read my full WA review Here).
If you have any questions or comments, please leave a message below.

Good luck with your first steps!