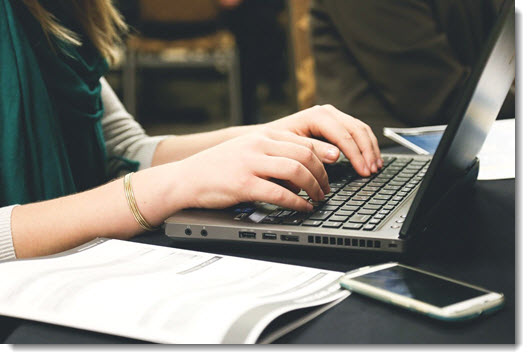 In this article, you will learn how to become an internet marketer. But before you keep on reading, let me ask you an important question.
Are you patient and hardworking? If so, you are in the right place, as both personal attributes are crucial to your success.
Now, if you are not, then I hope by the end of this article you will have the motivation to change your mindset and do whatever it takes! After all, this can be your only chance to fire your boss and live life on your OWN terms.
So, let's get moving!
This is what I'll be covering in this guide:
Why Become an Internet Marketer?
What is Internet Marketing?
The Process to Become an Internet Marketer (4 Essential Steps)
How I Started – My Training, Support, and Tools
By the end of this article, you will have understood how to set up the foundation for your online business, how internet marketers make their commissions, and how to give your first steps.
You will be surprised how straightforward the process is!
However, I must begin this article saying that it will take commitment and hard work. You will not earn $3000 next week, not next month, and most probably not next year. After reading this article, however, I truly believe you will have enough motivation to get all the benefits of working from home.
Believe me, if you don't give up, you will succeed!
---
1.Why Become an Internet Marketer? Freedom!
Most internet marketers will tell they are in search of freedom.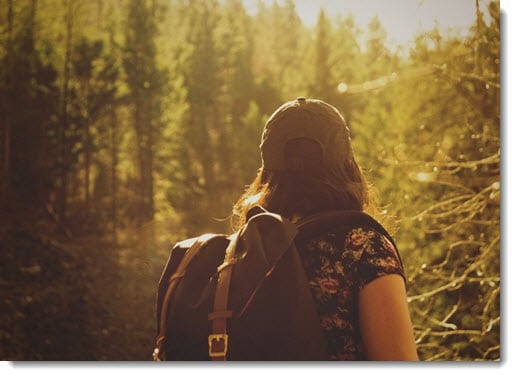 Freedom, in this context, means the possibility to earn money without:
Working for somebody else
Depending on a brick and mortar business
The power of internet marketing comes from these great advantages:
It is considered one of the most inexpensive ways to build a real business
You can reach millions of people all over the world
People can access and buy from your promotional efforts 24/7
You don't need to deal with customers, stock, suppliers, employees, expensive equipment or inventories
You can work whenever and wherever you want – All you need is a computer with an internet connection.
The best thing is that you can create your online business dedicated to what you are truly passionate about! So, it doesn't feel like work at all.
---
2. What is Internet Marketing? 
In short, Internet marketing is the process of using a website, email or social media (Facebook, Tweeter, Youtube) as a platform to promote or advertise brands, products or services.
When I turned 30, I discovered the power of internet marketing, and I knew it could change my life forever!
I found out that instead of acting like a user or a consumer all the time, I could be the author of the information people are looking for.
By creating an informative website, I could recommend and advertise quality products to earn high commissions!
Articles that I wrote months or years ago will continue to generate revenue for years and years. I call it passive income!
So, how does it work? Check out in the next section!
---
3. The Process to Become an Internet Marketer
The process is simple as you can see below:
You will build a website and write content focusing on one particular audience. As there is always a product that your audience is interested about, you can use the space on your website to promote it.
Next, I am going to show you each step of the way.

STEP 1 – Choose an Interest 
The first step is deciding the type of audience you will be helping. Are they looking for baby food, video games, healthy diets, guitars, ways to make money online? You got the point. In other words, you will decide on your niche market.
When choosing a niche, ask yourself these questions:
Does it relate to me somehow?
Is it linked to a hobby?
Can I incorporate my talents, experience, and skills?
Can I really help people?
Am I going to feel comfortable writing regularly about it?
Can I recommend related products I think are awesome?
Every niche is profitable! But I always encourage people to start with something that they enjoy. You don't want to spend hours researching and writing on a topic that makes you feel bored to death. It won't work for you!
Don't be put off if you are not completely sure right now. You can still create a sub-domain website and change your website's topic later on. The important thing is that you place your foundation and start learning, as explained in section 5.
 Step 2 – Build A Website
The starting point for most internet marketers is a website. It is, to date, the most efficient platform through which you can connect with your audience by proving valuable content and answering questions.
Therefore, this is the most effective and long-lasting way to earn money online!
Your website is your business, a platform to help people and your unique piece of art! All in one place.
In order to build your website, you need three components:
DOMAIN: This is the URL or the web address of your website. It also represents your brand. You can buy a domain for as low as $10/year at Namecheap.com
HOSTING: This is a place where all of your website's content will be stored. You can find cheap hosting services at Hostgator and GoDaddy. However, Wealthy Affiliate offers a much better value for money because it includes necessary tools, training and community that will certainly benefit your business.
PLATFORM: A website builder software, such as WordPress, Wix, Squarespace, Weebly among others.
Owning a website gives you an online presence! That's how you get noticed by thousands of people that are searching in Google, Bing and Yahoo.
In section 5 I explain exactly where you can build your website for free.

Step 3 – Get Rankings and Visitors
Being found in the search engines is crucial. If you have no idea what this opportunity represents, this is a number to remember:
5.000.000.000
This is the number of searches performed in Google in a single day! Every time someone performs a search it is a chance for your website to be found.
Now, pay close attention to what I am about to say.
If your articles get ranked on the first page of Google, you can experience a high volume of visitors (traffic) to your website. More visitors mean more opportunity for people clicking your affiliate links and generating commissions for you.
A big challenge for every internet marketer is to get ranked in the top positions!  Everyone wants to be on the top, but not everyone deserves to be there.

This reward platform is going viral! Cash out via PayPal, Visa, Gift Cards, and in-game currencies - Click here to find out how to generate an extra $10+ per day! 
You have to prove to Google your articles deserve, right? How?
There are many factors involved, but these are key factors that you need to understand for now.

QUALITY CONTENT: You need to provide the answer your readers are looking for. But giving a partial answer is not sufficient. You need to give your unique perspective about the topic, be as thorough as you can, and strive for creativity. Moreover, you want to maintain your pages optimized for SEO and always check your grammar, spelling, and punctuation.
CONSISTENCY: Google will not start ranking your articles on top positions until he recognizes your commitment in offering quality content. This means that you need to add content regularly. The minimum I suggest is once a week. However, if you want to see quicker results, try to post at least twice a week. But remember, don't let quality goes down the drain just for the sake of quantity.
KEYWORD RESEARCH: Choosing good keywords (words people look for in the search engines) is essential for higher rankings. A good keyword has a relatively low competition and a decent number of searches per month. These are numbers that you really need to go after before start writing.
Step 4 – Earn Revenue
There are many ways to earn money with your website, but affiliate marketing is the best way, according to many experts.
Most companies that sell products online have what we call affiliate programs. Some examples include huge companies like Amazon, Wallmart (US), Argos (UK), Microsoft, Canon, Sony Best Buy and even small, start-up companies.
Imagine any product that you can buy online! YES, you can find an affiliate program for that!
So, when you have your website up and running, you can apply to be an affiliate. You will receive a link (a particular type of URL) that is unique to you. Every time someone clicks that link, the person will land on the companies' website, and if they buy something, you earn a commission.
Here is an example: 
You set up a website about cycling as it's your hobby and you can promote a broad range of products. So, cycling your niche market, perfect!
You know there is a real demand for fitness gadgets nowadays, not just for cyclists but for anybody who wants to track their heart rate, calorie burn and exercise performance. So, you decide to do a review, let's say Microsoft Band 2.
Your reader enjoys what he reads, clicks on your affiliate link and is directed to the Amazon store.

As Amazon pays an average of 6%, you will earn $12 if the person buys the product! Do you think this is not that much?
If you make seven sales per week, that's $336 per month.
So, it is $336/month for writing one piece of article that may have taken 2 hours to write.  I think it is not that bad at all! Remember that this money can go to your bank account every month. Essentially, you have built an ASSET that is paying you over and over again.
You can repeat the process as much as you like and write hundreds of reviews.
Other ways to make money
Later, you can take your business to the next level with email marketing, sending informative emails to your subscribers together with your affiliate offers. But it is imperative that you build a website first. That's how people will know and trust you!
Other two traditional ways are:
Using advertisement – you get paid every time people click on your ad banners. As the payment is usually very low, you need to have a huge number of visitors to your website to see a decent result.
Creating and selling your own digital product – This is powerful because all the profit goes straight to your pocket. Again, most people start with a website and sell their creations at a later stage.
---
4. How I Started!
All The Training, Support, and Tools in one Place!
I know there are too much information and too many paths to follow from here. But there is a platform that can provide a well-structured training, support, and tools to succeed online. It is called Wealthy Affiliate. 
So here is what I did!
1. Signed up for FREE with Wealthy Affiliate – No Credit Card was required.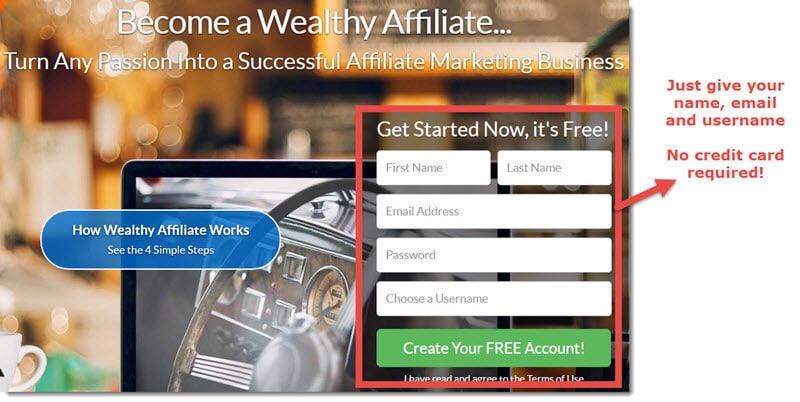 2. Added a short description about myself and uploaded my least ugly picture 🙂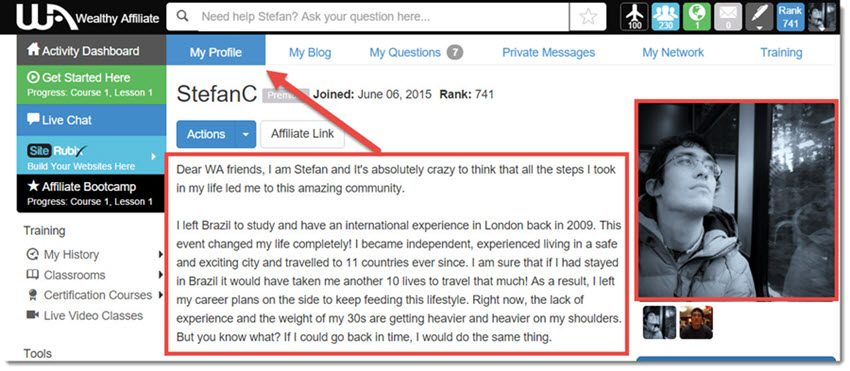 3. Started the FREE Step-by-Step Entrepreneur Certification Course – This course is essential for a strong foundation in internet marketing.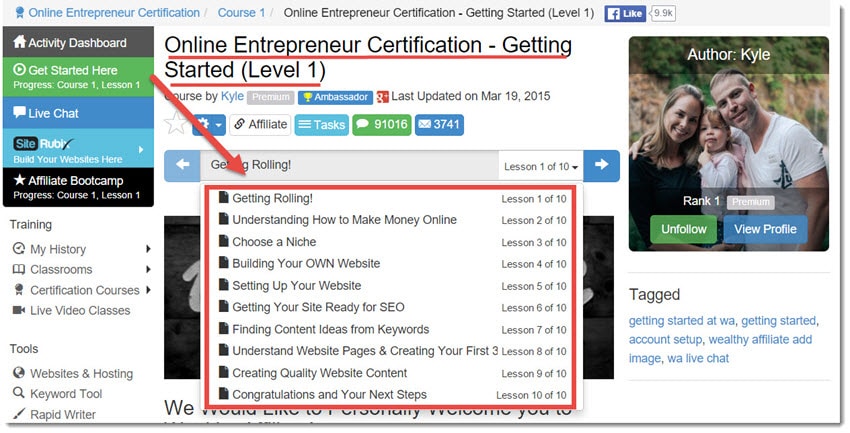 4. Built my website completely FREE of charge: subdomain, hosting, and website builder included.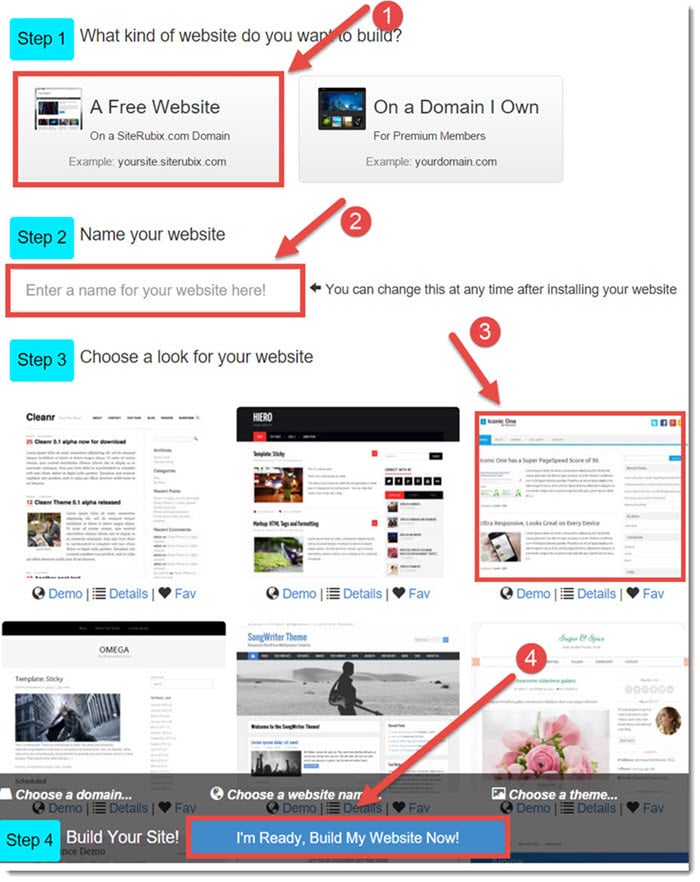 Starting with a free domain is superb because you can set up your website, start writing content and play with ideas before purchasing your a permanent domain.
If you decide to become a premium WA member, you can then transfer all of your work with a simple click!
As a free member, you can build to 2 sub-domain websites for life! Which means you can work with them for as long as you wish, get rankings in the search engines and earn commissions.
5. Set up important plugins as instructed and created my first three pages with WordPress: "Who is Stefan," "Privacy Policy" and my first article entitled "Welcome to My Room is My Office."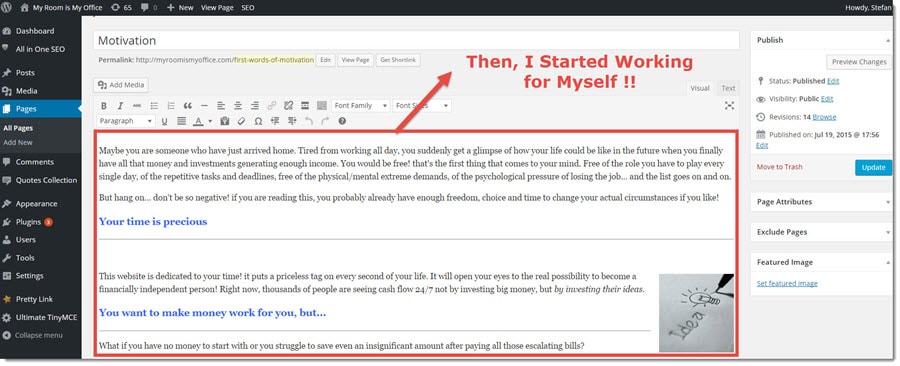 6.Received fantastic support from the owners Kyle and Carson and from many helpful people, including highly successful internet marketers.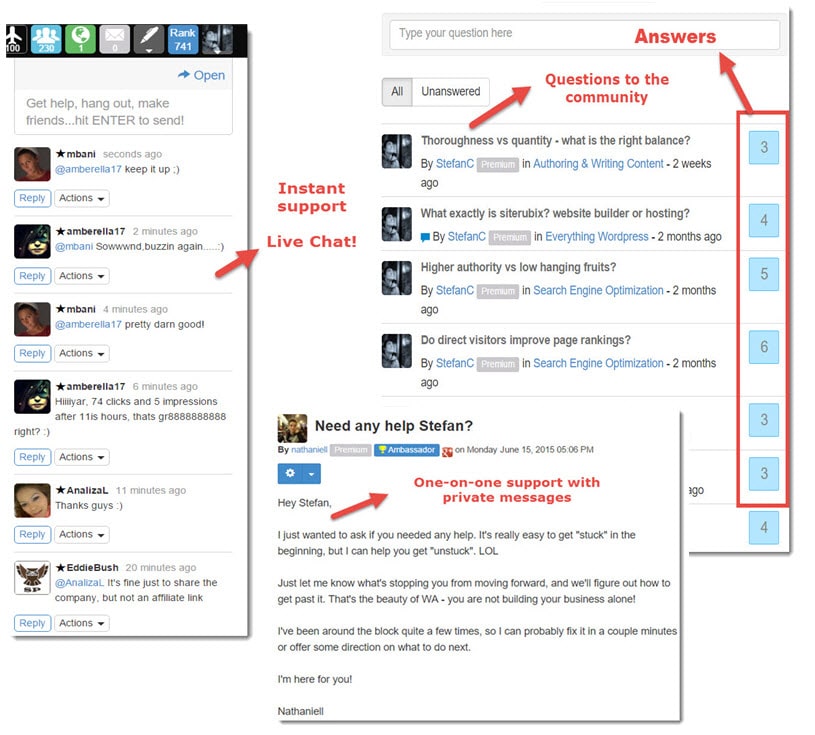 Not sure if Wealthy Affiliate is the right place for you?
As you could see, becoming an internet marketer is not that complicated. I need to highlight that this is far from a get rich scheme. Building a website and turning it into a profitable business requires a lot of dedicated time and effort.
However, I consider that all the benefits mentioned in this article make the internet marketing an attractive business model to pursue.
 I hope this article clarified the process to become an internet marketer. If you have questions or thoughts, just leave me a message below.
Your friend
Stefan