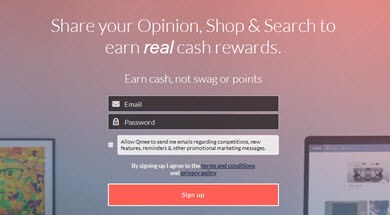 Qmee promises to pay real cash to searches online and share your opinions with marketing research companies.
I know you may be skeptical and wondering if Qmee is a scam or a legit platform.
Let me assure you that Qmee is a legit and reliable platform that has been running for over 7 years.
Besides, it has been featured on Forbes, CNNMoney, and a few other important media outlets.
Qmee was one of the first websites that I used to make money online. Since then, I have cashed out through PayPal many times without any issues.
In this review, I am going to explain everything you need to know about Qmee and give you my honest opinion.
By the way, if you want to discover a proven method that earns me over $1,000/mo from my laptop, check out my #1 recommendation!
Qmee Review Summary
---
Product Name: Qmee
Website: www.qmee.com
Type: Search-Loyalty and online surveys
Price: FREE
Recommended?

Yes

Overall Rating:

4.5/5
What is Qmee?
---
Qmee was launched in 2012 as a web application that only rewarded members for performing searches on Google, Bing, Amazon and other online stores.
Fast forward to 2019, Qmee also gives people the opportunity to complete online surveys for cash.
The Qmee application is an extension or toolbar installed on your browser.
It will track all of your internet activities and show you specific ads when performing searches on the most popular search platforms and online stores:
Google
Bing
Yahoo
Amazon
Tesco
Walmart
Ebay
Best Buy
Qmee has been growing exponentially over the years in the US and the UK, and it is not difficult to understand why.
It provides lots of surveys, quick payouts and most importantly, they don't terminate your account for no reason as
Besides, it's a win-win situation where advertisers benefit from more product visibility while internet users (you) get paid for searching and clicking on ads.
Excellent Ratings
---
Qmee has been rated 8.5 out of 10 on Trustpilot, which is something very hard to achieve in this industry.
Some people report earning a decent amount of pocket money within a short period. For example, £5 in 2 days, $150 in 2 months, $50 in 2 weeks, and £70 in one month.
Most people think it's a great platform and highly recommend it!
Pros & Cons
---
 Pros
Make use of the world's renowned search engines and big marketplaces
No minimum cashout.
Fast payment through Paypal and Gift Cards.
Reliable and transparent.
Qmee is also available as an app for Android and iOS devices.
Excellent customer service.
Cons
The searches that result in Ads are usually related to products.
Only available in the US and the UK.
Signing Up 
---
The sign up is very quick and straightforward. You can register for free with your email address, Facebook or Twitter account (Create your account here).
Earn Money Searching The Web
---
Installing the Browser Extension
The App works on Google Chrome, Firefox, Opera and Safari. You just have to follow these 3 simple steps:
Click on the "Install Now" button
Get Qmee for "Your Browser"
Add Extension
The extension will then become visible in the top right corner of your internet browser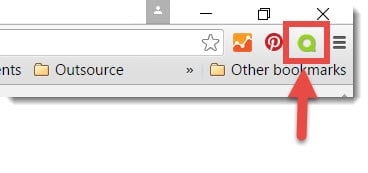 How Does Qmee Work?
Once it's installed, Qmee will be able to track and store your searches in order to show you related ads.
You can keep browsing the internet as usual because Qmee won't change the search results that you see.
For example, when I typed in "Samsung Galaxy" on Google, Qmee showed me ads of related products on the left-hand side of the screen.
Each ad has the cash amount on the top of each Ad.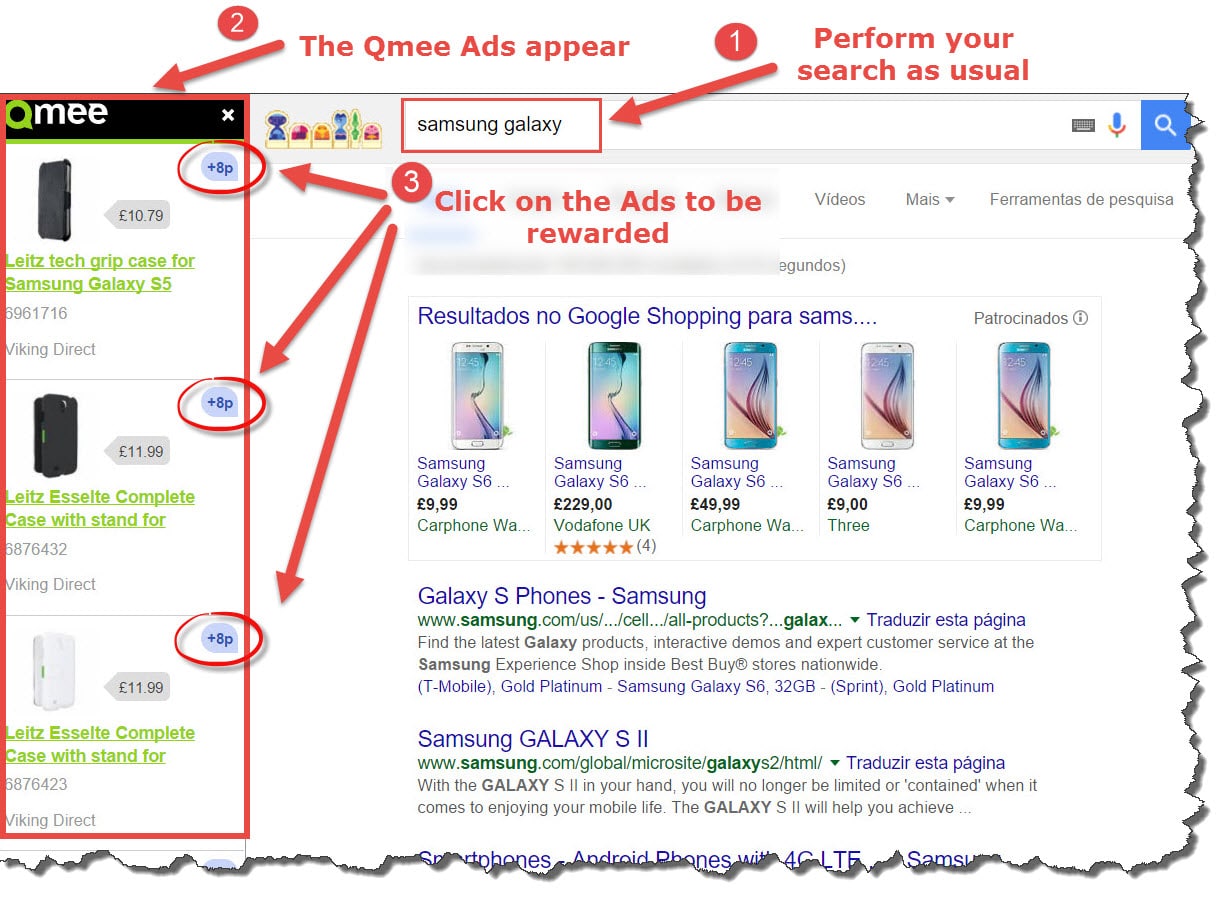 When you click on one Ad, you are redirected to the merchant's website and the money is automatically credited to your Qmee account aka Piggybank.
Indeed, when I checked the toolbar, I could see that the money was credited.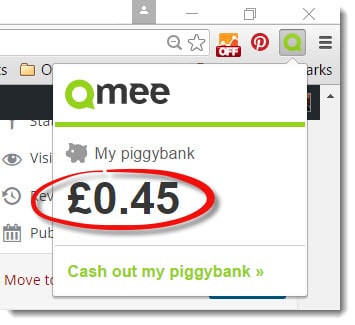 You can only click on one ad at a time. That means when you go back to your search, the other ads won't be displayed anymore.
RECOMMENDED: Click here to see my no.1 recommendation for making money online.
How Much Money Can You Make With Your Searches?
It is important to note that not every search will generate Ads. It depends on your specific searches and how valued you are as a Qmee user. I will explain this later on.
Most ads are worth between 4p and 8p, so earning a decent amount of money with searches takes a long time! 
Ads don't show up very frequently and my advice is that you shouldn't perform 100 searches a day just for the sake of getting ads. It will be a complete waste of time!
The important thing to know is that companies advertise on the Qmee platform in hopes that you buy a product. Besides, they know exactly how you interact on the company's website.
Therefore, statistics will be created based on know how long you stay on their pages and what you click on.
If they notice that you always leave the page in a rush, they will reduce the number of Ads to you.
Here is a screenshot of the FAQ page, which proves my statement:

With that said, it is impossible to estimate how much money you will earn in any given period.
It depends on what you are searching for on the internet, how many searches you perform and how you interact with the merchant's website.
If you want to know how much folks are making with Qmee, check out Qmee's facebook page: click here
What Can You Search on Qmee?
It is easy to note that you will receive Ads mostly when you perform searches related to a product. So, if you are a bit frugal, like me, you will get very few ads.
For example, if I use Google for my geography studies, I may hardly ever receive Ads whereas if I am looking for the latest gadgets, I may find Ads more frequently.
Here is my advice to you: Download Qmee and forget about it! Don't waste your time with artificial searches because the payout is very low and they will soon realize you are not genuine.
As soon as you see an Ad, click on it and if you are not interested in the product, make an effort to stay a bit longer on the page and even browse the website. This will give a positive signal to Qmee and help you receive more ads.
There is No List of Best Searches and No Cheats!
As they stated on their blog, there is no such thing as a list of best searches to receive more Ads.
I am sorry to disappoint you, but if it were that easy and there was a way to cheat, Qmee would be extinct by now. Their business can only run because they are bringing profits to merchants.
They just want to show ads when they think people might be interested in specific products.
That's why they only display ads when you search for specific terms and why there is no magic list! Therefore, ads will be tailored to each individual accordingly.
By performing natural searches, you will make the best of Qmee!
Earn Money Taking Surveys
---
You will certainly make more money by taking surveys than simply searching the web.
Qmee has partnered with leading marketing research companies to provide you with the best survey experience.
When you log in, you will see a list of all the available opportunities with their estimated time and cash reward.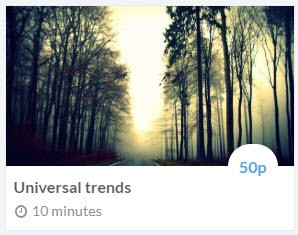 Most surveys take 10 – 15 minutes on average and pay less than £1.50.
Qmee Respects Your Privacy
---
When you click on the ad to earn cash, they will also collect information about how you behave on the advertiser's website.
For example, they will know which link you visited and for how long you stayed on that page.
In my opinion, I think this is not a big issue. After all, our internet activity has been tracked for years without your authorization, and for free!
Nevertheless, companies should always comply with regulations and respect our privacy.
If you check Qmee's Privacy Policy, you will notice they have taken the rights steps to comply with GDPR, which sets high standards for data protection and privacy in Europe.
Qmee is very transparent regarding all the data that will be collected from you and why they are collecting them. As importantly, they give you the right to delete, access and correct your data.
Payments
---
There are 2 options to cash out with Qmee – Paypal and Gift Cards. You also have the option to donate to charity.
Paypal: Before you get paid, you need to link your Paypal account with Qmee.
What I really like about Qmee is that there is no minimum payout threshold, so you can withdraw any value (even £0.01!) any time.
It can take up to 24 hours to be credited, but I have never waited more than 10 minutes. Here is the proof that I received the payment: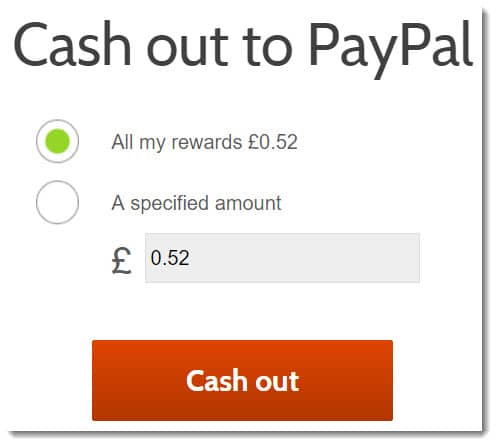 Gift Cards: This is an interesting option made available only recently. You have to reach a threshold of $5 or £5 in order to exchange for gift cards in popular stores like Amazon, Starbucks, and iTunes!
Conclusion 
---
Qmee is an interesting way to earn money by performing your daily searches on the internet. Before you were not paid a cent.
Now you have the option to continue your normal routine and make some extra cash.
There are other websites where you can make money from searches. I also tested Swagbucks and InboxPounds/Dollars and I realized they gave me a better return in the long term.
In InboxPounds, for example, the money you earn is not connected to a specific search that leads to a specific ad. Therefore, you are rewarded for any genuine search that you perform.
Different from other time-consuming activities like online surveys, Qmee is not something that will interfere with your life.
The app extension will run silently in the background of your internet browser and when you least expect it, you will be sending additional cents to your piggy bank! At the end of the year, I am sure you will buy a nice Christmas present with it as it really adds up! 🙂
Verdict:

 Legit 
UPDATES
---
Update 1: 18/04/2016 – QMEE STOPPED SHOWING ADS FOR ME! 
I felt compelled to update this post because it's been 2 months since I got my last ad. It's a LONG TIME without earning cents! LOL
As I explained before, Qmee is always tracking your movement inside the merchant's website. This is just speculation, but I think they don't want to reward people who don't purchase from their ads.
Update 2: 22/07/2016 – EVERYTHING BACK TO NORMAL 
I was wrong! There was a technical error with my Qmee account preventing me from receiving ads and cashing out. I sent a message to the support team who tackled the problem promptly.
So, everything is back to normal and I'm receiving ads again! 🙂
How to Earn a Substantial Income Online?
---
There are many opportunities to make money online. But most of them are scams or a complete waste of time.
It all started last year when I was completing surveys for cash and wasting long hours just to make a few bucks.
Then, I stumbled across a review that opened my eyes to the possibility of creating a website and making money with affiliate marketing.
By writing helpful articles on your own site, you can attract many visitors and earn commissions that can eventually replace your full-time salary.
The more articles you write, the higher your audience. Hence, you are able to make more money from the products that you promote.
Anyone is capable of doing this and achieve success. As you may have noticed, English is not my first language and I am not a professional writer.
However, the step by step training that I followed over a year ago helped me build a solid foundation for my affiliate marketing business, which is currently earning me $900+/month in passive income. Check out the best step by step training in affiliate marketing.
Thanks for reading my Qmee review. if you have any questions or comments, leave me a message below, and I'll be more than happy to help! 😉