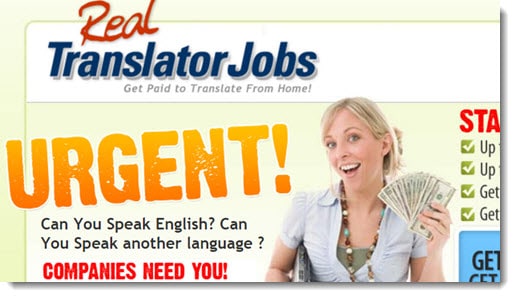 Real Translator Jobs is claiming you can earn a surreal amount of money for a simple translation. Is Real Translator Jobs a Scam? That's what we are going to find out!
If you want to follow the same strategy that earns me $900+ per month online, even while I am traveling, check out my #1 recommendation.
Real Translator Jobs Review
---
Product Name: Real Translator Jobs
Website: www.realtranslatorjobs.com
Business Type: Freelancing
Owner: Unknown
Price: $34
Recommended?

NO

Overall rating: 0.4/5
What is Real Translator Jobs?
---
Real Translator Jobs is a website that supposedly connects you with thousands of employers that desperately need freelance translators. Therefore, we can expect that Real Job Translators work as a middleman between you and these employers.
How Does It Work?
---
The First Page

 
The introduction page is saying companies desperately need your translation work if you can speak English and another language.
Besides, you don't need any experience to earn up to $100 per text document and $35 for email translation.
Well, if you have already offered a translation service as before, you are aware that you will normally get paid per word, not per text document. After all, a text document can have anything from 1 word to an infinite number of words.
Anyway, I decided to give my alternative email to know what was waiting for me on the second page.
The Second Page
On the second page, they talk about how crazy those companies are hiring freelancers and how the demand for translation is increasing year after year.
Also, there are money signs everywhere!
This is a screenshot of your potential earnings: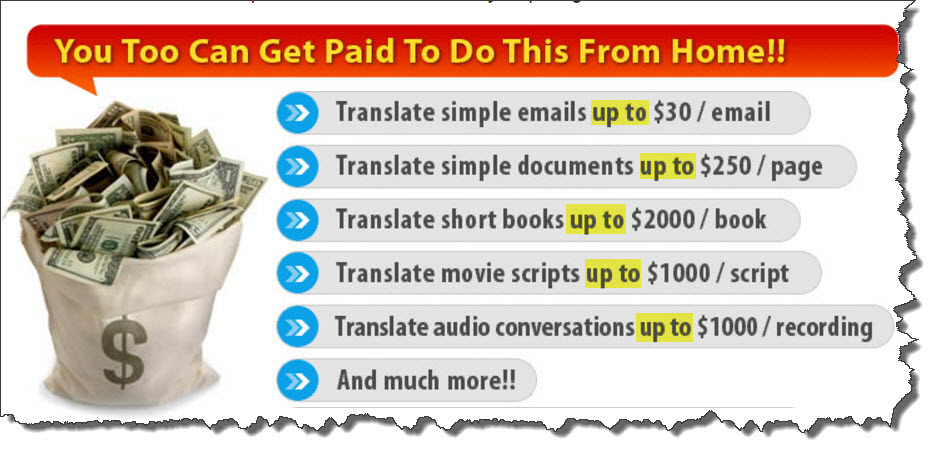 After reading this, many people may think it will be possible to join the site, translate a few pages per week and quit their jobs.
I highlighted "up to" because this term simply gives total uncertainty over your actual earnings. "Up to" means anything from $0.
Also, if you check the numbers from the first page and the second you gonna see they don't match.
At the bottom of the page, you see the link for the payment to become a member. It costs $34 and there is a 60 Day Money Back Guarantee.
After Joining… 
So, they say that after joining you will get simple instructions, tips and hundreds of job opportunities. After completing the jobs, you will get paid via PayPal, check or direct deposit.
Don't Worry if Your English is Not Perfect 
---
Are you worried that your English is not so good and you will be screened out? Don't be as I don't think they are too worried about your English.


Haven't Those Employers Ever Heard of Fiverr? 
---
Look, If you go to Fiverr.com, you can find competent translators that are willing to earn $5 for a 500-word document.
I hope by now you realize it makes no sense for companies to pay so much for a simple translation. The reason being that there is an abundance of excellent translators on the internet willing to do the job for a very cheap price.
What Are People Saying?

 
---
The comments I read at translationdirectory.com were really alarming. These are the most common complaints I saw there:
It provided them a list of companies that ended up requesting a CV. A lot of companies didn't reply and the ones that did just said they would inform when a job was needed. They never needed.
Companies requested at least 3 years of experience.
The page just contained advertisements about money and nothing else.
Conclusion – Is Real Translator Jobs a Scam?
---
I think it's possible to find translation gigs inside Real Translator Jobs, but it doesn't mean it will be easy, especially if you don't have any previous experience.
You see, there are lots of reputable platforms where people can hire translators at competitive prices such as Fiverr and Upwork. So, I don't think you will earn $250/page unless you are qualified to do a certified translation. That's another story.
Is Real Translator Jobs a scam? No, I don't think so. But it's not a product that I recommend.
Verdict: Not Recommended
A Better Alternative to Earn Money Online 
---
When I was looking for a way to earn money online, I seriously considered being a freelancer to translate English to Portuguese (my first language). However, I was discouraged to know how competitive it is and how little money I would have to accept in order to stand out from the crowd.
It would probably take a long time to compete at the same level as those highly ranked translators. And when you finally achieve that level, the money you will earn for the required effort will be, in my honest opinion, quite disappointing.

Why I Decided to Build an Online Business
I wanted freedom from a job and stop trading time for money. I love traveling, so an online business would be the only thing that could keep myself on the road for a long period of time and keep making money.
How?
I have built a website that earns commissions even when I am asleep. My website is available for people all over the world and it is open 24/7. Every time someone buys from my recommendations, I earn a percentage of that. This is called affiliate marketing!
A website can be about anything as you may know and the vast majority of established and active ones are earning what people call residual income. This means that the job you did in the past can earn you revenue for as long as your website is running and active. You have to work really hard in the beginning and it takes a great deal of time.
It's rewarding to help people with your articles.It is also really encouraging to know there is no limit to how much you can earn and it can be just a matter of time before you can actually earn a full-time income online. The more content you produce, the more you increase your business!

This reward platform is going viral! Cash out via PayPal, Visa, Gift Cards, and in-game currencies - Click here to find out how to generate an extra $10+ per day! 
Do you want to start the same as I did? Check my #1 training platform here!
If it wasn't for their great training and support, I wouldn't have trusted the internet marketing was a realistic opportunity.

Have you purchase Real Translator Jobs or any other similar website? What is your opinion about them? Please, feel free to leave a comment or questions below!
Thanks for reading!
Your friend
Stefan