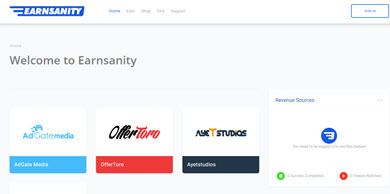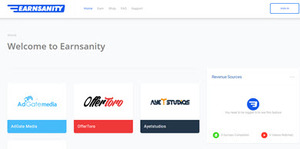 You may have stumbled across Earnsanity while trying to find a reliable platform to make money online.
There are hundreds of GPT (get paid to) sites available on the internet, but not all of them are trustworthy.
In today's review, I am going to show you all you need to know about Earnsanity and give you my honest opinion about it.
Is it a scam or a legit site? Is it worth joining?
Let's find out!
While you still here, you may also want to discover the step-by-step program that helped me reach $1,300/mo from my laptop. The starter membership is 100% free!
Earnsanity Review Summary
---
Name: Earnsanity
Website: https://earnsanity.com/
Owner:?
Membership Eligibility: Worldwide (+18)
Price: Free
Similar Sites: Prizerebel (top-rated), Offernation
LEGITIMATE
Overall Rating: 

2.2/5
What is Earnsanity?
---
Created in 2018, Earnsanity is a website that allows you to complete simple tasks in exchange for a virtual currency called Gem.
Once you've earned enough Gems, you can withdraw via PayPal, gift cards, Cryptocurrencies, and other rewards.
As with many GPT sites, Earnsanity will connect you with different offer walls and survey companies.
The site has currently over 70,000 users all over the world and is slowly gaining more popularity.
Click here to discover my Top rated GPT Site since 2018!
Is Earnsanity a Scam? 
---
Earnsanity is technically a legit website that works similarly to most GPT sites.
However, if you decide to use the platform, I advise you to proceed with caution!
Why? What Happened?
There are rumors that Earnsanity didn't keep its promises to pay the winners of a $100 giveaway sponsored on the beermoney subreddit.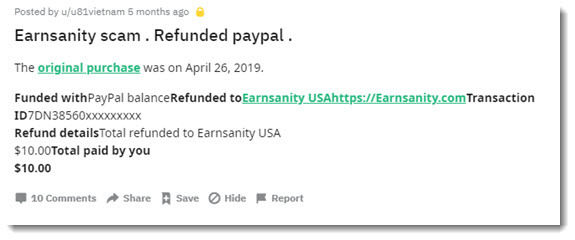 Besides, even though the platform has been rated 4.5 out of 5 on Trustpilot, there are still people claiming that the site doesn't pay.
One thing to keep in mind is that Earnsanity received a surge of positive reviews only on these specific dates:
23 and 24 April 2019
5 and 6 June 2019
9, 10 and 11 September 2019
The company explained that they encourage members to review the platform regularly through social media in exchange for giveaways.
As a result, lots of people end up reviewing Earnsanity at once.
Here is a tweet that I found on the 9th of September, which confirms the above: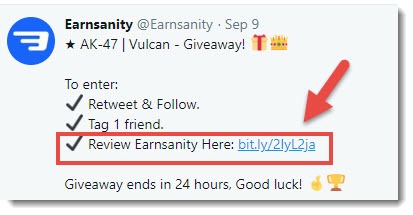 Pros and Cons of Earnsanity
---
Pros
The minimum payout threshold is very low compared with other GPT sites ($1).
There are many payment methods available.
The offer walls provide lots of opportunities to make money.
Quick registration.
It's available worldwide.
Cons
Low pay.
You may not earn credits after completing some offers.
Earnsanity has partnered with very few marketing research companies. So, there are not many surveys available.
How to Register With Earnsainity?
---
Earnsanity is available worldwide and is completely free to join.
To become a member, all you have to do is sign up with your Google account, which is very straightforward.
Unfortunately, there is no other registration method apart from Google. So, if you use another email provider like Yahoo, I'm afraid you won't be able to log in.
By the way, don't forget to read the terms of service to be informed of the rules and other relevant information.
For example, you are not allowed to use a VPN/Proxy nor create multiple accounts.
Points vs Rewards
---
I already mentioned that Earnsanity will give you points called Gems whenever you complete a task.
Then, you will need to reach a minimum number of Gems to cash out, which depends on the payment method.
Here is a breakdown of all the payout options:
PayPal: Min 10,000 Gems = $1.
Amazon Gift Card: Min 50,000 Gems = $ 5.
Cryptocurrency: Min 25,000 Gems = $2.
OPskins: Min 10,000 Gems = $1.
Kinguin Gift Card: 10,000 Gems = $1.

It can take up to 24 hours for Earnsanity to approve and process your payment.
If you don't receive your payment within 24 hours, you should contact the support at [email protected].

How Can You Earn Gems?
---
Earnsanity has partnered with different offer walls such as AdGateMedia, PeanutLabs, OfferToro, KiwiWall, AyetStudios, and Persona.ly.
Each offer wall provides a variety of tasks that you can complete to collect Gems and eventually cash out. These include
Creating an account on different websites.
Playing mobile games.
Installing and using mobile apps.
Signing up to free trials.
Completing online surveys.
Watching videos.
Answering quizzes.
Completing Offers 
Most offers don't pay very well, so you should not expect to make a lot of money.
Some offers pay more than $12, but they usually require a deposit of $10. In this case, you are left with only around $2 in your pocket.
I don't recommend completing this type of offer until you have used Earnsanity for a while and cashed out a few times.

This reward platform is going viral! Cash out via PayPal, Visa, Gift Cards, and in-game currencies - Click here to find out how to generate an extra $10+ per day! 
Before completing any offer, read the instructions carefully and make sure you are not missing any requirement.
For example, if you are playing a mobile game, you may have to reach a certain level to get credited.


You will find lots of offers that will collect your email and phone number in exchange for prize draw entries.
As a result, you may start getting lots of marketing calls and emails from different companies that now have your contact details.
Online Surveys
When it comes to online surveys, you should not expect to earn more than 20,000 Germs ($2).
Most of them actually pay less than $1 and take 10 – 15 minutes to complete.
The downside of taking surveys is that they are usually very difficult to qualify.
Therefore, you will certainly waste a lot of time answering repetitive questions until you find one that fits your profile.
What's worse, they won't pay you for all that time!
Click here to learn how to improve your chances of getting qualified.
What can go wrong?
---
You may not get credited instantly after completing an offer. That's completely normal!
Wait for at least 24 hours, and if you don't get credited, then Earnsanity advises you to contact the offer provider.
However, there is a chance they won't answer your emails, in which case you will probably struggle to get paid.
Conclusion
---
I believe Earnsanity is legit, but it's still unclear to me whether it's a reliable GPT site.
Although there are many positive reviews, some people are furious at Earnsanity because of the issue involving the Beermoney subreddit.
Apart from that, I like the fact that Earnsanity has a minimum payout threshold of just $1. That means you can redeem your points pretty fast.
The offer walls provide a decent amount of opportunities, but in my opinion, Earnsanity should partner with more survey panels.
How I Make Over $1,300 Per Month From My Laptop
---
There are many ways you can reach $1,300+ per month and live the laptop lifestyle.
Personally, I decided to create a website and promote products as an affiliate marketer.
There are many reasons why I think this is the best business model for beginners!
With affiliate marketing, I can make money without worrying about customer service, deadlines, and suppliers.
Besides, it's very cheap to get started, so it doesn't involve significant risks.

I only need to focus on providing helpful content and promote other people's products through affiliate links and banner ads on your website.
You can earn full-time income using this business model, but first, you have to put in the work. 
If you are interested in creating your own online business, check out my #1 recommendation.
This is the same online business program that helped me build a strong online presence and quit my job in 2019!
Final Words
Thanks for taking the time to read my Earnsanity review. I hope this post was helpful to you!
If you have any questions or want to share your experience with Earnsanity, feel free to leave us a comment below!
All the best
Stefan