Welcome to my Tap Tap Money App review!
I found this new reward app available on the Google play store and decided to give it a try.
The developers claim that you can use Tap Tap Money App to earn easy money by completing simple online tasks.
There are probably hundreds of similar "money apps" that you can download, but most of them don't live up to the hype.
Is Tap Tap Money app is a scam or a legit application? Can you reach the payout threshold and get paid?
In my honest review below to find out!
You may also want to discover the step-by-step program that helped me reach $1,300/mo from my laptop. The starter membership is 100% free!
Tap Tap App Review
---
Name: Tap Tap Money
Website: https://vvickedgames.com/
Company: Tapjolt LLC
Membership Eligibility: Worldwide (+13)
Price: Free
LEGITIMATE
Overall Rating: 

2/5
What is Tap Tap Money App?
---
Tap Tap Money is a mobile app owned and operated by a company called Tapjolt LLC. It allows users to earn real money by
Watching videos
Completing offers
Taking surveys
Inviting friends
Trying apps
Whenever you complete any tasks inside Tap Tap Money, you will earn points that you can redeem for PayPal or gift cards on request.

This reward platform is going viral! Cash out via PayPal, Visa, Gift Cards, and in-game currencies - Click here to find out how to generate an extra $10+ per day! 
Is Tap Tap Money App a Scam?
---
Tap Tap Money is technically a legit app, but I found lots of negative testimonials.
Many people are complaining about missing the payments, which is a big red flag for me.
Not only that but the app doesn't have a terms and conditions page, meaning they can do whatever they please with your point balance and account.
So, don't be surprised if you save up enough points and don't get paid.
RECOMMENDED: Click here to see my no.1 recommendation for making money online.
Pros and Cons Of Tap Tap App
---
Pros
The minimum payout threshold is only $1.
Get paid via Paypal.
It's available worldwide.
Cons
There are lots of complaints about missing payments.
Very low pay rates – It takes time to cash out $1.
No Terms and Conditions.
An ad appears every minute, which is very annoying!
The app drains the battery of your phone pretty fast.
There are very few videos per day.
How to Register?
---
Tap Tap Money App is only available on Android devices.
You can download the app for free and create an account by proving your email address.
Different from most apps, you don't need to verify your email account.

How to Earn Points?
---
There are different ways to earn points inside the Tap Tap Money App.
In this section, I am going to explain all the different tasks and how much money you can expect to earn.
But before, it's essential to know that you need to collect at least 1000 points to withdraw $1 via PayPal.
When you log in, you will see 4 different tabs: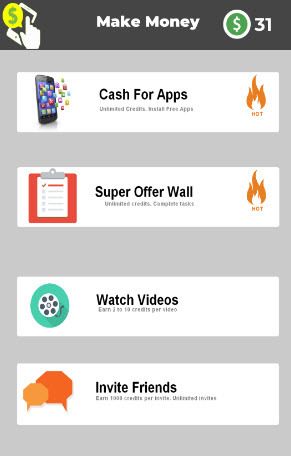 1. Cash For Apps
In this section, you can earn points for downloading and using free apps.
Most of these apps are games that you are required to play for a few seconds or reach a certain level.
You can earn anywhere an average of 30 – 50 points ($0.30 – $0.50) per app.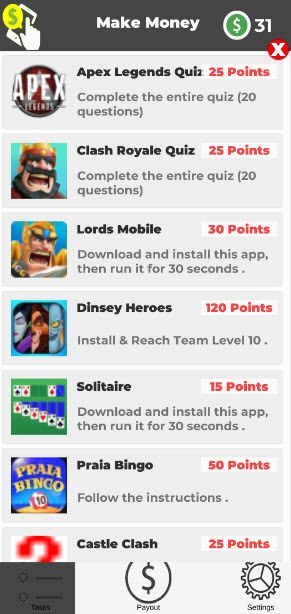 2. Super Offer Wall
This section is dedicated to offers from third-party providers.
The most common type of offer is the one that asks your personal data and contact details to enter prize draws.
In short, companies are giving you a few cents for the opportunity to promote products and services through email or phone number.

You may also find other offers such as free signs ups, free trials, and even online surveys.
Each offer is different, so you should always read the instructions and meet all the requirements.
If an offer asks you to subscribe to a service, read the terms and conditions first before giving your credit card detail.
Most free offers will give you less than 100 points.
3. Watch Videos 
When you click "tap", a sponsored clip will play for 10 seconds. You just have to watch it until the end to earn 2 – 10 credits.
The number of videos depends on your country. In Brazil, I only got 4 videos, after which there was a message saying that I should try again later.
4. Refer Friends
Tap Tap Money allows you to earn commissions when you invite (refer) other people to install the app.
If your friends use your referral code during the sign up, they will get 100 free points, and you will earn 10% of all their earnings.

How Do You Get Paid?
---
Once you have collected 1000 points, you can cash out $1 via PayPal.
All you have to do is enter your PayPal address and tap on "Request Payment".
You can also redeem your credits for gift cards on request.
Unfortunately, they don't tell you how long it takes to receive the payment.
User Review – Complaints
---
If you check the review section on the Google play store, you will find many many negative reviews.
Some of them are claiming Tap Tap Money didn't pay, and therefore, it's a big waste of time.


There are lots of positive reviews as well.
However, most of them are written by people who only say one or two words like "good app", "excellent", "nice app".
I don't know if I can trust them because there are websites on the internet that sell app reviews.
Personally, I only give ears to people who take the time to write about their experience with the app.
Alternatives to tap Tap Money App
---
If you want to get paid for completing offers, watching videos and taking surveys, I highly recommend a website called Prizerebel.
Prizerebel is not an app, but you can use it on your mobile device without any problems.
Other alternatives to Tap tap Money app include App Flame, Cash Alarm, InsCash, BigToken, and Cashout app.
Conclusion
---
Tap Tap Money allows you to make money from your tablet or smartphone.
I wish I could only tell positive things about this app, but the reality is that many people are very disappointed.
My main concern is with payments.
Many people report that they didn't get paid after reaching 1000 points.
Therefore, I would not spend my time completing a ton of offers knowing that many people didn't receive the payment.
How to Make $1,300+ Per Month And Achieve the Laptop Lifestyle
---
There are many paths that you can follow to reach $1,300+ per month and work from your laptop.

Personally, I decided to create a website and promote products as an affiliate.
The reasons why I've chosen this business model are many!
With affiliate marketing, I don't need to stress about customer service, suppliers, shipping deadlines and refunds.
All I have to do is provide helpful content and direct people to products and services that my audience can benefit from.
If people buy the product, I earn a commission from the merchant!
Anyone can reach a full-time income using this business model, but first, you have to learn and put in the work. 
If you are interested in creating your own online business, check out my #1 recommendation and learn from experts who will give you the exact blueprint for success.
Final Words
Thanks for taking the time to read my Tap Tap Money app review. I hope this post was helpful to you!
If you have any questions or want to share your experience with Tap tap Money, feel free to leave us a comment below!