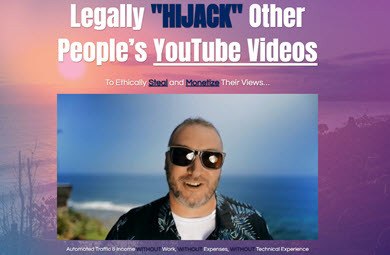 Equinox has been advertised as a robust software to legally steal and monetise other people's youtube traffic.
According to the creators, Jono Armstrong and Brendan Mace, Equinox doesn't require any work or technical experience.
If you are thinking about buying this software in hopes to earn easy money, I highly recommend you read my honest Equinox review.
In this post, I am going to explain how it works and why this method may not even generate $10 per month!
You may also want to discover the step-by-step program that helped me reach $1,300/mo from my laptop. It's free to get started and 100% newbie-friendly!
Equinox Review
---
Name: Equinox
Website: https://equinoxtraffic.com/equinox
Creators: Brendan Mace and Jono Armstrong
Price: $34.95
LEGIMITATE
Overall Rating: 

2

/5
The Sales Page
---
In the sales page, you will watch a video from Jono Armstrong, the creator of Equinox and other IM products such as Kartel, Eclipse, and Aurora.
He tries to convince you that you can make a consistent $100/day by legally hijacking other people's youtube traffic.
With Equinox, you won't have to
Create and rank your own Youtube videos.
Pay for advertising.
Create websites
Do any search engine optimization (SEO).
The sales pitch is persuasive even for those who already make some money online.
Who wouldn't like to make passive commissions without putting in any upfront work?
What is Equinox?
---
Equinox is a web-based software that automatically finds youtube videos that have broken links in their descriptions.
Although Jono claims that Equinox is a one-of-a-kind software, I discovered that it works just like My Traffic Jacker by Joshua Zamora.
About Broken Links
---
You probably know that almost every Youtube video has a call to action and at least one link in its description.
Here is one example: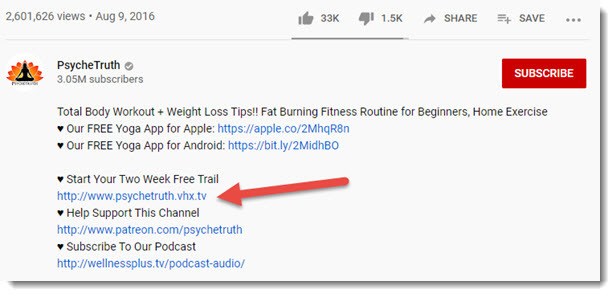 When clicked, those links direct viewers to an affiliate offer, an info product, or anything that the video creator is promoting.
If a person makes a purchase or takes a specific action, the owner of that video will make a sale or an affiliate commission.
Also, here is another important information that you should know.
Website links get expired over time if the owner of the domain doesn't renew its registration.
Therefore, anyone can repurchase the link from a domain registrar and use it as their own. This is 100% legal! 
Here is where Equinox comes in!

How Does Equinox Work?
---
Equinox will crawl Youtube and find all the videos that have expired domains (dead links) in its descriptions.
According to Jono, many of these videos rank very well and hence, are getting hundreds and even thousands of views per day.
Because YouTubers haven't updated those links, people are clicking and going to an expired page.
In his own words:
YouTubers are literally leaving money on the table! 
So, this is the exact step by step of how Equinox work:
Step 1- Input your keyword
Type in a keyword that you think is getting lots of searches on Youtube. This keyword can be in any niche you want.
For example, you can search for "weight loss".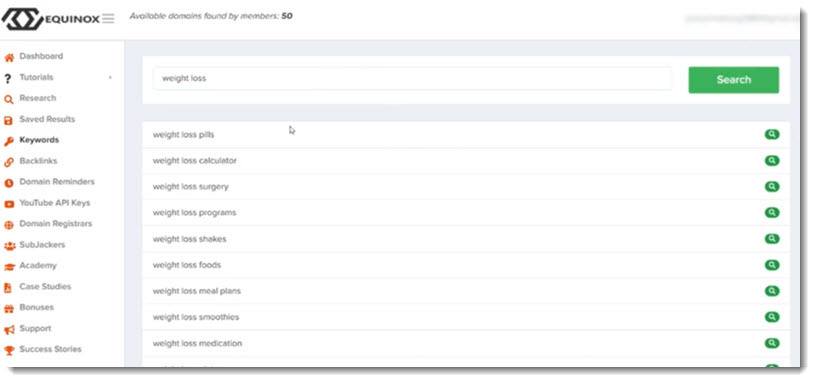 Equinox will find all the videos with broken links.
Step 2 – Select Viral Videos 
Equinox will find all the videos with broken links, and show you the number of views, likes and comments.

The software will also tell you whether the domain is available for purchase or not.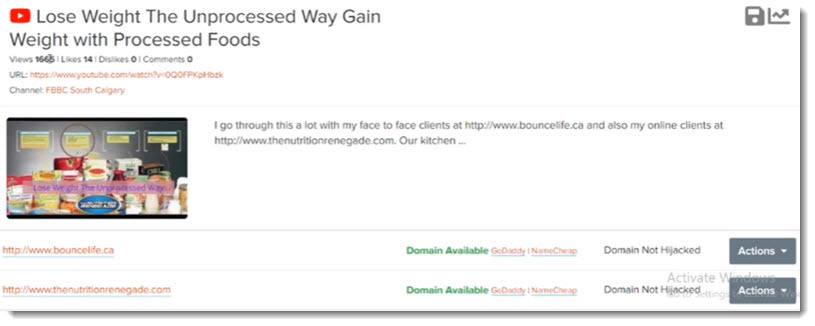 Your job is to find videos that got lots of views and have expired domains available for purchase.
Step 3 – Buy the Domain and Redirect
Once you find a link with good traffic potential, you should buy the expired domain at registrars at either GoDaddy.com or Namecheap.com.
A domain name costs $12 – $13 per year.

This reward platform is going viral! Cash out via PayPal, Visa, Gift Cards, and in-game currencies - Click here to find out how to generate an extra $10+ per day! 
Then, you can use that domain name to redirect people to the same or similar product as an affiliate.
That means when people watch the video and click on that link in the description, instead of going to an expired page, they will go to your affiliate offer page. 

When someone purchases the product through your link, you will earn a commission.
Here are some other strategies that you can use to monetise your link.
Direct-link product marketing: Promote your own info product.
List Building: Direct people to a squeeze page and collect their emails. Then, you can take advantage of email marketing to promote whatever you want via an autoresponder.
Adsense: Direct people to a website with Google Adsense ads.
Domain flipping: Resell the domain on flipping websites like Flippa.
Training
---
Equinox also comes with video training that will show you exactly how to use the software and strategy.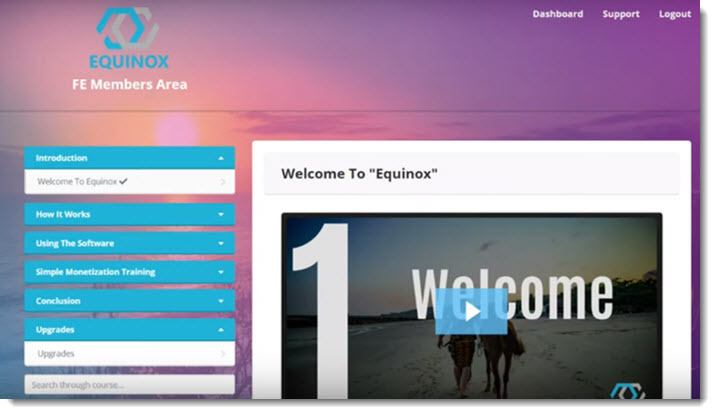 It consists of the following modules:
Welcome video
Overview
Using the software: Software tutorial; Redirecting dead links
Simple monetization training: CPA Offers; Clickbank; Simple affiliate offers; List building
Conclusion
Equinox is a very ingenious system, but does it actually work?
Can You Make $100/Day With Equinox?
---
You can make $100 in one day only if you are very fortunate!
The reason is that it's extremely hard to find videos that get hundreds of views per day with broken links in their descriptions.
Probably 99.9% YouTubers that are making sales with those link will never forget to renew their domains.
In other words, they will not leave money on the table!
Even if you find a viral video, it doesn't mean the link in the description is getting lots of clicks.
Not only that but most people who click those links will never buy the products that you are promoting.
Usually, broken links are not generating enough money to cover the costs of hosting a website. That's why most YouTubers don't care about them.
If you watch Jono's Equinox review, you will see that he didn't find one single video with a strong potential to make sales.
In order to make a consistent $100/day, I believe you'd have to find hundreds of viral videos.
Honestly, I don't think there are so many negligent YouTubers out there!
Unsustainable Business Strategy
---
Another downside of using Equinox is that a YouTuber may eventually remember that he didn't renew his domain.
As a result, he will remove your link from the video description and replace it with his own.
So, if you use this strategy, you are not building a reliable online business that will pay you for months and years.
You have to rely on pure luck!
Conclusion – Is Equinox a Scam?
---
No. Equinox is a legit product.

The software does the job of finding broken links in Youtube video descriptions.
However, it's extremely hard to find links on videos that are getting hundreds of views per day.
In my opinion, you'd be lucky to make $10 per month with this software and strategy.
It's not a sustainable business strategy because you are not in control of the traffic.
Personally, I think you're much better off taking the time to create your own content.
It takes time to grow your own channel and start getting lots of views, but it's much more effective in the long term.
As I always say, there is no such thing as easy and fast-track method to make money online.
Verdict: Legit 
How to Make $1,300+ Per Month And Achieve the Laptop Lifestyle
---
In 2015, I discovered how to build affiliate sites that generate $1,000s and even $10,000s per month.
Since then, I have worked hard and eventually reached $1,300 per month.
Yes, it takes a lot of upfront work to build an online asset capable of earning you a passive income for many years.
But…
You probably agree that anything in life worth having is worth fighting for.
In my opinion, the best thing you can do is to learn from those who have walked the way. That's what I did!
This excellent training program will show you a proven strategy and give you the expert support you need to achieve your goals.
Final Words
Thanks for taking the time to read my honest Equinox review. I hope this post was helpful to you!
If you have any questions or want to share your experience with Equinox, please leave us a comment below!
All the best