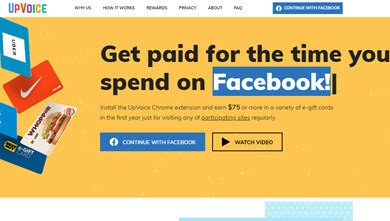 Welcome to my UpVoice review!
UpVoice claims that you can earn $75+ per year just for using Youtube, Amazon, Instagram, Facebook, Linkedin or Tweeter.
All you have to do is install the UpVoice browser extension and visit at least one the participating website per day.
In return, they promise to give you tokens that you can exchange for a variety of e-gift cards.
Now, you are probably wondering…
Is UpVoice legit and safe to use? What type of personal data are they collecting? Does UpVoice pay?
I've put up this review to answer all the questions you might have and give you my honest opinion.
You may also want to discover the step-by-step program that helped me reach $1,300/mo from my laptop. The starter membership is 100% free!
UpVoice Review Summary
---
Name: UpVoice
Website: https://www.joinupvoice.com/
Company: BrandTotal
Membership Eligibility: US (+18)
Price: Free to join
LEGIMITATE
Recommended? Y

e

s
Overall Rating:

4

/5
What is UpVoice All About?
---
UpVoice is an innovative user panel operated by a marketing research company called BrandTotal.
The company collects valuable information from internet users to help big brands improve their ad campaigns.
However, different from traditional survey sites, UpVoice panelists only need to install a browser extension and visit one of the following websites:
Youtube
Facebook
Instagram
LinkedIn
Amazon
Tweeter
As you probably know, big corporations are constantly collecting your data completely for free while you are browsing the internet.
With UpVoice, you have the chance to get rewarded for sharing the same type of information.
The amount of money that you can earn as an active member won't change your life. However, the greatest benefit is the fact that you don't have to put in any work.
In other words, the company is giving you the opportunity to earn passive income.
UpVoice is very similar to MobileXpression. The crucial difference is that MobileXpression works only on mobile devices.
In the future, UpVoice will launch a mobile app that will allow users to share data from phones and tablets.
Is UpVoice a Scam?
---
I always hesitate to install data collection browsers and software on my computer in exchange for money.
The reason is that we are not in control over what data these companies are collecting.
Besides, lots of marketing research companies flag member's accounts unfairly as an excuse to deny payment.
Personally, I don't think UpVoice is a scam or sketchy.
There are lots of positive reviews on Reddit, and everyone seems to redeem their tokens for a $10 Amazon e-gift card.

The company promises to anonymize and aggregate all the information that is collected from you.
So, regarding your data privacy, I believe you are in safe hands.
How Does UpVoice Extention Work?
---
It's very simple!
UpVoice extension will collect your ID and track all the advertising that you see.
These include not only banners, but also sponsored posts and campaigns that you are exposed to on social media.
The extension will also collect some information from your Facebook profile, such as your age, relationship status, country, and interests.
It's important to highlight that the data will be collected anonymously and in aggregate format, which means no one can identify you.
What UpVoice Will Do With Your Data?
---
Big brands want to understand who their competitors are targeting, and what exactly they are doing.
UpVoice will collect your data to generate statistical analysis and provide ad campaign insights for brand marketers.
This will help them build more effective marketing and brand strategies.
Who Can Join UpVoice?
---
To become an UpVoice panellist, you must:
Be at least 18 years old.
Have a Facebook account
Use Chrome or Brave browser.
Fit specific demographics
Although you can sign up from any country, UpVoice is only accepting participants from the US at the moment.

However, the company may expand the opportunity to UK residents in the future.
If your profile doesn't match their panel requirements, they will keep your details and get in touch once they have an opening for you.
How to Register
---
The first step is to register for free using your Facebook account. There is no other sign up method, so if you don't have Facebook, you can't participate.
Next, you must answer some basic profile questions to find out if you are eligible to become a panelist.
Check out the privacy policy and terms of use before creating your account.

This reward platform is going viral! Cash out via PayPal, Visa, Gift Cards, and in-game currencies - Click here to find out how to generate an extra $10+ per day! 
It can take a few days for the company to review your application and approve you.
There is as a sign-up bonus of 300 tokens waiting for you.

How to Get Rewarded?
---
As soon as you become a member, the company will give you a link to download the UpVoice extension.
Every day, you will get 10 tokens by completing the required activity. Logging in once a day is enough!
With this extension, you can only earn 10 token per day.
You may also earn more tokens by taking part in online surveys and other activities.
IMPORTANT – Disable Your Ad-block
If you use an ad-blocker, you must disable it on the sites that you are using. Otherwise, you won't be eligible for rewards.
How Much Money Can You Earn?
---
Currently, the exchange rate is $1 per 60 tokens.
So, if you keep UpVoice installed and earn 10 tokens per day for 1 year, you will earn $60 in rewards per year.
BUT…
You should also add to the equation the 300 tokens that you earned for signing up, plus some extra bonuses when you reach milestones.
For example, you will get an extra 240 tokens once you reach 2,100 tokens.
The company claims that you can earn at least $75 per year, but I think that is only achievable if you also take part in surveys.
Payments 
---
Once you have earned 600 tokens ($10), you can redeem for a variety of e-gift cards, including Amazon, Visa prepaid, BestBuy, iTunes, and more.
Unfortunately, the company doesn't process payments via PayPal yet.
It will take at least 5 business days for UpVoice to review your payment request and send your card.
Does UpVoice Respect Your Privacy?
---
Only the company and the privacy regulator in your country can answer this question for you.
BrandTotal assures you that they take your privacy very seriously and comply with all the regulations.
If you check their Privacy Policy, you will see that they are very transparent regarding your personal data.
Pros and Cons of UpVoice
---
Pros
Earn passive income.
Earn 300 tokens as a sign-up bonus.
The company respects privacy regulations.
Your data is collected anonymously.
Cons
UpVoice may not always be open for new applicants.
It's currently only available for US residents.
It only works for Chrome and Brave browsers.
No PayPal payments yet.
Conclusion
---
UpVoice is a legit data collection platform that allows you to earn passive income online.

Many people report they cashed out with no issues as soon as they reached 600 tokens.
UpVoice is only available for US residents at the moment, but they have plans to extend to other countries in the future.
I'll keep you updated!
If you are searching for other sites and apps to generate more passive income, check out
Mobile Performace Meter
AppOptix
How to Make $1,300+ Per Month And Achieve the Laptop Lifestyle!
---
In 2015, I discovered affiliate marketing and the possibility of earning commissions that amount of $1,000s per month.
Since then, I have grown an online business that allowed me to quit my job and live the so-called "laptop lifestyle".
Yes! It does take a lot of work to build an online asset that will earn you passive income for many years!
But…
How bad you want it?
If you dream about achieving time and location freedom, check out my #1 recommendation.
The best thing you can do is to learn from those who have walked the way to avoid trial and error.
This community-based platform will show you a proven strategy and give you the expert support you need to achieve your goals.
Final Words
Thanks for taking the time to read my UpVoice review. I hope this post was helpful to you!
If you have any questions or want to share your experience with UpVoice, please leave us a comment below!
All the best