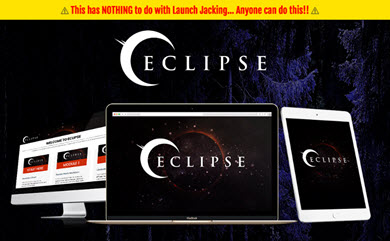 Jono Amstrong and Brendan Mace have released Eclipse, a product that promises to legally "steal" the guru's traffic and help you earn lots of commissions.
They say this method was never seen before and is capable of generating 24/7 income. But is it really innovative and effective? Is Eclipse a scam or a legit system?
I did a thorough research about Eclipse and give you my honest opinion.
Before we get started, you may also want to discover the same method that earns me over $1,000 per month from my laptop, check out my #1 recommendation.
Eclipse Review
---
Name: Eclipse
Website: https://www.geteclipse.net/eclipse
Owners: Jono Armstrong and Brendan Mace
Price: $12.95 (frontend) + Upsells

LEGIT

Overall rating:

2.4/5
The Sales Page
---
Eclipse has been advertised as a smart and unique strategy that allows you to hijack other people's business.
According to the sales page, this will help you fast track your way to success without putting too much work.
You won't need to build an audience from scratch by creating hundreds of blog posts or YouTube videos. There is no need to create a product neither!
Eclipse has nothing to do with eCommerce or launch jack, and it takes just 10 minutes to set up.
Most people will probably buy Eclipse thinking that this is an untapped opportunity that will give them overnight results. But is it?
What is Eclipse All About?
---
Eclipse is a step by step training developed by two experienced internet marketers called Jono Armstrong and Brendan Mace.
They are the top-sellers on the Warriorplus marketplace and have launched lots of "make money online" products such as Aurora, StealthD and The Lost Code.
The course is going to show you how to use Youtube ads to promote other people's products.
Instead of creating a Youtube channel and grow it from scratch, you are going to create commercials that will appear in well-established channels.
Many affiliate marketers don't use this strategy, but the reality is that this is not something new.
Companies and marketers have used Youtube for many years to get more traffic and sales.
How Does it Work?
---
The method is very simple.
You are going to choose a niche and product to promote from marketplaces like Clickbank, JVZoo and Warriorplus.
Then, you are going to record a short video promoting this product. You can either create your own video or outsource it from freelance platforms like Upwork or Fiverr.
Next, you will search for Youtube channels that are related to your niche and set up the Ads.
For example, let's say you want to promote Eclipse itself to earn 50% in affiliate commissions.
You are going to search for popular channels that cover topics on ways to make money online and set up your video on them.

When people watch those videos, they can click and go straight to your affiliate product page.
Then, whenever someone buys the product, you will earn a commission.
Can You Make Money With Eclipse?
---
You are probably wondering if this method can really help you make money, and the quick answer is yes, it can!
However, it's essential to understand that there are risks involved.
Video ads are not cheap, and so you must create high converting adverts and promote high commissions products.
Still, the risk is always there! You can make 100 sales in a say, but if your total ad costs are higher than your total commissions, you will lose money.
Personally, I have never had the guts to promote on YouTube because I know there is a lot of testing involved.
Besides, I prefer to stick with free traffic sources because that's my specialty.
The Training
Eclipse comes with step by step videos that will show you the entire process from start to finish.
The training is going to show you three different methods separated into easy, intermediate and advanced.
The course is relatively short and easy to follow.

Conclusion – Is Eclipse a Scam?
---
Eclipse is not a scam because are you getting valuable training that will help you make money online. Besides, you have a 30-day money-back guarantee if you decide this method is not for you.
However, the sales page makes you think that you can earn a lot of money very easily using a secret strategy.
Youtube ads are not secret at all!
You can make money, but the problem is that if you are not an experienced marketer, you can create videos that don't convert very well.
Therefore, you can spend a lot of money on ads and make just a few sales that don't cover your costs.
If you want to buy Eclipse, do so but be aware of the risks.

This reward platform is going viral! Cash out via PayPal, Visa, Gift Cards, and in-game currencies - Click here to find out how to generate an extra $10+ per day! 
Verdict: Legit

How I Make Money Online
---
In short, I grow an affiliate site and rank articles on Google. That's how I get free traffic without risking my hard-earned money.
Yes, it takes time, but I prefer to stick with something that will pay me in the future rather than lose money on expensive marketing campaigns.
I believe providing value is the best way to get traffic and make affiliate commissions.
This excellent step-by-step program gave me all the knowledge, support and tools that I needed to grow an authority affiliate site.
Thanks to this course, my site has grown significantly over the last 4 years, and have been generating a full-time income month after month.
I started as a complete newbie, so, I am sure you can do this too.
However, this type of business takes time and hard work to get traction, so you should not expect overnight results.
Thanks for checking out my Eclipse review. If you have any questions, feel free to drop me a comment below, and I will be more than happy to help! 😉
Stay safe and peace out!