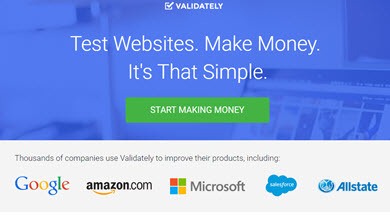 Welcome to my Validately review!
In recent years, there has been an increase in the number of companies that pay individuals to test websites and apps.
The reason is that companies realised the importance of user experience in driving more sales.
Although there are many reliable platforms you can use, there are also many scams and misleading sites out there.
Therefore, you may be looking for more information about Validately to make sure you don't waste your time and energy. You are in the right place!
In this review, I would like to cover in detail how Validately works and give you my honest opinion about it. Is it a scam or legit opportunity?
Let's find out!
You may also want to check out the step-by-step training that helped me reach $1,000+ per month working from my laptop (no special skills required).
Validately Review 
---
Name: Validately
Website: https://validately.com/
Type: Usability testing
Price: Free
Company: UserZoom Limited
LEGIT
Overall Rating: 

4/5
What is Validately?
---
In short, Validately is a platform that pays you to give feedback on websites and apps.
Many organisations are constantly trying to improve the user experience of their sites and apps to help customers and increase sales.
Therefore, they will hire companies like Validately to crowdsource testers and gather valuable insights.
To join Validately and complete assignments, you must be willing to think out loud and have your voice recorded for about 10 or 20 minutes.
Is Validately a Scam?
---
No, Validately is 100% legit!
Recently, Validately has been acquired by UzerZoom, which is the same company that operates another usability testing site called IntelliZoom.
UserZoom is a reputable, well-established company that has been performing UX (user experience) research for many years.
To give you some perspective, big corporations like Google, Microsoft, Amazon use Validately to improve their services. So, you're safe!
Validately is not only legitimate but also one of the best usability testing platforms to earn extra cash.
Pros and Cons
---
Pros
Excellent pay rate.
Most tests only last 10 – 15 minutes.
No special skills or qualifications required.
Get paid after each test – no minimum payment threshold required.
Reliable company.
Get paid via Paypal.
Cons
You may only be invited for 1 or 2 tests per week.
The quota of participants can be reached fast.
Requirements 
To join Validately, you must be at least 18 years old and have the following:
Excellent command of the English language.
A computer with a microphone and/or a smartphone.
An updated version of the Google Chrome browser.
High-speed internet connection.
A PayPal account.

How Does Validately Work?
---
Sign up
The first step is to create your free account with your email or Facebook account.
Then, you have to answer just a few demographic questions such as your age, education, job position, household income, etc.
Next, you must download the Vaildately existential and pass a screening test.
RECOMMENDED: Click here to see my no.1 recommendation for making money online.
Screening test
Before you get paid to test sites, you should take a simple 1-minute screening test.
The screening test is required to ensure you will provide good quality responses.
You will need to download the Validately extension in your Chrome browser, read the questions and speak your thought aloud.
The extension will record your computer screen and audio that you will need to submit for the test.
Validately staff will evaluate your performance and send an email to inform if you are accepted or rejected. This confirmation email should take a few days.
Invitations
When a test becomes available, Validately will send you an email.
Try to accept the test as quickly as possible because the quota is filled quickly.
Some people complain that when they try to take the test, it says there are "too many people attempting to take it at this time."

There are many tests available, but Validately will only invite you when your profile matches specific criteria.
That's why you may only be invited, on average, 1 or 2 tests per week.
Sometimes you may get 10 tests in a week, sometimes you may not get any! It's very inconsistent.
Think Out Loud Tests
Think out loud tests require you to talk aloud during the entire testing time.
You should read the instructions carefully, perform all the tasks, and answer all the questions.

This reward platform is going viral! Cash out via PayPal, Visa, Gift Cards, and in-game currencies - Click here to find out how to generate an extra $10+ per day! 
Make sure your wifi connection and microphone are working and that you are using the latest version of Google Chrome.
Most tasks will ask you to visit a website a think out loud as you browse the pages.

For example, you should say how difficult it is to find a specific page, whether you like or dislike the layout, and give your opinions on how things could be better.
I did one usability testing assignment before, and it was quite easy.
The company asked me to visit a website about wine, find a specific wine and then reach the check out page.
Make an effort to talk continually while you are performing the test because the more information and reactions they collect from you, the better.
Speak clearly and do your best to provide honest and quality feedback
Here is a short video that shows how to do a talk aloud test on Validately.
You may also have to answer a few follow-up survey questions after the test.
There are moderated tests that require you to speak with the staff and provide feedback through the webcam. These tests last longer but pay more!
In a moderated test, the moderator will tell you whether you were successful or not at the end of the session.
To ensure you get paid, you should read the guidelines for moderated sessions here.
After submitting your work, you will receive an email confirmation.
If you don't receive this email, something might have gone wrong, and you will probably have to submit the test again.
How Much Money Can You Make?
---
It depends on each test and the number of invitations that you will receive each month.
It's difficult to estimate, but you shouldn't expect to earn a lot because there are not many tests.
Validately claims that some tests pay $100, but it's not easy to find and qualify for these high-paying sessions.
Most nonmoderated sessions last 10 -15 minutes and pay at least $10 while moderated, live sessions usually take 30 minutes and pay $25.
Just like most usability testing sites, Validately will invite you to complete tests maybe once or twice a week.
Payment
---
When you complete the test, Validately will automatically process the payment through PayPal within 7 business days.
Conclusion
---
Validately is not only legit but a great platform to participate in Usability testing and get paid for your valuable feedback.
You don't need to have any special skills or qualifications to become a tester. You just have to speak fluent English and be willing to record your voice while browsing sites and apps.
Some people may feel unease with the process as they are not confident in providing the type of feedback the company is expecting.

I also felt this way in my first experience, but trust me, you will get more confident as you do more tests.
Speak naturally and don't worry about what the evaluators will think.
They are not there to judge what's right or wrong, but to get insights on what can be improved based on your thoughts and reactions.
The pay rate is relatively high, which is why many people prefer to spend their time on Validately rather than making $2 per hour with traditional online surveys.
It's one of the few online jobs that doesn't require any special skills and pay more than the minimum wage.
The only problem is that there are very few opportunities, and sometimes a week goes by without any invitation!
For that reason, I recommend signing up with at least other three different sites so that you receive more frequent invitations.
In my opinion, some of the best platforms are UserTesting, TestingTime, Enroll, TryMyUI and UserFeel.
Usability testing is a great way to make money online. That's a fact.
However, you can't rely on it to pay the bills because you never know how many invitations you will get per week.
Even if you register with all UX research companies, you are unlikely to reach a full-time income.
Verdict: Legit
How I Make Money Online
---
In short, I have this website where I provide valuable content and make money as an affiliate. It's a real internet business that works for me and generates revenue 24/7.
I write articles and product reviews that rank on Google and attracts thousands of readers every single day.
When people click on affiliate links and purchase products that I am promoting, I earn a commission. I also earn revenue from banner ads located on all the pages of my website.
The potential is enormous, and there are lots of profitable niches ready to be explored!
If you search on the internet, you will find successful affiliate sites operated by individuals like you and me.
What I love about owning an internet business is the opportunity to work whenever and wherever I want.
You can start from scratch and achieve remarkable results if you are willing to put in the time and effort.
If you want to learn how to start this business and reach a full-time income working from home, I highly recommend this step by step training.
It does not only provide the best digital course on affiliate marketing but also a platform where you can interact with 6-figure earners and grow your site.
That's the same platform that I used to start and grow an affiliate site that is now generating over $1,000 per month.
Keep in mind I didn't have a clue about affiliate marketing before going through this training.

Final Words
Thank you for taking the time to read my Validately review, and I hope it was helpful.
If you ever completed any test on this platform, kindly share your experience with us!
Also, if you have any questions, I will be more than glad to help you out. 🙂
I wish you all the best
Stefan