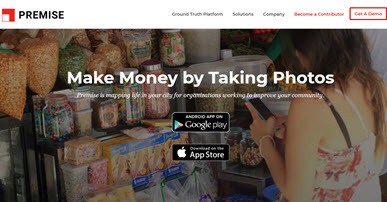 I was browsing the Google Play store last week when I discovered an innovative app called Premise.
The Premise app is different from most other cash apps as it claims you can make money by helping your local community.
I know how frustrating it is to waste time and energy working for companies and have nothing to show for it.
That's why you are probably wondering if Premise is a scam or a legit app.
In this review, I am going to cover all the essential information you need and give you my honest opinion.
You may also want to check out the step-by-step training that helped me reach $1,600+ per month working from my laptop (no special skills required).
Premise App Review
---
Name: Premise
Website: https://www.premise.com/contributors/
Company: Premise Data Corporation (PDC)
Membership Eligibility: Worldwide
Price: Free
LEGITIMATE
Overall Rating:

3.3/5
What is Premise App?
---
Premise a mobile app that rewards you for taking pictures and reporting your daily activities.
The pictures and information you provide will help businesses and government to improve your local community in many different ways.
For example, you may be asked to report on dirty places and poor street signs in your area. I will give you more example later in this post.
Premise's goal is to empower individuals to share information with decision-makers, who will be better equipped to make positive changes.
The app can be downloaded worldwide, and it's a great opportunity, especially for people who live in Africa, SE Asia, and South America.
However, missions are not available everywhere, so the number of opportunities varies.
Another important information is the fact that Promise is still in beta phase in some countries, including the U.S.
What that means is people in the U.S. and other countries may complete missions but won't be allowed to cash out.
Is Premise App a Scam?
---
No, Premise App is not a scam by any means. The company is operating successful campaigns all over the world and rewarding users for their contributions.
Visit their corporate's website here to read about the services they provide to businesses and government organizations.
The main issue is that people in certain countries are using the beta version that is still not paying.
In the UK, the app is giving missions and processing payments without any problems.
RECOMMENDED: Click here to see my no.1 recommendation for making money online.
Pros and Cons
---
Pros 
Make money while helping organisations make a positive impact in your city.
The minimum cash out threshold is very low – only £0.19 in the UK.
There are lots of tasks in many cities around the world.
You can cash out via PayPal or Coinbase.
Fast payments.
If you live in a country where Premise is in beta phase, you probably won't be able to cash out.
Cons
Low payouts.
No rewards for referrals.
How Does it Work?
---
Installation and Registration
Premise app is available for both iOS and Android devices. Therefore, you can find it on the App Store or Google Play store.
After the installation, you will be prompted to sign up with either Google or Facebook.
Next, Premise will ask permission to access your location, which is crucial to receive and complete tasks.
Welcome Task
After registration, they asked me what the weather was like and asked me to take an outdoor photo to capture the weather conditions.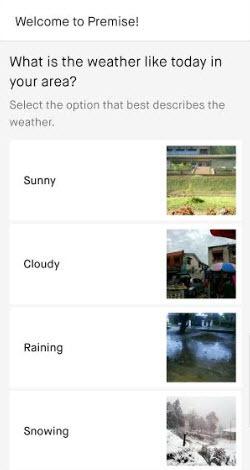 That was the first task, which earned me £0.05. Pretty easy!
Perhaps the first task will be different depending on your location.
Complete Your Profile
Before jumping to other tasks, take the time to complete a short profiling questionnaire and earn £0.05.
They want to know your age, employment situation, education level, primary language, and other basic information.
Completing Tasks
Premise app allows you to complete tasks in your area whenever you want. You can find all the opportunities available on the marketplace by tapping on the blue button with the "plus" sign.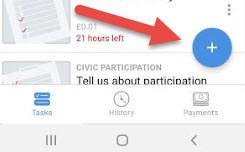 The app will tell you the amount of money you can earn and how many hours until the task gets expired.
In London, Premise was awarding up to £0.20 per task.
By selecting the task, you will see a summary and the option to reserve it. Then, when you tap on "reserve", the job will be transferred to "My Tasks" section, and you will have a deadline to complete.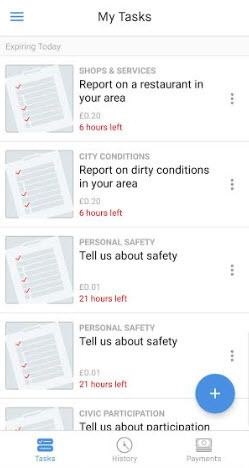 Next, I am going to share with you a few tasks available in my area.
Report on poor bus stop conditions – This task asked me to take two photos and answer questions about the damage.
Report on public water points – Premise asked me to identify a source of publicly available water, such as a drinking fountain, well, water pump, or faucet. I had to take a photo and answer several questions.
Report on Restaurants – This task helps organizations understand food and beverage availability. I had to find a restaurant in my area, take photos and answer questions.
Report on dirty condition of public spaces – This task involves identifying litter, vandalism, or other dirty conditions in the area.
As you can see, Premise is trying to gather valuable data that will help solve real-world problems.
One practical example of this is the identification of mosquitos breeding sites in Colombia in order to help fight the Zica virus.
How to Avoid Your Tasks Being Rejected
---
Your tasks can be rejected for various reasons, but the main ones are:
Poor image quality: make sure the image is not blurred, and that the subject is at a reasonable distance – not too far and not too close.
Incorrect observation: Does the picture really represent the description of your task?
Fraudulent observation: You are not allowed to use more than one phone or one account to conduct the research.
Also, before reserving a task, make sure you have enough time to complete it.
How Much Money Can You Earn?
---
Depending on your location, you will find lots of opportunities, but the pay rate is incredibly low.
Most tasks pay just a few cents, so I guess most people will feel discouraged to use the app regularly.
This person said he made just $0.50 after completing 24 tasks, and that it was not worth for him to go after the $0.25 ones as his transportation cost would be $1.20.

Another person made $30 within 3 months, which is not bad, but he didn't mention how many tasks he did.
So, don't expect to make a lot of money with this app.
Payment
---
To get paid, you should first add a payment method, which is currently PayPal and Coinbase.
The minimum payout requirement depends on your country, but it's usually very low. In the UK, the minimum is just £0.19.
User reviews
---
There are mixed feelings about Premise app on the internet, but most people seem to like it.
Some people think that it's not worth it because of the small payout, which is understandable.
This person from Zambia enjoys Premise, but he thinks that the company could pay more as it's collecting information in his country is a bit challenging.
Apparently, people in the U.S. can complete tasks, but they are not receiving payments.

So, before using the app, I advise you to send a message to the company to ask whether the app is rewarding in your country.
Conclusion
---
Premise is an interesting app that pays users to make a positive impact on local communities. It's a great initiative!
In my opinion, the pay rate could be a bit better to encourage more people to continue using the app.
At the end of the day, only you can decide if using Premise is worth your time and effort.
Personally, I am going to keep the application installed and contribute whenever I can.
I am not motivated to use the app because of money, but if I identify a problem in my local area, I'll be glad to help.
Many other apps allow you do complete location-based missions and get paid. The best ones are BeMyEye, Roamler and Field Agent.
Verdict: Legit
How I Make $1,300 Per Month From Home
---
The simple answer is I publish helpful content on my own website and earn revenue through affiliate links and banner ads.
As an affiliate, I earn commissions when visitors click on my links and buy what I am promoting.
It's not difficult to get started, and you don't need any special skills. However, you need to put in the time and effort before you start reaping the rewards.
Building a profitable website is pretty much like growing a tree. You need to find fertile ground (decide on your niche), water it (create valuable content) and then wait.
In my opinion, this is one of the best ways to make money.
When you have a website, it keeps working for you around the clock.
You decide on your working schedule, and you can work whenever you want from your laptop.
I'm talking about time and location freedom! 
I started from scratch without having any clue about website design or marketing skills. So, I am confident you can do it too!
If you want to create an affiliate site, the best thing is to learn from those who walked the way.
I've built a successful internet business thanks to this excellent step by step program.
They helped me set up a strong foundation to rank on Google and make affiliate sales. It's my top-notch training for affiliate marketers.
Final Words
That's it for now! I hope my Premise app review was helpful. If you have any questions, feel free to drop me a comment below, and I will be more than happy to help! 😉
Stay safe and peace out!