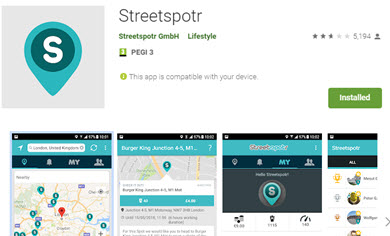 Welcome to my Streetspotr app review!
Streetspotr is advertised as an innovative application that pays you to complete small tasks (microjobs) in your area.
Most jobs (Spots) are location-based, meaning you will have to visit local retailers in order to complete missions.
In addition, there are jobs that you can do from the comfort of your home!
Apps like Streetspotr have become very popular as they allow anyone to earn cash without any special skills.
However, there is always the risk of having your job rejected and waste time!
In this review, I am going to show you everything you need to know about Streetspotr and give you my honest opinion about it.
While you are still here, don't forget to check out my top recommendation, which is the same program that helped me reach $1,600/mo from my laptop. No special skills required!
Streetspotr App Review
---
Name: Streetspotr
Website: https://app.streetspotr.com/
Company: Streetspotr GmbH
Membership Availability: Worldwide (+18)

LEGITIMATE

Overall Rating: 2.2/5
What is Streetspotr?
---
Streetspotr is a crowdsourcing app that provides valuable data and insights to retailers around the World.
The app was Launched in 2011, and it's available on Android and iOS devices.
As a Streetspotr, you can complete simple tasks (Spots), that will help companies improve their products and shopping experience.
Most jobs involve visiting a nearby store or restaurant, taking pictures and collecting information.
Usually, you will also have to provide your honest feedback on products, merchandising, customer service among other things.
As of writing this review, Streetspotr has been downloaded more than 500,000 times on Android devices, and this number continues to grow.
People can download the app from all the countries, but most of the jobs are available in Europe.
Is Streetspotr a Scam?
---
Streetspotr has been operated by a well-established retail intelligence company since 2011.
So, no, I don't think it's a scam!
Now, if you take the time to read the user reviews on Google Play, you will see that many people didn't get paid.
The company claims to pay everyone who does the job correctly according to the description.
The problem is that if you make a little mistake, they will probably reject all you have done.
So, pay close attention to detail when completing the tasks because otherwise, you can waste a significant amount of time.

How Does Streetspotr Work?
---
Installation and Registration
You can install Streetspotr on your Android or iOS device.
After the installation, register for free using either your Facebook or email account.
Keep in mind that you must be 18 years old to be allowed in.
Next, click on the link sent to your email in order to activate your Streespotr account.
Getting Started
Before you can go ahead and start your first Spot, you will need to complete the Welcome Spot.
The welcome Spot consists of filling up a profiling questionnaire (Age, gender, etc) as well as uploading your phone.
This will only take a few minutes and will help Streespotr identify jobs that are more suited to you.
Search and Complete Spots
Once you complete your Welcome Spot, you are ready to search for job opportunities in your area.
Select the location icon at the top of the screen and look for Spots available on Google maps.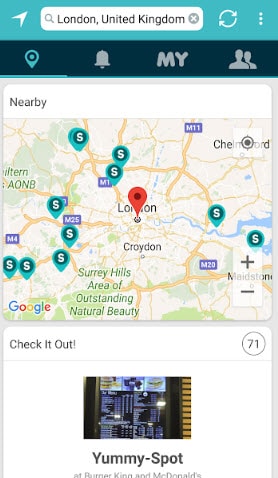 Also, whenever a new Spot is available within 400 meters, you will receive a push notification.
Read all the job description and click on "Take Spot" when are within 400 meters of the job location. Do it fast because there is limited availability.

You will have a specific deadline to complete the Spot, which is usually 12 hours after you reserved the job.
Most tasks are very simple!
For example, you may be asked to visit a fast-food branch and snap a photo of the menu board.
Most Spots pay $2 – $5 and take just a few minutes to complete. However, you have to take into account the time you are spending to visit the store.
Sometimes it's too far and not worthwhile if you have to pay for transportation.
There are some Spots that you can do from the comfort of your home, but you won't find them very often.

This reward platform is going viral! Cash out via PayPal, Visa, Gift Cards, and in-game currencies - Click here to find out how to generate an extra $10+ per day! 
Streetscore 
As you complete Spots, you will receive a Streetscore, which is your reputation at Streetspotr.

You will be rated based on your StreetPoints, rejection rates, cancelation of Spots and rate of app use.
When you reach a certain level determined by the company, you will become a Streetspotr Pro, which will give you these two advantages:
The ability to reserve spots whenever you are.
You will have twice as much time to complete the Spot.
Payments
You can request a payment in the tap "MY" as soon as your Spot has been accepted.
Alternatively, you can also keep the money in your account and request a lump sum whenever you want.
After the request, Streetspotr will pay you within 30 days via PayPal.
There is no other payment option available, you should set up a PayPal account in order to receive the payment.
Pros and Cons
---
Pros
Quick signup.
The tasks are very straightforward.
There are no cashout fees.
Cons
There are not many jobs available.
Unless you are a Streetspotr pro, you can only reserve the Spot when you are within 400 meters of the Spot.
Some people face technical issues.
Conclusion
---
Streetspotr is a legit app to make some pocket money, but it's important to know that the company has no obligation to pay you. 
Some people complain about missing payments, but I can't blame the company as I don't know whether the person has completed the task correctly or not.
The jobs are very easy to complete, but there are not many opportunities in most countries.
I have seen many people complaining about the lack of Spots even in European countries and the U.S.
If you want to complete more location-based jobs, I highly recommend Bemyeye app, which has excellent ratings.
Verdict: Legit
How To Earn a Full-Time Income From Home
---
Apps like Streetpotr offer an easy way to earn some extra cash, but the income potential is very limited.
If you dream about quitting your day job and working from home, I have good news for you!
Lots of people, including me, have built affiliate sites that generate over $1,000 per month! 
Some affiliates make over $10,000 per month after a couple of years of hard work.
The business model consists of providing helpful content and promoting other people's products via your own website.
It takes time, but when you are building this type of business you should focus on the long-term results, which can be life-changing!
If you want to grow a lucrative affiliate website, I advise learning from experts in the industry who can help you achieve your goals. This makes a huge difference!
This excellent step by step program will give you the training, tools, and support you need to keep on the right track to success.
I was a complete newbie when I became a member in 2015. Since then, I learned a lot, applied the strategies and reached a full-time income.

You can create your account today and start your first 10 lessons for free!
Final Words
---
Thanks for visiting my blog reading my Streetspotr review. I hope it was helpful!
If you have any questions, feel free to ask in the comment section below.
All the best
Stefan