Welcome to my appJobber app review!
AppJobber has been advertised as a microjobbing app that pays you to fulfill simple tasks from your smartphone.
Millions of people have downloaded similar apps in hopes to make an extra income online.
There are many apps connecting companies with a large pool of cheap mobile workforce.
Unfortunately, some of these apps are not reliable and will come up with excuses to avoid payments.
In this post, I would like to cover everything you need to know about appJobber. Is it a scam or a legit application? How much money can you make?
Read this before applying for jobs!
While you are still here, don't forget to check out my top recommendation, which is the same program that helped me reach $1,600/mo from my laptop. No special skills required!
appJobber App Review
---
What is appJobber?
---
AppJobber is a secret shopping application operated by a German company called Wer Denkt Was.
The company has provided fast and cost-effective data to big brands like Sony, Nestle, Muller, and Telefonica.
So, as far as I know, the company is operating legally and thus, the app is legit.
As a Jobber, you will be asked to do visit a store and complete simple tasks such as
Taking pictures of merchandising.
Check the availability of products.
Giving feedback on your shopping experience.
And more!
As of writing, appJobber has been downloaded more than 1 million times in Europe.
This number continues to grow as more and more people are searching for ways to earn money online.
The app is available for Android and iOS users in the following countries:
Germany, the UK, Italy, Switzerland, France, Austria, Belgium, Netherlands, Portugal, Spain, Denmark, Poland, Sweden, Portugal, and Finland.
There is no point in downloading the app if you live in another country as you won't find any jobs.
Pros and Cons
---
Pros
Quick signup.
The tasks are very easy to complete.
Get paid via PayPal or bank transfer.
Cons
Very few jobs.
Low pay.
Some people report technical issues.
You won't get paid if you make a little mistake.
How Does Streetspotr Work?
---
Installation and Registration
You can install appJobber on your Android or iOS device.
After the installation, you should provide your email, select your country and allow access to your location.
Then, you need to confirm your email address before you can accept jobs.
Just click on the link they will send you via email and are good to go!

Search and Complete Jobs
Once you activate your account, you can search for job opportunities in your area.
If there are any jobs in your region, you will see a sign on the map.
The sign color indicates the reward amount as follows:
Green – 1€
Blue – up to 4€
Orange – up to 9€
Red – 10€ or more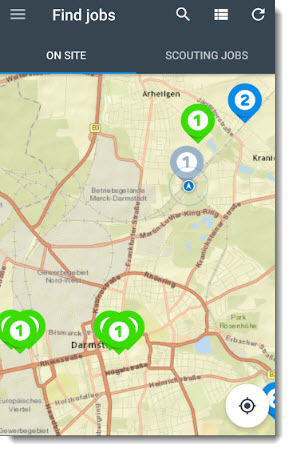 You will also get a push notification when there are new opportunities.
Read carefully the job description and accept the job when you are ready.
There are two types of jobs:
Normal jobs: It usually involves visiting a specific coordinate, taking pictures of objects and answering a few questions. For example: Visit a supermarket, take a picture of a fruit juice and rate the presentation.
Scouting jobs: Scouting jobs don't have a specific location. You may have to complete surveys from home and gather other information in your area.
Keep in mind that most jobs can be reserved for 3 hours or a bit longer.
If you don't complete the job before the deadline, it will get expired.
The good news is that you will be allowed to reserve it again, but not more than 3 times in a row.
See if every step is highlighted in green to ensure that you have completed all the tasks.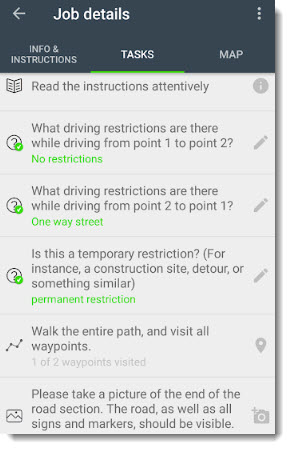 After submitting all the tasks, the client will review them within 2 – 4 weeks.

Will appJobber Pay You?
---
Yes, BUT only if you meet all the job requirements.
There are many people who complain about wasting a significant amount of time because of rejected jobs.
Other similar apps also receive lots of negative reviews because of that.
But here is the relevant information that you  in the "Terms and Conditions":
"If a job is not done as per the job description, the job will not be paid, not even in part."
It's impossible to confirm who is right or wrong in each situation because only the company has the proofs.

This reward platform is going viral! Cash out via PayPal, Visa, Gift Cards, and in-game currencies - Click here to find out how to generate an extra $10+ per day! 
The fact is that clients expect good quality from appJobber and will only pay for correct results.
That means all the requirements, be it image quality, the number of pictures and the completeness of the information must be met.

I know how uncomfortable and disappointing it is to travel, complete all the tasks and have it rejected because of small mistakes.
For this reason, you should read carefully the job instructions and pay close attention to detail.
Also, read the "help" section to understand how to perform all the tasks correctly.
If you don't agree with the rejection, you must appeal within 2 weeks. Both you and the client will have the opportunity to submit a statement.
After listening to both sides, appJobber will make a final decision as to who is right or wrong. If you are right, you will receive the payment.
How Much Money Can You Make?
---
The amount of money that you will earn depends on the complexity of the tasks and is determined by the client.
Although appJobber claims to pay at least 1€ per task, some people say most jobs pay only 1€.
You will see cash reward in the job description, do you can decide whether it's worth taking it or not.
Bear in mind that many jobs take half an hour only to arrive at the location.
Payment
---
You can request your payment via PayPal or bank transfer whenever you want as long as your profile is complete.
So, you don't need to accumulate a minimum amount of money to cash out.
According to the FAQ, appJobber is trying to pay Jobbers at the beginning of the following week. But payments can be delayed!
Be aware that PayPal charges a fee of 0.35 € per transaction plus 2,49% for sales up to 2.000 €.
So, if you don't want to pay any fee, choose a bank transfer instead.
Conclusion
---
AppJobber offers a legit opportunity to complete easy tasks and earn some extra cash on the go.  
The problem is that most tasks pay only 1€ and besides, there are not many opportunities especially if you live in a small city.
Also, due to the current financial crisis, I believe the availability of jobs has decreased even more!
If you want to complete more micro jobs from your smartphone, you can also try Bemyeye app, which has excellent ratings.
Another platform that allows you to earn a more regular income is Prizerebel. But different than appJobber, this site is focused on surveys and offers.
Verdict: Legit
How To Earn a Full-Time Income From Home
---
Microjob apps like appJobber can help just a little bit, but…

What if you could earn a full-time income from home?
There are many ways, but in my opinion, affiliate marketing is the best choice for most people.
Here are my top reasons why I decided to build an affiliate site:
It's a real business that you have total control of.
It's extremely cheap to operate compared to a brick and mortar business.
Your income depends on how much time and effort you put into it.
Work from your laptop whenever and wherever you want.
Earn passive income – I can stop working today and keep making money for a couple of months.
If you want to build this type of business, you have to be prepared to create content for at least 1 year, before you start reaping the rewards.
But I can assure you it's well worth it!
Well, I don't regret my decision to quit my master's degree to focus on my affiliate site back in 2015.
Today, I'm making over $1,600 per month and I owe a great part of my success to this excellent step by step program.
My Advice? Sign up for free and start your first 10 lessons with no strings attached.
Learn more about my #1 recommendation here and take your first steps today!
Final Words
---
Thanks for visiting my blog reading my appJobber review!
If you have any questions, just let me know in the comment section below!
By the way, your honest opinion is also extremely important for readers of this blog!
So, if you have used appJobber, feel free to share thoughts below to help others out. 🙂
Stay safe!
Stefan