Welcome to my Gigwalk app review!
1.5 million residents in the US, the UK and Canada are using Gigwalk to complete gigs from their smartphones.
All you have to do is locate the nearest task, take pictures, and collect information for different companies.
You may also have to complete short surveys from home and give opinions about products.
There are many similar apps that help businesses execute simple tasks in a cost-effective way.
In this post, I would like to explain how Gigwalk works and give you my honest opinion about it.
How much money can you earn? Is it really possible to wan an entire paycheck?
If you want to become a Gigwalker, read this before accepting gigs.
While you are still here, don't forget to check out my top recommendation, which is the same program that helped me reach $1,600/mo from my laptop. No special skills required!
Gigwalk App Review
---
What is Gigwalk?
---
Gigwalk is a crowdsourcing app that pays you to complete simple gigs in your area.

This reward platform is going viral! Cash out via PayPal, Visa, Gift Cards, and in-game currencies - Click here to find out how to generate an extra $10+ per day! 
Gigs are posted by retailers and consumer brands that need information about the conditions of their products and marketing efforts.
Most of the time, you will have to visit a nearby store or a supermarket and follow the instructions.
You may be asked to check the availability of products on the shelves, the promotions and merchandising.
The most common tasks involve taking pictures and answering simple questions through the application.
Launched in 2010, Gigwalk has built a long-lasting reputation of connecting businesses with a mobile, on-demand workforce.
Before I explain how the Gigwalk app works, let's have a look at the pros and cons.
Pros and Cons
---
Pros
Quick signup.
Easy tasks.
Decent rates of pay.
Get paid via PayPal.
Cons
Job opportunities are scarce in many locations.
You have to compete with lots of Gigwalkers for the job.
You won't get paid if your job is wrong or incomplete.
Some people complain about sign up issues.
The minimum payment threshold is too high.
How Does Gigwalk Work?
---
Installation and Registration
Gigwalk is available to download on Android and iOS devices.
You can create a free account by providing your name and email.

Next, you must allow the app to access not only your location but also photos and files on your device.
That doesn't mean the company will have unrestricted access to your personal data.
The permission is needed so that you can upload the pictures required for the gigs.
To activate your account, click on the link that they will send via email.
Complete Your Profile
Before searching for gigs in your area, I recommend that you fill up your profile.
It's where you will provide basic information such as your address, date of birth, and PayPal email.
You can only get paid if you link your PayPal account.
Select and Complete Gigs
When you go back to the main page, you will see all the gigs available in your area.
The jobs will be represented by a pin on the map.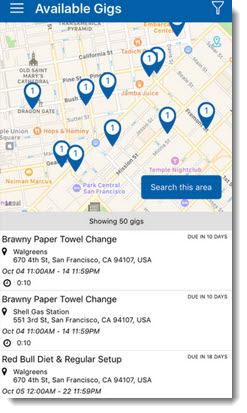 You can also search and apply for jobs through the Gig List.
Read carefully the job description and click on the "Apply" button.

Different than other apps like Streetspotr and appJobber, you will have to wait for Gigwalk to accept your application.
Only then you will be allowed to complete the tasks within a certain timeframe.
Gigs can take 5 minutes – 1 hour, but you should also take into account the time to reach the location.
After you submit the pictures and answers, the clients will evaluate your work and determine if all the requirements are met.
Usually, the client will review your work within 14 days.
Be aware that if you make a little mistake or forget to complete a task, Gigwalk will reject the whole gig.
As a result, you won't get paid, not even for the tasks you have successfully completed.
How Much Money Can You Make?
You will earn anywhere from $5 to $100 depending on the complexity of each gig.
It's not difficult to find gigs that pay $20 – $25.
The problem is that there are not many opportunities, especially now with this huge economic crisis.

So, you should not expect to make a lot of money, even if you live in a big city like NY or London.
Will Gigwalk Pay You?
---
You should expect to receive the payment, but you can ruin everything if there is any mistake.
I checked some reviews on Google Play and found only a few people who didn't get paid.
Here are two angry reviewers:


These people could have done something wrong, or maybe not. We will never know!
Now, on the other hand, lots of users have been paid without any issues.
So, here is my best advice:
If you want to join Gigwalk, pay close attention to detail when completing the tasks.
If you don't agree with their decision to reject your gig, contact the company and explain the situation.
Hopefully, they will review your work and pay what you deserve.
How Do You Get Paid with Gigwalk?
---
Once a gig has been reviewed and approved, the payment will be sent to your PayPal account within approximately 24 hours.
Conclusion
---
Gigwalk is a great app to earn some side income, not an entire paycheck as advertised!
Many people experience technical issues, especially during the sign-up process.
For example, you may get the message that your email is invalid. If you get this message, try to use another email.
Overall, people enjoy making money with Gigwalk, but unfortunately, there are not many gigs for everyone.
In many places, you may never see a gig for months!
Well, I see it this way: you have nothing to lose by installing Gigwalk and giving it a try.
But…
If you are serious about making money online, you should look for other alternatives.
Read the next section where I explain how I can work remotely and make a job-replacing income.

Verdict: Legit
How To Earn a Full-Time Income From Home
---
Apps like Gigwalk can help with the bills, but the amount of work is usually unsatisfactory.
You can install lots of similar apps and still struggle to earn a decent amount of money.
Well, there is a solid strategy that has the potential to earn you a full-time income from the internet.
In 2015, I decided that I wanted to work remotely, quit my job and travel the world!
I made this life-changing decision after joining this excellent program and learning affiliate marketing.
So, I completed all the training and started building my affiliate site.
It takes time and you have to be willing to create content for at least 1 year before you start reaping the rewards.
But I can assure you it's well worth it!
Today, I'm making over $1,600 per month.
So, yeah! I quit my job and went traveling with my wife to SE Asia!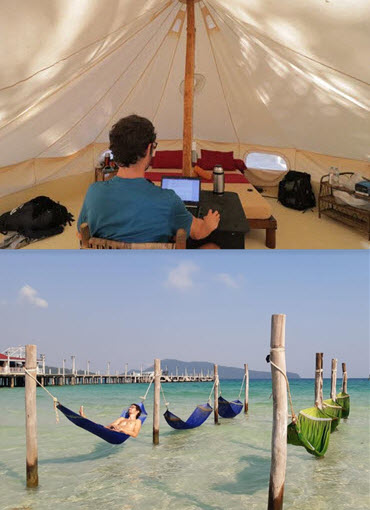 Final Words
Thanks for visiting my blog reading my Gigwalk app review. I hope it was helpful! 😉
Your honest opinion about this app is also extremely important for readers of this blog!
So, you are more than welcome to share your thoughts in the comment section below.
Stay safe!
Stefan