Welcome to my Observa app review!
I was doing some research on another app when I discovered a secret shopping app called Observa.
Someone in the review section of Google Play claimed that Observa had way more gigs than Gigwalk and that he was able to make $1000 in one month.
This comment caught my attention immediately and I decided to take a close look at this promising app.
According to the company, there are more than 100,000 secret shoppers completing Observa gigs in the US and Canada.
The app pays users to visit stores, take pictures, and answer a few questions that will provide insights for retailers.
Observa seems to provide an easy way to earn cash, but does it actually pay? Is it a scam or legit app?
In this review, I am going to show you exactly how this app works and give you my honest opinion.
While you are still here, don't forget to check out my top recommendation, which is the same program that helped me reach $1,600/mo from my laptop. No special skills required!
Observa App Review
---
Name: Observa
Website: observanow.com
Company: Observa, Inc
Membership Availability: US and Canada
LEGITIMATE
Overall Rating:

4.2/5
What is Observa?
---
Observa is a crowdsourcing app that pays you to complete mystery shopping assignments (aka Observations) near you. The app was launched in 2016 and has already paid out $500,000 to its mystery shoppers in the United States and Canada.
Retailers use the Observa platform to collect information about their products, promotions, and pricing.
For example, stead of asking a regional manager to check the condition of shelves in a specific store, the company may hire an Observer to do the job.
Sometimes, it's cheaper to outsource these tasks through apps like Observa instead of paying regular staff to do the job.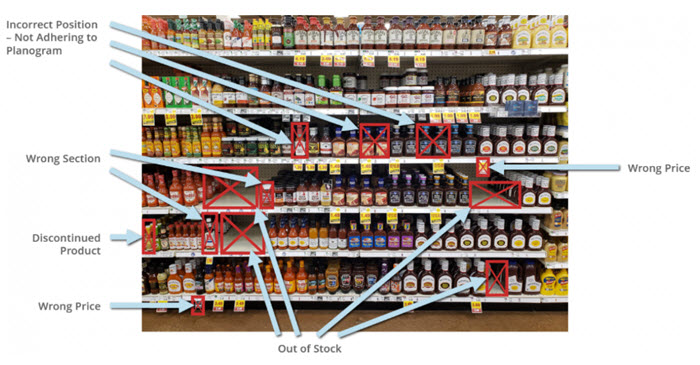 Some companies may also hire Observa to get insights into what their competition is doing.
Most of the time, you will be asked to snap photos of products on the shelves and answer a few questions.
You may also have to speak to a member of staff, rate, and answer a few questions about customer service.
Is Observa Legit?
Yes, absolutely! The app has been featured in many prestigious sites such as Mystery Shopper Magazine, GeekWire, Gotta Be Mobile, and more!
Besides, the company is providing regular mystery shopping services to well-known retailers such as Wallmart, 7-Eleven, and Safeway.
There are lots of similar apps on both Google Play and App Store, but I believe Observa is one of the best apps of its kind.
The app has been rated excellent by most Observers due to fast payments, and high approval rates.

Before I explain how Observa works, let's have a look at the pros and cons.
Pros and Cons
---
Pros
Quick signup.
Clear instructions and very easy tasks.
There are lots of gigs in most US states.
Decent rates of pay.
No minimum to cash out requirement.
Fast payments.
Clear instructions.
Get paid via PayPal and Bitcoin.
Cons
Opportunities might be scarce where you live.
Gigs are easy but you have to pay close attention to detail.
There only jobs in the US and Canada.
How Does Observa Work?
---
How to Get Started
Download the app on either Google Play or the App Store.
Once you open the Observa app, it will immediately ask permission to access your device's location. Tap on "Allow" so that the company can identify gigs near you.
To create your account, click on the green button "Join", provide your PayPal email and password.
Unlike other apps, you don't need to confirm your email nor complete a profile.
Search and Complete Gigs
After you create your account, you will see the world map with all the opportunities (gigs) represented by a red pin on the map.
The yellow and blue circles represent clusters of gigs in a specific area.
Although the company says there are opportunities in both the US and Canada, I can only see gigs in the US. As we can see on the map, most jobs are concentrated in NY and the West coast.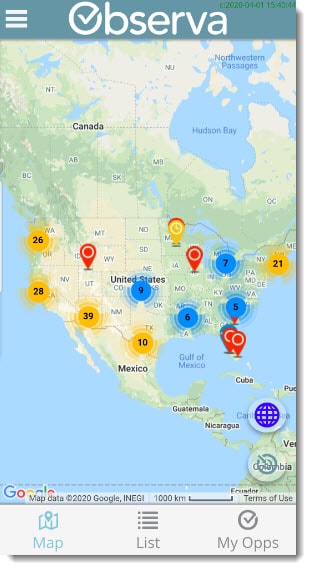 You can also search for opportunities by clicking on the "List".
Now, all you must do is zoom in your area to see if there is any Observation nearby. Observa will also notify you whenever a new gig becomes available in your area.

Read the job description and tap on "accept" when you are ready to complete the tasks.
If you can complete the gig, I advise you to accept it as soon as possible because positions are limited.
Observa will tell you the estimated completion time, the payment amount, and other important information.
Once you accept the observation, you will have 2 – 5 hours to submit all the information required. If you don't complete the tasks within the deadline, you will have to start over.
How Much Money Can You Make?
According to Observa, most Gigs take, on average, 20 minutes to complete and pay between $4 and $20 dollars.

This reward platform is going viral! Cash out via PayPal, Visa, Gift Cards, and in-game currencies - Click here to find out how to generate an extra $10+ per day! 
Depending on where you live, you may have lots of opportunities and reach $100s or even $1,000 per month.
However, some people complain about the lack of Observations where they live.

One user said she used to get lots of gigs around her city 9 – 10 months ago. But now, she is lucky to get one or two gigs per month.
Examples 
Here are two examples of gigs that I found today:
Aquamar – Walmart Store Check ($10): You will need to locate the products, take photos, verify prices, and speak with a store manager about inventory.
Costco – Section & Product Check ($8): This opportunity will require you to take a few photos of specific sections in the store and answer a few questions about multiple products on the floor.
Kroger Product Check ($10): This observation will require you to locate a specific product on the shelf. Based on what you find you may be asked to speak with a manager in an effort to get the product placed on the shelf.
Will Observa Pay You?
---
Yes, Observa will pay you as long as you follow all the instructions correctly and meet all the mission requirements. You have to be very meticulous and always double-check before submitting the data for approval.
If there is anything missing or wrong, the entire gig can be rejected without any remuneration.  
For example, your gig will be rejected if you submit a blurred photo or if you don't take a picture of the entire product shelf.
What I like about Observa is that they promise never to send your work to the customer if your gig is rejected. Therefore, it's not in their best interest to reject your Observations because they would also lose time.
I suspect other secret shopping apps are rejecting people's assignments only to avoid payments. They are very strict and will invalidate your tasks for little details. That does not seem the case with Observa as their rejection rate is less than 10%.
How Do You Get Paid with Observa?
Once your work is reviewed and validated, Observa will automatically process your payment via PayPal or Bitcoin.
The company strives to pay Observers within 72 hours, but it can take longer due to weekends and holidays. Many Observers claim that their payments were processed within just a few hours.
Conclusion
---
After careful research, I concluded Observa is one of the best mystery shopping apps for Android and iOS devices. It's 100% legit and reliable!
Most users love Observa, and unlike other similar apps, there are not many people complaining about unfair disapprovals.
One of the best things about Observa is that you don't have to accumulate a minimum amount of cash to request a payment. The company will transfer the money to your PayPal account or Bitcoin wallet as soon as your gig is approved.
I think Observa offers a great opportunity for anyone who needs extra cash, especially now that unemployment rates are skyrocketing.
Unfortunately, there very few or no opportunities in some US states, and many people wish there were more assignments.
Verdict: Legit
Apps Like Observa
As I mentioned, there are many apps that can help you find more secret shopping gigs in your area. Here is a list of apps for US residents:

Field Agent is perhaps the more popular mystery shopping app. Most missions pay in the range of $2 – $12.
Gigwalk has assignments worth $20 – $25. Be aware that Gigwalk receives lots of negative feedback.
Easyshift is another secret shopping app that has been working since 2009. They pay around $6 – $9 per gig. Many people complain that Easyshift rejects their shifts unfairly.
If you are serious about making money online, there are better alternatives out there!
In the next section, I explain how you can generate a job-replacing income working whenever and wherever you want.
How to Earn a Full-time Income From Home
---
The business model that I recommend for most people is called Affiliate marketing.
As an affiliate, your job is to provide helpful content in a specific subject and promote other people's (company's) products.
Unlike other marketers, I won't give you the false expectation to make thousands of dollars in a few weeks or months!
It takes time and hard work to build this type of business.
You have to be willing to create content for at least 1 year before you get results.
But I can assure you it's well worth it!
Thanks to this excellent step by step program, I built an affiliate site that generates over $1,600/mo.
It allowed me to quit my job in 2019 and fund a 7-month trip to SE Asia with my wife.
You can achieve great results too if you put in the time and effort today.
The potential is huge for people who know the proper strategies to rank articles on Google!
Learn more about my #1 recommendation here and take your first steps today!
Final Words
Thanks for reading my Observa app review. I hope it was helpful! 😉
You are more than welcome to share your thoughts about Observa in the comment section below.
Also, let me know if you any questions!
Stay safe!
Stefan