Welcome to my Belacam App Review!
I've recently found Belacam, a social media app that supposedly allows you to make money by sharing photos.
For example, the developers claim that you can earn $0.01 – $0.02 for each like you get on your photos.
Active users are said to earn $1 per photo.
Belacam also claims to pay users for taking surveys and inviting friends!
According to the official website, more than 325,000 users have been making money with the app since 2016.
It seems like a legit and decent app to earn some extra cash, but…
Is there any catch? Is Belacam a scam or a legit application?
Read my honest review below before joining!
IMPORTANT: If you want to work remotely and earn a full-time income online, check out my #1 recommendation. This is the same program that helped me reach $1,600 per month and quit my job in 2019. 
Belacam App Review
---
Name: Belacam
Website: belacam.com
Company: Belacam, Inc
Membership Availability: Worldwide
Similar apps: Daily Status, Lymbuzz
Overall Rating:

1/5
What is Belacam?
---
Belacam is a social earning app where you can supposedly make money by sharing photos, answering surveys and referring friends.
People in many countries have been using Belacam to, hopefully, supplement their income.
For example, farmers in Vietnam and Indonesia are snapping photos of their crops and surrounding nature.
Travellers are sharing their travel adventures!
As a member, you will earn the Bela cryptocurrency, which, as you will see, is worth close to $0.
Before I explain how Belacam works, let's have a look at the pros and cons.
Pros and Cons
---
Pros
You don't need any special skills to earn money.
There is no work involved.
Cons
You will earn a little known crypto called Bela.
Bela coin is extremely undervalued!
It's hard to get likes because there are not many users.
How Does Belacam App Work?
---
Belacam is available on Android devices, so you can download it on Google Play.
After the installation, you should create a free account by providing your email and username.
As I mentioned, Belacam works like Instagram in that you can follow members, share photos and like other user's photos.
So, all you have to do is share your best pictures and interact with the community.
You will earn one Bela every time someone likes your post.

Belacam has also partnered with a marketing research company called Theorem Reach. So, you can also get paid to take surveys.
How Much Money Can You Make?
---
According to the homepage, you will earn about $0.01 – $0.02 for each like you get, and up to $3 per survey.
However, once you start using the app, you will realize you will get paid in a cryptocurrency called Bela.
Every time someone likes your photo, you will get 1 Bela.
The problem is that this cryptocurrency has become extremely undervalued.
In the past, you could exchange one Bela for $0.01, but now, one Bela is worth $0.0009.
That's almost NOTHING!
Here is the proof on Coinmarketcap.com:

At this current rate, 100 likes will give you close to $0.09.
Although the value of one Bela is currently $0.0009, the platform is still showing the old conversion rate, which was 1 Bela = $0.003.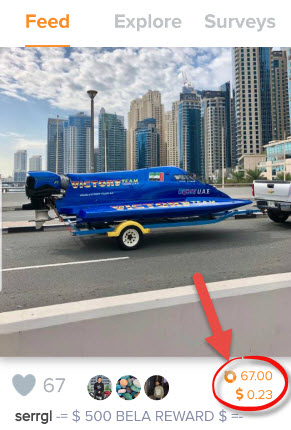 They should update the exchange rate immediately to avoid confusion and disappointment.

How Can You Get Paid?
---
Now, you are probably wondering what you can buy with this unknown cryptocurrency called Bela.
Who is going to accept this Crypto?
It turns out you will have to exchange Bela to Bitcoin using a crypto exchange platform called Mercatox.
Then, you will have to transfer BTC to another platform such as Coinbase or LocalBitcoins and exchange BTC to USD.
Conclusion
---
Belacam is legit, but the pay rate is abysmal.

This reward platform is going viral! Cash out via PayPal, Visa, Gift Cards, and in-game currencies - Click here to find out how to generate an extra $10+ per day! 
You will earn a type of cryptocurrency that is extremely undervalued. 
As a result, you will need hundreds of like only to earn a few cents!

It's very discouraging even for people who live in countries where the dollar has a strong purchasing power.
Another downside is the payment method, which requires 2 exchange platforms to exchange Bela to USD.
You will have to pay a fee to trade Bela to BTC, and another fee to exchange BTC to USD.
Verdict: Not Recommended
How To Earn a Full-time Income From Home
---
Ther are many jobs and business models available on the internet, but in my opinion, affiliate marketing is the best option for most people.
As an affiliate, your job is to create helpful content and promote other people's (company's) products.
It can be very profitable if you understand traffic!
Thanks to this excellent step by step program, I learned the ropes and built an affiliate site that earns me over $1,600/mo.
I'm not rich, but having this alternative source of income allowed me to quit my job in 2019 and travel for 7 months to SE Asia.
You can achieve great results too if you put in the work and have some patience.
Learn more about my #1 recommendation here and take your first steps today!
Final Words
Thanks for reading my Belacam app review. I hope it was helpful!
Feel free to ask any questions you might have or share your thoughts about this app in the comment box below!
Your honest opinion is very important for this blog! 🙂
Stay safe!