Welcome to my Daily Status app review!
The creators of the Daily Status app claim you can earn money just for watching and sharing content with other users.
You probably know most money-making apps on Google Play have payments issues.
It seems like 99% of them have been designed to rip people off their time and hard-earned money.
So, can you really trust Daily Status? Is it a scam or a legit application?
I decided to have a close look at it and write down an honest review based on my findings.
While you are still here, don't forget to check out my top recommendation, which is the same program that helped me reach $1,600/mo from my laptop. No special skills required!
Daily Status App Review
---
Name: Daily Status
Website: http://ds-em.com/
Membership eligibility: Worldwide (+18)
Price: Normal membership: Free; Premium membership: £0.89/month.
Similar apps: Lymbuzz
LEGITIMATE
Overall Rating:

2/5
What is Daily Status?
---
In short, Daily Status is a social media platform where you can earn money for viewing, uploading and sharing content.
As an active member, you will earn points that you can supposedly convert to real cash via PayPal.
The app was developed in India and has been installed more than 100,000 times by people all over the World.

This reward platform is going viral! Cash out via PayPal, Visa, Gift Cards, and in-game currencies - Click here to find out how to generate an extra $10+ per day! 
Is Daily Status App a Scam?
---
I can't claim that Daily Status is a scam without solid proof.
However, I am free to express my opinions and report whatever I can find on the internet.
From what I can see, you should not rely on the Daily Status app to make money.
First and foremost, the developers don't provide the Terms and Conditions, which for me, is a big red flag!
There is a FAQ, but it doesn't act as a legally binding contract between you and the company.
Second, very few people achieve the $10 mark, and I am yet to find someone who received the payment.
So, whether the Daily Status app is legit or scam is debatable. But one thing is for sure, there is no guarantee that you will make any money!
Pros and Cons
---
Pros
Easy way to collect points.
Get paid via PayPal.
Cons
There are lots of ads.
There are no Terms and Conditions.
The minimum withdraw amount is 10,000 ($10), which is too high!
There is a daily limit on the number of views and shares.
It takes ages to collect 10.000 points and request a payment.
As a free member, you can only upload on Sundays and contest days.

How Does the Daily Status App Work?
---
Every activity inside the Daily Status app will earn you points, which you can redeem for cash.
Currently, 1000 points are equal to $1.
The reason you get paid for using this app is that you will be bombarded with advertising.
Every time you tap to view and share content, Daily Status will show you a sponsored clip.
They get paid by advertisers and then pass on a percentage of the ad revenue to users.
Installation and Registration
Daily Status is available for Android users worldwide.
After installing the app on Google Play, they will ask your permission to access photos, files, and media on your device.
This is necessary so you can upload photos and videos to the platform.
Although you can get access to the app without a registration, you can only start earning if you are logged in.
To create a free account, visit the menu and tap on "log in".
You can log in with either your Facebook or Google account.
How Can You Earn Money?
You can earn points by viewing, uploading and sharing videos, images, and GIFs.

All the content is divided into 10 different categories such as Inspiration, Funny, Animal, Happy, and more.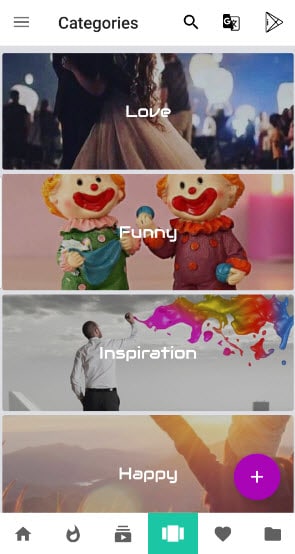 The amount of points that you will earn on each activity is presented below:
Share Video = 3 points.
View Video = 3 points.
Upload Video = 2 points.
Share Image = 3 points.
View Image = 2 points.
Upload Image = 2 points.
Share GIF = 3 points.
View GIF = 2 points.
Upload GIF = 2 points.
Share Quote = 2 points.
View Quote = 2 points.
Upload Quote = 1 points.
Here is a screenshot of my earnings: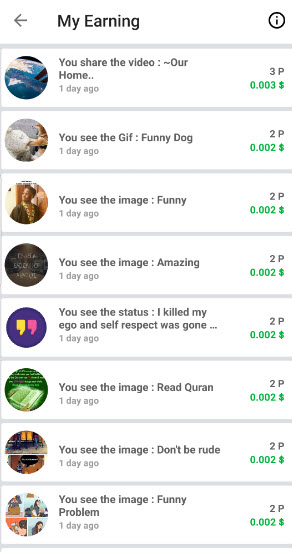 The downside of the Daily Status app is that they don't allow more than 20 views and 10 shares per day.
As a result, you can earn less than $0.10 per day regardless of how long you use the app.
Another downside is that, as a free member, you can only post a status on Sundays and contest days
On the other hand, premium members can upload once every 24 hours.
Once you submit your content, it will be reviewed within 3 days.
Be aware that you must meet the Upload Guidelines in order to receive credit for your post.

For example, you should not upload personal, or copyrighted content.
Becoming a Verified User
If you want your posts to be accepted without going through the review phase, you should become a verified user.
Free and premium members can become a verified user after 20 posts and 10 posts respectively.
However, if you break any upload guide rule, the company can disable your verified status.
Referral Program
You can also earn points by sharing your referral code with friends.
If someone installs the Daily Status app and enters your code, the person will earn 100 points and you will earn 50 points.
Keep in mind that there is a limit of 5 referrals per day.
So, make sure you don't pass that limit otherwise you won't earn points for the 6th referral onwards.
 How Do You Get Paid?
---
You can withdraw the money via PayPal once you have accumulated 10,000 points ($10).
Also, you should have published one post and have at least one follower to cash out.
Alternative payment methods include Google Pay, PhonePe, and Paytm.
Residents in India can withdraw the money via bank account or UPI.
Premium Membership
---
The Daily Status app is free, but they also have a premium membership that costs £0.89 per month.
Here are the benefits of becoming a premium user:
You can Upload content every day.
No full-screen ad while opening a page.
Easy to become a verified user – You only need to upload 10 posts as opposed to 20.
The premium membership is designed for those who wish to upload content daily.
However, earning an extra 2 points per day will give you only $0.06 per month, which doesn't make the premium membership worthwhile.
Conclusion
---
The Daily Status is an interesting app, but it takes a longe time to make a very small amount of money!
Although you can collect points effortlessly, it's very difficult to reach the minimum payout.
The reason is that there is a daily limit to the number of posts you can view and share.
So, you can only make a few cents per day!

Besides, there is a chance you will never cash out because there is no legal contract between you and the company.
Unfortunately, they can block your account and keep all your earnings.
How to Earn a Full-Time Income from Home
---
There are many ways you can earn a job-replacing income working from home.
Some people choose to work as a freelancer on platforms like Upwork, PeoplePerHour or Fiverr.
Other people prefer to build different types of online businesses. They can sell eBooks, digital courses or promote products as an affiliate.
Personally, I decided to build a website that now generates over $1,600 per month in affiliate commissions.
If you want to build a successful affiliate site, check out my #1 recommendation here.
In my opinion, this is the best training for people who wish to achieve time and location freedom.
The best part? You can start the first 10 lessons, create your website and get premium support for the first 7 days!
Final Words
Thank you for taking the time to read my Daily Status app review. I hope the information was helpful to you.
Feel free to leave any questions you might have in the comment box below.
All the best
Stefan