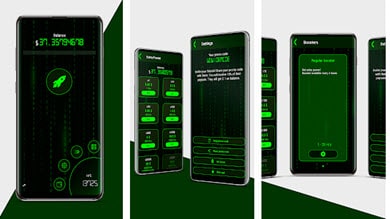 Welcome to my Money Miner App review!
Lots of people are installing the Money Miner app in hopes to earn real passive income from their phones.
There are many online platforms that allow you to rent the processing power of your device to "mine" cryptocurrencies.
At first glance, Money Miner looks like one of those mining opportunities.
But if you don't read carefully in between the lines, you will be extremely disappointed to know what this is all about.
So, is Money Miner a scam or a legit mining app? Will it pay you once you reach $100?
Don't install the app before you read my review!
If you want to earn real passive income from home, check out my #1 recommendation here! This is the same program that helped me reach $1,600/mo from my laptop. No special skills required. 
Money Miner App Review
---
Name: Money Miner
Website: https://money-miner.net/
Membership eligibility: Worldwide
Price: Free
LEGIT
Overall Rating: 

2/5
What is Money Miner?
---
Money Miner is a mobile app where you can supposedly mine cryptocurrencies like BitCoin, Monero and other coins.
This is what you will read on the app description:
"This technology is based on cloud servers algorithms which allow its users to mine (to receive) most currently profitable cryptocurrency"
You see, a real crypto miner will use your device's processor to solve intricate math problems.
However, it turns out the Money Miner app is just a mining Simulator! 
You Won't Make Real Money!
---
Yes, that's right! You can't make any money with this app.
If you take a look at the app description, it says:
"Mining simulator does not require any special skill and complicated settings. Press the button and start the process now!"
Users have to be very attentive to see that Money Miner is only simulating the mining process.
Most people don't take the time to read the description and thus, mistake the app for a real miner.
After you install Money Miner, you will have another chance to know that you won't earn real cash.
In the welcome page, the app developers make it very clear by saying:
"The app is intended for evaluating minimum revenue. Conversion of in-app units to real world money is not provided"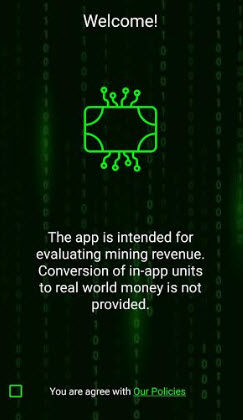 Is Money Miner a Scam?
---
No. I wouldn't call Money Miner a scam.
As you have just seen, the company informs users that they won't receive real money.
Unfortunately, many people still believe that it does because of how the app is advertised.
The Simulation
---
Money Miner app uses cloud server algorithms to show you an estimate of how much money you can earn based on hashes per second (h/s).
It starts with 200 h/s and you get extra power by watching a video.
The problem is that it doesn't tell us which cryptocurrency is being mined.
Besides, you can't upgrade the speed of a real crypto miner by watching more videos.
So, if the app is intended to be a simulator, then, in my opinion, it's not really fit for purpose.
In reality, Money Miner it's more of a game rather than a simulator!
It is rather strange that the app has a wallet because it makes you think you can eventually cash out when you reach 100%.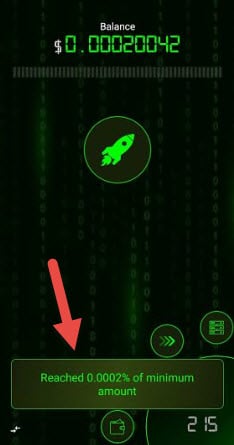 User Reviews
---
Lots of people have left a negative review because they thought they could actually make real money.
One user reached the minimum payout of $100 and confirmed that there was no option to cash out.
Imagine his frustration when he discovered he was just running a simulator game.

It's foolish to think that people will use the Money Miner app just to simulate earnings.
You might as well agree that people want real, not fake money!

This reward platform is going viral! Cash out via PayPal, Visa, Gift Cards, and in-game currencies - Click here to find out how to generate an extra $10+ per day! 
How Does Money Miner Actually Work?
---
The business model behind the app is very simple!

When you install Money Miner, the company will earn advertising revenue from different networks such as StartApp, Applovin, and AdColony.
So, while you are just playing a "crypto Mining game", the company is making real money on your behalf.
Conclusion
---
Money Miner is only crypto mining simulator that is funded by advertisers.
The main problem is that many people think it's real money-maker.
No, it isn't.
In order to mine a decent amount of cryptocurrencies, you should use extremely powerful hardware known as mining rigs.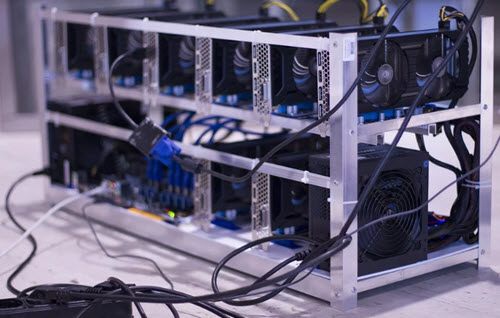 A mobile device doesn't have near enough power to make a profit.
The truth is that only the app developers are making real money by displaying ads to you.
In other words, you will watch advertising and waste your phone's battery in exchange for nothing.
How To Earn Real Passive Income Online
---
It's possible to earn real passive income on the internet.
But first, you must put in the work to build up a large online audience.
Lots of people are actually making a full-time income by creating affiliate sites that work for them 24/7.
When you have a website, you can take a long vacation and still earn commissions even if you don't actively work during that period.
This is only possible because the articles and reviews you wrote in the past will keep attracting visitors while you are away.
I've personally grown a successful internet business that earns me over $1,600 per month in passive income.
If you want to build your own passive income site, check out my #1 recommendation and start your first 10 free lessons!
Final Words
Thanks for taking the time to read my Money Miner app review. I hope the information provided was helpful to you.
If you have any questions, feel free to ask in the comment box below. 🙂
All the best
Stefan