Welcome to my Golden Time app review!
The Google Play store is full of sweepstakes apps that supposedly allow you to win real cash prizes from your phone.
All of these apps are funded by advertisers, so they will make watch a lot of sponsored clips while you are trying your luck.
I have already reviewed lots of reward apps on my blog, but unfortunately, most of them are unreliable!
Today, I decided to test and share my opinions about another one called Golden Time.
Is Golden time a scam or a legit app? Will you get paid?
Before I give you all the answers, let me ask you one important question:
Have you ever thought about making a job-replacing income online?
If so, you can't miss out on my #1 recommendation! This is the same program that helped me reach $1,600/mo, and quit my day job in 2019 (the first 10 lessons are 100% free). 
Golden Time App Review
---
Name: Golden Time
Website: https://www.goldentime.vip/
Company: Golden Time Factory Limited HK
Membership Eligibility: US
Minimum Payout: $10 or $2 (50 million coins)
Price: Free to join (no in-app purchases)
Similar apps: Lucky Cat app, Lucky Day, Happy Scratch, Scratch Royale
Overall Rating: 1.5/5
What is Golden Time?
---
Golden Time is a sweepstakes app that allows you to win cash prizes by playing the following games:

This reward platform is going viral! Cash out via PayPal, Visa, Gift Cards, and in-game currencies - Click here to find out how to generate an extra $10+ per day! 
Scratch cards.
Lucky Wheel.
Lucky Spin.
When you play these games, you will have a chance to win cash that will accumulate in your Golden Time account.
Then, you can withdraw the money via PayPal or gift cards once you reach the minimum amount threshold of $10.
In addition to cash, you will also earn coins you can exchange for cash.
Currently, you need to reach 50,000,000 to cash out $2.
Golden Time app is only available on Android devices and has been downloaded over 100,000 times by people all over the world.
However, the app is only intended for US residents, so I can assume people living in other countries won't be able to cash out.
Is Golden Time App a Scam?
---
No. I don't think Golden Time is a scam.
However, I am still not convinced that winners are selected at random by a computer algorithm.
For example, when you start playing the scratch games, you will probably match 3 symbols very frequently in the beginning.

So, you can earn your first few cents fairly quickly!
The problem is that after reaching around $0.50, the cash prizes will become scarce, and you will earn mostly coins.
I don't understand how this winning pattern can be considered "random".
After reading many user reviews, I realized many people are upset because it takes forever to reach $10 or 50 million coins.
Others complain that they didn't get paid.


It's important to understand that Golden Time will give you digital currencies, but you have no right to the rewards.
In other words, they don't give you any guarantee that you will receive your payment.
The proof can be found in the "terms of service" page, where it says:
"We may at any time expire free or promotional tokens and coins given to you". 
Not only that, but they can modify the exchange rate for coins at any time.
Pros and Cons
---
Pros
You can cash out via PayPal and gift cards.
It's available worldwide.
Cons
The company can expire your rewards at any time.
There are far too many ads!
It takes a very long time to cash out.
The exchange rate for coins is incredibly low. 50 million coins are worth only $2.
It's only intended for US residents.

How Does Golden Time App Work?
---
Golden Time is funded by advertisers, meaning you will be bombarded with commercials while playing.
That's how the app developers generate revenue to run the business and supposedly pay the user.
You can download the app for free on Google Play store.
After installing the application on your device, you can start playing straight away without registering.
However, if you want to backup your game progress and be able to play on multiple devices, you should log in with Facebook.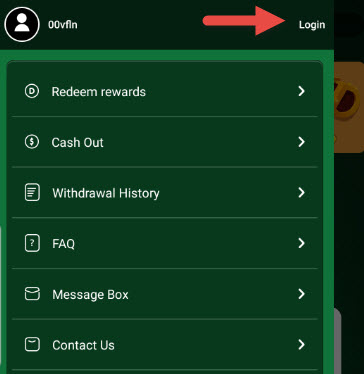 The most popular game inside the app is the scratcher, which I will cover in more detail below.
Scratch Card
Every day, Golden Time will give you 60 scratch cards for free with cash prizes ranging from $0.02 to over $500. 
However, most prizes are in the form of coins, which has a much lower value!
Simply scratch the card and if you match 3 pictures, you will earn the cash or coin prize displayed on the card.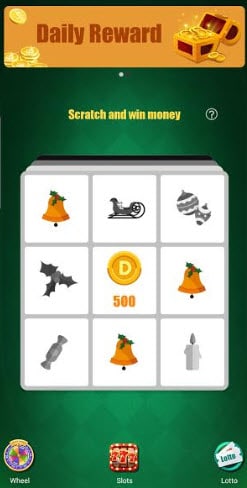 It's extremely hard to match 3 symbols if your prize is higher than $1.
Unfortunately, the company doesn't tell us the odds of winning nor how many prizes are given away each month.
I have probably scratched hundreds of cards while reviewing more than 10 similar apps, but I never won more than $2 at once!
I realized that the more you play Golden Time, the harder it gets to accumulate the cash.
If you don't match the 3 pictures, you will still collect 1,000 – 1,500 coins.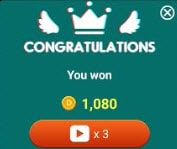 The problem is that you will need 50 Million coins to cash out only $2.
So, you will probably have to play Golden Time for many months to reach the minimum threshold. It's insane!
Keep in mind that you will have to watch a 30-second clip after scratching 3 cards.
So, the fact of the matter is that while Golden Time makes guaranteed profits, you earn digital tokens that have no real value. 
Tired of watching videos for pennies? Check out my #1 recommendation to build a thriving online business and earn a job-replacing income from home!
The Lucky Wheel
The Lucky Wheel is another game where you will have the chance to win cash and coins.
You can get a free spin if you watch a video, or you can "pay" 4000 coins for it.
The wheel has amazing prizes such as $5,000, $80, $2, and an iPhone 11 Pro.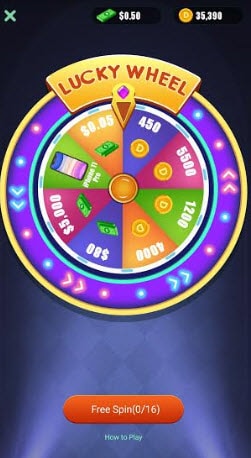 Unfortunately, the wheel is rigged because it will always hit the smallest of prizes such as 450, 1200, 4000 and 5500 coins. Heck, even the $0.05 prize is hard to get.
Lucky Slots
You will have free slots in the game if you watch the videos. Alternatively, you can play by consuming 4000 coins.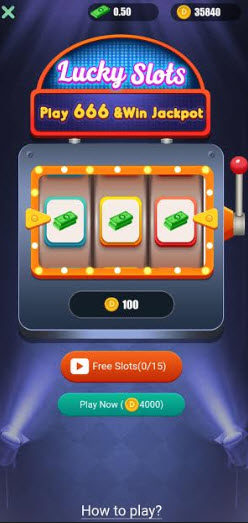 Here, you will earn a random number of coins, which can be multiplied when you get 3 same numbers.
If you get 3 money pictures, you will earn $5.
The probability of winning a big prize in this game is also very low!
So, I don't recommend spending your time and coins here.

How Much Money Can You Make With Golden Time?
---
The odds of winning a significant prize with the Golden Time app are extremely low.
Most of the time, you will only earn coins that have a terrible exchange rate.
What's worse, you will waste a a substantial amount of time watching videos, so it can take a very long time to cash out.
I've searched around carefully, but couldn't find anyone who accumulated  50,000,000 coins so far. It's tiring!
How Do You Get Paid?
---
If you manage to reach a minimum of $10, you can cash out via PayPal or gift cards from stores like Wal-Mart, Starbucks, Best Buy an iTunes.
As for coins, you must accumulate 50,000,000 of the digital currency to cash out $2 via the same payment methods.
Conclusion
---
You must be very lucky and persistent to earn real money with the Golden Time app.
It will make you watch a ton of videos in exchange for digital currencies that have no intrinsic value.
Then, you should pray that the company will be so kind as to pay what you deserve.
If you check the reviews on Google Play, some people say they didn't receive the payment.
All that being said, I don't recommend Golden Time for anyone who wishes to make money online.
If you want to make easy money from home, you are much better off completing surveys, offers, and microjobs.
You can complete these tasks though a Top-rated GPT site called Prizerebel.
One of the greatest advantages of this platform is that you can cash out via PayPal when you reach only $5.
How to Make a Full-Time Income From Home
---
There are different ways, but I am confident that affiliate marketing is the number 1 choice for most people.
With this business model, you can earn commissions by promoting other people's products on the internet.
The most reliable and effective way to do that is to set up a website and provide helpful content.
Your site is the foundation of your online business!
It will work for you 24/7 and generate revenue whenever someone clicks on your affiliate links and buys products or services that you trust.
This is ideal for people who dream about working remotely without having to report to a boss.

If you want to build a thriving affiliate site, check out this excellent step by step program developed by Kyle and Carson.
This is the same platform that helped me build a $1,600/mo website and quit my job in 2019.
You can read more about the platform and my personal success story here. 
Final Words
---
Thanks for taking the time to read my Golden Time app review. I hope it was helpful!
If you have questions, feel free to ask in the comment box below. 🙂
All the best
Stefan