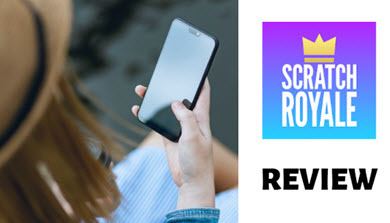 Welcome to my Scratch Royale review!
Scratch Royale is an app where you can supposedly earn real cash by playing free scratch games on your phone.
The app has been downloaded more than 100,000 times and has been rated 4 stars out of 5.
Many people get excited about the opportunity to make money without doing any work.
Who doesn't like free money, right?
If you are as sceptical as I am, you might be wondering if Scratch Royale is legit or another clever scam.
In this review, I am going to explain exactly how it works and give you my honest opinion.
You may want also want to discover the step-by-step program that helped me reach $1,300 from my laptop. It's free to get started and 100% newbie-friendly!
Scratch Royale App Review
---
Name: Scratch Royale
Website: https://viker.co.uk/
Company: Viker Ltd
Membership Eligibility: Worldwide (+17)
Price: Free
Similar apps: Lucky Cat, Happy Scratch,  Lucky Go
LEGITIMATE
Overall Rating: 2/5
What is Scratch Royale App?
---
Scratch Royale is an Android app that allows you to play free virtual scratchcards.
Every day, you can play over 20 scratch cards for a chance to win prizes ranging from £1 to £250.
Furthermore, scratchcards will give you tokens that you can save up and redeem for cash.
Scratch Royale is operated by Viker Ltd, a UK-based company that has two other similar apps called Scratch Day and Spin Day.
The reason Scratch Royale is entirely is free is because the app is funded by advertisers.
That means while you are using the app, you will be constantly "forced" to view ads, which is how most app developers make profits.
What Are Your Chances of Winning?
---
Your chances of winning prizes are extremely low!
Not only that, it can take 2 or 3 months to save the 5 million tokens that are required to cash out.
One common issue reported by many users is that the more you play Scratch Royale, the fewer tokens you will get.
In the beginning, you will get 100 – 2,000 tokens per scratch card, but after some time, your earnings will drop significantly. It may even drop to zero!
As a result, you may get stuck before reaching the minimum payout threshold.
Here are two testimonials that illustrate this problem:



In this review, the user compares Scratch Royale with picking 1p coins in the streets of London.
"As all Viker games. I can only compare it to walking around London picking up any 1p or 2p coins you come across until you get around £6 then to get up to the £10 needed to cash out you have to walk around the desert doing the same."
Yes, there are some positive reviews from people who were able to cash out.
However, it can take months and thousands of scratches to reach the target.
Therefore, if you want to make money with Scratch Royale, you have to be lucky and persistent!
If you are serious about making money online, check out my #1 online business recommendation.
Is Scratch Royale a Scam?
---
It can be very hard or even impossible to cash out.
Besides, the company doesn't disclose the odds of winning nor the number of prizes.
Despite the difficulty and lack of transparency, Scratch Royale is not a scam because they are not making any promises, and it's 100% free.
Pros and Cons
---
Pros
It's free.
Some people think it's fun.
It's available worldwide.
Cons
It's extremely hard to win cash prizes.
There is a lack of transparency – Users don't know about the odds of winning nor how many prizes are given out each day.
You may never reach the minimum payout threshold.
It takes "ages" to get 5 million tokens to cash out.
The minimum payout requirement is too high.
There are too many ads.
It only works on Android devices.
You will lose all your points if you uninstall the app or don't log in for more than 90 days.
How Does it Work?
---
Installation and Registration
Search for Scratch Royale on Google Play Store, install it and then sign up with your Facebook account.
The app will ask your consent to use your data in order to provide more relevant advertising. You can either accept or decline.
Next, select the currency you want to be paid in. Your options are GBP, USD, EUR or $ AUD.

Playing Scratch Cards
Every day, Scratch Royale provides over 20 scratch cards with different cash and token prizes.
I have seen cash prizes ranging from £1 to £250, and from 100,000 to 1,000,000 tokens.
The list of cards is refreshed three times a day at 9 am 3 pm and 9 pm (GMT). So, if you run out of cards, wait for the countdown to finish.
Here is a screenshot from the dashboard, where you can find the countdown, the balance and the list of scratch cards.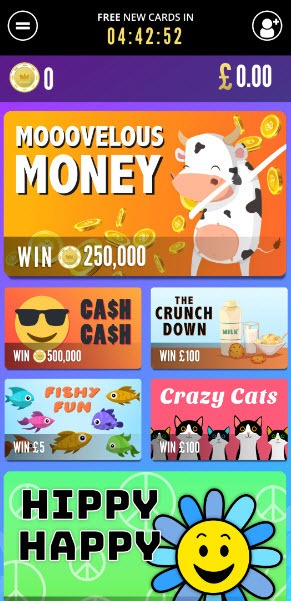 This reward platform is going viral! Cash out via PayPal, Visa, Gift Cards, and in-game currencies - Click here to find out how to generate an extra $10+ per day! 
To win the prize, you must select the card, scratch it and match three symbols.
Here is one example: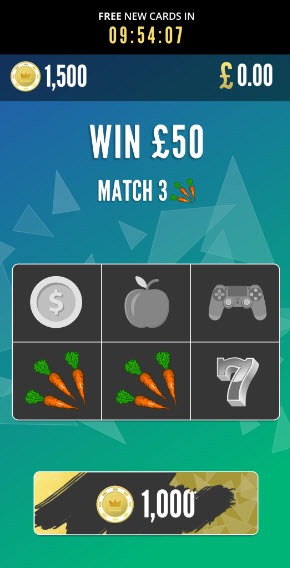 If I matched three carrots, I would have won the £50 prize. But as you can see, I only received 1000 tokens as a bonus.
I advise you to take a screenshot of your prize. If you don't get credited for some reason, you can send an email to the support team and attach the screenshot as proof.
If you are brave enough to collect 5,000,000 tokens, you can redeem only £5 via Paypal.
After scratching 4 or 5 cards in a row, a video ad will start playing for 10 or 20 seconds.
So, be prepared to watch hours and hours of advertising!
Win Tokens By Completing Challenges 
You can collect more token by completing various achievements. Here are some of them:
Download and play Scratch Day – Earn 100,000 tokens.
Play every day for six consecutive days – Earn 5,000 tokens.
Follow Scratch Royale on Facebook – Earn 10,000 tokens.
Complete a whole set of Scratch cards – Earn 1000 tokens.
Another way to earn tokens is to encourage a friend to download Scratch Roaylke and use your invite code.
Both you and your friend will earn 100.000 tokens.
The downside is that you are limited to inviting only 15 people.
To find your invitation code or insert someone else's code, follow this path:
Tap on the menu icon > "Achievements" > Invite a Friend.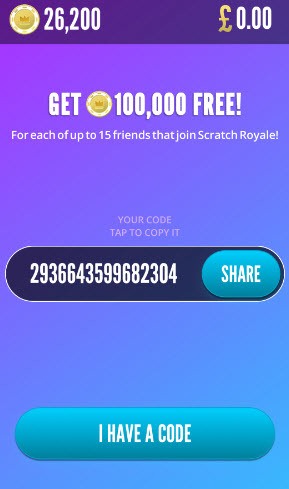 Don't Lose Your Points!
Scratch Royal will delete all your points if you don't log in at least once in 90 consecutive days.
That is because Scratch Royale makes frequent updates and want to keep only active members on their system.
You will also lose all your points if you uninstall the app.
This is very problematic because if there are any technical problems and you have to reinstall the app, you will have to start from zero.
How do You Get Paid? 
---
As you already know, there are two different balances – the cash balance and the token balance.
You can redeem your cash balance when you've reached $10, £10 or 10 Euros.
As for the token balance, you will need 5,000,000 tokens to redeem £5 via PayPal.
Once you request the payment, you should expect to get the money into your account within 3 – 7 business days.
Conclusion 
---
Scratch Royale app is almost identical to the Scratch Day app and the Lucky Day app. They are all legit!

However, you will keep playing for hours and hours in hopes to earn a prize that will likely never come!
The minimum token requirement to cash out £5 is too high, so you must be very persistent in enduring hours of advertising.
Not only that, but there is a risk to get stuck between £9 and £9.70.
That being said, I don't recommend Scratch Royale.
Verdict: Legit 
If you want to make sure you get paid for your time and effort, you could realistically achieve $100 per month with top-rated GPT sites like Prizerebel or Offernation.
Now, if you are willing to work a bit harder to earn a full-time income from home, keep reading and discover the exact strategy that earns me $1,300/mo.
How I Make $1,300 Per Month From Home
---
In short, I write helpful reviews and articles for my website, which gets high Google rankings and attracts lots of readers.
The site works for me 24/7, generating revenue through affiliate links and banner ads.
When visitors click on my affiliate links and purchase the products that I am promoting, I earn commissions!
The process is simple to understand, but it takes time and consistent work to reach the top positions and get traffic.
There is a lot of competition, so I advise you to check out my #1 recommendation and learn from expert marketers who have walked the way.
Affiliate marketing is not for those who expect results within 1 or 2 months.
Building a successful online business that can pay all your bills can take more than one year!
But hey, think about how it could completely change your life!
It has certainly changed mine. Thanks to my online business, I recently quit my job and bought a 1-way ticket to south-east Asia.
I want you to know that you are capable of reaching your goals too!
Freedom is at your fingertips if you are prepared to put in the work.
>> Check Out My #1 Recommendation Review HERE and start your online business today! 
Final Words
Thanks for reading my Scratch Royale app review. If you have any questions, feel free to leave me a comment below, and I'll be more than happy to help! 😉