Welcome to my Lucky Day App Review!
I published this review to warn people about Lucky Day, which is one of the most popular sweepstakes apps available for Android and iOS devices.
Over 10 Million people have already installed Lucky day in hopes of earning glorious prizes.
At first glance, it seems like a great idea to play the scratcher for free and eventually cash out via PayPal or Gift cards.
But after playing for long enough and watching a ton of videos, you may have a completely different perception of this game.
So you can really make some money with the Lucky Day app? Is it a scam or a legit application?
Let's find out!
You may want also want to discover the step-by-step training which helped me build an internet business from scratch and earn a full-time income online. It's free to get started and 100% newbie-friendly! Click here to check out my #1 recommendation.
Lucky Day App Review 
Name: Lucky Day
Website: https://www.luckydayapp.com/
Company: Lucky Day Entertainment Inc.
Membership Eligibility: Worldwide
Price: Free
Overall Rating:

1.5/5
What is Lucky Day?
Lucky Day is a popular application that allows you to play daily scratchers, and raffle games for a chance to win great prizes. The company has recently launched the night version that works exactly the same.
The app has been downloaded over 10 million times, and according to the official website, there are over 100,000 winners.
I checked the winners' tab and discovered that Lucky Day has already given away almost $10,000,000 in rewards so far. That's pretty impressive!
All the revenue the company generates comes from frequent advertising that they force people to watch in order to keep playing.
That's the reason Lucky Day is 100% free to download and doesn't charge any money to try your luck. In other words, there is no risk of losing money!
Every time you play the scratch game or the other games, you can win virtual cash redeemable via PayPal.
Playing the scratchcard will also give you tokens that you can redeem later for gift cards and raffle tickets. Another way you can get tokens is by taking surveys, completing special offers, watching videos, and inviting friends.
Pros and Cons
Pros
Some people think it's fun.
There is no risk of losing money.
Cons
Many people complain about being stuck at $7 – $9.75 for months! Keep in mind that players cannot cash out until they reach $10.
You need to be extremely lucky to win any money.
Gift cards can be out of stock, preventing you from redeeming your tokens.
It can be very addictive.
There are frequent ads.
How Does Lucky Day Work? 
Eligibility
Lucky Day app is available in every country unless prohibited by law. However, you can only use the app if you are at least 16 years old.
Regardless of your country, you can request your payment through PayPal as soon as you have $10 in your account.

Installation and Registration
Lucky Day is available for both iOS and Android devices, so you can download and install the application via the App Store or Google Play.
Once you finish the installation, you must sign up using your Facebook or Google account. Don't forget to have a look at the Terms of Use and Privacy Policy before creating your account.
Play Free Scratch Cards
Every day, you will get 40 new scratch cards for a chance to win cash prizes ranging from $1 all the way up to $10,000.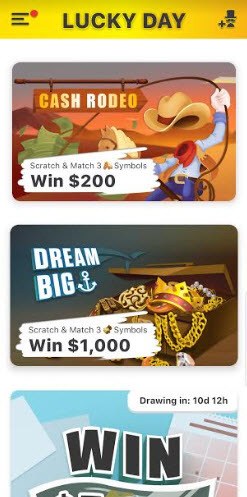 All you have to do is select the card from the list and swipe your finger to scratch it. Their computers will randomly select a winning card. If you match 3 colored symbols you will win the prize.
For example, in this scratch game, I'd have won $200 if I matched 3 horses. Well, I must confess I am not that lucky!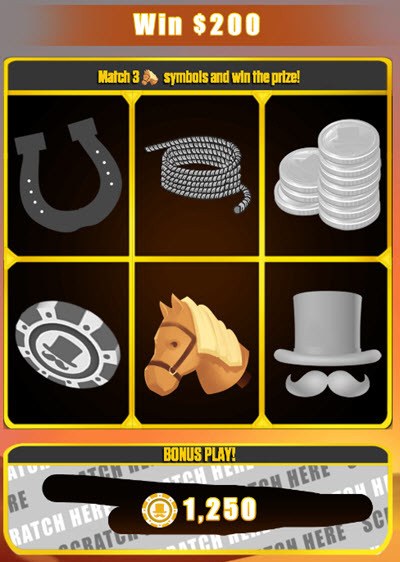 Even if you don't earn the cash prize, you will collect tokens every time you scratch the card. You will collect between 1,000 – 3,000 tokens, and you can always double your winnings by watching a video ad.
In the above example, I just found 1 horse symbol and earned 1,250 tokens as a bonus. Then, I had the option to watch an ad to double my winnings.
After playing scratching another card, I won 150,000 tokens, which may seem a lot, but it's not!
These thousands of tokens can give you the false impression of making excellent progress. But the reality is that you are just earning fractions of a cent because you need a whooping 8,100,000 tokens to redeem for a £5 Amazon Gift card.
As I mentioned earlier, the Lucky Day app generates revenue from advertisers, which is how they can afford to offer so many prizes and still make profits.
After you play 3 or 4 scratch games, they will show you a short video ad that you must watch in order to keep playing.

Most of these ads last for about 10 seconds and promote another "money-making" application that probably will never let you cash out. So, don't buy into the hype!
What Are the Odds of Winning? 
According to the Terms of service, the odds of winning depend on the number of game players, the total entries, and the percentage of scratchcards claimed by players.
Because there are so many people using the Lucky Day app, you must be fortunate to collect a $5 prize, let alone $10,000!
If you visit the FAQ section, you will see a table that shows the number of prizes awarded from January 2019 to January 2020.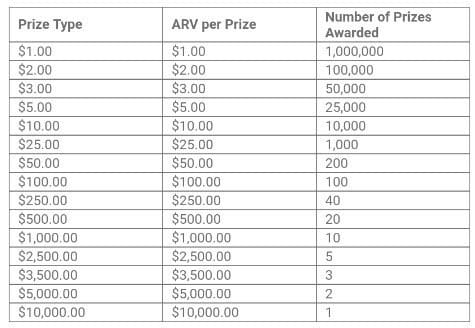 This reward platform is going viral! Cash out via PayPal, Visa, Gift Cards, and in-game currencies - Click here to find out how to generate an extra $10+ per day! 
As you can see, only 1 person has won $10,000 in one year. Considering that millions of people are playing Lucky Day in a one-year period, I guess the probability of winning just $5 is extremely low!
They could provide an estimate of the odds based on previous years, but because more and more people are installing the app, such an estimate could be very wrong.

Lucky Day provides a list of the big winners and recent payouts, which provides a high level of trust in the prize draw.
Nevertheless, there are many complaints about people getting stuck before $10, which makes me wonder if winning scratchers are really selected at random.
Pick 5 Numbers
Every day, you can pick 5 numbers plus 1 lucky number for a chance to win different prizes according to your matches.
2 matches = 250,000 tokens
3 matches = 500,000 tokens
4 matches = $5
5 matches = $50
6 Matches = Win the jackpot (hundreds of thousands of dollars)
The chance of winning the cash prizes are the following:
$5 Prize: 1 in 20,227.82 plays.
$50 Prize: 1 in 5,461,512 plays.
Jackpot: 1 in 175,223,510
Raffles
You can also get tickets for the Daily Raffles for a chance to win different prizes such as $10, $250, $1000, free groceries for a week, or one month of free gas.
Winners are randomly chosen and announced daily at 8 am and 8 pm PST.
Each ticket costs 10,000 tokens.
Earn More Tokens
If you tap on the gift icon at the bottom, you will find other opportunities to collect tokens. You can complete special offers, take a survey, invite friends, and watch videos.
How Do You Get Paid? 
Redeem cash
You can redeem your cash balance to PayPal when you reach $10. You should expect to receive your payment within 5 – 10 business days.
Redeem tokens
Tokens can only be redeemed for eGift cards from major retailers such as Amazon, Starbucks, Target and Wallmart. Tokens cannot be redeemed for PayPal.
The exchange rate depends on your country, but here in the UK, you can redeem  8,100,000 tokens for £2.
Unfortunately, some eGift cards are sold out, so you may have to choose another one that requires more tokens.
Once requested, gift card codes may take up to 7 working days.
In the next section, I am going to expose some complaints that you can find in the review section of Google Play.
User Reviews – Complaints
Even though Lucky Day App has been rated 4.5 out of 5, I have found an incredible number of negative reviews on Google Play.
The reason why I think this app gets such a high rating is that the app encourages users to give them 5 stars way before they have a chance to cash out.
The most common complaint is that people get stuck at $7 – $8 as the app doesn't give them more cash prizes.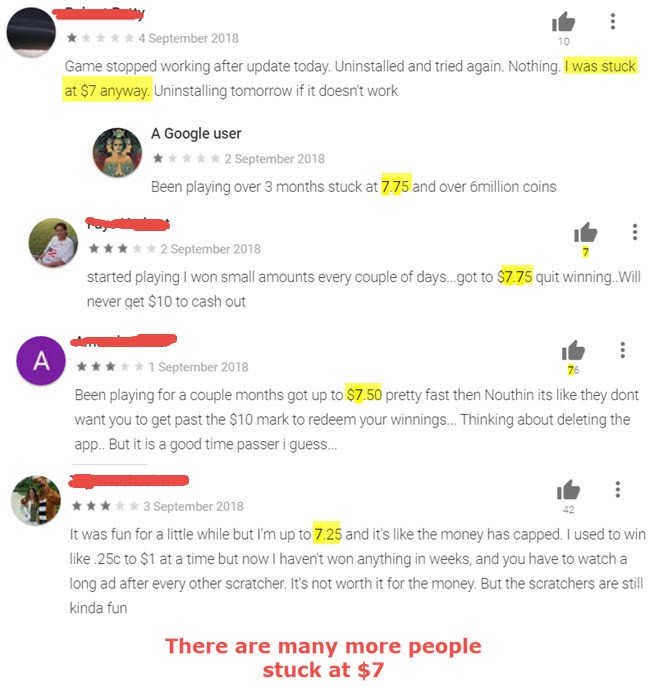 Isn't it weird that so many people claim to get stuck at $7? Is it a coincidence or what?
Well, after reviewing hundreds of "money-making" apps, this issue doesn't come as a surprise to me anymore. Lots of apps are designed to give you less and less money as you approach the cashout limit.
It can be very frustrating, especially for people who have never played such games.
UPDATE: Since 10 months have passed since I published this post, and I decided to read more recent user reviews. Unfortunately, many people still get stuck before reaching $10.
Except that instead of $7, many people seem to get stuck at $9.75 now.

Some people reported that they have been blocked before the $10 mark, so they couldn't cash out.
Lots of people collect enough tokens to redeem for a gift card, but they say it's always sold out. Others claim that the minimum threshold to redeem tokens keeps going up.
So, all of these negative comments give me the impression that the company just let a small percentage of users to cash out.
To be honest, you need to read more than 30 reviews to find someone that actually got paid.
US Citizens Win Most of the Prizes
You can play the Lucky Day app and win prizes from anywhere in the world. However, most of the prizes are given out to US citizens.
If you check the recent winners' tab, you will see that the vast majority of winners are from the US.
According to the FAQ, you have an equal chance of winning regardless of your country. But if that is true, then why we don't see as many winners from other countries? I believe the worldwide audience is way bigger than the one in the US.
Conclusion 
There are many winners, but the percentage of players who win a decent prize is extremely low.
It will probably take you months to accumulate $10 and get paid, and if you are not from the US, I wish you good luck!
I wouldn't call Lucky Day App a scam. However, users deserve an explanation as to why they get stuck before reaching $10.
If winning scratchers are selected at random, then why it's so easy to collect money in the beginning and so hard at the end?
Verdict: Legit
Is There an Alternative to Lucky Day? 

Since I reviewed the Lucky Day app in 2018, an incredible number of similar "Lucky" apps have flooded Google Play and App Store. Lucky Scratch, Lucky Now, and Lucky Cat are just a few examples.
Unfortunately, all of these apps seem to follow the same behaviour that prevents people from cashing out. In the beginning, they give way lots of virtual cash and tokens to hook you up and get you excited about the opportunity.
But after watching enough ads, the app prefers to see you rather than let you request your payment.
If you want to make sure you get paid for easy tasks, I recommend this excellent GPT site. 
Now, if you are prepared to work harder and eventually reach a job-replacing income while working from home, keep reading!
Earn a Full-Time Income Online
If you dream about firing your boss and working from your laptop, I suggest building an online business.
One of the best business models consists of building a website that generates affiliate commissions.
This is not about direct sales, multi-level marketing, or e-commerce.
Your job is to focus on creating helpful content, which attracts people from all over the world looking for information on Google.
When visitors click on your affiliate links and purchase the product, you will earn a great commission.
With this business model, I am able to work remotely from anywhere in the world and cover all my expenses. Building an online business was the best thing I did because now I work whenever and wherever I want and still get paid.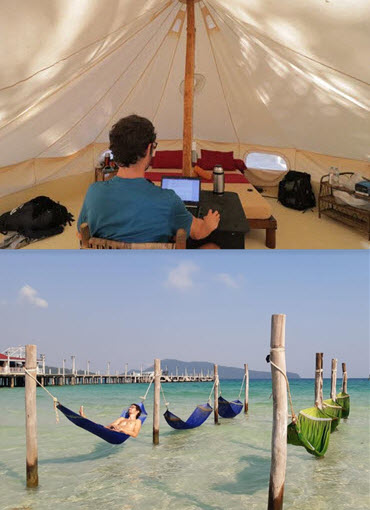 It's not too complicated, and anyone can accomplish remarkable results. However, you have to put in the time and effort because this is not one of those get rich quick schemes.
If you want to learn step by step how to create a website, attract visitors, and earn passive income, check out my #1 recommendation here.
The first 10 lessons are completely free, and with the starter membership you also get:
2 Free websites
Support from me, the owners, and the entire community.
Final Words
Thanks for reading and I hope this Luck Day App review was helpful to you. If you have any questions, feel free to ask in the comment section below.
Stay safe and peace out!