Welcome to my Lucky Night app Review!
I've recently found Lucky Night, a sweepstakes app developed by the same creators of Lucky day.
Both apps are identical!
Lucky Night allows you to play free scratch cards and other games for a chance to win cash prizes!
You may know that Google Play is jam-packed with apps that are a complete waste of time.
I decided to put up this review and cover everything you need to know about Lucky Night.
Is it a scam or a legit app? Will You get stuck before reaching the minimum threshold?
Let's check it ou!
While you are still here, don't forget to check out my #1 recommendation. This is the same program that helped me reach $1,600/mo and quit my job in 2019. No special skills required!
Lucky Night App Review
---
Name: Lucky Night
Website: https://www.luckynight.co/
Company: Lucky Day Entertainment
Payment method: PayPal and gift cards
Minimum Payout: $5
Membership Eligibility: Residents of the UK, USA, and Canada (+16)
Price: Free
Overall Rating:

2.6

/5
What is Lucky Night?
---
Lucky Night is a sweepstakes app that gives you the opportunity to play various games for a chance to win cash prizes.
The app has been installed more than 1 million times and rated 4.3 stars on Google Play.
The most popular game is the scratcher, but you can also play the raffle game.
Lucky Night is identical to Lucky Day app, which is operated by the same company. There are lots of other scratch games such as Lucky Scratch, Lucky Time, and Lucky Go.
All of these apps are free because they are funded by advertisers, meaning you will have to watch lots of ads while playing.
Is Lucky Night a Scam?
---
No. I wouldn't call Lucky Night a scam.
Lucky Night may be operating legally, but that does not mean you will have a positive experience with it.
Will You Get Paid?
---
There is no guarantee that you will get paid after spending many hours scratching cards and watching videos.
The odds of winning a decent cash prize is ridiculously low, and it's a big challenge to reach $10.
Many people seem to get stuck before the minimum threshold, just like Lucky Day and many other reward apps.
Some people accumulated $10, but they didn't receive the money.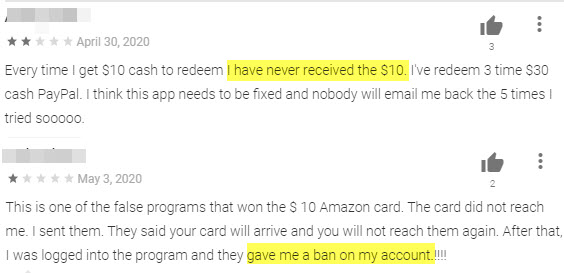 This guy claimed he won $50 twice but not surprisingly, the money was not added to his account.

According to an official reply on Google Play, there are thousands of winners every week. The company also claims that you can see winners through the Instagram account.

So, yes, you can be the next winner and you can get paid.
Note that the keyword here is "can" not "will".
You Have No Rights
If you read the terms and conditions, you will discover that you have no property right to tokens.
Therefore, Lucky Night may expire your digital currency at their sole discretion.
In other words, if they don't want to pay you, they don't need to give you any explanation.
How Does Lucky Night App Works?
---
Lucky Night is available only on Android devices.
Although the app is available for download worldwide, only residents of the US, the UK, and Canada are eligible for rewards.
After installing the app, you have to sign up using either your Facebook or Google account.

Then, you can start playing immediately.
Scratcher game
Every day, you will get over 30 scratch cards that will be available at specific intervals during the day.
Lucky Night will randomly choose a winning card that contains 3 identical symbols.
All you have to do is scratch the card to see if you are the winner.
If you match 3 colored symbols, you will win the prize stamped on the virtual scratch card.

This reward platform is going viral! Cash out via PayPal, Visa, Gift Cards, and in-game currencies - Click here to find out how to generate an extra $10+ per day!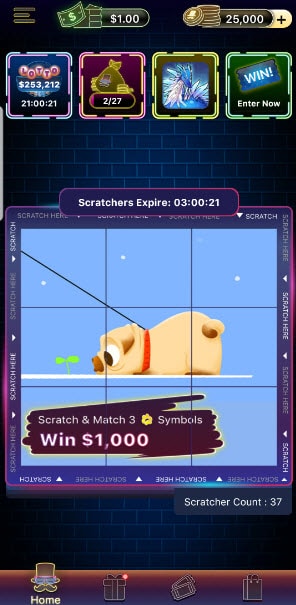 The prize can be in the form of either cash or tokens.

Cash prizes range from $1 to $2,500.
Even if you don't match 3 symbols, you will earn anywhere between 1,000 – 3,000 Tokens.
After playing 3 times, you will be "forced" to watch a short video to unlock the next scratcher.
Raffle Game
You can also enter the daily ($5 and $50), weekly ($100), and monthly ($500) raffles.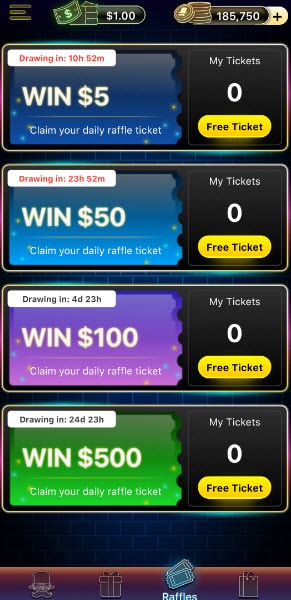 Winners are randomly chosen and announced at specific days and hours.
To earn tickets, simply tap on "Free tickets" and spin the wheel to multiply your ticket up to 10x.
Complete offers
Another way to collect more tokens is by completing offers from advertisers.
Most offers require you to install and play other games until you reach a certain level.
How Do You Get Paid?
You can cash out via PayPal or Gift cards once you have earned $10.
Regarding Tokens, the minimum payout is $5 for 10,000,000 tokens.
In theory, the payment will be processed within 7 days after you make the request.
However, your payment might be delayed and even canceled at the company's sole discretion.
Conclusion
---
Lots of people are playing Lucky Night in hopes to earn a good prize or at least collect enough tokens to cash out.
You should be aware that the odds of winning any prize over $1 are extremely low!
They give you thousands of tokens after each scratch to give you the impression that you are making good progress.
But still, you may have to play Lucky Night for more than 4 months in order to accumulate $10 or 10 million tokens.
Another problem is that even if you reach the minimum payout, the company can still decide to reject your payment.
Verdict: LEGIT
If you want to make sure you get paid for doing easy tasks online, I highly recommend a GPT platform called Prizerebel.

Now, if you are prepared to put in more effort and eventually reach a full-time income online, don't skip the next section.
How to Earn a Full-Time Income From Home
---
If you want to earn a job-replacing income working from home, you have to focus on providing value to the internet.
For most people, I always recommend building an affiliate site where you can promote other people's products.
Growing my website while still working 9-5 was the best decision of my life!
This business allowed me to supplement my income and grow steadily until I was able to quit my job in 2019.
It's possible and anyone can do it!
Well, I didn't have any clue how to build an affiliate site and make it work.
Luckily, I  found this excellent step by step training that showed me how to set up a website and grow a huge online audience.
It takes time and consistent work, but if you stick to their structured plan of action, you will succeed!
>> Learn more about my recommended program here. 
Final Words
Thanks for taking the time to read my Lucky Night app review. I hope it was helpful!
If you have any questions, feel free to leave a message in the comment section below.
Stay safe and peace out!