Welcome to my screenKarma app Review!
I was looking for ways to earn passive income from my phone when I found an app called screenKarma.
With this app, you can supposedly make money just by getting news and advertising on your lock screen.
If you are reading this post is because you want to know how much money you can make and whether you will get paid, or not.
In this review, I am going to show you how screenKarma works and give you my frank opinion.
If you want to work remotely and earn a full-time income from home, check out my #1 recommendation. This is the same program that helped me reach $1,600/mo and quit my job in 2019. No special skills required!
screenKarma App Review
---
Name: screenKarma
Website: appkarma.io
Company: Darkfield Software LLC
Type: Lockscreen reward app
Membership Eligibility: Worldwide
Overall Rating: 2/5
What is screenKarma?
---
ScreenKarma is a lockscreen app that allows you to place ads on your phone's lockscreen in return for screenKarma Points.
You can then convert your points to real cash via PayPal or a variety of eGift cards.
ScreenKarma was developed by Darkfield Software LLC and is complementary to the popular appKarma.
There are many similar apps on Google Play such as Slidejoy, S'more, and Banners app.
Pros and Cons
---
Pros
Earn passive income – no work required.
Lightweight.
Cons
It takes forever to cash out.
It requires an appKarma account.
There is no security feature, so you have to unlock your phone twice.
Many people are not receiving points.
It consumes your battery and internet data.
Many accounts have been banned.
How does screenKarma Work?
---
Install ScreenKarma
ScreenKarma is available for Android devices and therefore, you can get it from Google Play.
Install appKarma
Before using screenKarma, you must install a reward app called appKarma.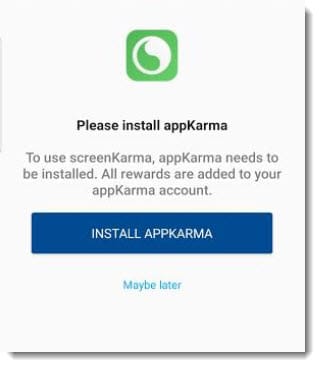 This app allows users to earn more Karma points by answering surveys, completing offers, and doing other simple tasks.
Although you need to install appKarma, you don't even need to open it if you don't want to.
Using screenKarma
The first step is to enable screenKarma via the dashboard.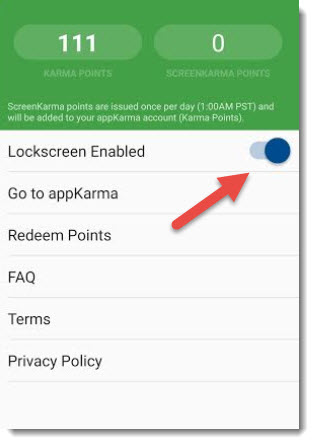 Once the app is enabled, you will begin to see new content every time you unlock your screen.
Then, you have three options:

You can swipe left to see the content details, swipe up to see more content, or swipe right to unlock your phone.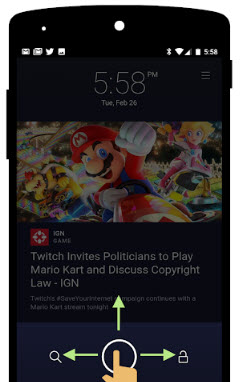 Simply use your phone as usual and rewards will be issued every day at 1 AM PST. You will get a notification as soon as your points are credited.
Keep in mind that screenKarma does not provide a locker feature. It only displays advertising when your lock screen is activated.
In practice, you can only unlock your phone after dismissing screenKarma, so you are adding an extra step.
A study by Qualtrics showed that millennials check their phone an average of 150 times per day!
It can be really annoying to have this extra step every time you need to unlock your phone.
Points vs Rewards
ScreenKarma points are automatically converted to Karma points and added your AppKarma account.
The minimum payout threshold is $10 (13500 points) for PayPal and $5 (6000 points) for various Gift cards.
How Much Money Can You Earn?
---
Points are not counted on the number of ads received.
Instead, you will get only 1 or 2 points per day for keeping screenKarma running in the background.

That's only $0.0015 per day or $0.54 after 1 year!
I suspect that no one can actually make a profit with this app because it uses your internet data to display content.
If that wasn't enough, many people complain that screenKarma is not giving any points.
Conclusion – Is screenKarma App a Scam?
---
ScreenKarma will only give you 2 points, which is worth $0.0015 per day.
Unless you complete offers or surveys with appKarma, you can expect to cash out only after 3 or 4 years.

This reward platform is going viral! Cash out via PayPal, Visa, Gift Cards, and in-game currencies - Click here to find out how to generate an extra $10+ per day! 
It's crazy!
ScreenKarma is operating legally by a company in California, but that doesn't mean they will pay you.

Many people had their accounts banned for no reason or due to VPN use. Many others complain about missing points!
Despite a large number of negative reviews on Google Play, I cannot claim that screenKarma app is a scam.
The reason is that I don't have any proof that would support my claim.
How to Make a Full-Time Income From Home
---
There are many ways you can make a substantial income online and live the so-called "internet lifestyle".
Me, personally, I decided to create an affiliate site that is now generating over $1,600 per month.
In short, I create content and promoting other people's products in return for commissions.
This excellent step by step training showed me how to set up a website, rank articles on Google, and make affiliate sales.
In my opinion, those are the best things about having an income-generating website:
You can work whenever and wherever you want.
There is no customer service involved.
You are your own boss.
There is no direct selling.
It's VERY CHEAP to operate.
>> Learn more about my story and recommended program here. 
Final Words
Thanks for taking the time to read my screenKarma app review. I hope it was helpful!
If you have any questions, feel free to leave a message in the comment section below.
Stay safe and peace out!