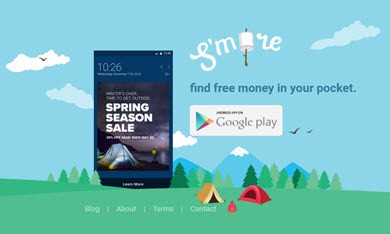 Welcome to my S'more app review!
This Android application is promising to pay you for doing the most trivial of tasks:
Unlocking your phone!
More than 1 Million users in the United States have already downloaded S'More.
It seems like the easiest way to make money from your phone, and because of that, you may be very skeptical!
Does S'More really pay? Is it a scam or a legit application?
In this review, I am going to cover all you need to know about this app as well as give you my honest opinion about it.
If you are serious about making money online, check out the step-by-step program that helped me reach $1,300+ per month working from my laptop (no special skills required).
S'More App Review 
---
Name: S'more
Website: https://smoreapp.co/
Company: Lab465, LLC
Type: Get Paid to unlock your phone
Income potential: Extremely low
Price: Free
Membership Eligibility: United States (+13)
Overall Rating: 

2/5 
What is S'more?
---
S'more is a simple app where you can earn $0.10 /day by allowing the company to place adverts on your lock screen.
It's not much, but hey, at least it's 100% passive!
You will earn points daily as long as you have S'more installed on your device.
Every time you wake up your phone, S'more will show you a banner. You can swap up to dismiss it and keep using your phone as you normally would.
There is no need to do any other task either, but if you want, you can earn more points by watching videos, taking surveys and completing offers.
Once you've earned enough points, you exchange for Amazon and many other gift cards.
S'more app is only available in the United States and on Android phones.
If you don't live in the USA, you can use a very similar and popular app called SlideJoy.
Is S'more App a Scam?
---
I've done extensive research, and I couldn't find any proof that S'more is a scam. So, I can't make any claims here.
However, many users are disappointed, mainly because the app stopped giving points to them after a while.
So, they couldn't reach the payout threshold to request the payment.
Also, some people complained that all their points were deleted.
On Google Play, S'more has been rated 3.2 out of 5, which is not great, not terrible!
According to many people, the app used to be excellent.

Unfortunately, those days are gone, and many users are now uninstalling the app and warning others to do the same.
I'm going to cover the most common issues in the user review section.
For now, I'd like to show you how S'more works.
How Does S'more Work? 
---
Installation and Registration
You can download and install S'more for free directly from the Google Play store.
After you install the app, you should sign up using your email address or Facebook account. You will also have to register your phone number.
Keep in mind that you can have only 1 S'more account and use the app in ony 1 device.
Unlike CashMagnet, you can't create a phone farm and use multiple devices.
Points and Rewards
Before I explain to you all the ways you can make money with S'more, you should know that 1 point is worth 1 cent. 
Once you accumulate enough points, you can redeem for a variety of gift cards.
The current gift cards available are Amazon, Google Play, Target, Starbucks, Applebee's, AMC, Best Buy, Domino's Pizza, and GameStop.
S'more Lock Screen 
To earn lock screen points with S'more, just leave the app running in the background of your phone.

It's important to understand that you won't get points per a view nor click.
You will earn 10 lock screen points per day regardless of how many times you unlock your phone.
As 1 point equals $0.01, you will receive $0.10 per day.
You can earn more points by taking surveys, watching videos, completing offers and referring friends.
Doing these tasks will help you reach the minimum payout threshold faster.

This reward platform is going viral! Cash out via PayPal, Visa, Gift Cards, and in-game currencies - Click here to find out how to generate an extra $10+ per day! 
S'more Surveys
S'more app has partnered with a third-party platform called Peanut Labs.
Peanut Labs is an established third-party provider you can find in many other reward apps and GPT sites.

The first thing you have to do when you open Peanut Labs is to complete a short profiling questionnaire.
Then, they will show you a list of surveys that you may qualify for.
Select the survey and then complete a short qualification survey.
If you are a good match, you will finally be allowed to take part in the marketing study and get paid to share your opinions.
Usually, most surveys take 10 – 15 minutes and will give you less than 100 points ($1) each.
S'more will give you 1 point even if you don't qualify.
It's not much, but most survey companies only say sorry and nothing else!
Taking surveys can be a very frustrating experience if you get disqualified frequently. Check out how you can avoid survey disqualifications here.
S'more videos
Another way to earn points with S'more is to watch videos.
You will get 1 point for every 2 videos of 30 seconds each, or if you prefer, 1 cent per minute.
The good news is there is no limit to how many videos you can watch.
The downside of S'more videos is that they don't play automatically one after the other.
You have to manually tap play, which means you can't leave it running for hours while you go about your day.
Invite Friends
You can earn more points by inviting people to join S'more though your link.
You will get 25 points when the person redeems his/her points for the first time.
Your referral will also get 15 points just for signing up under your link.
User Reviews
---
As I mentioned earlier, S'more used to get much better ratings in the past.
However, the app has been receiving lots of complaints during the past 6 months.
If you check the review section on the Play Store, you will see why people are disappointed with S'more.
Here are some common complaints that I found:
S'more hasn't credited the daily points for over 1 week, even though the lock screen was working.
All the points disappeared from the person's account with no notice.
The app started waking up people's phone at random and showing intrusive ads with audio.




Because of the large number of complaints about missing points, I don't consider S'more a reliable app to make money.
They will use your phone as a platform to make money for themselves while you have no guarantees. 
There are great GPT sites that won't mess up with your hard-earned points. The best ones are, hands down Prizerebel and Offernation.
Pros and Cons
---
Pros
Earn passive income from your phone.
Cashout at just $1 for an Amazon gift card.
There are different ways to make money.
Cons
If you use a security lock on your phone, unlock your phone twice.
Your points will expire if you are inactive for over 30 consecutive days.
Video with audio will show up at random, even if your phone is in sleep mode.
Difficult access to the support team.
The app drains the battery of your phone.
Many complaints about missing points.
You need to provide
It's only available for US residents.
It's only available on Android devices.
Conclusion
---
From first glance, S'more seems like a great opportunity to earn passive income from your phone.
The key problem is that the company can not only stop giving you points, but also delete all your earnings.
There are many reviews from people who didn't get paid.
You can install S'more and give it a try at your own risk. But please, be aware that you may not get paid for the tasks you complete.
Verdict: Not Recommended
How I Make Money Online
---
I currently work from my laptop and make a full-time income from home.
That was only possible because I built a website and started promoting other people's products as an affiliate.
Here are some of my recent commissions: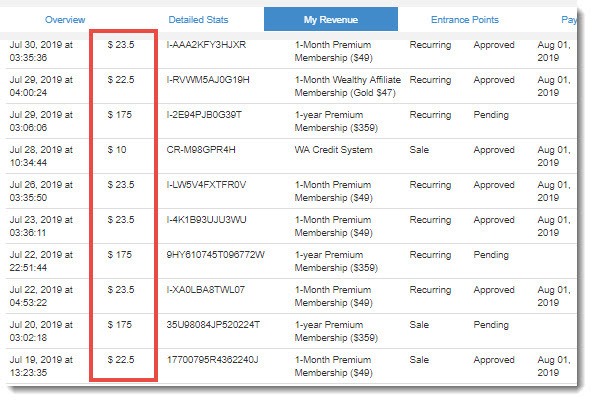 Many people around the world are taking advantage of affiliate marketing to make a living online.
As an affiliate, I simply provide helpful content that achieves positions on Google.
Within my posts, there are links that direct to services that I recommend. If people buy from these links, I earn a commission!
As an affiliate, you can earn anywhere from $10 to $1000+ per sale, depending on what you promote.
The more articles you create, the more people will visit your site. As a result, the more money you can make!
You can build a site about your passions and interests and grow a lucrative internet business just like I did.
If you are interested in building an affiliate site that will pay ou month after month, check out my top-rated platform here.
It's free to get started and 100% newbie-friendly.

Final Words
Thanks for checking out my S'more app review. I hope it was helpful!
If you have any question or you want to share your experience with this app, feel free to use the comment section below.
I wish you all the best!
Your friend,
Stefan