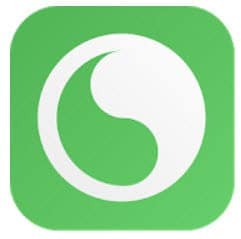 Welcome to my appKarma review!
Millions of people are searching for reliable applications to make a little extra money on the go.
With a quick search on Google Play, you can easily find a huge list of options including the popular appKarma app.
AppKarma claims to reward users for playing games, completing offers, and doing other simple tasks on your phone. The company will give you points that you can redeem for cash or gift cards to your favorite store.
At first glance, it seems like a nice way to cash in on your spare time, but when it comes to money-making apps, all the care is not enough.
In this review, I will uncover crucial information about appKarma and give you my honest opinion. Is it a scam or a legit app? Does it pay or is it just a waste of time?
If you are sick and tired of using apps to earn less than $10 per month, check out my #1 recommendation. It will show you step-by-step the exact strategy that allows me to earn $1,600/mo from my laptop.
appKarma Review
Name: AppKarma
Company: Darkfield Software LLC
Type: get paid to install apps
Price: Free to join

LEGITIMATE

Overall Rating:

 3/5
What is appKarma?
AppKarma is an extremely popular reward application that pays users for installing and running apps on your device.
The app was created by a Californian company called Darkfield Software LLC, which also operates this top-rated app for survey takers. 
When you complete app offers though appKarma, you will earn Karma Points you can redeem for PayPal or a variety of gift cards.
AppKarma is available worldwide, but the company blacklisted some countries because of fraudulent activities. Therefore, you can't use the app if you are from Morocco, Iran, Syria, Vietnam, Iraq, Egypt, Bangladesh, Pakistan, Kuwait, Oman, Yemen, Saudi Arabia, Qatar, and UAE.
Is appKarma Legit? Does it Pay? 
Yes, appKarma is 100% legit, and unlike many other reward apps, they do honor payouts. 
However, it's important to note that appKarma does not guarantee that you will receive cash rewards even if you complete the offers and reach the minimum payout requirement.
Not only that, but they can suspend your account and delete all your points at the company's sole discretion.
From what I can see, they are only deleting accounts from users who break certain rules such as creating more than one account per household, using a VPN, or trying to game the system.
If you play by the rules and earn enough Karma Points, you are likely to receive your payment with no issues.
Pros and Cons
Pros
It's available worldwide, except for the countries mentioned above.
There is a vast selection of app offers.
Earn Karma Play bonuses, scratch cards, and badge bonuses.
Redeem points for PayPal and a variety of eGift cards.
Your gift card code will be delivered inside the app, not via email.
There are lots of positive reviews on the internet. The app is not perfect, so you will also see negative reviews, but the overall rating is quite good.
Generous referral program.
Cons
Low pay – Depending on the offers that you complete, you can earn less than $5 per month.

How Does appKarma Work?
Installation and Registration
AppKarma is available for Android or IOS devices, so you can install it on Google Play or App Store.
After installing the app, create a free account using your email address and verify your account. You can enter a referrer code to earn a decent bonus of 300 pts ($0.25). By entering the code bigorilho3, you are also supporting my blog. 🙂
Points vs Rewards
Before I explain how to earn points with appKarma, it's important to know the exchange rate.
Once you collect 13500 points, you can withdraw $10 to your PayPal account. 
You can also redeem points for a variety of Gift cards such as Amazon, iTunes, Google Play, Walmart, and more!
The minimum number of points you must have to request most Gift cards is 6000, which equals $5.
How to Earn Karma Points? 
There are many ways to earn points with your app Karma app. Below, you will find the most important ones.
Bonus points
You will earn a sign-up bonus of 50 points for signing up with appKarma. Also, there are some bonus points you can collect by clicking on the blue "Bonus" button and completing the following tasks:
Enter a referrer code (300 points).
Complete your profile (50 points).
Like appKarma on Facebook (50 points).
Answer questions about the appKarma correctly  (50 points).
Daily Rewards
Every day, appKarma gives you free scratchers for a chance to win daily rewards. After you check-in using the "Daily reward section", your Scratch Card will be added to the bonus page.
Simply scratch the card, and the more images you match, the more points you will get. You can earn anywhere from 1p to 1000 points. More on scratch cards later!

Complete Offers
The main way to earn points with AppKarma is to install and try sponsored apps on your mobile device. It's essential that you read the instructions carefully before completing each offer.
In the "Mystery offers" section, you will find the easiest offers that will allow you to earn rewards quickly.
In the past, AppKarma used to provide traditional offers such as subscribing to free trials and entering prize draws.
Today, I can only see the opportunity to install and app and meet specific requirements such as reaching specific levels/points and making purchases.
For example, one offer asks you to play "War and Magic" and reach 1 million power points within 21 days. Once you hit the goal, you will earn 7200 pts, 4 Scratch cards, and 6 Karma Plays. More on Karma Plays later. 🙂

This reward platform is going viral! Cash out via PayPal, Visa, Gift Cards, and in-game currencies - Click here to find out how to generate an extra $10+ per day!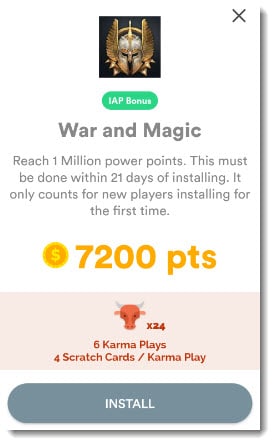 The list of apps is huge, and they are always new apps available. So, you probably won't get stuck due to a lack of offers.

Keep in mind that appKarma only credits players who are installing the app for the first time. If you use join other reward platforms, you must have a good memory or keep a note of all the offers you complete. Otherwise, you will just waste time.
BE CAREFUL!
It's crucial that you know how much MONEY you will earn because some offers require a deposit that is higher than your reward.
Here is one example:
They will give you 5000 points as long as you make a £15 deposit and play with £15.
Do the math, and you will find  that appKarma will pay you £4 (5000 points) for that. On the other hand, you are putting £15 at risk because you are playing a game that has an edge against you.
So, you can actually end up with a loss if you complete this type of offer!
Karma Plays
Most offers come with Karma Play bonuses that will boost your earnings.
After you meet the offer requirements and collect your points, they will add Karma Plays in the bonus section.
Then, launch the app through the Bonus section and play it for at least 4 minutes to earn points. In short, Karma Play will track your playtime and reward you for playing the game for a longer period.
Once you complete all Karma Plays, the bonus will be removed.
Scratch Cards
You can earn scratchers not only by completing the Daily Rewards buy also Karma Plays. The more images you match, the more points you will earn.
There are 5 levels of scratchers according to the type of offer you complete. The higher the level, the more points you can earn.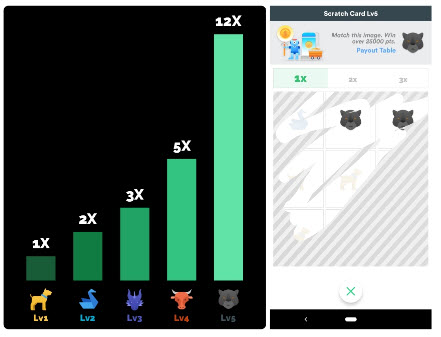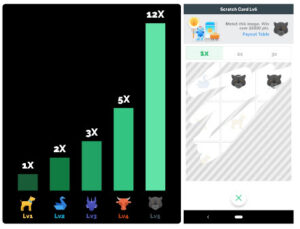 Additionally, each scratch card comes with multipliers that can double or triple your earnings.
Achievement Badges and Bonuses
Depending on your badge, AppKarma will give you nice bonuses when you complete offers.
If you want to increase your badge level to earn more points, you must reach specific milestones. Click on the badge to find out the minimum requirements.
There are 7 types of badges.
Basic badges: Earn 50 – 100 points by completing simple tasks.
Play badges: Collect Play Badges once you complete a minimum number of Karma Plays. Earn a 5% – 12.5% after completing every app offer.
Earning badges: Earn 50 – 500 pts when you accumulate a specific number of Karma Points.
Check-in badges: Earn 50 – 500 pts when you check-in 10 – 75 times.
Offer badges: Earn 50 – 500 pts by completing between 5 – 50 offers.
Video badges: Earn 50 – 500 pts when you watch 50 – 500 videos.
ScreenKarma Badges: Earn 50 – 500 pts when you earn a specific number of points using the screenKarma app. 
Excellent Referral Program
Another way to earn money with appKarma is by sharing your affiliate link or referrer code with friends and other people on the internet. Don't forget to mention that they will earn 300 points by inserting your code.

When someone signs up through your link or use or code, you will earn 500 points plus 30% of everything they earn, which is a very generous commission rate.
VIP referral program: AppKarma gives you even more advantages if you can promote their app to a large audience. This is ideal for people who have a Youtube channel, a website, or a large number of followers on any social media platform.
To apply, contact [email protected] with the subject "VIP request".
Is There an Alternative to appKarma? 
If you search on Google Play or App Store, you will find lots of similar apps. I know it's hard to find the best ones, but the problem is that most apps are not consistent.
I have recently reviewed a great option for US and Canadian residents called Rewarded Play. Lots of users are collecting points and receiving gift cards with no issues. The main problem is that it doesn't pay via PayPal.
CashApp is another excellent alternative as works worldwide and pays through PayPal and Gift cards.
Final Thoughts
AppKarma is a legitimate application that will help you earn some extra cash wherever you go. It's ideal for users who want to earn rewards by playing mobile games and trying other types of apps. 
In my opinion, it's one of the best apps that pay for playing games.
There are many positive reviews on the internet from people who cashed out multiple times.   but if you decide to use appKarma, you should always proceed with caution.
Always pay close attention to the instructions before installing any application and avoid apps that you need to make a deposit. As appKarma doesn't offer any guarantees, you may lose the money if something wrong happens with your account.
Personally, I don't think appKarma is a great way to earn money online, but it's not that bad if you just looking for easy money.
If you are searching for a better way to make money online, you will need to put in a lot of time and effort. In my opinion, it's much better to use your time to create value and reap higher rewards in the future.
How I Prefer to Make Money Online
I used to complete surveys and other simple online tasks in exchange for very little money before 2015. Luckily, I learned how to build an internet business that is now generating over $1,600 per month.
My business model consists of creating helpful content that will rank on Google and attract visitors from all over the world.
By the way, I don't own any products. I just promote other people's products in exchange for affiliate commissions.
It's amazing because after you build authority, you attract an audience that comes to your site month after month.
As a result, you will earn passive income from all the content you created in the past, which in my opinion, is the best way to grow wealth.
However, I need to be honest with you and say that it requires a lot of upfront work. You also need to identify opportunities and learn from your failures.
There are no shortcuts, but a step-by-step course and a supportive community can make all the difference. Click here to check out my #1 recommended program (FREE to get started!)

Final Words
I hope this appKarma review was helpful to you. If you have any questions, just get in touch via the comment section below.
Stay safe and peace out!