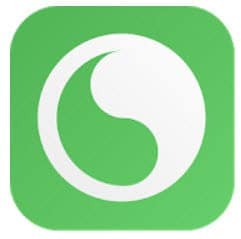 In this review, I am going to share with you my honest opinion about appKarma. Is it a scam or a legit app?
There are many positive reviews on Google Play, so I decided to install it and see how it goes.
If you are sick and tired of using apps to earn less than $10 per month, you must check out my #1 recommendation. It will show you step by step the exact strategy that earns me over $1,600/mo from my laptop.
AppKarma Review
---
Name: AppKarma
Type: Get paid to complete offers
Price: Free to join

LEGITIMATE

Overall Rating:

 3/5
What is AppKarma?
---
AppKarma is a free mobile application that pays users for using other apps, accepting offers and getting referrals.
The app is operated by Darkfield Software LLC and is similar to many other reward apps I have reviewed such as FitPlay, AppLike, AppNana, and more!
When you play apps using appKarma, you will earn Karma Points that you can redeem for PayPal or a variety of gift cards.
It's available worldwide, but the company blacklisted some countries due to fraudulent activities. Therefore, you can't use the app if you are from Morocco, Iran, Syria, Vietnam, Iraq, Egypt, Bangladesh, Pakistan, Kuwait, Oman, Yemen, Saudi Arabia, Qatar, and UAE.
Pros and Cons
---
Pros
It's available worldwide.
There are many offers available in the UK. I cannot say the same for other countries, though.
There are many payment options available.
Lots of positive reviews on the internet. The app is not perfect, so you will also see negative reviews, but the overall rating is quite good.
Cons
Very low-income potential – Depending on the offers that you complete, you can earn less than $5 per month.
The badge system is confusing.
How Doe it Work?
---
AppKarma is available for Android or IOS devices, so you can find it either on Google Play or the App Store. Alternatively, you can visit www.appkarma.io and get started from there.
Considering Paypal as a guideline for reward value, you will get $10 for every 12500 Karma Points.
You will earn 50 points as a bonus for installing the appKarma. Also, there are some extra points that you can get straight away for:
The Daily check-in (5 points)
Verifying your email (50 points)
"Liking" appKarma on Facebook (50 points)
Watching tutorials (50 points)
Entering referrer code (300 points)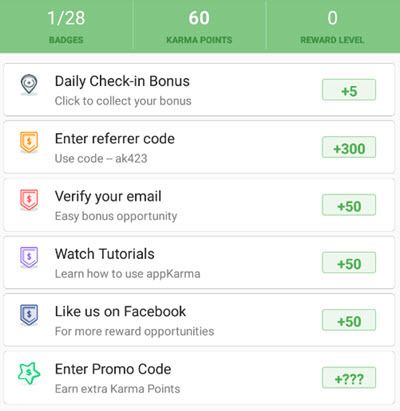 Below this list, you can find the offers.
AppKarma gives you different types of offers to complete, and it's essential that you read the instructions carefully before you accept them.
For offers that require you to download and install apps, be aware that you may also have to use the app and even reach specific milestones.
If it's a game, you will usually be asked to reach a certain level or earn an x amount of points.
Here are some examples: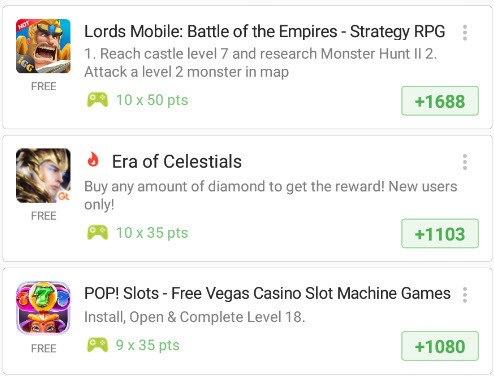 There is also the more traditional type of offers such as filling up a form to participate in a prize draw or sign to free trials.
BE CAREFUL!
It's crucial that you know how much MONEY you will earn because some offers require a deposit that is higher than your reward.
Take for example this casino offer:
They will give you 5000 points as long as you make a £15 deposit and play with £15.
Do the math, and you will discover that appKarma will pay you £4 (5000 points) for that. On the other hand, you are putting £15 at risk in casino games that have an edge against you.
So, you can actually end up with a loss if you complete this type of offer!
Achievement Badges and Bonuses
---
AppKarma will give you bonuses when you complete offers and the amount depends on your badge.
If you want to increase your badge level to earn more points, you must complete certain milestones.
It's not very clear to me how to increase the reward level and gain more badges. I think they should quarify more about this in the FAQ.
Referral Program
---
Another way to earn money with appKarma is by sharing your affiliate link with others.
When people sign up through your link, you will earn 30% of all your referral earnings, which is a very generous commission rate.
They will give you even more advantages if you have a Youtube channel with over 1000 subscribers and you are interested in promoting appKarma.
Payment
---
There are many Gift cards you can choose from such as Amazon, iTunes, Google Play, Walmart, and more! For this, the minimum you must have is 6000 points, which is $5.
As for Paypal, the minimum is 12500 points, which is $10.
Conclusion
---
AppKarma is a legitimate application that will help you earn some extra cash from your smartphone or tablet.
There are many positive reviews from real users on the internet, but if you decide to use appKarma, you should always proceed with caution.
Always pay close attention to the terms and conditions before you accept an offer.
Personally, I don't think appKarma is a great way to earn money online. Most offers don't pay well, and, depending on the offer, you can even lose money.
How I Prefer to Make Money Online
---
I used to complete online surveys 3 years ago, but then I learned how to build an internet business that is now generating over $1,600 per month.
My job consists of creating helpful content that will rank on Google.
By the way, I don't own any products. I just promote other people's products in exchange for affiliate commissions.
It's amazing because after you build authority, you attract an audience that comes to your site month after month.
As a result, you earn a passive income, which in my opinion, is the best way to grow wealth.
However, I need to be honest with you and say that it requires a lot of upfront work. You also need to identify opportunities and learn from your failures.
There are no shortcuts, but a step by step course and a supportive community can make all the difference. Click here to check out my #1 recommended program (FREE to get started!)
I hope this appKarma review was helpful to you. If you have any questions, just get in touch via the comment section below.
Stay safe and peace out!