Welcome to my cashKarma app review!
If you are a regular reader of My Room is My Office, you know that I've been reviewing lots of reward apps lately.
In total, I have tested hundreds of apps, but there are very few that I recommend. 
CashKarma isn't perfect, but in my opinion, it's much better than many other similar apps such as GiftPanda, Diamond Cash, and Moolabag.
The app is 100% legit, provides lots of opportunities to make money, and has some great bonuses!
In this review, I am going to cover everything you need to know about cashKarma and give you my honest opinion about it. Is it a legit and safe application to make money on the go? 
You may also want to check out the step-by-step program that helped me reach $1,600+ per month working from my laptop (no special skills required).
CashKarma App Review 
Name: Cashkarma
Website: https://www.cashkarma.io/
Company: Darkfield Software LLC
Type: GPT (get paid to)
Income potential: Extremely low
Price: Free
Membership Eligibility: Worldwide except in Vietnam; age 18+
Overall Rating:

3.6/5 
What is cashKarma?
CashKarma is a reward app that allows you to make money mostly by taking online surveys from different marketing research companies.

This reward platform is going viral! Cash out via PayPal, Visa, Gift Cards, and in-game currencies - Click here to find out how to generate an extra $10+ per day! 
You can also get paid to complete offers, complete quizzes, watch videos, and invite friends using your referral link or code. 
CashKarma is operated by Darkfield Software LLC., a company based in San Jose, CA. If you check the developer's page on Google Play, you will discover that the company has three other popular reward apps: 
appKarma: Get paid to install and try apps. 
playKarma: Get paid to play games on your phone. 
screenKarma: Get paid to display ads on your phone's lock screen. 
AppKarma is another similar reward application, but instead of surveys, it's more focused on app offers. 
You can install both apps to maximize your earnings, but you won't be able to transfer points between both platforms to cash out faster.  
If you are planning to use both platforms, you have to keep track of the offers you complete. The reason is that you will find many of the same tasks in both apps, but you can only complete them once. 
The company won't penalize you, but you will waste your time because they won't reward you for completing offers twice. 
CashKarma provides many opportunities to earn points called Karma Points. Once you reach the minimum payout threshold, you can redeem your points for cash via PayPal or gift cards from Amazon, Starbucks, iTunes, and many others!
CashKarma is available worldwide except in Vietnan where, unfortunately, there is a high incidence of fraudulent activities.
Is cashKarma Legit? Does it Pay? 

I am confident cashKarma is a legit app that is unlikely to mess up with your payments.
In the terms and conditions, it says cashKarma has the right to terminate your account if they suspect any fraudulent activity. For example, creating more than one account per device will be considered fraud.
They can also delete your account for any reason or no reason. However, the company is unlikely to terminate your account unless you break any rules. But it's possible!
That doesn't mean cashKarma is a scam. However, it's essential to understand that they cannot guarantee that you will receive rewards.
The good news is that there are way more positive reviews on Google Play than negative ones. So, it's likely that you will get paid once you reach the minimum payout amount. 
If you want to maximize your earnings using a reliable GPT site, check out my Prizerebel review here. Depending on your country, you may find enough tasks to earn an extra $100+ per month.
Pros and Cons
Pros
Get points even if you don't qualify for surveys.
Earn 300 points as a signup bonus.
Earn extra bonuses for achievements.
Every time you collect an achievement badge, you increase your reward level. As a result, you will earn up to 12.5% more when completing offers.
Daily check-in bonus.
Excellent usability.
It's available worldwide except Vietnam.
Cons
Low pay. 
The minimum payout is quite high.
You can only earn commissions only when your referrals complete offers.
How Does cashKarma Work?
Just like other reward apps, cashKarma is funded by advertisers who are promoting products and services through offers, videos, and games. They also partnered with several marketing research firms to provide you with paid surveys. 
How to Redeem Your Karma Points?
CashKarma operates a point-based system where you can redeem 13500 Karma Points for $10 through PayPal. So, for every 100 Karma points, you will get 0.074 USD.
Keep this exchange rate in mind and calculate your real earnings before doing any task. I wish the conversion rate was easier because as it is now, you always have to use your calculator. 

Installation and registration
CashKarma is available for free on Google Play or App Store. You can register very quickly using your email account.
Right of the bat, you can get 300 points ($0.22) by entering a referral code. If you want to support my blog, enter my code: bigorilho3. 
Additionally, you will earn an extra 50 points for creating an account plus 50 points for verifying your email.
Next, I will explain in detail all the different ways you can earn collect points with the cashKarma app. Lest's start with the easiest one, which just requires a simple check-in. 
Check-in Bonus
Simply click on the check-in link at the top to earn 5 Karma Points. Your next daily bonus will be available in 24 hours. 
Online Surveys 
As a member of cashkarma,  you can earn points by sharing your opinions with leading brands through survey routers run by different marketing research companies. 
 In the survey section, there are currently 4 survey routers namely Theorem Reach, Tap Research, Precision Sample, and inBrain.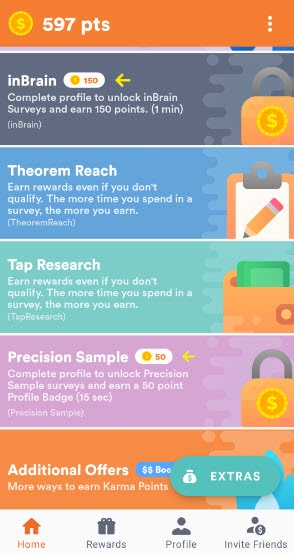 First, you should unlock each survey router by answering a few profiling questions. It takes less than 1 minute to complete your profile with each router.

They will also ask you a few qualification questions to make sure your demographics and interests match with their target group. If you are not a good match, you may be directed to another study if there is any. Learn how you can improve your chances to qualify here. 
The advantage of using cashKarma over other GPT apps is that will get some points even if you don't qualify. However, the only companies that will give you disqualification points are Tap Research and Theorem Reach. 
The problem with most surveys is that they take 5 – 15 minutes and pay less than 500 points or $0.37. I'd avoid surveys that pay less than 200 points because it's probably not worth your time. 
Promoted Offers
If you live in the US, the UK, or some European countries, you will find an incredible variety of sponsored offers.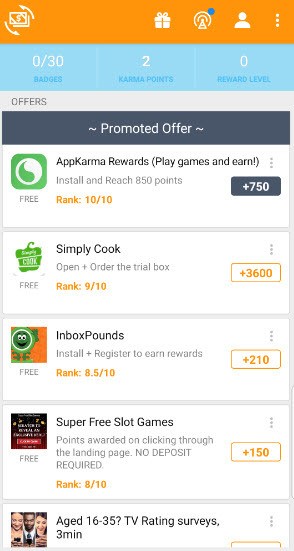 You can even find other survey routers in the offer section such as Yuno and SaySoRewards.
Before completing any offer, read the instructions carefully to make sure you are doing everything correctly. If there is anything missing, you won't get paid.
Here are some offers currently available for UK residents:
AppKarma – Install and reach 850 points (+750).
InboxPounds – Install and register (+210).
Ladbrokes – Create and account and make a £5 deposit (+9910).
TimeBuks – Sign up, verify your ID, and earn at least $5 (+3840).
MobileXpression – Open and complete the registration process (+1650).
Livedrive – Subscribe to 14 days of free trial (+740).
Ladbrokes offers seem pretty good because you will make a £5 deposit and earn the equivalent of £9.50 and £6.93 respectively.
WARNING!
Some people claimed cashKarma didn't credit properly after they completed those lucrative offers. Check out the User Review section below to learn what happened to one user.
Also, be careful with free trial offers that will ask your credit card details. Most companies will not give you a refund if you forget to cancel your monthly subscription.
So, keep a note of all the offers and remember to cancel your subscription if you don't want to keep the service. 
PlayTime Rewards
PlayTime Rewards is where you can earn points for downloading and playing games on your device. This section works similarly to other popular apps that give you coins for every minute of gameplay. 
The pay is appalling, and the more you play a game, the fewer points you will earn. 
Ir order to get receive points for playing games, you should grant appKarma access to your app usage. That's the only way the company can track your gameplay and give you coins based on the amount of time you play. 
Video Rewards
Here you can watch ads and earn 1 karma point for each video. You can earn 5 times more points when you agree to the Ogury consent notice.
If you want to earn tokens while watching videos funny videos on your phone, check out this trendy app from Grand Channel Entertainment. 
Invite Friends
Share your referral link or code with your friends and earn 10% of what they earn from completing offers.

Your friend will get 300 points when they use your referral code, which is cool!
CashKarma doesn't pay commissions on surveys and other tasks, which is a bummer because a great percentage of one's earnings come from surveys. 
Badges 
As you complete more tasks, you will get new badges after achieving specific goals. These badges are divided into Premium Badges, Basic Badges, and Achievement Badges.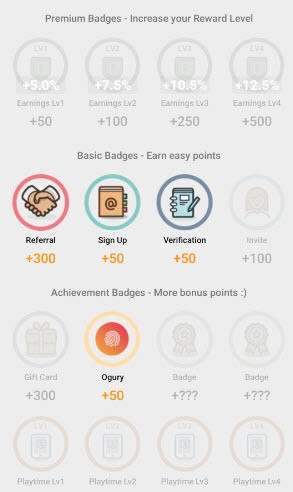 Premium badges
The premium badges are the best ones because they increase your reward level. There are 4 premium badges representing different levels:
LV1 (5000 points) – Earn 50 points plus 5% bonus on app offers.
LV2 (10000 points) – Earn 100 points plus 7.5% bonus on an app offer.
LV3 (15000 points) – Earn 250 points plus 10.5% bonus on app offer
LV4 (20000 points) – Earn 500 points plus 12.5% bonus on app offers.
Basic Badges
You will earn basic badges for:
Insert your referral code (+300).
Signing up (+50).
Confirming your email (+50).
Inviting your friend through your referral link or code (+100).
Achievement Badges
You will get bonus points for the following achievements:
Getting your first gift card (+300).
Agree to Ogury consent notice (+50).
Earning points from Playtime (+50, + 100, +250, +500).
Being screened out of surveys (+50, + 100, +250, +500).
Checking-in many times (+50, + 100, +250, +500).
Completing lots offers (+50, + 100, +250, +500).
Watching lots of videos (+50, + 100, +250, +500).
User Reviews – Complaints
There are lots of positive and negative reviews of cashKarma on the internet.
Complaints range from missing points to banned accounts and technical programs.
This review that I found on Google Play is particularly eye-opening:
According to this user, he didn't earn the points after he completed multiple offers. Then, when he submitted proof, the company paid just a fraction of what they owed him.
That's the reason why I don't recommend people to complete offers that require a deposit. If you don't get credited, you will waste not only your time but also your hard-earned money!
How Much Money Can You Make With cashKarma?
It's very difficult to estimate, but I believe it's very hard to reach $50 per month.
You have to complete lots of high-paying offers because if you rely on surveys, you will probably make less than $2 per hour.
For this reason, most people get discouraged and start searching for other ways to make money online.
If you are willing to learn this simple process and put in the work, you can actually earn a full-time income from home.

Conclusion
CashKarma is not a scam, but there are many complaints about missing points.
Even if cashKarma is operating legally and complying with the terms of service, it doesn't mean you have nothing to lose.
The company can't guarantee that you will receive points after completing offers and surveys. Therefore, you can waste your time and even money in case you complete paid offers. 
When comparing cashKarma with other apps, though, I can see that it's not too bad. It's actually one of the best reward apps amount hundreds that I have reviewed on my blog.
Nevertheless, I would give preference to more well-established platforms to make money online. If you want to make easy money with surveys and offers, I highly recommend this get-paid-to website.
The platform is mobile-friendly, so you can make some pocket money on the go just like any other app.
Earn a Full-Time Income Online
In 2015, I started taking baby steps to grow an internet business and, hopefully, earn a job-replacing income from home.
Luckily, I found this proven roadmap to succeeding as an affiliate marketer.
And, thankfully, I have achieved my goals and quit my job!
In short, I create articles and reviews that rank on Google and attract a massive audience.
When you have a significant audience to your site, then you are in a position to earn big commissions!
In my opinion, these are the main reasons why affiliate marketing is awesome!
Time freedom – You decide when you should work and when you go on holiday.
Location freedom – When you work from your laptop, you can relocate to a tropical paradise and keep making money.
Stress-free life: Say goodbye to your daily commute and arbitrary deadlines.
The best part is that there's no limit to your earnings.
My mentor Nathaniel from have affiliate sites generating $10K per month!
If you are prepared to take control of your income and build your own online business, get started today with my #1 recommendation here.
Final Works 
Thanks for taking the time to read my cashKarma app review. I do hope it was helpful!
If you have any questions or you want to share your experience using cashKarma, leave us a comment below!
I wish you all the best!
Your friend,
Stefan