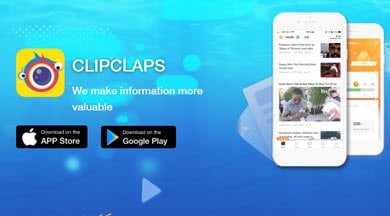 Welcome to my ClipClaps app review!
I've recently discovered ClipClaps, a trendy app downloaded over 10 million times on Google Play. That's insane! 
The company supposedly rewards you for browsing viral videos and pictures on your mobile device.
At first glance, it seems like an excellent opportunity to make easy cash on the go. But does it actually pay? Is ClipClaps a scam or a legit application?
In this review, I will cover in detail how ClipClaps works and give you my honest opinion!
UPDATE: Since I wrote this review in February 2020, I noticed that more and more people are complaining about this app. Keep reading to find out why!
You may also want to discover the step-by-step program that helped me reach $2,000 per month from my laptop. It's free to get started and 100% newbie-friendly!
ClipClaps App Review
Name: ClipClaps
Company: Grand Channel Entertainment Limited
Website: www.clipclaps.com
Membership Eligibility: Worldwide
Price: Free to join (no in-app purchases)
Minimum payout: $15
LEGITIMATE
Overall Rating: 2.6/5
What is ClipClaps? 
ClipClaps is an exciting app that rewards you for browsing funny videos and pictures from your mobile device. It's very similar to Buzzbreak and Bermi!
The main difference is that the first one is focused on news, whereas the second one is focused on viral videos.
ClipClaps stands out from other reward apps because it's completely ad-free.
The company has an ingenious business model that generates revenue without displaying advertising.
Clipclaps also rewards you for playing cool in-app games like the Aquarium and the Scratcher.
By using ClipClaps, you will earn tokens called Clapcoins, which you can convert to US dollars via PayPal.
As of writing this review, 1000 Clapcoins can be exchanged for 0.01 USD.
In addition to tokens, you will also earn raffle tickets for a chance to win $1, $10, and other prizes.
Is ClipClaps App Legit? Does it Pay? 
I don't think ClipClaps is a scam, but many users report glitches and complain about payments.
The most common issue is that the app crashes whenever the user opens a chest.
As a result, users lose their points after relaunching the app.
Also, some people are frustrated that ClipClaps took more than two weeks to process their payments.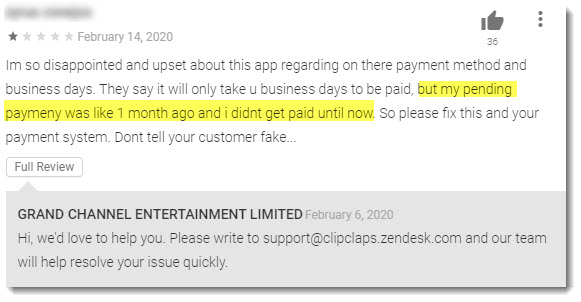 According to the company, they should process your withdrawal application within 3-5 business days.
Important Update (2022)
I believe it is critical to update this review since more and more consumers report ClipClaps as a scam.
Recently, I noticed that many people had their $10 payments declined.
The app said it was in maintenance when they tried to cash out. Now, they blocked the $10 payout and only allowed users to withdraw $15.
This obviously irritated many people who had spent over three months accumulating $10.
The good news is that you will find a few users who received payment if you dig through many reviews. So, there is still hope, but you have to accept the risks.
I don't think it's worth wasting so much time for a chance to make $15! If you need extra money quickly, you are much better off completing online surveys and offers with a reliable GPT site.
If you haven't received the funds in your PayPal account after five working days, please contact [email protected].
Update 2023
Since I constantly monitor how ClipClaps behave, I felt the need to publish another update for this application in 2023.
People are still having major problems with ClipClaps. They're putting in the effort but not getting the cash they deserve.
Let me tell you about these two folks who got seriously let down by the app.

One user played for a year or two and managed to earn 20 bucks. But when they tried to withdraw the money, the app accused them of "illegal activity."
They tried reaching out for support, but it didn't help.
And then we have another user who was once super into ClipClaps. They managed to get their first $10.10 transferred to their PayPal, which was pretty awesome.
But, unfortunately, their next withdrawal of $14.75 got shot down, all because of that same "irregular activity" issue.
Many people warn others not to bother with ClipClaps, feeling like the developers aren't playing fair with their users.
That's

This reward platform is going viral! Cash out via PayPal, Visa, Gift Cards, and in-game currencies - Click here to find out how to generate an extra $10+ per day! 
Why Does ClipClaps Pay You To Watch Videos?

If you are familiar with reward apps, you probably know that most of them are funded by advertisers.
For example, apps like Buzzbreak earn revenue by showing you many ads while browsing the news.
That's how they can run as a business and share part of their revenue with users.
ClipClaps is different in that it's entirely Ad-free, which means the company is not generating ad revenue as other apps do.
So, how can they afford to reward members?
Where is the money coming from?
Well, you can only discover the underlying business model by reading the Terms and Conditions carefully.
You see, ClipClaps encourages users to upload their own funny and original content to the platform.
Users will retain ownership right to the content.
However, by submitting videos and pictures through the app, users are granting ClipClaps an extensive license to do whatever they want with it.
That includes posting the video or picture on any channel (YouTube, Facebook, etc.) and making money. 
In other words, the company is collecting an incredible amount of original videos/pictures and turning them into profits.
That explains how ClipClaps can afford to run ad-free and reward members.
Installation and Registration
ClicpClaps is available for Android and iOS devices, so if you want to use the app, head over to Google Play or the App Store to download it.
Once you've got it installed, you'll need to sign up using a Google account. They used to let you sign up with Facebook or your phone number, but now they have removed those options.
Before you dive in, I'd suggest taking a quick look at their Terms of Service and Privacy Policy. It's always good to know what you're getting into!
Next, they ask you to select the content you are interested in.
You'll need to pick five categories from the 13 available: food, movies, lifestyle, humor, and more. This way, they can tailor the app experience to your interests!
How to Earn Clapcoins
Watching Videos
It's super easy to enjoy all the hilarious content on ClipClaps!
Just scroll down, and you'll find loads of funny videos and pictures posted by users like you.
Most of the content provided by ClipClaps is in the form of entertaining videos, but there are some funny pictures too.
As you scroll, the videos will autoplay, allowing you to keep watching or move on to the next laugh.
Meanwhile, you'll notice an orange line at the bottom of your screen that keeps moving to the right.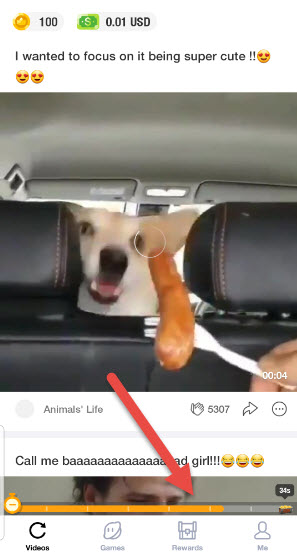 Also, a countdown happens until that line reaches a treasure chest, always on the right side of your screen. Sometimes, you might even spot extra chests along the way!
If you pause browsing for a while, the line will stop and turn blue.
At the beginning of the day, the countdown is just a minute long. But after your 3rd or 4th round, it'll take around 4 minutes and 40 seconds.
Once the countdown is over, tap on "Rewards" and open the treasure chest to collect your rewards.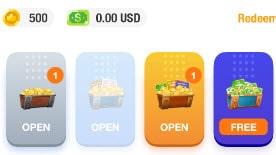 Usually, you will earn anywhere between 50 – 200 ClapCoins per chest.
It's important to mention four types of treasure chests: Copper, Silver, Gold, and Diamond.
Copper chests will give you ClapCoins, while Silver and Gold chests also throw in some Raffle ticket pieces.
The Diamond chest is the real deal – it gives you cash and a shot at winning other awesome prizes.
Just a heads up, though: you can only snag those diamond chests by inviting your friends!
Raffles
When you open the Silver and Gold treasure chests, you will collect raffle ticket pieces for a chance to win cash prizes and ClapCoins.
To enter a specific raffle, you must collect a particular number of ticket pieces found inside the chests.
For example, the $1 raffle only requires 20 pieces, while the $10 Raffle requires 150.
The higher the card's level, the better the treasure!
Once you reach the goal, you will be allowed to select a card and scratch it.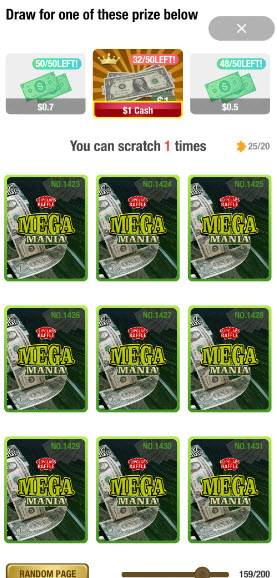 ClipClaps will display the prize amount on your card!
In my first raffle, I won $0.30!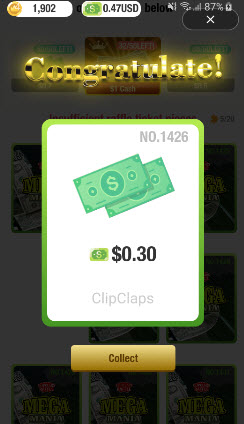 What I like about ClipClap raffles is that they will tell you the odds of winning each prize.
For example, the odds of winning the $1 and $10 raffle are 8% and 4%, respectively.
Game Center
ClipClaps app has four cool games: Aquarium, Texas Holdem, Brainaire, and Scratchers.

The Aquarium is, without a doubt, the most popular game!
You can buy fish and feed them so they can evolve and increase in value.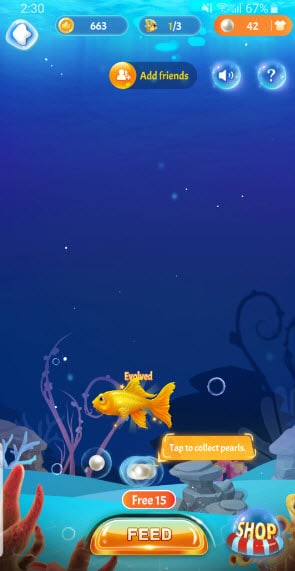 You can increase the level of your fish by feeding them.
Initially, feeding the fish is free, but it will cost you 1 Clapcoin.
When you increase the level of your fish, you will collect pearls which you can use to buy more fish and expand your aquarium.
I played this game for a while and sold my first fish for $0.12.
Most users like playing the Aquarium, but unfortunately, the game has some annoying bugs.
For example, one player reported that he couldn't feed his fish after a few days. Then, two days later, all his fish disappeared mysteriously!
Update: ClipClaps has added lots of in-app games, so you will never run out of options to have fun. However, you should not count on playing these games to earn cash because the reward is very small.
Complete Surveys
ClipClaps recently added online surveys to their mix, which means you've got even more opportunities to earn cash rewards with the paltform.
They've partnered up with Bounty Research and BitLabs to bring you several survey opportunities.
Now, doing surveys is one of the easiest ways to bring in some extra cash online, and the great thing is you can fit them into your schedule whenever you have some free time.
But just a heads up, surveys can sometimes be a bit time-consuming, and it might take a while to qualify.
This is because companies want to ensure they're getting responses from the right people, which means you'll have to answer some screening questions first.
So, while it's an easy way to earn rewards, just be prepared to waste time with the annoying disqualifications. 
Expect to earn a small amount of money, typically just a few cents, for participating in a survey that takes 10-20 minutes.
Invite Friends
Another way to earn cash is by inviting your friends o join ClipClaps through Facebook, Whatsapp, or another social media network. You can also have your friends scan via QR Share.
For each friend that signs up for ClipClaps, you will get a diamond chest.
Now, if your referral logs in 24 hours after registration, you will get an extra chest. Moreover, you will get one more diamond chest if they log in for a second week.
You will earn cash rewards and some cool gifts with a diamond chest, depending on your country.
The downside is that ClipClaps won't tell you how much money you will find inside a diamond chest. But you should expect anywhere between $0.20 – $0.50.

Earn Content Revenue
ClipClaps also allows you to earn Clapcoins for uploading videos and pictures just like on Social Media.
If your content is funny and creative enough, it can be featured on ClipClap's front page, yielding excellent rewards.
The more views and likes you get, the more points you will earn!
I advise reading the community guidelines before uploading any content. For example, you should not upload unlawful, copyrighted, or offensive material. Besides, your videos should not take longer than 90 seconds.
How Much Money Can You Earn With ClipClaps?
Very little!
I have seen people who made $10 in 2 weeks, three, and four months!
It depends on how long you spend watching videos, but it's tough to estimate because users never know what is inside the chests.
The more chests you open on a given day, the fewer Clapcoins you will get.
The truth is that you will have to use ClipClaps for a few hours per day to reach $10 in one month.
How Do You Get Paid?
You can exchange your Clapcoins for cash via PayPal or mobile phone refills by clicking on your wallet at the top.
You can bind your PayPal address by going to "Me – Your name – PayPal email."
When I published this review earlier this year, the minimum payout threshold was $0.10. Therefore, it was easy to cash out within one or two days!
Good old days!
The minimum payout threshold is $10, but it's only available for prepaid refills. If you try to cash out $10 via PayPal, it says withdrawals are currently under maintenance.
So, if you want to get paid via PayPal, the minimum is $15.
Before withdrawing the money, you should convert your ClapCoins to cash.
Unfortunately, the app doesn't provide other payment options like gift cards and Paytm.
Another downside is that ClipClaps will charge you a $0.25 fee on every PayPal transaction. As for Prepaid Refills, you won't have to pay any fees.
Your payment can take more than seven business days. In that case, you can assign higher priority to your request by clicking on the "speed boost" button.
Clapfund
If you open your ClipClaps wallet, you can deposit Clapcoins and earn a return on your investment after some time.

For example, you can buy 3000 and receive 9,000 Clapcoins after 30 days. That is a 200% ROI!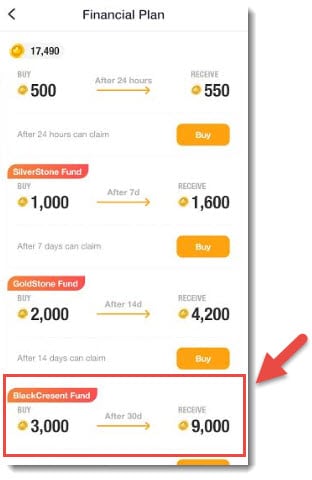 I had over 17,000 Clapcoins and invested 15,000 ($0.15) in the BlackCresent fund.
ClipClaps promises to pay me 45,000 ($0.45) after one month.
It won't make anyone rich, but it's good to know you can triple your earnings using this feature.
Pros and Cons
Pros
Easy way to collect tokens.
Lots of videos will make you laugh until you cry.
Earn Clapcoins for uploading content.
It's 100% ad-free!
It is available for Android and iOS devices.
Get paid via PayPal.
Triple your earnings by investing your Clapcoins.
Cons
Low pay.
The app consumes lots of internet data and battery.
It takes months to cash out.
Many users experience crashes when they try to open a treasure chest.
Some users have problems with the Aquarium game.
You may experience payment delays.
Users can only withdraw via PayPal. Unfortunately, there are no gift cards available.
Is There a Better Alternative to ClipClaps?
There is a very similar app available for Android devices called Bermi.
The difference is that the Bermi app will let you cash out as little as $0.02, so you will get paid much quicker!
Check out my full Bermi review here! 
An alternative would be to sign up for a GPT (Get-Paid-To) site and use a third-party video service like Hideout.tv.
But, personally, I enjoy using ClipClaps more because their videos are just way more entertaining.
The main downside of watching videos on any platform is that the earning potential is always very low!
If easy money is what you are looking for, then I would recommend completing surveys and offers on a trusted GPT platform. 
Final Thoughts
ClipClaps is a decent app for those who already watch funny videos and memes online.
However, if you prioritize making money, you are much better off completing online tasks that pay you more.
Be aware that ClipClaps consumes a lot of internet data to run the videos. So, it may not be worth it, depending on how much money you pay for your internet data.
The app seems legit, but you can experience technical problems and payment delays.
I used ClipClaps earlier this year and received the payment via PayPal without issues. Unfortunately, the company increased the minimum payout threshold, making it.
If you experience any issues, contact the company via email and explain the situation.
If they don't reply, I advise submitting a review on Google Play or App Store. Then, hopefully, the company will try to solve the problem!
Verdict: Legit

Earn a Full-Time Income From Home
You already know apps like ClipClaps will never help you pay your bills.
It feels great to earn a few bucks just to watch videos initially.
But honestly, it's a waste of time and potential!
What if I told you that you could be making $1,000 and even $10,000s per month working from your laptop?
Anyone can reach this income level with affiliate marketing!
In 2015, I was utterly oblivious to the opportunity to build my own online business.
I thought only high-skilled individuals and companies could man a ton of money with websites.
Luckily, this step-by-step training showed me how to build an affiliate site from the ground up, get traffic, and make affiliate sales.
Since then, I have gone from $50/month taking online surveys to over $2,000/month as a content creator! 
It takes time and consistent work, but it's worth having a reliable source of income from the Internet.
Besides, having the freedom to set your schedule is indescribable!
Final Words
Thanks for taking the time to read my ClipClaps app review. I hope it was a big help to you!
Do you like this app? Did you experience any issues with the treasure chests or the Aquarium game?
Feel free to leave us your honest ClipClaps review below! 
All the best
Stefan