Welcome to my Cashzine app review!
Have you ever thought about making money while reading the news on your smartphone?
Well, this is a reality thanks to a free mobile application called Cashzine!
There are lots of opportunities to make money from your phone, but very few apps live up to user's expectations.
In this review, I will explain how Cashzine works and give you my opinion based on my experience.
Is Cashzine is a legit application? Does it pay or not?
If you want to earn a full-time income from home, check out my #1 recommendation. This program helped me reach $1,600 per month and quit my job in 2019. No special skills required!
Cashzine App Review
---
Name: Cashzine
Company: Earn Free Cash via Reading, Ltd.
Email: [email protected]
Membership Eligibility: Worldwide
Price: Free to join (no in-app purchases)
LEGITIMATE
Overall Rating: 3/5
What is Cashzine? 
---
Cashzine is an innovative app that allows you to earn cash by "reading" hot news.
Over 5 million people have downloaded this app on Android devices, so it's extremely popular all over the world.
It's very similar to BuzzBreak and Bermi, which are two apps that I reviewed a while ago.  The key difference is that Cashzine doesn't pay you to watch videos.
The cool thing about Cashzine is that it doesn't require any effort to make money!
Heck, you don't even have to read anything if you don't want to!
All you have to do is scroll up and down to collect in-app coins redeemable for PayPal or Amazon gift cards.
According to the company, the focus is to help users develop a reading habit. Making a little money is only a secondary matter.
Is Cashzine App a Scam?
---
No, it isn't. Cashzine is 100% legit without a doubt!
Different from many other apps, users report receiving their money through PayPal with no issues.
The most common complaint about Cashzine is the fact that it takes a long time to cash out.
In addition, many people felt betrayed when the company changed the exchange rate in Malaysia and other countries.
Now, users have to reach 16,000 gold coins instead of 10,000 coins to redeem RM1.
Pros and Cons
---
Pros
Easy way to earn money from your phone.
It uses artificial intelligence to show you personalized news.
Insert a referral code and earn 800 coins.
Earn 200 gold coins for sharing news articles on social media.
Earn 100 coins from play video bonus.
Get paid via PayPal.
The app provides an insane amount of news every single day!
It is available for both Android and iOS devices.
Cons
The pay rate is abysmal.
You don't earn coins while browsing the news feed.
It takes "ages" to cash out.
Earn up to £1 plus 15% of all your friend's income commissions.
The company can eventually increase the minimum number of coins required to cash out.
Residents of the Philippines cannot cash out anymore.

Installation and Registration
---
Cashzine app is available for iOS and Android devices.
Before you can use the app, the company will ask permission to access photos, media, and files on your device.
I don't know why they ask for such permission, but you can deny and still use the app without restrictions.
Next, create an account by providing your email address and mobile number. You can also gain one-click access with your Facebook or Google account.
To prevent fraudulent activity, Cashzine only allows one phone per account.
Referral Bonus
Cashzine will give you 8000 coins if you enter the invitation code of a friend or anyone who promotes Cashzine online.
If you have any code from a friend or family member, you can use mine 3248619.
How does Cashzine App Work?
---
Just like most reward apps, the Cashzine app earns revenue by displaying ads to the user.
While you are reading the news, you will see frequent banner ads such as this one: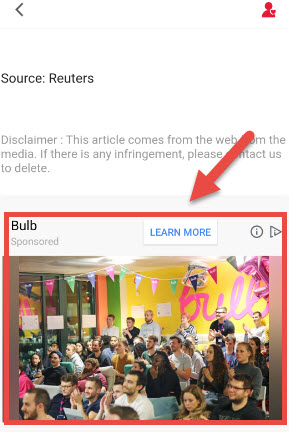 That's how you can not only use the app for free but also get paid for reading the news.
When you open the app, you will receive daily news based on personalized recommendations on different topics such as health, food, and lifestyle.
Cashzine app source articles from reputable media outlets such as Reuters, Mirror, and BuzzFeed.

How to Collect Coins
The first step is to browse for articles and choose one of your interest.
After you open the article, a red circle with a coin in the middle will appear on the left corner of your screen.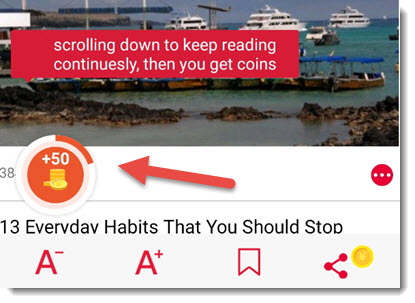 As you scroll down the page, the red line around it will move clockwise.
However, it will stop moving will if you spend a few seconds in the same place.

This reward platform is going viral! Cash out via PayPal, Visa, Gift Cards, and in-game currencies - Click here to find out how to generate an extra $10+ per day! 
Cashzine will give you 50 coins every time the line completes a full circle in 1 minute.
The more you "read", the more coins you will get. It's that simple!

You will get an extra 100 coins if you share the article with your friends on WhatsApp, Tweeter, and other social networks.
In addition, you will earn check-in bonuses for 7 consecutive days.
Referral Program
---
Another way to collect coins is by sharing your referral code with your friends.
Ask them to enter your invitation code so they can get 8000 coins.
You can find your referral code in the "invite" tab.
You will get 15% commission of your friend's income plus bonuses that vary from country to country.
In the UK, you will get a £1 bonus for each friend who completes the following milestones: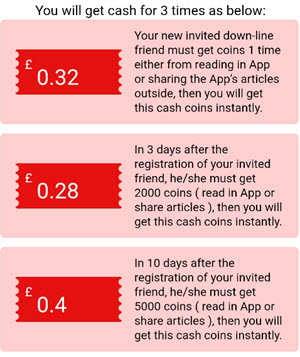 Inviting friends is a great way to earn passive income, but the earning potential is still very low.
You need to refer hundreds or maybe thousands of people to make a decent amount of money.
How Much Money Can You Earn?
---
Very little!
The reason Cashzine doesn't pay a lot of money is that they have to share the ad revenue with all the users and still make profits.
You already know that you will collect 50 coins per minute.
But the amount of money you can make depends on the exchange rate in your country.
Users in the UK need at least 400,000 coins to redeem £5 via PayPal.
Therefore, they have to use Cashzine for at least 133 hours to cash out.
If you live in Malaysia, you need 30,000 coins to redeem RM30.
One Malaysian user said he used Cashzine for 4.7 hours non-stop to earn RM1, which is the price of one bottle of water!
What People Think About Cashzine
---
Cashzine receives lots of positive feedback on Google Play, App Store, and online forums.
They have an excellent track record of paying members.
However, the company had to cancel payments in the Philippines due to a "cheating problem".
It's unfortunate that lots of Filipinos are still downloading and using Cashzine unaware of this situation.

If you are experiencing any problems, contact the developer at [email protected].
How Do You Get Paid?
---
In most countries, Cashzine process payments via PayPal or Amazon e-gift card.
To redeem your coins, click the "Cash out" link and choose your payment method.
In the UK, the minimum payout threshold is £5 via PayPal and £10 for Amazon e-gift cards.
Once you request the payment, the company will send you the money or gift card on the 5th working day.
Conclusion
---
Cashzine is a legit app that will pay you once you collect enough coins.
It's not like other reward apps that will stop giving points or block your account once you are almost there.
After reading lots of user reviews on Google Play, I saw nothing suspicious about the company.
However, it takes a long time to cash out!
You need to keep scrolling up and down for hours on end just to earn pennies.
If you read the tabloids daily, then why not get paid for something you already do?
Now, if you are using Cashzine just for the make money, forget about it!
Verdict: Legit
Is There a Better Alternative to Cashzine?
---
BuzzBreak is another Android app that pays you to read the news.
With this app, points add up faster than Cashzine and the minimum payout amount is only $0.02.
Unfortunately, lots of people complain about missing payments and glitches.
So, it's difficult to choose between one or the other.
You can try both a see which one works best for you!
If you want to get paid for simple online tasks, I highly recommend a GPT platform called Prizerebel.
Depending on your country, it's possible to make over $100 per month by taking surveys and completing trial offers.
For those who aim for a full-time income, don't skip the next section.

How to Earn $1,600+ Per Month From Home
---
There are various freelance jobs and business models that you can use to bring in over $1,600 per month.
But in my opinion, affiliate marketing is the best choice for most people!
It works pretty well for me and many successful people who are now living the so-called "laptop lifestyle".
Here is why affiliate marketing is such an amazing opportunity:
Location freedom – Work from home, from a coffee shop in Italy, or anywhere you want!
Time freedom – You decide when you will start the day!
No direct selling, and no customer service! 
VERY cheap startup costs – operating a website is probably 100x cheaper than running a tiny brick and mortar business in your town.
Unlimited income potential: You can reach a global audience and make unlimited.
As an affiliate, you will earn commissions when visitors click on the links on your site and purchase the products that you are promoting.
This excellent step by step program helped me set up a website even though I had zero skills in web design.
As importantly, they showed me the most current techniques to get lots of traffic required to make $20 and even $100 per sale.
Final Words
---
Thanks for taking the time to read my Cashzine app review. I hope it was helpful!
If you still have any questions, let me know in the comment section below, and I will answer as soon as possible.
Also, feel free to share your experience with Cashzine by leaving your honest review below. It will help other people make an informed decision!
All the best
Stefan