Welcome to my BuzzBreak app review!
Who would have thought one day, people would earn free cash by reading the news!
Well, that's what the creators of the BuzzBreak app claim you can do.
It's crazy to think about how technology and marketing have grown together!
With BuzzBreak, you can supposedly make money just for browsing articles and watching videos on your phone.
You are reading this post because you are skeptical and trying to guess how it works.
Is BuzzBreak a legit app? Does it pay or not? Is it worth your time?
In this review, I will answer all the questions that you might have and give you my frank opinion.
As expected, little effort equals little results. So, if you are prepared to put in the work and follow the proven strategy that earns me $1,600+ per month, check out my #1 recommendation.
BuzzBreak App Review
Name: BuzzBreak
Website: buzzbreak.news
Company: Partko Tech, Inc
Membership availability: Worldwide
Minimum Payout: $0.02
LEGITIMATE
Overall Rating: 

2.3/5

This reward platform is going viral! Cash out via PayPal, Visa, Gift Cards, and in-game currencies - Click here to find out how to generate an extra $10+ per day! 
What is BuzzBreak App?
BuzzBreak is a mobile application that rewards you for reading breaking news from popular newspapers and magazines such as
CNBC
Business Insider
Al Jazeera, Forbes
The New York Times
Rappler
And other reputable sources depending on your country.
You can filter the content based on six interests: News, sports, entertainment, lifestyle, technology, and business.
BuzzBreak also allows you to make money while watching entertaining videos.
The app is straightforward to use and doesn't require any effort except tapping on the yellow button every 30 seconds to claim points.
BuzzBreak app was launched in 2018 and has been downloaded over 1 million times so far!
Pros And Cons
Pros
No effort is required.
It's a very informative and addictive app.
Read the news from reliable media outlets.
Get paid via PayPal or Gcash.
Sign up using your Google or Facebook account
Cash out with as little as $0.02.
There are no redemption fees.
Cons
Low earning potential, but it adds up.
It consumes a lot of internet data.
You can only claim points 50 times per day.
The app drains the battery of your phone.
There is no FAQ.
It's not available for iOS devices yet.
Sometimes you must watch a video ad to continue using Buzzbreak. The good news is that you may earn some extra points.
Installation and Registration
As of writing this review, BuzzBreak is only available for Android users.

The company has been working on the iOS version for over one year, but there is still no release date.
If you have an android phone or tablet, the first step is to visit Google Play and install the app.
Next, create a free account using either your Facebook or Google account.
The company will make your life easier by giving you 15,000 points as a sign-up bonus.
If you register with your Facebook account, you will get an extra 1,000 points.
Use a Referral Code 
In addition, Buzzbreak will give you a bonus of 2000 points by entering a referral code.
Users promote their unique code on social media platforms, blogs, and YouTube channels.
You can use my referral code B14847150 or a friend's code if they invite you to install the app.
Once you join BuzzBreak, you will have your code to share with others for referral bonuses and commissions.
I will cover the referral program in more detail later, but first, let's look at how the point system works.
Points and Rewards 
As I mentioned, Buzzbreak will give you points that you can convert to cash via PayPal or Gcash.

Unlike most reward apps, it has a very low minimum cash out of just $0.02.
You can also cash out $0.10 (100,000 points) or $0.50 (500,000 points).
I advise you to cash out as soon as possible because you don't want to lose a higher amount if there are any issues.
Regardless of your country, you can reach the minimum threshold on your first day.
Once you request the payment, you can expect to receive the money into your account within 48 hours.
What I like about Buzzbreak is that they will show you the exchange rate between Points and US dollars.
And, if you don't live in the US, they will also show you the cash balance in your currency.
How to Get Points With BuzzBreak
Reading the News
To earn points, all you have to do is browse the articles and tap on the yellow button after 30 seconds.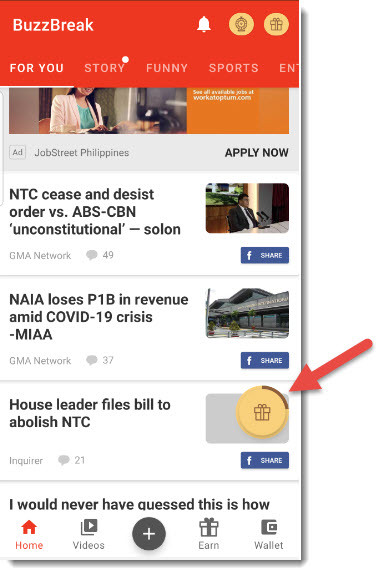 You don't have to read any article if you don't want to.
Your only job is to browse the news feed or article so that the brown line around the yellow button moves clockwise.
Yep! The line will stop if you stop scrolling up or down.
Once this brown line reaches a full circle, you can claim your points by tapping on the button.
If you are reading an article, there is an extra step which comprises scrolling to the bottom of the page to see an ad.
You will earn 150 points for browsing the news feed and 300 points for reading the article.
RECOMMENDED: Click here to see my no.1 recommendation for making money online.
Watch Videos
You can also earn points by watching funny videos pretty much in the same way.
BuzzBreak is very similar to an app I reviewed recently called Bermi.
 As you scroll down, the videos will play automatically, and the brown line will move clockwise.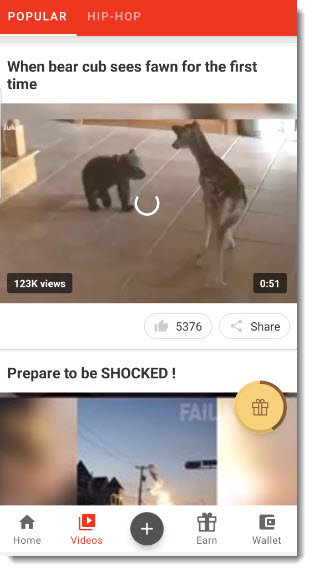 Check-In
Every day, you will earn a check-in bonus that gets higher and higher when you use Buzzbreak for up to 7 consecutive days.
If you check in during seven consecutive days, you will earn an extra 9700 points plus a day of double reward.
Free Points (Offers)
Many people don't know they can also earn free points by completing third-party offers.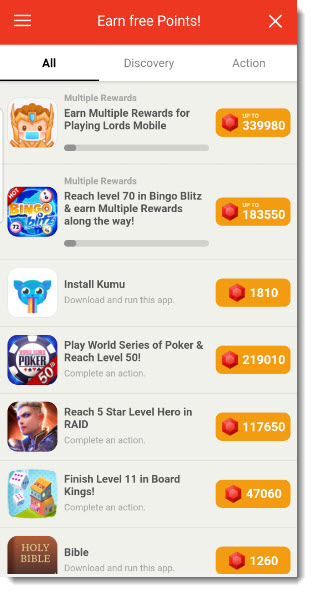 You can find these offers by selecting "Free points" in the Gift or Wallet section.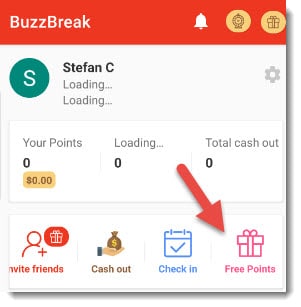 For example, you can earn hundreds of thousands of points by downloading and playing mobile games.
The typical offer requires that you download the app and achieve some milestones in the game. Here is one example: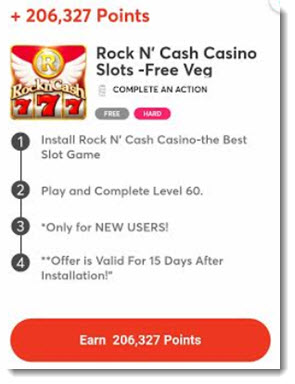 Be sure to do your due diligence when completing trial offers, especially the ones that require your credit card details.
Always read the terms and conditions and keep track of everything!
You will also have the chance to participate in marketing research studies and get paid for your opinions.

Different survey routers will match you with survey opportunities based on profiling questions.
Invite Friends
Another way to make money is by inviting your friends to install BuzzBreak and asking them to insert your referral code.
You can find your referral code in the "wallet" section.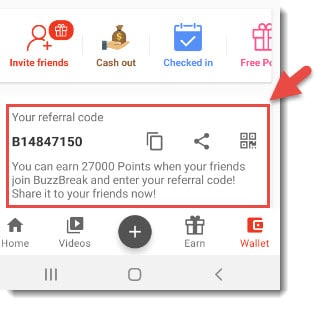 You will earn 27,000 points for each friend that installs Buzzbreak and enters your code.
In addition, you will get a 20% share of all your friends ' earnings and ten tickets to spin the lucky wheel.
Inside the "Invite friends" tab, you can tap the share buttons to promote your code via Facebook, Whatsapp, SMS, messenger, or another social media platform.
It's great to earn passive income with referrals!
However, the low pay rates mean you will need thousands of active referrals to earn something meaningful.
People who know how to build a large online audience can make a lot more money by promoting other people's products. Click here to learn how! 
More Points! 
If you need more easy points, head to the wallet, and complete these tasks:
Share Buzzbreak with your Whatsapp or Messenger groups. It has to be a group of over 50 people – +10,000 points.
Follow BuzzBreak on Facebook: +3,000 points. 
Follow BuzzBreak on Messenger: +1,000 points.
Connect your Facebook account: +1,000 points.
Where does the money come from?
Note that you will see many ads while browsing the app for news and videos.
When you tap on your wallet or another app feature, you may also see a video ad for a few seconds.
Well, Buzzbreak is getting paid by advertisers and sharing part of their ad revenue with users. It's that simple!
That explains how BuzzBreak can afford to run as a business and reward you as a member. 
How Much Money Can You Earn With BuzzBreak?
The quick answer is very little! 
You cannot earn much money because you can only claim free points 50 times per day.
The best strategy is to claim your points when reading an article instead of browsing the feed.
So, instead of earning 150 points, you will get 300 points every time you tap on the yellow button.
Still, that's only 15,000 points or $0.015 per day! 

According to my calculations, you may have to spend half an hour to earn $0.015 worth of points.
On top of that, we have to consider the check-in bonuses, which will give you an extra 9700 points per week. But, unfortunately, that's still less than 1 cent per week!
I think it isn't very encouraging for those using the BuzzBreak app just for the money.
Without completing offers or inviting hundreds of people, you should not expect to earn more than $6 in one year. 
What Do People Think About BuzzBreak?
When researching an app, I always take the time to read user reviews on Google Play.
BuzzBreak gets more positive than negative feedback, and people get paid.
However, I can still see many complaints about payments and missing points, which is worrying.
Here is a list of the most relevant complaints that I found:
When the person enters his friend's referral code, it says "ops… Invalid country".
Payment delays.
Some people had their accounts frozen for no apparent reason.
For some people, the minimum payout increased from $0.02 to $5.
Buzzbreak doesn't even pay for the phone data used.
Conclusion – Is BuzzBreak App a Scam?
I have seen many payment proofs on the BeerMoneyForum, so I am confident that BuzzBreak is a legit app.
The app provides a simple way to earn cash from your phone while reading the news and watching videos.
However, the earning potential is abysmal, and many people have all sorts of issues.
Using this app for hours only to make a few cents is not encouraging even in developing countries.
Keep in mind that BuzzBreak will consume a lot of internet data on your phone.
So, if you use a limited data plan, the money you earn with BuzzBreak won't cover the costs.
I believe BuzzBreak is only worth it for those who complete offers and promote the app on the internet.
That's why you will see many influencers recommending this app, especially on YouTube.
Verdict: Legit
Is There a Better Alternative to Buzzbreak?
There are three very similar apps on Google Play: Cashzine, Bermi, and ClipClaps.
Cashzine is almost identical to BuzzBreak, and the earning potential is equally low.

However, Cashzine has a much higher minimum payout, so it takes forever to cash out. So, I wouldn't choose this one over BuzzBreak.
On the other hand, Bermi and ClipClaps focus on viral videos, but many users experience payment delays. I suspect many people don't get paid by these three apps!
If you want to get paid for doing simple online tasks, the best platform I recommend is Prizerebel. It's not an app, but it works like a charm on any device!
Depending on your country, it's possible to earn more than $100 per month with this GPT site.
That's not much if you live in a wealthy country like the US or the UK, but 100 bucks can make a big difference for many people.
Now, if you dream bigger and are ready to put in the work, read the next section to discover a proven method to earn thousands of dollars per month! 
How To Make a Full-Time Income Online 
If you want to achieve a job-replacing income working from home, I highly recommend building your own online business.
Here is my best advice: Stick with what is proven to work, and don't try to reinvent the wheel.
So, how do I make money?
In a nutshell, I create content for my website, attracting visitors and generating affiliate commissions.
As an affiliate marketer, I earn commissions based on sales and action.
Whenever a website visitor clicks on my link and purchases the products I promote, I earn a commission!
In my opinion, these are the main reasons why I think affiliate marketing is one of the best ways to make money online:
Location freedom – Work from home, on a beach in Thailand, or anywhere you want.
Time freedom – Se your schedule and decide when you go on holiday.
VERY cheap startup costs: operating a website is extremely affordable compared to running a small brick-and-mortar business.
No product fulfillment – You are not responsible for handling physical products.
No customer service – You are only earning commissions through advertising.
Unlimited income potential – the more your website traffic, the higher your online revenue.
This excellent step-by-step program gave me all the knowledge, support, and tools I needed to work remotely and achieve my financial goals.
Keep in mind that this type of business takes a lot of time and effort to get traction, so you should not expect overnight results.
Final Words
Thanks for checking out my BuzzBreak app review. If you have any questions, feel free to leave a comment below.
Also, if you have used the app, please share your honest opinion to help others make an informed decision.
Stay safe and peace out!