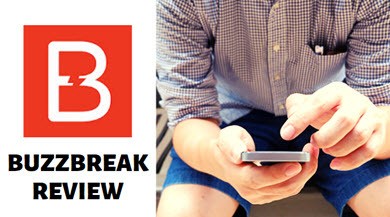 In this short review, I am going to talk about BuzzBreak, a new Android application that allows you to make money by reading news and watching videos.
As expected, little effort equals little reward. So, if you want to discover the proven method that earns me $1,000+ per month from my laptop, Click here and check out my #1 recommendation.
BuzzBreak App Review
---
Name: BuzzBreak
Company: Partko Tech, Inc
Membership availability: Worldwide
LEGITIMATE
Overall Rating: 

2.3/5
What is BuzzBreak App?
---
In short, BuzzBreak is a mobile application that rewards you for reading breaking news from popular newspapers and magazines such as CNBC, Business Insider, Al Jazeera, Forbes, The New York Times and more!
It also allows you to earn money while watching fun videos.
The app is very easy to use and doesn't require any effort, except tapping on the yellow button every 30 seconds to claim points.
BuzzBreak app was launched one year ago and has been downloaded by more than 500,000 people.
Pros And Cons
---
Pros
No effort required.
Get paid via PayPal.
Cashout with as little as $0.02.
Cons
The pay rate is abysmal, so even though the minimum payout requirement is low, it takes a long time to cash out.
You can only claim points 50 times per day. So, you are limited to $0.0025 per day.
You can only sign up using your Facebook account.
There is no FAQ.
It's not available for iOS devices yet.
How Does it Work?
---
Buzzbreak app is only available for Android devices now, but according to the website, the iOS version is coming soon.
The first step is to download and install the app via the Google Play Store.
Next, you should sign up with your Facebook account. Unfortunately, there is no other sign up method available.
Buzzbreak used to give 200 points as a signup bonus, but now, you only get them if you enter a referral code.
This unique code is usually shared on social media sites by users who are promoting the app.
You can use my referral code B00193231 to claim your sign bonus. Alternatively, you can use a friend's code if he/she invites you to install the app.
As 1000 points are worth $0.01, you are getting started with only $0.002, which is one-quarter of a cent.
Earning Points With BuzzBreak
As I already mentioned, BreakBreak is an app that pays you to read news and watch videos.
To earn points, all you have to do is browse the articles and tap on the yellow button every 30 seconds.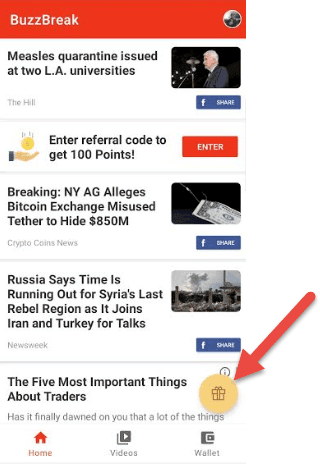 You don't need to read anything if you don't want to. Your only job is to scroll up and down the page so that the brown line around the yellow button moves clockwise.

The line only moves while you are browsing because when you go up and down, you will see more advertising.
When this brown line reaches a full circle, you can click on the button to claim your points.
This will happen every 30 seconds if you keep browsing the pages continually.
Instead of browsing articles, you can also browse videos and earn points in the same way.
Similarly, you must scroll down the page to make the loading circle moves.
In this regard, BuzzBreak is very similar to an app that I reviewed recently called Bermi.
Note that you will see ads in between the news and videos, which explains how BuzzBreak can afford to run as a business and reward members.
They get paid by advertisers and share part of the revenue with you.
RECOMMENDED: Click here to see my no.1 recommendation for making money online.
How Much Money Can You Earn?
---
In the beginning, I was receiving 75 points for every 30 seconds, but then, earnings dropped to 5 and 6 points as you can see below: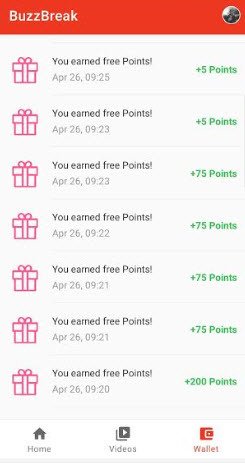 You will also earn a daily check in bonus of 200 – 180 points if you watch a video ad.
Remember, 1000 points are equal to just $0.01, so you will earn $0.00005 every 30 seconds.
The question you need to ask yourself is: how long would it take to earn $1 starting out with no bonuses?
If you only consider the 5 cents per 30 seconds, you would need 166 hours of browsing to earn $1! 
That's insanely low, guys!
What's worse, you are limited to 50 x 5 points in a day. So, you can only earn a maximum of 250 points or $0.0025 per day.
In other words, it will take you over one year to make $1!
Invite Friends And Earn Commissions
---
Another way to make money is to invite your friends to install BuzzBreak and ask them to insert your referral code.
You can find the referral code in the "wallet" section.
If the person enters your code and reaches 5000, you will earn 1000 points. Not only that, but you will also receive 1 point for every 5 points that your friend claims.
It's great to earn passive income with referrals.
However, the incredibly low rates of pay mean that you will need hundreds of active referrals to earn something meaningful.
Inside the "Invite friends" tab, you can tap the share buttons to promote your code via Facebook, message, or another social media platform.
Cash Out
---
To receive the payment, visit your wallet and tap on "Cash out".
The minimum cash out is 2,000 points or $0.02 via PayPal.
$0.02 seems like a low cashout amount compared to other reward apps and sites, but it will take you a long time to save 2000 points.
Once you request the payment, you can expect to receive the money into your account within 48 hours.
The good news is that there are no redemption fees.
Conclusion – Is BuzzBreak App a Scam?
---
I have seen many income proofs on the BeerMoneyForum, so I am confident that BuzzBreak is a legit and reliable app!
However, the pay rate is incredibly low!
The app provides an easy way to earn cash from your phone, but waiting over 1 year to make one dollar is inconceivable to me.
Even if you live in a poor country, using this app for hours only to make 1 or 2 cents is definitely not worth it in my opinion.
BuzzBreak is only worth for those who promote it to a large audience on YouTube or a Blog.
That's why you will see many influencers recommending this app.
Verdict: Legit
If you want to complete easy tasks to earn some pocket money here and there, the best platform that I recommend is called Prizerebel.
Depending on your country, it's possible to earn more than $100 per month with this GPT site.
That's not much if you live in a developed country, but it can help with your bills.
Now, if you want to earn some serious income online, capable of completely change your life, read the next section.
How I Make Money Online
---
I create content for my own website, which attracts visitors and generates affiliate commissions.
As an affiliate marketer, I earn commissions based on sales and action. Whenever a website visitor clicks on my link and purchases the products that I promote, I earn a commission!
In my opinion, these are the main reasons why I think affiliate marketing is one of the best ways to make money online:
Location freedom – Work from home, a beach in Thailand, or anywhere you want!
Time freedom – Not a fan of early mornings like me? No problem, you decide when you start working not your boss!
By the way, you don't have a boss!
VERY cheap startup costs.
This excellent step by step program gave me all the knowledge, support and tools that I needed to work remotely and achieve my financial goals.
Keep in mind that this type of business takes a lot of time and effort to get traction, so you should not expect overnight results.
Thanks for checking out my BuzzBreak review. If you have any questions, feel free to leave a comment below and I will be more than happy to help! 😉
Stay safe and peace out!