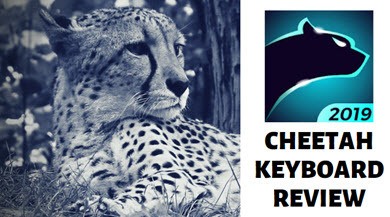 Today, I came across Cheetah Keyboard, an Android app that supposedly allows you to customise your phone's keyboard and earn money while typing and doing other tasks. Can you really trust Cheetah Keyboard? Is it a scam or legit?
I decided to give it a try, but to my disappointment, I discovered Cheetah Keyboard doesn't reward UK residents. Therefore, I couldn't test it for its income potential.
However, I am going to reveal important information that you MUST know before you join.
If you want to learn a proven method that earns me $1,000+ per month from my laptop, click here for my #1 recommendation.
Cheetah Keyboard App Review
---
Name: Cheetah Keyboard
Company: Cheetah Mobile Inc.
LEGITIMATE
Overall Rating: 

2.4/5
What is Cheetah Keyboard?
---
Cheetah Keyboard is an Android application owned by a Chinese company called Cheetah Mobile Inc. The company is collecting data from different apps and developing AI-driven robots.
The Cheetah Keyboard app allows you to:
Customise your keyboard's theme.
Add funny emojis.
Add extra features to help you type faster (fast swipe).
Auto-correct typing mistakes.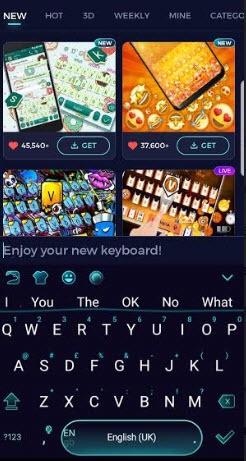 If you live in the US, the keyboard app also supposedly allows you to earn real cash for typing, reading news, watching videos and playing games. The typical "get paid to" section that is full of advertising.
Pros and Cons
---
Pros
Earn money passively while you type.
There are many free and cool themes.
Great features to help you write faster and more accurately.
Cons
They may have access to everything you type.
The reward program is not available in all countries.
They can terminate your account for no reason.
You may have to wait more than 1 month to receive the payment.
Privacy Concerns
---
The intention of this post is not to explain all the Cheetah Keyboard features, but to focus on the money side of it and privacy concerns.
After you install the application, you will have to agree with the terms and condition and privacy policy.
They Can Collect Lots of Personal Information! 
You have to activate the keyboard, but before you do that, your phone will warn you that the app may collect all the text that you type, including personal data like passwords and credit card numbers.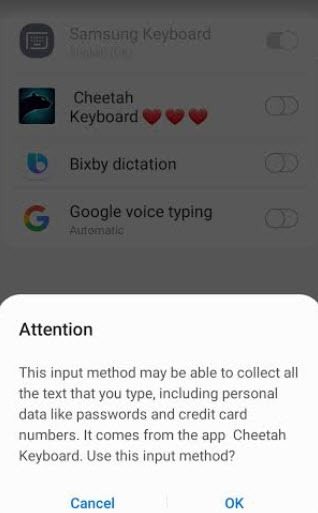 The app will also ask permission to access your photos and files.
As you can see, Cheetah Mobile is providing free keyboard service in hopes to have access to lots of personal data.
The two main reasons they are doing this are to:
Engage in marketing activities to generate cash flow for the company.
Conduct research and development, most likely related to artificial intelligence.
If you live in the EU, you have the right to withdraw consent and the right to have all your data deleted from their database by sending an email to  [email protected].
Earning Money
The possibility of making money with Cheetah Keyboard is not available in all countries.
If the reward program works in your country, you will earn money while using the keyboard as well as watching videos, reading news, and playing games.

Once you reach the minimum withdrawal requirement, you can cash out via PayPal.
Will You Get Paid?
---
I've read many user reviews on the Google Play store and different forums.
Most people who talked about payments were complaining that the money was taking too long to be credited.  However, some people reported having received it after 1 – 4 months!


Regarding payments, it's essential to read the terms of service where it says:
WE CANNOT GUARANTEE AND DO NOT PROMISE ANY SPECIFIC RESULTS FROM USE OF THE SERVICE.
Also, they can terminate your account for any reason and without any notice as you can see from this statement:
WITHOUT LIMITING ANY OTHER PROVISION OF THESE TERMS OF SERVICE, WE RESERVE THE RIGHT TO, IN OUR SOLE DISCRETION, AND WITHOUT NOTICE OR LIABILITY, DENY ACCESS TO AND USE OF THE SERVICE TO ANY PERSON FOR ANY REASON OR FOR NO REASON AT ALL, INCLUDING WITHOUT LIMITATION FOR BREACH OF ANY REPRESENTATION, WARRANTY OR COVENANT CONTAINED IN THESE TERMS OF SERVICE, OR OF ANY APPLICABLE LAW OR REGULATION.
So, will you get paid? If you are patient, it's likely that you will get paid. Unfortunately, there are no guarantees! Also, you may also have to contact the company in case the payment is taking too long to be credited.
Conclusion – Is Cheetah Keyword a Scam?
---
No. Cheetah Keyword is not a scam, but if you care about privacy, and you don't feel comfortable sharing personal data, then I don't think you will like this app.
Personally, I am not confident to use an app that has access to everything I type on my phone.
I believe the company will respect my data, but I would like to be 100% sure. As certainty is something impossible to achieve, I uninstalled Cheetah Keyword app from my mobile.
The themes are fantastic, but I would only use it if I had complete privacy.

As for the money guys, you won't earn a lot, and there are no guarantees.
Verdict: Legit
If you want to complete easy tasks and earn some pocket money online, the best platform that I recommend is  Prizerebel.
Now, if you are serious about making money online, check out the next section where I share my top recommendation.

This reward platform is going viral! Cash out via PayPal, Visa, Gift Cards, and in-game currencies - Click here to find out how to generate an extra $10+ per day! 
How I Make Money Online
---
I create content for my own website, which generates affiliate commissions whenever visitors click on my links and purchases the products that I promote.
In my opinion, the main reason why I think affiliate marketing is the best way to make money is the freedom that it provides.

You can work from home, or while traveling the World!
There is no need to create products or handle customer service. You are just promoting other people's products in exchange for commissions of up to 75% of the sale price!
This excellent step by step program gave me all the knowledge, support and tools that I needed to work remotely and achieve my financial goals.
Keep in mind that this type of business takes a lot of time and effort to get traction, so you should not expect overnight results.
Thanks for checking out my Cheetah Keyword review. If you have any questions, feel free to leave a comment below, and I will be more than happy to help! 😉
Stay safe and peace out!