Welcome to my Happy Scratch App review!
Happy Scratch is a mobile app where you can supposedly win free rewards from your smartphone or tablet.
All you have to do is play the lucky scratcher and other games to accumulate tokens and cash rewards.
Sadly, many users are not as happy as the app name suggests!
In this review, I am going to explain how Happy Scratch app works and why many people are disappointed with it.
Does Happy Scratch app pay or not? Is it a scam or legit?
Before we dive into it, let me ask you one important question:
Have you ever thought about the possibility of earning a job-replacing income from home?
If so, you can't miss out on my #1 recommendation! This is the same program that helped me reach $1,300/mo, quit my job and travel to SE Asia in 2019 (the first 10 lessons are 100% free). 
Happy Scratch App Review
---
Name: Happy Scratch
Website: https://lolipopmobi.com/
Company: Happy Scratch Studio Limited
Membership Eligibility: Worldwide
Minimum Payout: $2 (10 million coins) or $10
Price: Free to join (no in-app purchases)
Overall Rating: 1.5/5
What is Happy Scratch?
---
Happy Scratch is a free mobile app where you can play scratch cards and other games for a chance to earn real cash.

This reward platform is going viral! Cash out via PayPal, Visa, Gift Cards, and in-game currencies - Click here to find out how to generate an extra $10+ per day! 
The Android app has been downloaded more than 1 million times and is almost identical to the Lucky Cat app.
Also, it's very similar to Scratch Royale, Lucky Go, Lucky Day, Lucktastic (US only) and many others!
Just like the competitors, Happy Scratch works with two distinct digitals currencies: cash and coins.
As you play free scratchers daily, you will earn either cash or coins that accumulate in your account.
Then, you can request a payment once you reach the minimum payout threshold.
Is Happy Scratch App a Scam?
---
Many users think  Happy Scratch is a scam as they report lots of glitches and missing coins.
Another common complaint is that the company will stop giving cash and coins when users are very close to cashing out.
In other words, the games may have an algorithm that may reduce the number of cash and credits awarded over time.
Here are some user reviews that I took from the Google Playstore:




Although Happy Scratch makes it hard for people to cash out, I can't call it a scam without solid proof.
As I mentioned, Happy Scratch is an app where you accumulate digital currencies in the form of cash and coins.
However, those are digital rewards that don't have real value and are not yours until the company puts real cash in your pocket.
So, there are no guarantees that you will get rewarded after playing scratchers for weeks or even months!
Pros and Cons
---
Pros
It's free!
Earn $2 plus 200,000 tokens as sign-up bonuses.
It's available worldwide.
Cons
There are lots of ads!
It takes a very long time to reach $10 and cash out.
10 million coins are worth only $2.
Many people report glitches in the app, especially when they try to cash out.
How Does Happy Scratch App Work?
---
Just like all reward apps, Happy Scratch entirely funded by advertising.
The app will show you many ads while you are playing free games, which is how they can afford to rewards users.
Every day, you can play lots of free scratch cards and other games such as the lucky spin, the lucky doll, and the lucky egg.
The main game is the scratch card, which I will explain in more detail below.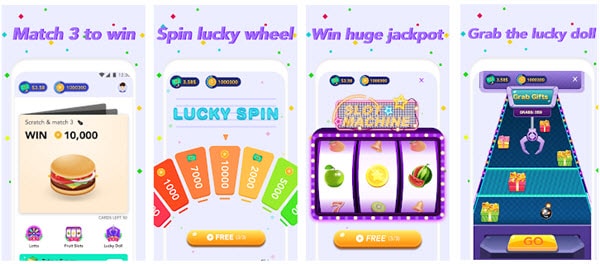 Scratch Card
Every day, you will get 50 scratch cards with cash prizes ranging from $1 to $1,000.
All you have to do is scratch the card to reveal all the six symbols.
If you match 3 pictures, you will earn the cash or coin prize displayed on the card.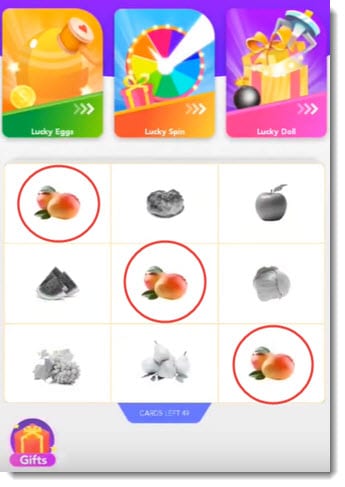 Every card will give you bonus coins even if you don't match 3 pictures.
Besides, you can double your earnings if you agree to watch a sponsored video.
In the beginning, it's easy to find a winning card, so you can reach $4 or $5 quickly.
But, don't get your hopes high!
The more you play, the harder it gets to win the same amount that you earned in the beginning.
Keep in mind that you must watch a 30-second video after every 2 or 3 scratch cards.

Every time you watch an ad, the Happy Scratch developers will earn ad revenue just as YouTubers do when you watch advertising on their videos.
So, they make guaranteed profits while you earn digital currency that may never be converted to real cash.
Tired of earning pennies online? Check out my #1 recommendation to build a thriving online business and earn a job-replacing income from home.
The Lucky Spin 
The lucky spin is another game that will give you the chance to win cash rewards and coins.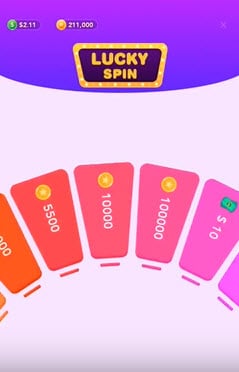 Every day, you can get free spins if you watch ads. Alternatively, you can buy a spin for 5000 coins.
When the wheel is spinning, you can see many good prizes such as $50, $10, $2, and 100,000 coins.
However, you can keep playing for hours and only hit the smallest rewards of 200, 3,000 or 5,000 coins.
So, don't spend your coins on the Lucky Spin, or you will most likely never get them back.
The Lucky Egg
In this game, you can hit 3 eggs every 4 hours for a chance to win more coins and cash rewards.
You can halve the waiting time to get another 3 hits by watching a video.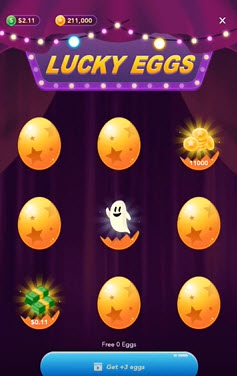 The chance of hitting something big is also very low here!
The Lucky Doll
In the Lucky Doll game (claw machine), all you have to do is grab 3 gifts with the pincer in hopes to earn some cash.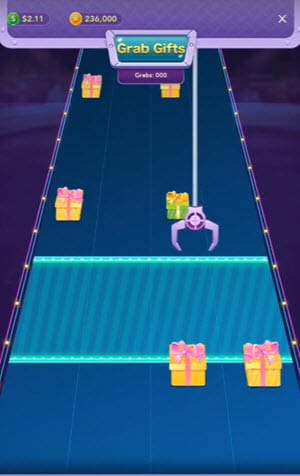 How Much Money Can You Make With Happy Scratch?
---
The odds of winning good prizes with any Happy Scratch game are extremely low!
For the most part, you will earn coins that have very little value.
The reality is that a large number of users will never reach the minimum threshold required to cash out.
So, making real money with the app can be a daunting task! 
Just to give you an idea, one YouTuber played Happy Scratch for 10 minutes and made $2.21 and 745,000 coins.
However, he would probably make much less had he continued to play for another 10 minutes.

How Do You Get Paid?
---
If you are lucky to reach the $10 mark, you can request your payment via PayPal.
As for coins, you can exchange 10,000,000 for $2 via PayPal.
You can also cash out $10 via Amazon Gift cards once you reach 40,000,000 coins.
Wrapping Up
---
At first glance, Happy Scratch seems to provide a fun and easy way to earn some extra cash.
However, the more you play Happy Scratch, the more you realize that something doesn't look right!
It's not about the slim chance of winning a significant prize!  We all know that it's hard to win free money!
The problem is that the speed at which you will earn cash and coins will decrease over time.
So, you are induced to play more and watch more ads in hopes to cash out.
It's like dangling a carrot in front of a donkey, really.
Not only that, but many people report all sorts of glitches when they try to cash out.
Despite all the negative reviews, I don't have any proof to claim that Happy Scratch a scam.
Just keep in mind that making real money with Happy Scratch will require a lot of time and patience!
How to Make a Full-Time Income From Home
---
There are different ways you could achieve a full-time income working from your couch.
But in my opinion, affiliate marketing is the best choice for most people!
With this business model, your job is to provide helpful content through your own website and promote other people's products.
Your website will work for you 24/7 and generate income whenever someone clicks on your affiliate links and buys whatever you are promoting.
It's a great opportunity for those who want to achieve time and location freedom! 
If you want to earn a substantial income online, I highly recommend this excellent step by step program developed by Kyle and Carson.
Create your free account here, watch the first 10 lessons and start today!
Final Words
---
Thanks for taking the time to read my Happy Scratch app review. I hope it was helpful!
So, have you made any money with Happy Scratch? If so, how much did you earn? How long did it take you to cash out?

Let us know in the comment box below!
All the best
Stefan