Welcome to my Lucky Go App review!
Over 1 million users have already downloaded the Lucky Go app in hopes to earn some extra cash on the side!
The app supposedly provides an easy way to make money from your phone. But does it actually pay? Is Lucky Go a scam or legit application?
Well, I have reviewed countless apps like Lucky Go here on my blog, and unfortunately, over 90% of them have issues with payments.
In this review, I am going to cover everything you need to know about Lucky Go and give you my honest opinion about it.
I am here to answer all your questions, but before we jump into it, let me ask you one important question:
Have you ever thought about making a job-replacing income from home?
If so, you can't miss out on my #1 recommendation! This is the same program that helped me reach $1,300 per month and quit my job in 2019 (the first 10 lessons are 100% free). 
Lucky Go App Review
---
Name: Lucky Go
Website: http://www.luckytycoon.com/
Company: Lucky Go Studio Limited
Membership Eligibility: Worldwide
Price: Free to join
Overall Rating: 1.5/5
What is Lucky Go?
---
Lucky Go is an Android app that allows you to play free scratch cards and hopefully, earn some cash rewards.
You can also play the spin, and raffle games for more chances of winning.
It's very similar to Lucky Day, Lucky Scratch, Scratch Royale, and many others!
All these apps are funded by advertising, so you will be "forced" to watch a ton of ads in order to keep playing.
That where the business profit and rewards are coming from.
Every day, you can play lots of free scratch cards for a chance to win cash and token rewards.
Tokens have a very small value, but once you accumulate enough of them, you can exchange for cash. Or so they say…
There are many things to say about Lucky Go, so bear with me as I am going to cover all the important details below.
Is Lucky Go App a Scam?
---
I don't think Lucky Go is a scam, but there are important things you should know before you play this game.
If you check the reviews on Google Playstore, you will see lots of people who never match 3 symbols and never reach the minimum required to cash out.
The most common complaint is that Lucky Go will stop giving cash rewards when you are very close to $10.
So, you may get stuck for a long time somewhere between $8 – $9, which means you can struggle to get paid.
Also, I advise you to read the app's terms and conditions to understand how this type of business operates.
According to the company, users don't have the right to any cash or tokens that accumulate in their accounts.
They may expire tokens and cash that you have in your account at any time. Not only that, but they can also deny your access to the app for any or no reason!

After reviewing lots of sweepstakes apps, I concluded that one should not expect to earn any real money with them.
How Does Lucky Go App Work?
---
Lucky Go is a free app available on the Google Play store.
After installing the application on your Android device, you can start playing straight away!
Scratch game
This is a fun and very addictive game!
Every day, you will automatically get 60 scratch cards for a chance to with between $1 to $100. The scratchers will expire at the end of each day.
All you have to do is scratch the card and if you match 3 symbols, you will win the jackpot.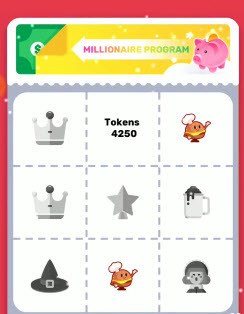 Even if you don't win the jackpot, you will collect bonus tokens or raffle tickets.
After playing 3 or 4 scratch cards, a 30-second ad will show up on your screen.
In the beginning, you will match 3 symbols frequently and reach $2 – $5 fairly quickly.
Unfortunately, the more you play, the harder it gets to win the jackpot.
Besides, the number of bonus tokens that they give you will drop significantly over time.

Spin game
Another way to win cash and token rewards is by playing the spin game. Rewards are:
$0.10 – $10.
1000 – 150,000 tokens.
X3, x5 and x10 advanced spin.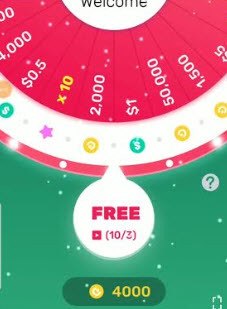 You can spin by either watching a video or spending 4000 tokens per spin.
I don't recommend spending your tokens because the odds of winning any prize are incredibly low.
So, you will likely not get your tokens back!
In the terms and conditions, you can see the table with the odds of winning each prize.

This reward platform is going viral! Cash out via PayPal, Visa, Gift Cards, and in-game currencies - Click here to find out how to generate an extra $10+ per day! 
For example, the chance of winning $1 is 1:10,000 and the chance of winning $10 are 1 in 1 million.

Raffle Game
You can also enter tickets for the hourly ($1), daily ($50) and monthly ($1000) raffles.
You can get tickets by watching videos or exchanging tokens for entries.
The more tickets you have, the more your chances of winning. But you can't enter more than 1000 tickets per raffle.
Quiz Game
The last way of winning prizes with Lucky Go is by playing the Quiz Game. Every 10 questions that you get right, you win 4000 tokens.
How Do You Get Paid?
---
You can only withdraw your cash balance via PayPal once you reach $10.
Another way to cash out is by converting your tokens to Amazon gift cards. However, you will need 20,000,000 tokens to redeem for just a $1 gift card.
Just to give you an idea, one guy on YouTube played Lucky Go for approximately 10 minutes and all he earned was $2.25 and 73,000 tokens.
Conclusion
---
Lucky Go app is another reward app that makes you watch a ton of videos in exchange for a slim chance of winning.
In my opinion, it's not a scam, but it's very hard to make real money with it.
There are many disappointed players who report getting stuck at around $9 for ages, and this is not fun at all.
In my opinion, it's not worth playing Lucky Go or any similar app available on the Google Playstore.
The reason is that companies have total control over your earnings and account.
Besides, the odds of winning are ridiculously low!
How to Make a Full-Time Income From Home
---
You can't rely on apps like Lucky Go to earn a consistent income online. That's for sure!
Luckily, there are many ways you can generate a job-replacing income from home.
The business model that I personally use is called affiliate marketing.
In short, I make money by providing helpful content through my website and promoting products as an affiliate.
If you have 2 or 3 hours per day, you could realistically build a lucrative online business within 1 – 2 years.
This excellent step by step program helped me set up an affiliate site, get traffic, and reach $1,000 – $1,300+ per month.
These are the main reasons why I think affiliate marketing is the best ways to make money from home:
You have the freedom to work whenever and wherever you want.
The start-up costs to build this type of business is incredibly low (no more than $1 per day). You don't need to spend any money on advertising!
You don't need to have your own product, so there is no customer service nor product fulfillment involved.
Keep in mind that it takes a lot of time and effort to make money as an affiliate marketer.

There are no shortcuts, but it's better if you follow a structured training to make sure you keep on the right track.
Final Words
Thanks for taking the time to read my Lucky Go app review. I hope it was a big help to you.
If you used Lucky Go and would like to share your experience, feel free to leave us a comment below. Feel free to ask any questions as well!
All the best
Stefan