I've recently discovered another app called Scratch Day, which allows you to play free scratch games and have the chance to earn real cash prizes.
Over 1 Million people have downloaded the app in hopes of earning money from their phones.
Now, you might wonder, "What is the catch here?" Is Scratch Day app a legit application? What are your chances of winning?
I've put up the full review to explain how the app works and give you my honest opinion about it.
You may want also want to discover the step-by-step training that helped me build an internet business and earn a full-time income online. It's free to get started and 100% newbie-friendly!
Scratch Day App Review
---
Name: Scratch Day App
Website: https://www.scratchday.co.uk/
Company: Viker Limited
Membership Eligibility: Worldwide (+17)
Price: Free
LEGIT
Overall Rating: 2.3/5
What is Scratch Day App?
---
Scratch Day is an Android application that allows you to play virtual scratchcards for a chance to win real cash prizes.
The app was launched by a UK-based company called Viker Limited, and it's very similar to Lucky Day, Lucky Scratch, and Scratch Royale.
Scratch Day is 100% free to download, and you don't need to make any deposits or in-app purchases.
The reason why Scratch Day is free and can afford to give away prizes is that the app is funded by advertising.
So, after playing 5 or 6 scratchcards, you have to watch a 20-second video ad promoting another mobile app.
Every day, you will get around 20 new scratch cards that give you the chance to win various prizes from £0.50 to £250.
Even if you don't win cash prizes, you still collect Tokens redeemable via PayPal.
Note that you can only play Scratch Day if you are 17 years old or older. If you are 17 and not yet 18 years old, you have to ask for consent from your parents or legal guardians.
Is Scratch Day App Legit?
---
In my opinion, Scratch Day is legit, but you should not have high expectations of earning good money with it.
From my experience and reading many user reviews, it seems very hard to earn any money. The reality is that you can keep playing for months without seeing any money in your PayPal account.
Unfortunately, the Scratch Day app doesn't give you an estimate of your chances of winning. So, many people get discouraged after playing it for a while.
Pros and Cons
---
Pros
100% free – no deposits or in-app purchases.
Some people enjoy playing it.
Cons
It's very hard to win a decent prize.
The company doesn't explain how they select winning cards. Does a computer randomly choose winners?
It's only available for Android devices.
The minimum cashout is too high.
You need 5,000,000 Tokens to redeem for £5.
What Are Your Chances of Winning?
---
The company claims there are thousands of winners every week and publish some pictures of winners on its Instagram account.
I am not skeptical, and I do believe the company is honest. However, I think they could be more transparent by publishing a list of all the recent winners.
Unfortunately, Scratch Day doesn't estimate your odds of winning, but I assume that your chances are extremely low! 
I read the Terms and Conditions and didn't find any information about how they select winners.

Are computers randomly selecting winning cards at specific intervals? We still don't know…
The reality is that many people get discouraged because they never win a prize, and it takes "forever" to save enough Tokens to cash out.
How Does it Work?
---
Installation and Registration
The first step is to download and install the app for free via the Google Play store.
When you open the app, you will be prompted to sign up with your Facebook account.
Unfortunately, there is no other sign-up option available at the moment.
Before signing up, Viker will ask permission to collect your data so they can provide more relevant advertising to you. You can accept or decline access.
Next, you have to select the currency you want to be paid in if you win (GBP, USD, EUR, or $ AUD).
Playing Scratch Cards
Every day, you will get scratch cards with different cash prizes ranging from £0.50 to £250. You can also win Tokens instead of cash prizes, as you can see below: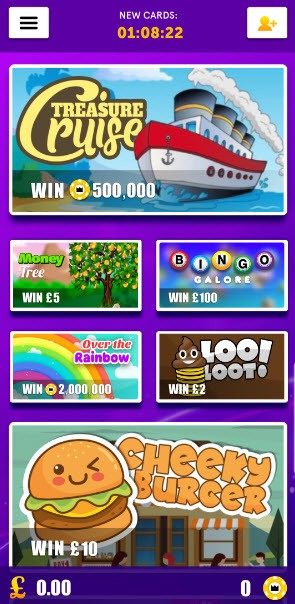 New scratch cards are added daily at midnight, 4 pm, and 8 pm (GMT).
To earn the prize, you must scratch the card and match 3 colored symbols. For example, if I matched three "drops," I would have won £5.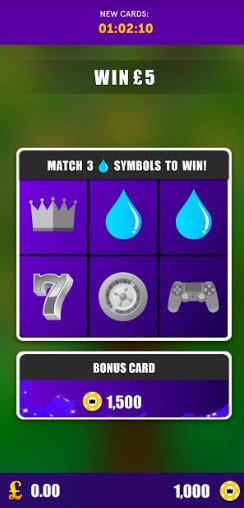 You must be fortunate to win more than £5.
I considered myself very lucky today as I matched three symbols and earned £2.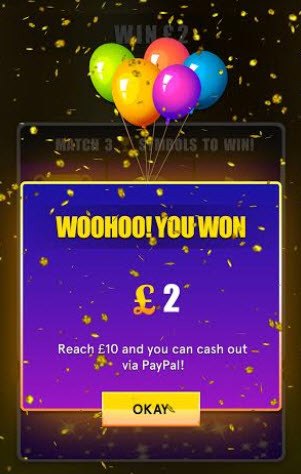 If you win a prize, Viker recommends that you take a screenshot of your scratch card as proof in case of technical problems.
If you don't find the three identical symbols, you will still get a bonus card worth 100 – 2000 Tokens.
Once you collect 5,000,000 tokens, you can redeem them for £5 via Paypal, which should probably take you a couple of months!

This reward platform is going viral! Cash out via PayPal, Visa, Gift Cards, and in-game currencies - Click here to find out how to generate an extra $10+ per day! 
You can double the bonus card by watching an advertising video that usually takes 10 or 20 seconds.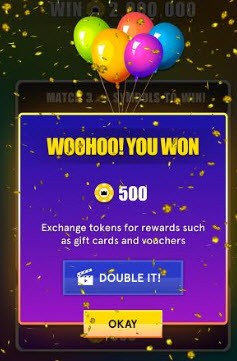 Still, collecting 5 Million Tokens is not easy, so you need to be very patient.
After playing 4 – 6 scratchcards in a row, the app will start playing a video Ad that usually takes 10 – 20 seconds.
You must watch the Ad until the end if you want to continue playing more scratchcards.
Other Ways to Earn Tokens
There are four different ways you can collect tokens:
Download and play spin day – Earn 10,000 tokens.
Invite a friend and ask him/her to use your invite code – Earn 100,000 tokens.
Follow Scratch Day on Facebook – Earn 10,000 tokens.
Follow Scratch day on Instagram – Earn 10,000 tokens.
You will get 100,000 Tokens every time you invite (refer) a friend who installs the Scratch Day app and uses your invite code. Your friend will also get 100,000 for using your code.
Unfortunately, you can't refer more than 15 people.
To find your invite code or insert the code from another user, follow this path:
Tap on the menu icon > "Free Tokens" > invite a friend.
Then, tap on "Share" and select all the people or social media account you want to share your code with.
Don't Lose Your Points!
It's important to know that you will lose all your cash and tokens if you don't log in to Scratch Day app for more than 90 consecutive days. You will also lose everything if you uninstall the app.
Cash Out
---
You can only withdraw your cash balance via PayPal when you reach £10, $10, or 10 Euros.
As for tokens, you need 5,000,000 to redeem for £5 via PayPal.
Once you request the payment, the company will verify your account and pay you within 3 – 7 business days.
IMPORTANT: PayPal doesn't work in Kosovo, Lybia, Iraq, Guana, Palestine, Turkey, Lebanon, Afghanistan, Bangladesh, and Uzbekistan. Therefore, you won't be able to cash out if you live in any of these countries.
User Reviews – Complaints
---
I looked at user reviews on the Google Play store and found many complaints.
Many people get discouraged because they spend too much time playing and don't earn any prize.
For example, here is a woman that claims she has been playing Scratch Day for three months and never won any jackpot.

Also, many people said that when they approached the minimum payout threshold, cash and Token rewards dropped significantly.
Here are two users' reviews about this issue:



Conclusion 
---
Scratch Day app is a very addictive game you keep playing in hopes of earning some good cash prizes.
In my opinion, Scratch Day is not a scam, but the company could be more transparent regarding how they select winners. They could also tell us how many prizes are given away each week.
They say thousands of people are winning every week, but they don't provide a full list of winners on the app or website. Only a few people are featured on the official Instagram account.
Just like the Lucky day app, your chances of winning £10, £100 or £250 are extremely low because of the huge number of participants.
Not only that, you may have to wait for months to save 5,000,000 Tokens and cash out £5.
If you want to play Scratch Day, it's important to have realistic expectations and accept the fact that you may not earn any prize. That doesn't mean the app is a scam.
Verdict: Legit
If you want to complete easy tasks from your mobile or desktop and get paid without relying on luck, I recommend a GPT site called Prizerebel.
Prizerebel isn't an app, but the platform is mobile-friendly, so you can easily take surveys and offers from your phone.
Now, if you are willing to work harder, it's possible to reach a full-time income from home by following in my footsteps below.
How I Make Money Online
---
In short, I write helpful articles for my website, which ranks on Google and attracts many readers.
The site generates revenue 24/7 through affiliate links and banner ads.
For example, when visitors find my website on Google, they can click on my affiliate links and purchase the products that I am promoting. As a result, I earn a commission!
You can accomplish remarkable results if you put in the effort and be consistent.
It's not complicated, and anyone is capable of building a lucrative affiliate site.
Building an online business is ideal if you want to work whenever and wherever you want and make money on your own terms.
If you want to build an internet business, I suggest you check out my #1 recommendation here.
It's the same training program I used four years ago to build mine. So, you can't go wrong!
Final Words
Thanks for reading my Scratch Day app review. If you have any questions, feel free to leave me a comment below, and I'll be more than happy to help! 😉