I have recently discovered SurveyMini app while browsing the Google Play store for more opportunities to make money online.
As you probably already know, SurveyMini is a mobile application that pays you to complete quick surveys about the places you go.
What caught my attention on this app is the fact that it has been installed more than 500,000 times!
But can you really trust SurveyMini? Is it a scam or a legit application? If it's not a scam, how much money can you make?
I've put together this full review to explain how SurveyMini works and give you my honest opinion about it.
You may also want to discover my #1 recommendation, which helped me build an internet business from scratch and earn a full-time income from home. It's free to get started and 100% newbie-friendly!
SurveyMini Review Summary
---
Name: SurveyMini
Website: https://www.surveymini.com/
Price: Free
Company: Service Management Group, LLC
Membership Eligibility: UK (+18)
Strategy: Online Surveys
LEGITIMATE
Overall Rating:

1.8/5
What is SurveyMini?
---
SurveyMini is a mobile app that rewards you for taking short surveys from your Android or iOS device.
Surveys don't have more than 11 questions each, so they don't take too much of your time.
Most surveys are location-based, meaning you get paid to answer a few questions (no more than 11) after visiting stores, restaurants and attractions.
Therefore, if you don't go out often, you should not expect to get many surveys.
Your feedback is very important to companies that strive to provide the best products and customer service, and that's why they will pay you to share your opinions.
If you are not receiving many opportunities with SurveyMini, I highly recommend Prizerebel. It's been my top-rated GPT site for over the last 2 years!
Pros and Cons
---
Pros
Earn 250 points as a signup bonus.
Quick surveys that consist of less than 11 questions.
Cons
Low pay.
Most surveys are triggered only after visiting a store or restaurant.
There are not many surveys available. Many people haven't seen surveys for a very long time!
Your reward points will expire after 90 days of inactivity.
You can't withdraw via PayPal nor Amazon gift cards.
It may take a long time to cash out.
How Does SurveyMini App Work?
---
Download and Registration
SurveyMini app is available directly on Google Play or Apple store.
The system requirements are the following:
Android 4.0 or later.
iOS 7.0 (iPhone 3GS or better).
After you install it on your device, you can register for free using your Facebook account or email address.
After you agree with the Terms of Service and Privacy Policy, they will send you a confirmation email.
Next, open the email and click on the link to confirm your account.
Enable Location Services
The first thing you should do when you join MiniSurveys app is to grant access to your location.
Usually, this is automatically activated when you install the app, but I advise you to check if it really is.

If you are using Android, you can find this option on Settings > Apps > Select SurveyMini > Permissions > Check if Location is activated.
On iPhone, the path is Settings > Privacy > Check if location service is activated for SurveyMini.
Introduction 
When you open the app for the first time, you will see a welcome tab that briefly explains how SurveyMini works. Then, they will also ask your name and date of birth.
You will earn 250 points after going through this short introduction.
Taking Surveys
SurveyMini claims they will give you the chance to take on average 2 surveys per week based on the places that you visit. All the studies have less than 11 questions and pay less than £1.
The problem is that you will never know which stores or restaurants will result in you getting a survey invitation.
Therefore, even if you go out often, you have to be very lucky to be at the right spot, at the right time!
The solution to this would be telling people in advance which places that are inviting panellists.
The reality is SurveyMini in only interested in honest opinions from real customers. That's why they are secretive about the places.
As I expected, I didn't get any surveys on my first day, and I have no hope that I will see an opportunity any time soon.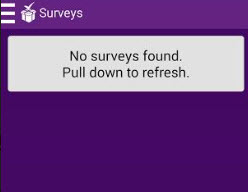 Regardless of your country, you may find lots of surveys and offers with my top-rated GPT site here.

Now, if you are prepared to work a bit harder and make a full-time income online, check out my #1 recommendation here! 
Rewards
When you complete a survey, you will earn points redeemable for Gift cards from Argos, Pizza Express and a few others.
Here is the exchange rate in the UK:
£10 – 12,000 points
£25 – 25,000 points
£50 – 48,000 points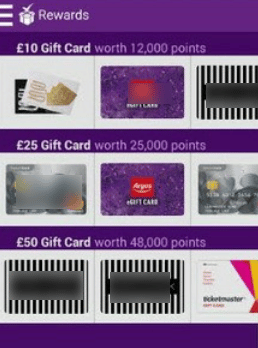 Unfortunately, you can't redeem via PayPal and Amazon gift cards, which are definitely the most popular choices in other cash apps and GPT sites.

This reward platform is going viral! Cash out via PayPal, Visa, Gift Cards, and in-game currencies - Click here to find out how to generate an extra $10+ per day! 
What Other People Are Saying About SurveyMini
---
Although SurveyMini has received 4 stars out of 5, the app has received a staggering number of negative reviews since the beginning of 2019.

Many people claim that SurveyMini stopped sending surveys after they replaced the iPhone to an Android or after a system update.
This person said she had collected points, but she was unable to get a gift card as she hasn't had a survey for more than 6 months!

The app used to work very well in the past, offering lots of opportunities. Now, it seems like you have to be very lucky to get one survey.
It baffles me the number of negative reviews for more than 1 year without any sign of improvement.
We never know what is going on begins the scenes, but let's hope the company rise again and start offering more opportunities for all the participants.
Final Thoughts
---
SurveyMini used to be a great app, but for some reason, the number of surveys has dropped drastically.
It reached such a critical point that all I can see are negative after negative reviews on the Google Play store. That's the main reason why I am not recommending this app at the moment.
SurveyMini is not a scam, but you may find it hard to redeem your points. Not to mention that you can lose all your points if you are inactive for more than 90 days.
Verdict: Legit
If you want to complete surveys, I have a few sites here that will probably help you earn some consistent income.
You don't need to visit any store to complete surveys and make money online on these sites.
How I Make Money Online
---
If you are willing to put in an extra effort, it's possible to go from $0 to $1,000s per month working from the comfort of your home.
The business model that I use is called affiliate marketing, which allows anyone to earn commissions by promoting other people's products.
Depending on the product that you promote, you can earn 20%, %50 or even %75 commission!
In short, the strategy consists of setting up a website and rankings articles and reviews on Google.
Yes, it takes time. Yes, you need to work hard, especially in the beginning to start getting results.
But it's worth it!
Well, if it weren't worth it, I wouldn't be creating content for my own site for the past 4 years I can assure you that.
Also, I wouldn't have given up on my Master's degree to have more time and grow my internet business.
For me, it's worth not because of the money, but mainly because of the freedom that it provides.
I can work whenever and wherever I want from my laptop, and that is such a strong motivation for anyone that starts this type of business.

If you want to build an internet business, but you have no idea how to start, I suggest you check out my #1 recommendation here.
It's the exact same training program that I used 4 years ago to build mine. So, you can't go wrong!
Well, that's it for now! Thanks for reading my Mobeye review guys, and if you have any questions, feel free to leave me a comment below. I am always happy to help! 😉