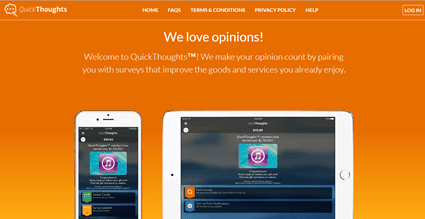 Welcome to my QuickThoughts app review!
The internet provides countless opportunities to make money online.
You can even take surveys on the go using your mobile phone thanks to apps like Quick Thoughts.
But there is one big problem!
Most survey platforms make it hard for people to qualify and reach the minimum required to cash out.
In this review, I'm going to explain all you need to know about the QuickThoughts app and give you my honest opinion about it.
Is it a scam or a legit application? Does it pay for your opinions?
Let's find out!
You may want also want to discover the step-by-step program that helped me reach $1,300 per month from my laptop. It's free to get started and 100% newbie-friendly!
QuickThoughts Review
---
Name: QuickThoughts
Website: www.quickthoughts.com
Company: Dynata
Type: Online Survey
Membership Eligibility: Worldwide
Price: Free to join
Overall Rating:  

1/5

Similar sites: PureProfile, Prolific Academic, OpinionPanel
What is QuickThoughts?
---
QuickThoughts is an app owned by a marketing research company called Dynata (formerly Survey Sampling International, LLC).
The app has been downloaded more than 1 million times and has paid out over £19,200,000 to survey participants worldwide.
As a member, you can get rewarded mainly for taking online surveys and sharing your opinions about products and services.
However, you may also be invited to complete shopping assignments in a local store.
In that case, you may have to take pictures of products and store shelves. You may also have to tell the company how was your shopping experience.
Every time you participate in a marketing research study, you will earn cash that you can spend on Amazon.
Is QuickThoughts App a Scam?
---
Dynata is one of the largest marketing research firms in the world.
With that in mind, I can only assume that the company is operating legally!
Now, when you look at reviews posted at BBB and other sites like SurveyPolice and Trustpilot, you will witness an insane amount of complaints.
Many people report getting banned for fraudulent or suspicious behavior after they request the payment.
However, the company doesn't seem to explain the actual reason, which can cause a lot of frustration.
At the time of writing, the company has already received 788 complaints on the BBB (Beter Business Bureau) in the last 3 years!
Here are three negative reviews that I found at BBB and Trustpilot.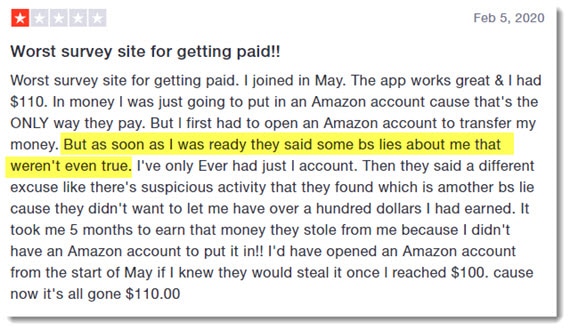 Can you imagine saving up over $100 worth of surveys only to discover you won't be allowed to cash out?
Why don't QuickThoughts block participants as soon as they break the rule?
Why do they let panelists complete additional surveys only to deny their payments at the end?
So, the fact that QuickThough is legit doesn't mean you will have a good experience as a panelist.
Most importantly, there is no guarantee that you will receive your payment!
Are you struggling to make money online? Check out my #1 recommendation to build a thriving online business and earn a job-replacing income from home. The first 10 lessons are completely free!
The Company Can Terminate Your Account!
---
Yes. You heard that right!
Dynata can terminate your QuickThoughts membership for any reason or no reason whatsoever.
This is stated in the Terms and Conditions that you accepted before creating your account.
Many people don't know that because they don't take the time to read that long document, but here is the proof: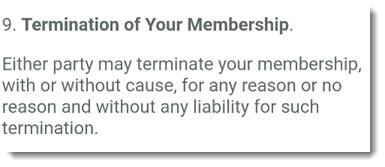 Although locking people's accounts for no reason is not fair, the company has the right to do so.
Also, they may terminate your account if you don't participate in any survey or you don't update your profile in the last 12 months.

Pros and Cons
---
Pros
It's free to join
User-friendly
You will receive push notifications when there are new surveys available.
Cons
Low pay.
Many people complain that QuickThoughts locked their accounts after requesting the payment.
The company can terminate your account for any or no reason.
You can only cash out via Amazon Gift cards.
There is no signup bonus.
You can't complete more than 5 surveys per day.
There is no referral program.
How Does QuickThoughts Work?
---
Installation and Registration
QuickThoughts app is available for both Android and iOS devices.
To install the app, simply visit the official website www.quickthoughts.com, or search for the app directly on Google Play or the App Store.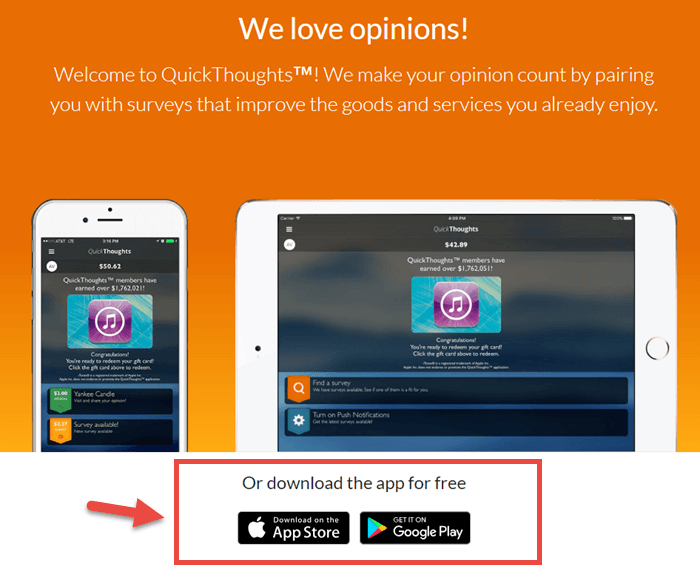 After installing the app, tap on the "Register" button and choose your country of residence.

This reward platform is going viral! Cash out via PayPal, Visa, Gift Cards, and in-game currencies - Click here to find out how to generate an extra $10+ per day! 
Take your time to read the Terms and Conditions and Privacy Policy before you tap on "Accept".
Next, you must create your profile by answering a short questionnaire.

The profiling survey includes questions about your name, address, gender, date of birth, occupation, education, and household income.
You won't get paid for filling up your profile.
However, QuickThoughts will use your profile to select the right candidate for a marketing research study.
That's why it's so important that you take the time to provide all the information they need.
Now, you just have to select a survey available on the dashboard and get started!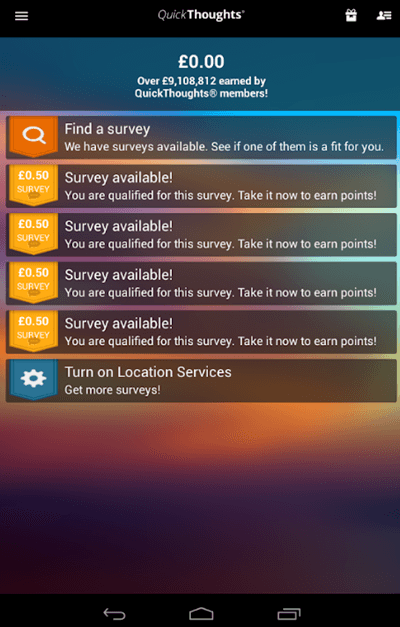 You will also receive a push notification whenever QuickThoughts identifies a marketing study that matches your profile.
Keep in mind that surveys can close very quickly due to a large number of applicants. So, don't leave it for tomorrow!
Most surveys have an initial phase where panelists have to answer a few preliminary questions.
Depending on your answers, you will get screened out without any compensation.
QuickThoughts is different in that it will show you surveys that you are already qualified for.
So, you won't risk wasting your time with survey disqualifications.

Once you are qualified, you should expect to complete the survey within 15 – 20 minutes.
To avoid having any problems with your account, don't rush through surveys and always provide truthful answers.
Also, don't create more than one account per household and don't log in when you are traveling to another country.
How to Access More Surveys?
---
To find more surveys, you must go through the usual pre-qualification process.
All you have to do is tap on "Find a Survey" and answer a few questions to see if one of them is a fit for you.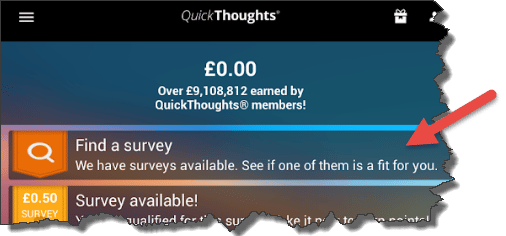 Another way to get more surveys is by turning on the location services.
By enabling this option, you will give QuickThoughts app access to your location.
This step also is very important because most surveys are targeted at specific locations.
Simply toggle on "Access to my location" and then activate the location permission for the app.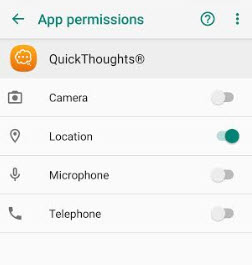 The drawback is that you are not allowed to take more than 5 surveys per day.
I'm not sure about the reason for this limit, but I guess the restriction is imposed to make sure more people have the opportunity to complete surveys.
How Much Money Can You Make?
---
Survey participants usually earn less than $1 per survey.
In the UK, most surveys pay £0.50 and take 15 to 20 minutes to complete.
Regardless of your location, you should not expect to earn more than half of the minimum wage by taking QuickThoughts surveys in your country.
As each survey takes around 15 – 20 minutes to complete, that means you will make roughly £2 per hour. 
However, that doesn't take into account all the time you will have to spend answering qualification questions.
You can spend 1 hour answering those questions and don't qualify for any survey!
How Often Will You Get Survey Invitations?
---
QuickThoughts provides survey opportunities on a daily basis.
But the number of invitations will depend on your location and other profiling details.
Whenever QuickThoughts have a survey that matches your profile, they will send you a push notification.
In the UK and the US, members should expect to get 1 – 3 surveys per day. 
Remember to click on the button "Find a survey" and complete a pre-qualifying questionnaire to see if there is one that is fit for you.
How Do You Get Paid? 
---
After you finish a survey, the reward is immediately added to your QuickThoughts account.
However, you are not able to withdraw the money until you have earned a minimum of $10 or £10 (UK).
Unfortunately, QuickThoughts only process payments via Amazon Gift cards.
So, that's not good news for those who prefer PayPal or bank transfer.
Final Thoughts
---
QuickThoughts is not a survey app that I 'd recommend.
The company received 405 complaints in the last 12 months only at BBB.com.
Now, that's a big red flag for me!
I can't accuse the company and say it's a scam because, as a content creator, I can't make claims without solid proof.

The reason why I don't recommend this app is that lots of members get banned and don't receive the payment.
What's worse, the company doesn't specify which rule the member violated.
Maybe the member did nothing wrong but the company simply decided to close his or her account for any reason.
This is a common trend among many survey panels that I reviewed on my blog.
Whether the reason is to avoid payment and increase profits we will never know…
Now, it's true that many users deliberately or unintentionally break certain rules.
But in my opinion, the company should be more transparent and explain what members did wrong.
Verdict: Not Recommended
If you are looking for a reliable platform where you can complete surveys, I highly recommend Prizerebel.
I've cashed out more than 50 times without any issues!
Now, if you are searching for a proven method to make a substantial income from home, forget about surveys and GPT sites.
It's possible to earn a full-time income from home and achieve time and location freedom.
Keep reading to discover how I did it!
Verdict: Legit
How to Make a Full-Time Income Online
---
I used to take online surveys to cope with the high living costs in London.
Yes, it helped a little bit, but I was not happy to spend y time after work just to earn less than the minimum wage.
Time is our most precious asset! So, why bother doing something that won't have a significant impact in the future.
Luckily, I discovered a platform that showed me how to build an internet business that generates residual income.
Residual income is money that keeps coming for months or years after you have put in the work.
Now, that has the potential to change your life!
In 2019, I said goodbye to my boss and co-workers thanks to my internet business.
I am making over $1,300 per month from my laptop, which allowed me to quit my job and travel to SE Asia!
If you want to build an internet business, but you have no idea how to start, I suggest you check out my #1 recommendation.

It's the exact same training program that I used 3 years ago to build mine.
In my opinion, this is the best platform for those who dream about time and location freedom!
Final Words
Thanks for reading my QuickThoughts app review!
If you have any questions or you want to share your experience with this app, feel free to leave us a comment below!
All the best
Stefan