Quick Thoughts Review – Take Surveys On the Go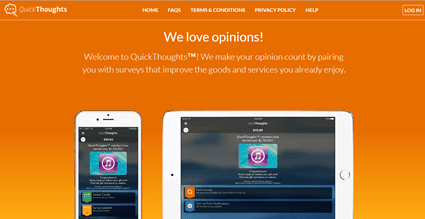 There are many opportunities to make money with online surveys. You can even take surveys on the go with your mobile phone these days thanks to apps like Quick Thoughts.
In this review, I'm going to explain all you need to know about Quick Thoughts and give you my honest opinion about it.
Is it a scam or legit? And if so, is it worth your time and effort?
Let's find out!
By the way, if you want to learn step by step the same strategy that earns me $1,000+ per month from my laptop, check out my #1 recommendation! (newbie-friendly and free to get started!)
Quick Thoughts Review
---
Name: Quick Thoughts
Website: www.quickthoughts.com. You can also download Quick Thoughts app on Google Play or App Store.
Type: Online Survey
Price: Free to join
[yasr_overall_rating size="medium"] 

 3.5/5
What is Quick Thoughts?
---
Quick Thoughts is an app owned by a marketing research company called Survey Sampling International, LLC (now Dynata).
It gives you the opportunity to get paid for completing surveys, which are simple questionnaires that they use to collect your background, thoughts, and opinions.
The company manages other popular survey platforms such as Opinion World, iPoll, and Opinion Outpost.
Different from many apps that I reviewed on this blog, Quick Thoughts is 100% dedicated to online surveys. So, there are no trial offers, video ads, app downloads etc.
Pros and Cons
---
Pros
It's free to join
User-friendly
You will receive push notifications when there are new surveys available.
Cons
Low-income potential.
You can only redeem via Amazon Gift cards. No PayPal.
No signup bonus.
You can't complete more than five surveys per day.
No referral program.
How Does It Work?
---
Quick Thoughts is available to download from Google Play or the App Store. You can find the download link on their homepage.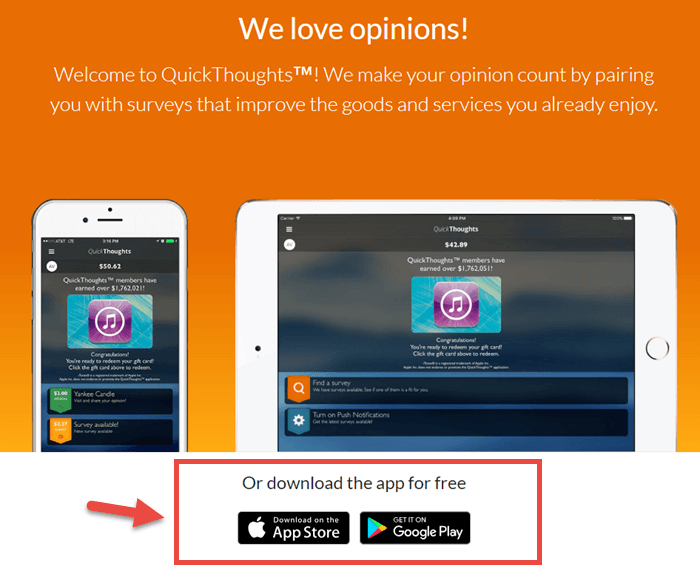 After you install the app and accept the terms and conditions, you will have to answer a brief profiling questionnaire.
This questionnaire is unpaid, but it's necessary as it will be used to help Quick Thoughts identify the right candidate for a specific marketing research study.
Now, you just have to select a survey available on the dashboard and get started!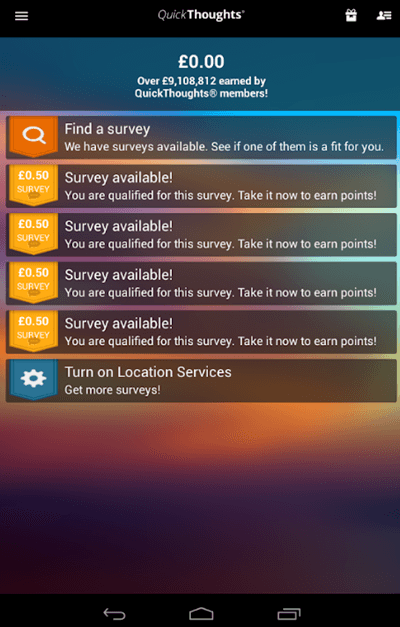 Most survey panels ask pre-qualifying questions to select even further the right candidate.
Usually, those who are screened out will not earn a single penny for the attempt.
Quick Thoughts is different in that it shows surveys available on your dashboard which you are already qualified for.

How to Get More Surveys?
---
To find more surveys, you must go through the usual pre-qualification process and try your luck.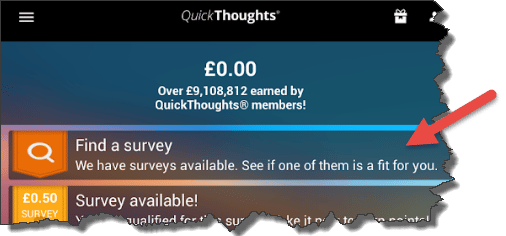 Another way to get more surveys is by turning on the location services. By enabling this option, you will give Quick Thoughts access to your location.
The drawback is that you are not allowed to take more than 5 surveys per day.
I'm not sure about the reason for that, but I guess the restriction is necessary to make sure more people have the opportunity to complete surveys.
How Much Can You Earn?
---
Here in the UK, you will usually make £0.50 per 12-20 minutes surveys.
Whatever your country, you should not expect to earn more than half the minimum wage. That is because there is always a high supply of panelists willing to make a quick and easy buck from home.
How Often Will You Be Invited?
---
Quick thoughts provide survey opportunities on a regular basis.
Whenever they have a survey that matches your profile, they will send you a push notification.
Also, you can click on the button "Find a survey" and complete a pre-qualifying questionnaire to see if there is one that is fit for you.
Balance and Rewards
---
After you finish completing a survey, the reward is immediately added to your account.
However, you are not able to redeem your account balance until you have earned $10 or £10 (UK).
Unfortunately, Quick Thoughts pay only via Amazon Gift cards. Not good for those who prefer PayPal.
Final Thoughts
---
Quick Thoughts is definitely a legitimate app that anyone can use to earn extra cash.
The great thing about this app is that they show you surveys that you are already pre-qualified.
Nevertheless, just like other survey and GPT sites, the earning potential is incredibly low. So, many people give up as they think it's not worth their time and effort.
For more survey opportunities, offers and other easy ways to make money online, I recommend Prizerebel. Now, if you are not afraid to put in the work to achieve time and location freedom, keep reading!
Verdict: Legit
How to Make a Full-Time Income Online
---
I used to take online surveys to help with my high living costs in London.
Yes, it helped a little bit, but I was not happy to spend my time after the 9-5 just to earn less than the minimum wage.
Time is our most precious asset! So, why bother with pennies that will not help us achieve financial freedom?
Luckily, I discovered a platform that taught me step by step how to build an internet business that generates residual income.
Residual income is money that keeps coming for months or years after you have put in the work.
Now, that has the potential to change your life!
I am making over $1,000 per month from my laptop, so I can move to a cheaper country and live a comfortable life.
No boss, no commute, no stress!
If you want to build an internet business, but you have no idea how to start, I suggest you check out my #1 recommendation.
It's the exact same training program that I used 3 years ago to build mine.
In my opinion, this is the best platforms for those who dream about time and location freedom!
Thanks for reading my Quick Thoughts review. If you have any questions, feel free to ask in the comment section below. It's always a pleasure to help!