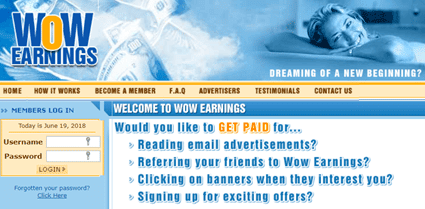 Today I discovered Wow Earnings, a website that promises to pay you for reading emails, signing up for offers and taking online surveys.
They make it look like an attractive opportunity by claiming that you can make $25 is just 12 minutes while sitting at home in your pajamas.
So, is Wow Earnings a scam or a legit platform to make money online?
Read this before you join!
Completing surveys and offers is an easy way to make money online, but it won't make a significant impact on your life. If you want to learn the business model that earns me $2,000+/mo from my laptop, then check out my #1 recommendation. 
Wow Earnings Review
---
Name: Wow Earnings
Website: www.wowearnings.com
Price: free to join
Overall Rating: 1.9/5
What is Wow Earnings?
---
Wow Earnings is relatively old GPT (get paid to) platform operated by SBG Midea Inc., an advertising company based in New York.
The site reward members for completing a variety of tasks such as:
Signing up for offers – (free trials, paid surveys, credit card applications, etc.)
Reading email advertising.
Clicking on banners.
Referring friends to Wow Earnings.
Can You Earn $25 per Offer?
---
The front page makes certain claims that are very hard to believe.

This reward platform is going viral! Cash out via PayPal, Visa, Gift Cards, and in-game currencies - Click here to find out how to generate an extra $10+ per day! 
For example, it says you can:
Get paid up to $0.10 just for reading emails.
Earn up to $25 per offer.
Earn $5 just for signing up.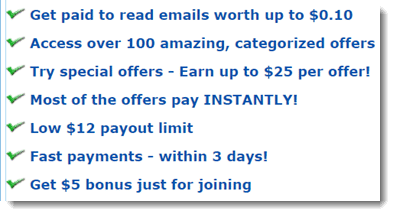 These earning figures are overestimations, folks!
I have reviewed over 100 GPT sites, and I know you will never make $25 per offer unless you make a big deposit, which will drastically reduce your profit.
Is Wow Earnings a Scam?
---
Despite giving the impression that you make good money, I don't think Wow Earnings is a scam.
However, I can't guarantee that they will pay you once you reach the minimum payout threshold.
I searched for real user reviews on the internet and didn't found any!
Wow Earnings is BBB (Better Business Bureau) accredited with an F rating, which is the lowest any business can get.
On the other hand, there are no customer reviews and, therefore, no complaints.

How Does it Work?
---
Registration
Wow Earnings is entirely free to join. They say you will earn $5 just for signing up, but I didn't receive any signup bonus so far.
As you can see, my account balance is still at $0:

Loyal Member Survey Bonus
As soon as you log in, they will present you an opportunity to make $20 for completing a list of 9 tasks that include offers and surveys.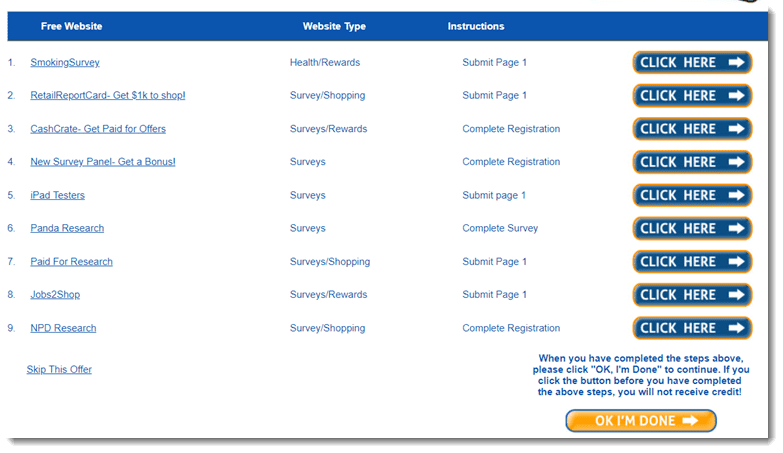 You must complete all of them to get your $20 reward. Alternatively, you can skip this opportunity and go straight to the member's area.
Can You Earn $500 Today?
In the member's area, there is the following statement that will certainly make your jaw drop:
You could make over $500 today (available for US residents only).

Heck! $500 today? Are you serious?
After clicking on the button "earning cash instantly," I just saw eight offers they had the potential to earn me $11.95.
Yup! Only the potential because, in reality, I didn't make one cent!

7 out of 8 links were either broke or directing me to Google.com.
The only link that was working was an offer that required me to sign up for a site called Signature Surveys, which is a similar platform operated by the same company.
Unfortunately, my account balance was still sitting at $0 after that.
Paid-To-Click Section Is Empty!
There is a section that was designed to pay you for clicking on banner ads.
The problem is that the page was completely empty. So, again, there was no money to be made.
The Referral Program
---
Another option to make money with Wow Earnings is by sharing your affiliate link and encouraging people to join through it.
You will earn $3 commission for every referral that joins through your link and requests a payment. The referral program also pays $1 for your referral's referral.
The question is: With such a low-income potential, how can people reach the minimum payout threshold?
You need a massive crowd of people clicking on your links every day because just a tiny percentage of them will sign up and reach the minimum threshold.

However, it takes an incredible amount of time and effort to refer lots of people to a GPT platform to earn a few bucks per day.
I don't think it's worth it.
Payment
---
Wow Earnings will pay you either via PayPal or check once you earn a minimum of $25.
In my opinion, $25 is too high and will probably take months. At least there are no withdrawal fees.
Final Thoughts
---
I found the experience of using Wow Earnings quite discouraging.
At least on my end, there was no money to be made as most links were broken and the only offer that worked didn't put money into my wallet.
Again, I don't think it's a scam. It's just not a smart way to spend your time on.
If you want to make money with offers, surveys, and simple tasks, the best platform I recommend is called Prizerebel.
Now, if you are sick and tired of earning pennies, the next section will give you an alternative that indeed has the potential to earn you hundreds, and even thousands per month!
Use Your Free Time to Build an Online Asset!
---
The internet offers incredible opportunities to start your own online business and earn passive income online.
When you own a website, it's working for you 24/7, 7 days a week without rest and moaning!
But first, you need to put in the time and effort to build a system that will keep on generating an income for months and years.
If you want to learn step by step how to do that with affiliate marketing, check out my #1 recommendation.
It's the exact same training program that I used 3 years ago to build my site and attract an audience. I can assure you this is a solid strategy that has been working for decades and changing people's lives.
By the way, there is a free starter membership that never expires so you can think carefully before you commit yourself.
Thanks for reading my Wow Earnings review. If you have any questions, please let me know in the comment section below.
I wish you all the best.