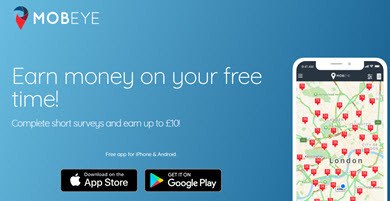 Mobeye is an incredibly popular app that pays you to complete easy tasks for well-known brands. It's 100% legit and trustworthy!
Your job involves collecting information and taking pictures of products in-store. It's that easy!
Every time you go to the supermarket or any store, you have a chance to complete quick missions from your phone and earn real cash that you can withdraw via PayPal or Bank Transfer.
I've put together this full review to show you exactly how Mobeye works and how much money you can earn.
If you have any experience using Mobeye, please share with us in the comment section below. Your opinion is very important to us!
You may also want to discover my #1 recommendation, which helped me build an internet business from scratch and earn a full-time income from home. It's free to get started and 100% newbie-friendly!
Mobeye App Review 
Name: Mobeye
Website: https://www.mobeye.app/en/
Price: Free
Company: Mobeye SAS
Membership Eligibility: Worldwide
LEGIT
Overall Rating:

2/5
What is Mobeye?
---
As I mentioned in the beginning, Mobeye is a mobile application that allows you to complete short tasks to help companies improve their marketing efforts.
Every week, there are new tasks available, which consists of:
Checking the availability of products and the levels of stock in store.
Giving your honest opinion about products.
Checking promotions.
Answering online surveys from home.
Most tasks involve collecting information and taking pictures in a particular store near you. However, it's possible to answer quick surveys from home as well.
Currently, Mobeye has been downloaded by more than 1 million people around the world, and it continues to grow.
It's very similar to another app that I reviewed recently called BeMyEye. In London, where I live, I noticed BeMyEye has more opportunities compared to Mobeye.
Pros and Cons
---
Pros
Minimal effort.
It's available worldwide, but you may not get any mission depending on your country.
Tasks usually take less than 5 minutes to complete.
It's available for both iOS and Android devices.
Cons
There are very few missions.
Low pay.
The minimum payout threshold is relatively high.
Depending on your location, it's not worth traveling to complete the mission.
My First Impression
---
I was a bit disappointing to see only two opportunities on the list worth £0.20 each. I was expecting to see a few more on my first day.
The first one had nothing to do with missions. It was called "Follow us!", which, as the name suggests, rewards users for following Mobeye on Tweeter.
Although not mandatory, people are also encouraged to leave a review and rate the app on Google Play or the App Store.
The other task was the Treasure Hunt, which I couldn't complete because I haven't been to any store or supermarket yet. Besides, finding a beautiful and unique display is not always easy.
So, my first impression was that the app doesn't provide a decent number of opportunities in the UK like other similar apps such as BeMyEye or Field Agent.
Therefore, you can take a long time to reach the minimum balance and cash out.
How Does Mobeye Work? 
---
Download and Registration
Bobeye is available for both Android and iOS. To download the app, visit the official Mobeye website and select Google Play or App Store depending on your device.
Then, you should sign up with either your Facebook or email account.

Before start using the app, you have to enable geotagging, which grant them access to your location (GPS coordinates).
Mobeye needs your location to offer you missions that are close to you, and to make sure you are in the right shop.
The next step is to fill up your profile and request a verification email. Confirm your email, and you are good to go!
RECOMMENDED: Click here to see my no.1 recommendation for making money online.
Mobye Tasks
You can find all the tasks available on the main listing as well as on the map, which you can access from the top-right corner.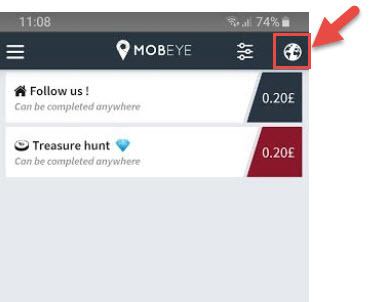 Only a limited number of people can complete a mission, which is available for a short time on a first-come, first-served basis.
That's why it's important to activate notifications on the "settings" tab and book the mission as soon as possible.
Before starting the task, you should read the instructions carefully to understand all the steps and information required.
Once you have read all the instructions and you are close to the store, you should book the task by tapping "Book Task".
From this point forward, you will have 2 hours to answer all the questions and submit photographs, if necessary.
IMPORTANT: If you don't finish the mission within 2 hours, it will be canceled and automatically assigned to another member. Avoid missing the deadline because if this happens too often, Mobeye can ban you from future missions.
Most tasks don't take longer than 5 minutes as the questionnaires are usually short and to the point.

However, before accepting any mission, you should take into account your distance from the store.
Depending on the distance and the payout, you may decide that it's not worth it.
Once you submit all the answers and pictures, their team will check if you have completed the mission successfully. They can take 48 hours or a bit longer to validate or reject it.
If you have any technical issues before or while accomplishing a mission, you can send an e-mail at [email protected].
The Treasure Hunt Mission
Every week, there is a task called Treasure Hunt, which encourages members to send pictures of impressive or atypical merchandising in supermarket chains.

This reward platform is going viral! Cash out via PayPal, Visa, Gift Cards, and in-game currencies - Click here to find out how to generate an extra $10+ per day! 
They also ask a few questions such as: What is the brand of the display? In which store did you take the photo? Did you like it?
You will earn £0.20 for each Treasure Hunt.

Here are two examples of outstanding displays that would be accepted: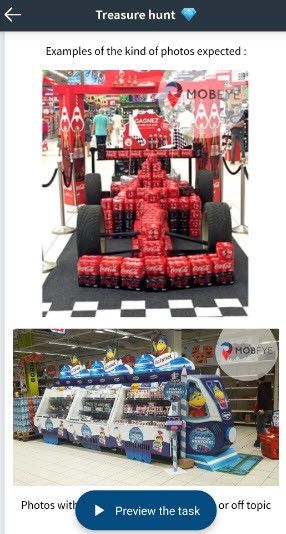 Payment
When you reach £7 or more, you can cash out via Paypal. Once it's confirmed, the money should be in your account within 5 working days.
How Much Money Can You Make?
---
According to Mobeye's website, you can earn up to £10 per task, but the reality is that most opportunities pay less than £2.
Lots of them actually pay less than £1, which can be discouraging for many people, including myself.
That wouldn't be a big issue considering most tasks are quick and easy. The problem is that I didn't see any mission available on my first day, except the Treasure Hunt.
Naturally, a big city is likely to have more opportunities than a small town. But hey, I live in London, which is the largest city in Europe! And yet, the map is almost empty!
Take a look at both Mobeye and BeMyEye maps and see the difference: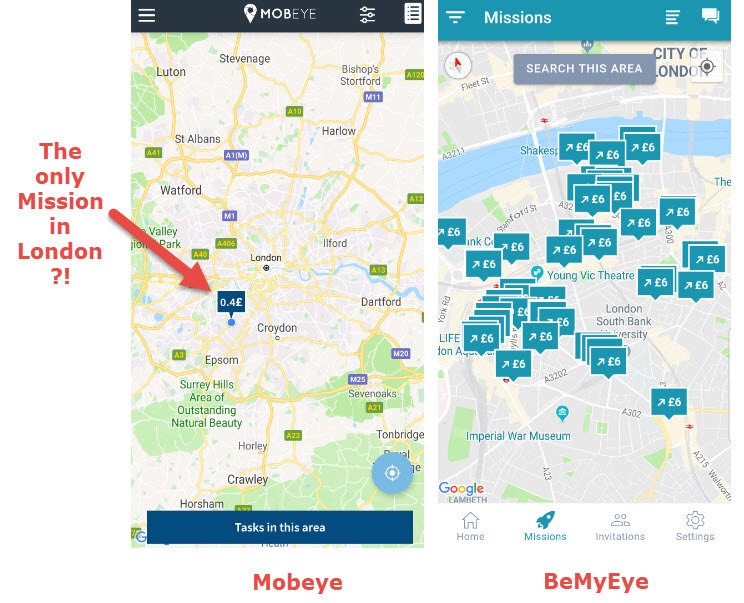 Technically, the amount of money you can make with Mobeye depends on your location. 
Unfortunately, Mobeye seems to lack opportunities in the UK, and according to this user, there is not much money to be made in the US either.

What Other People Think About Mobeye?
---
After reading many user reviews on the Google play store, I notice that most people didn't have much to say because they were just writing a review as part of the first mission.
Although the app has been rated 4 out of 5, people have mixed feelings about Mobeye.
There are no complaints about payments, but some people complain about the lack of missions where they live.
Final Thoughts
---
Mobeye is a legit app that allows you to earn some extra cash collecting information and pictures of products from your phone. These are easy jobs that you can do in your spare time!
However, the main problem is the lack of missions!
Apart from the "Follow us!" and the "Treasure Hunt", I haven't been notified of any other mission during the first 2 days.

Therefore, I am not encouraged to use Mobeye because I don't know if I will get enough missions to reach £7 and cash out anytime soon.
As I already mentioned, BeMyEye has an incredible number of missions available! You can also try other similar apps such as Gigwalk, Roamler, and Field Agent.
Verdict: Legit
How I Make Money Online
---
In 2015, I discovered the possibility of building affiliate sites that earn recurring commissions. This discovery was life-changing!
I found Wealthy Affiliate, which is a complete platform to learn, get expert support and build these websites from scratch.
In short, I set up my site and started creating informational blog posts and reviews (like this one) that rank on the first page of Google and attract lots of visitors.
In my opinion, these are the main reasons why I think this is the best way to make money.
Location freedom – Say goodbye to your daily commute and boring workplace! You can work from the comfort of your home or while travelling the world.
Time freedom – You decide when you should work or not. You have the freedom to take as many holidays per year as you wish.
Stress-Free Life –  There is no boss, no customer service, and no inventory to stress you out.
Low startup costs compared to brick and mortar and even other types of internet businesses.
If you want to learn more about Wealthy Affiliate, check out my full WA review here!
Keep in mind that this type of business takes a lot of time and effort to get traction, so you should not expect overnight results.
Final Words
Thanks for reading out my Mobeye review. If you have any questions, feel free to leave me a comment below. I am always happy to help! 😉
All the best
Stefan