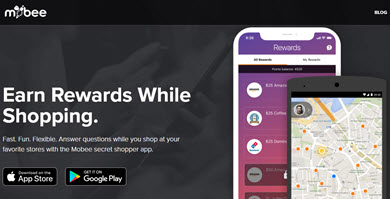 Welcome to my Mobee App review
In recent years, there has been a surge of mobile applications that reward users for completing secret shopping missions. At the same time, it's getting hard to find decent apps that you can trust.
In today's review, we will take a close look at Mobee, which is available for residents in the US and Canada.
According to the company, you can complete tasks that are very similar to the ones performed by professional mystery shoppers.
If Mobee validates your missions, you will earn points that you can supposedly redeem for gift cards.
Now, you are probably wondering, will Mobee pay for your gigs? Is it a scam or a legit app? Keep reading to find out!
Before you leave this page, don't forget to check out the step-by-step program that helped me reach $1,600+ per month from my laptop. The first 10 lessons are free! 
Mobee App Review
Name: Mobee
Website: mobeeapp.com
Company: WISER SOLUTIONS
Type: Secret shopping
Membership Eligibility: The US and Canada
Overall Rating:

3/5
What is Mobee? 
Mobee is a mobile app that rewards users for completing secret shopping missions in the US and Canada. The app is operated by WISER SOLUTIONS and is available on Android and iOS devices.
As a "Bee", you will earn points for visiting local stores and completing simple tasks such as taking pictures and answering questions. Once you have earned enough points, you can convert them to gift cards.
Most of the time, you will have to report on the availability and visibility of products. They may also ask you to provide feedback on your shopping experience and customer service.
Lots of companies are hiring apps like Mobee as a cost-effective strategy to gather on-demand and valuable data from their stores.
Is Mobee Legit? Will They Pay You? 
Mobee is a legit secret shopping app that has been rewarding users since 2013. Yes, you will get your $50 gift card once you collect 5,000 points.
However, lots of users complain that they are very picky and can reject your gigs for minor mistakes or even insignificant details. Many users are frustrated because Mobee is always refusing assignments and thus, wasting their time and gas money.
I cannot judge the company based solely on other users' reviews because people can lie and, overreact just to get some sweet revenge.
Working for mystery shopping apps like Mobee puts you in a weak position because you risk working for free. 
This is not exclusive to Mobee. Other mystery shopping apps are very strict too, and there is no guarantee that you will receive the money for the time and effort you put in.
So, you have to be very methodical and detail-oriented, otherwise, you can give them a good reason to deny your points.
>> Discover how to make make a serious income online here! 

Pros and Cons
Pros
Easy job.
It works on Android and iOS devices.
There are lots of gift card options if you live in the US.
You can complete as many missions as you want.
Earn bonus points for missions that are located over 10 miles away.
Cons
The rate of pay is lower compared to other similar apps.
They can reject your missions for minor details. Therefore, there is a risk of working for free.
It can be hard to take pictures and answering lots of questions on your phone without going unnoticed. Some people worry about looking suspicious.
You may find very few or no missions in your area.
Most gift cards are only available in the US. Canadian residents have very few options.
How Does Mobee Work? 
You can download Mobee on your Android via Google Play or on your iOS via the App Store.
Once you install and create a free account, you must give the app permission to access your location.
Find Stores
You can search for missions near you through the map or the list view.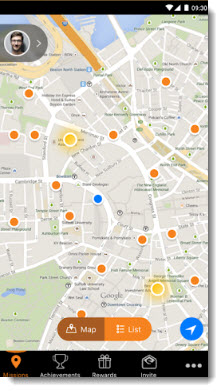 Missions are represented by orange dots on the map. When you click on the dot, the app will display all the missions available at that particular store.
Depending on your location, you may not find any secret shopping opportunity, and all you can do is check again later. Mobee has expanded to vast areas throughout the country, but there is still a lack of gigs in many cities.
Sometimes, the mission can be far away from your location, but if you want to drive the long distance and complete the mission, it's completely up to you.
You will earn bonus points if you need to drive more than 10 miles. However, the points will probably not cover the extra cost associated with your transport.
If you see a gray pin on the map that has a specific start date, you can complete that mission anytime after midnight.

Complete Missions
When you select the store, Mobee will give all the information you need to complete the mission. This includes the store address, mission requirements, the estimated time to complete, and some important notes.
Most of the time, you will be asked to take photos and answer simple questions. Here are some examples:
Product Checklist: You may be given a list of products and asked to check which ones are available on the shelf.
Barcode scanning: Pick specific products that you are most likely to purchase and scan the UPC with the app.
Take Pictures:  Go to a specific aisle/section of the store and take a wide-angle photo of the section. Try to capture as many products as you can.
They may also ask you whether the store entrance was clean or whether the isles were free from obstruction.
You should never take photos of os employees or associate yourself with Mobee. However, it can be hard to take lots of pictures without getting unnoticed.
Some assignments require that you make a purchase, typically less than $5, so you can evaluate your shopping experience. In that case, you will get a reimbursement in the form of points covering the price of the product or service.

This reward platform is going viral! Cash out via PayPal, Visa, Gift Cards, and in-game currencies - Click here to find out how to generate an extra $10+ per day! 
Once you accept the mission, you have a deadline of 3 hours to gather and submit all the information. If you take longer than that, the mission will expire, and you will miss the opportunity.
Therefore, I advise you to press "start" only when you are near the store and ready to go. Missions can take anywhere between 5 – 25 minutes or so.

After submitting your mission, the Mobee team will check it for accuracy before you get your points. Mobee can either approve or reject your mission within a few days.
If it's refused, you can appeal the decision with Mobee's validation team. However, they can deny your appeal even though you don't agree with their reasoning.
Therefore, it's important to double-check if you have completed all the tasks correctly as you won't be able to edit them after submission.
How Much Money Can You Make? 
It's important to know that 100 Mobee points are worth $1 USD.
The number of points you can earn depends on the mission's complexity and location.
You can earn anywhere between 100 ($1) – 1000 ($10) points per mission, but most of them fall in the range of 100 – 400 points.
How Do You Get Paid? 
Once you accumulate 5,000 points, you can exchange for a $50 gift card from Amazon, Walmart, Target, Best Buy, and a few other stores. Unfortunately, Mobee doesn't process payments via PayPal.
Once you have redeemed the reward through the app, you will receive an email with an activation link. All you have to do is click on that link and user your code to make purchases.
If your points were deducted but you didn't get your e-gift card in your email, send an email to [email protected] and they will resend the reward.
Conclusion 
Mobee is a legit secret shopping app that you can use to earn a little extra money. Many people have a good experience with it while others struggle to get points due to rejections and the lack of missions.
The main problem with Mobee and similar apps is that they can always refuse your assignment even though you did your best. Sure, they give you the right to appeal, but it doesn't mean they will change their minds.
That's the risk you have to take when working for as a disposable independent contractor for such companies.
Before accepting the mission, consider if it's really worth the time and effort. You should also take into account the money you have to spend on gas to travel to the store.
Depending on the gig, you are much better off completing online surveys. The rate of pay may be lower, but at least you don't need to leave your home and get stuck in traffic.
In my opinion, the minimum payout threshold should be lower because many people don't find tons of opportunities in their areas. For many users, reaching $5,000 points can take months!
Verdict: Legit
Is There a Better Alternative to Mobee? 
I have reviewed a couple of mystery shopping apps, and I came to the conclusion that Observa is currently the best option available for US residents.
The reason is that Observa offers one of the best rates ($4 – $20 per gig) and doesn't seem to reject missions unless there is a very good reason to do so.
The only problem with this app is the lack of gig in some locations. That's why it can be hard to earn a decent amount of money as a secret shopper.

Other secret shopping apps you can try are Field Agent, Easyshift, and Gigwalk.
If you would like to work from your laptop and earn enough money to pay all your bills and even save for a rainy day, I recommend reading the next section.
How To Earn a Full-Time Income From Home
Apps like Mobee offer an easy convenient way to earn a little money on the side.
However, nothing compares to the opportunity of earning a full-time income from your couch or while traveling the world!
If that's what you are looking for, then you should consider putting in the time and effort to achieve your goals. It's possible and well worth it!
There are many paths you can choose, but in my opinion, affiliate marketing is the best option for most people. This business model allows you to earn excellent commissions for promoting other people's products.
I didn't have a clue how to get started and make this work for me, but thanks to this step-by-step program, I learned the ropes and quit my job in 2019.
You can sign up now and watch the first 10 lessons completely for free!
Final Words
Thanks for taking the time to read my Mobee app review. I hope it was helpful!
Feel free to share your thoughts or ask any questions in the comment section below. I am always happy to help! 😉
Stay safe and peace out!