Welcome to my FunTap app review!
The creators of FunTap claim you can earn a few dollars per day just by playing games on your phone.
I have tested and reviewed dozens of similar apps that make it hard for players to reach the minimum cash out. It's so frustrating when you play for a long time and they don't credit your points!
What's worse, some apps will simply ban your account for suspicious activity even though you have done nothing wrong! All your progress will be lost and you won't make a dime!
In this FunTap review, I will uncover everything you need to know about this app and give you my honest opinion. Does it really pay? Is it a legit or a fake reward app?
Let's find out!
Before you leave this page, don't forget to check out the step-by-step program that helped me reach $1,600+ per month from my laptop. The first 10 lessons are free! 
FunTap App Review 
Name: FunTap
Website: funtap.io
Type: Get rewards for playing games
Membership Eligibility: Worldwide
Income Potential: Low
Price: Free
Similar apps: MistPlay, PlaySpot, Big Time Cash
Overall Rating:

2.3/5
What is FunTap? 
FunTap is an Android application that allows you to install games on your phone and earn coins for playing them.
The app has a website where you can find the Terms of Use and Privacy policy. However, there is no information about the company or developer behind this application.
By using FunTap, you will collect coins whenever you complete a level in the game. The more you play, the more coins you will earn.
Once you collect enough Coins, they can be exchanged for cash via PayPal or gift cards from Amazon and Google Play.
The main difference between FunTap and other similar apps is the fact that you get Coins only when you pass a level. So, it gets more difficult to make money as you make progress in the game.
With apps like Big Time Cash or MistPlay, you get credited per minute of gameplay.
Is FunTap Legit? Will They Pay You? 
Yes, it is! FunTap has been available since 2018. So, if it wasn't legit, Google would probably have banned it from the Playstore by now.
That doesn't mean you will be able to withdraw the money from your account. You may get paid, but I think your chances are very low!
Many people call FunTap a scam because they don't get credit for playing or they lose coins after an update.
However, it's important to understand that the developer does not guarantee any profit for using the app. In fact, the "Terms of Use" states that the user shall not be entitled to receive a particular reward.

In other words, they are not obliged to convert coins to real money because you don't own them.

I was reading page after page of reviews on Google Play and could not find any user who received the payment. One person claimed to have reached 27,000 Coins but was unable to cash out.
Some people say FunTap has a virus, but my Kaspersky didn't recognize any.  So, I don't think you should worry about it.
If you want to take control of your online earnings, I recommend you build your own internet business. 
Pros and Cons
Pros 
Games are 100% free to play.
Exchange coins for PayPal and Amazon vouchers.
Cons
You may not get paid after playing for hours.
There are too many ads.
It will consume a lot of data.
It takes a long time to build up enough coins to cash out.
The more you play, the harder it gets to collect the same number of Coins.
How Does FunTap Work? 
Install FunTap
The app is available for free on Google Playstore. After you install it, you will immediately get a startup bonus of 500 coins.
No registration is needed, but you will have to provide your email address once you are ready to redeem your coins for rewards.
How Much are Coins Worth? 
It depends on the payment method you choose.
For you can withdraw $20 through PayPal once you collect 20,000 coins. The same number of coins will get you $22 in Amazon or Google Play Gift cards.
How to Collect Coins? 
The process of earning coins with FunTap is very straightforward.

When you open the app, you will see a list of recommended games, most of which you have probably never seen before.
Choose the game, tap "Play", and download the app on Google Play. Next, play the game and achieve higher levels.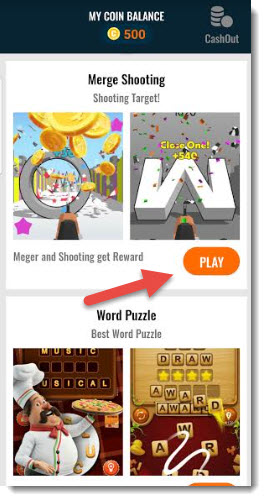 According to FunTap, you will get Coins every time you pass the level.
During my test, I downloaded 3 games: Knife Hero, Jelly World Match 3, and Domino Balls.
First, I played Knife Hero and every time I passed a level, there was a popup message saying "Congratulations! You Got Coin".

This reward platform is going viral! Cash out via PayPal, Visa, Gift Cards, and in-game currencies - Click here to find out how to generate an extra $10+ per day!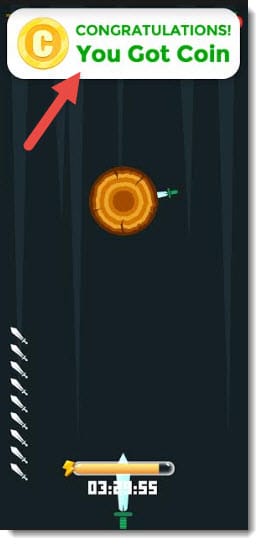 After reaching level 5, I returned to FunTap and realized my account balance was still sitting at 500 Coins. So, I decided to test another 2 games.

That was when I started collecting 15 Coins per level by playing Jelly World Match, and 12 Coins per level with Domino Balls.
Then, I remembered that I had already played Knife Hero on my mobile one year ago. So, perhaps that was the reason why I didn't get coins for this specific game. FunTap will only give you coins if you are a first-time player.
Keep in mind that you will be "forced" to watch an advert almost every time you try to pass a level. By displaying ads, the developers can make profits and reward members through the app.
Unfortunately, they will show you an excessive amount of advertising, which will drain your internet data.
So, unless you have an unlimited data plan, the amount of money you can make with FunTap may not even cover the equivalent charged by your internet provider.
How Do You Get Paid? 
Click on Cashout, select your payment method, and follow the instructions.
As I mentioned, you can exchange 20,000 for $20 via PayPal or $22 via Amazon or Google Play gift cards.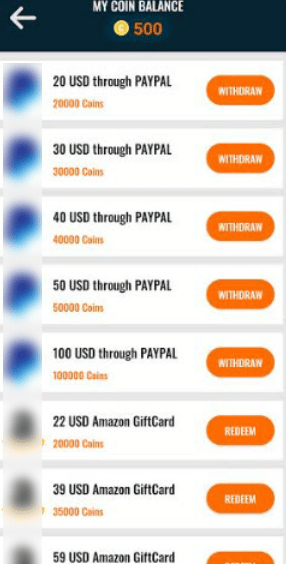 You can also select higher amounts, but I highly recommend redeeming your points as soon as possible.
How Much Money Can You Earn With FunTap
Coins add up very slowly because it gets more difficult to pass the levels as you make progress. Therefore, it takes more time and effort to collect the same number of Coins.
Eventually, your earnings will stagnate once you reach the final level of the game or once you cannot pass due to extreme difficulty.
At this stage, you will have to download and play another game. But if there is none left on the list, then you will get stuck!
Because of that, you may have to play FunTap games for 1 – 3 months to make $20.
Conclusion
FunTap is another legit application that may or may not reward you for playing games. It depends on their "mood" if you know what I mean.
Many people struggle to reach 20,000 because they are offering less than 15 Coins per level. Not to mention that the app may fail to track your levels or even wipe out your balance after an update.
If you are just playing games in hopes to make money, avoid FunTap or any similar apps because you may never get paid.
Verdict: Legit
Is There a Better Alternative to FunTap? 
Even though there are no guarantees, you are more likely to cash out with another app called MistPlay. Lots of users claim to have received multiple gift cards from Mistplay, Inc.

The only downside is that MistPlay doesn't process payments via PayPal.
On Google Play, you may find lots of similar apps operated by JustDice such as App Flame, FitPlay, and  AppStation. I don't recommend any of them!
How To Make a Full-Time Income From Home
Most people download apps like FunTap because they love the feeling of earning easy money. The problem is that these apps don't seem to work in their best interest, and many users don't get paid.
If you want to make a job-replacing income, I advise building your own internet business as I did.
There are many strategies you can choose, but I prefer affiliate marketing because the business is very cheap to operate and provides the highest level of freedom.
The reason is that you don't have to handle product fulfillment nor customer service!
With affiliate marketing, your only job is to provide helpful content while your website generates commissions for you 24/7!
If you want to learn step-by-step how to create an income-generating website, check out my top recommendation here. This is the platform that helped me create mine from scratch and reach $1,600 per month in affiliate commissions!
Final Words 
Thanks for taking the time to read my FunTap app review. I hope it was helpful!
If you have any questions or would like to share your thoughts on FunTap, drop us a comment below. Your opinion is very important to everyone reading his post!
Stay safe and peace out!