Welcome to my Mistplay app review!
Are you a gaming enthusiast looking for a way to earn rewards while indulging in your smartphone?
Introducing Mistplay, the game-changing app that has swept the mobile gaming industry with its tempting blend of play and pay.
With over 10 million installs and counting, Mistplay has quickly become one of the most popular reward apps on Google Play.
But what sets Mistplay apart from the rest that allowed it to achieve such remarkable success?
In this review, I will explain in detail how Mistplay works, how much money you can make, and whether it's a legitimate app.
If you want to learn step-by-step the same strategy that earns me over $1,600/mo from my laptop, check out my #1 recommendation. No previous experience is required! 
Mistplay App Review
Name: Mistplay
Website: http://www.mistplay.com/
Company: Mistplay, Inc.
Type: Earn money by playing games
Price: Free
Similar apps: App Flame, Fitplay, AppStation

LEGITIMATE

Overall Rating:

3.6/5
What is Mistplay App? 
Mistplay is a reward app that allows you to turn your passion for mobile gaming into a profitable pursuit.
It works as a mutually beneficial platform for developers looking for increased exposure to their games.

This reward platform is going viral! Cash out via PayPal, Visa, Gift Cards, and in-game currencies - Click here to find out how to generate an extra $10+ per day! 
In return, Mistplay shares part of the revenue with users who download and play their games, making it a win-win situation!
With Mistplay, you will earn points called Units that you can redeem for Amazon, iTunes, and Prepaid Visa gift cards.
The more you play, the more Units you'll earn and the closer you'll be to cashing in on your hard-earned rewards.
Mistplay is one of the most sought-after rewards apps on Google Play, but as you will see later in this review, it's far from perfect!
Is Mistplay Legit? Does it Pay? 
Yes! I am confident that Mistplay is a legit app. However, it doesn't seem to be working well for everyone.
If you search for Mistplay reviews on Google Play, you will see lots of positive feedback from users who got paid with no issues. On the other hand, some people are claiming that points disappeared, and payments were not delivered.
There are many reasons why people may not receive the gift card code. For example, they may have misspelled their email addresses, or there was an error processing the gift card.
If you didn't get your code after 48 hours, submit your username and email address to [email protected].

Some users had their accounts suspended for no apparent reason. I will explain more about blocked accounts later. For now, let's look at the pros and cons of Mistplay.
Pros and Cons
Pros
Earn gift cards just for playing games.
Trustworthy.
Earn 200 Units as a signup bonus.
You will always find fun and addictive games.
Payments only take 1 or 2 days to process.
You are not forced to see any ads while playing the game, which is excellent!
There is a live chat where you can interact with other players.
Cons
Earnings are very slow.
You will stop earning tokens (units) when you reach level 20.
It will probably take months to redeem Units for a $10 gift card.
Some people are disappointed with the game selection and the lack of games.

You cannot redeem Units for PayPal.

You cannot change your game preference.
Who is Mistplay For?
Mistplay is intended for everyone who enjoys playing games and wants to earn gift cards while having fun.
However, if your only intention is to make money, then I am afraid Mistplay will not please you. The reason is that it takes a significant amount of time to reach $5 and cash out.
Although Mistplay can be downloaded worldwide, it only works in the US, Canada, Singapore, the UK, and a few European countries.
If you live in another country, Mistplay will put your account on hold for potential fraud, and you won't be able to access any game. But don't worry; this message doesn't mean you have done something illegal.
How Does Mistplay Work?
Android devices 
Mistplay is supported only on Android devices. The good news is that the company has plans to release the iOS version in the future. You can join the waiting list by subscribing to the Mistplay newsletter through the website.
No one knows when they will release the iOS version, but you will receive an email as soon as the app becomes available on iPhones and iPads.
Install and register
The first step is to install the app on Google Play and create a free account using either your Facebook or Google account. You will earn 200 Units as a signup bonus.
Change Your Phone Settings
Display over other apps: After creating your Mistplay account, they will ask permission to display things over other apps you are using. This permission gives Mistplay priority over other apps, allowing the app to track your game time.

If you don't change this particular setting, the app may not credit all the points, and you will leave money on the table. To display over other applications, click on 'Continue' and activate the button.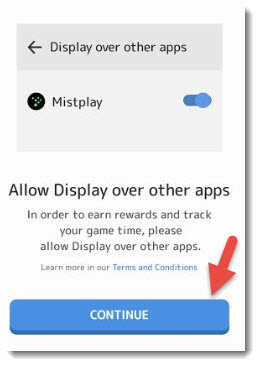 Alternatively, enter your phone settings, followed by 'Apps.' Then, you will need to select the Mistplay app, click on 'Appear on top' and activate the 'allow permission' button.
Permit Usage Access: Before installing the game, Mistplay needs to access usage stats so they can track the time you play. Otherwise, you won't collect Units. When you get this message, click on 'Allow,' select Mistplay, and activate the 'Allow usage tracking' button.
Turn-off Battery Saving Mode: You may be asked to disable the battery saving mode if your phone operates the Android version 5.0. To do this, you have to scroll down the notification shade and turn off the battery saver.
Mistplay Point System
Mistplay will award you game experience points (GXP) as you play a game. The longer you play a specific game, the more GXP you gain. When you earn enough GXP, you will reach the next level, and as a result, you will earn Units.
Units are credited at specific intervals whenever your Mistplay Game level up. This interval ranges between 2 – 5 minutes for most games. Once you collect enough Units, you can use them to buy various Gift cards and Prepaid cash rewards in the shop section.
You can only collect GXP and Units until you reach level 20. Besides, Mistplay will stop giving you more GXP after playing a game for 2 hours that day.
The currency value of each Unit depends on the country you live in. In the US, for example, 3000 Units can be traded in for a $10 gift card. Therefore, 1 Unit is worth $0.0033 in that country.

Player Experience Points (PXP)
In addition, you will also collect Player Experience (PXP) to level up your profile. Every time you level up, you will unlock new avatars and, most importantly, earn extra Units.
Select the games you want to play
Select at least two games from several genres, such as Action, Adventure, Arcade, Board, Card, Sports, and more. This initial selection will help Mistplay build you a custom list based on your gaming preferences.
It doesn't necessarily mean that the game will be available for playing through Mistplay, though. The downside is that you can't change your preference later to get more games. Therefore, I advise you to select all the games so that you get as many game suggestions as possible.
Next, you will see the actual list of games with the level of units and PXP each game offers.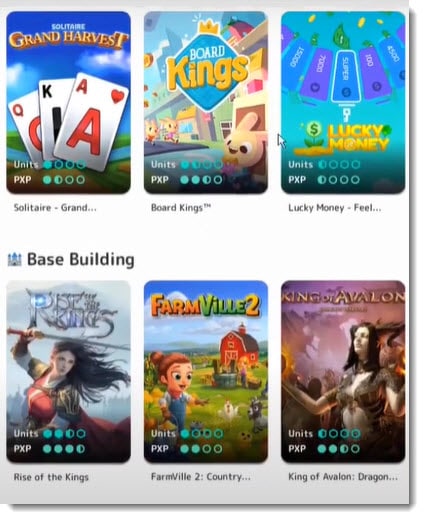 I noticed that many people complain about the lack of games in their country. That is because game developers may want to target more profitable markets such as the US, Canada, and the UK.
Unit Multiplier
Your earning potential is represented by Unit Multipliers (green hexagons). The Unit Multiplier indicates how many Units you will get when you reach the next level.
For example, the Rise of the Kings has a unit multiplier of 3.5, whereas the King of Avalon has a unit multiplier of just 0.5. Therefore, the Rise of the Kings will give you seven times more Units.
So, if you want to maximize your earnings, focus on games that provide more Unit multipliers and PXP.
Sometimes, you may notice that your earning multiplier is lower than what it was supposed to be. This can happen if the developer fails to credit Mistplay for some reason.
Usually, that is because you have already installed the game in the past or you didn't download the game through Mistplay.
Download the game and start playing 
Make sure you always enter the game through Mistplay to get Units. If you see a "Welcome" message 10 minutes after starting the game, that means Mistplay is ready to track your gameplay. Otherwise, you should exit the game and relaunch it through the Mistplay app.
Another important thing to mention is that Mistplay only credits Units when you are playing. So if you leave the game idle, you won't level up.
No interactions = No money
As I mentioned, there is a limit to the number of Units you can earn per game. Every game has a level cap of 20, after which you will not collect Units anymore. So, at this stage, you must download and play another game to keep earning.
Also, every game has a daily time cap of 2 hours. So if you play one particular game for more than 2 hours, you won't collect more Units unless you play another game.
Daily Play 
If you play for 5 minutes a day for seven days, you will earn a bonus of 14 Units. You can check your daily play streak progress by clicking on the flame icon at the top.
Regarding Daily Play, one user said Mistplay doesn't log the time correctly. So every day, she has to play for a different amount of time to reach the 5-minute requirement. I don't know if anyone is experiencing this issue, though.
Referral Program
Another way to make money with Mistplay is by inviting your friends. When your friend joins Mistplay with your referral link, they will immediately earn a bonus of 50 Units.
You will earn 100 points for every friend that installs the app and reaches level 4. To share your link and gain referrals, click on 'Bonus,' followed by 'Invite Friends, ' and send it to anyone via Facebook, Whatsapp, Instagram, etc.

Secret Mistcode
Mistplay gives out secret Mistcodes that you can redeem for bonus Units. These codes are distributed occasionally on the Mistplay Facebook group and newsletter as part of the company's promotional efforts.
Join Mistplay on Facebook, Instagram, or Twitter, and subscribe to the newsletter for a chance to get these codes.
How do You Get Paid?
Ready to cash in on your Units? Head to the Mistplay shop and choose from a wide selection of gift cards from your favorite retailers.
The number of Units required to redeem your rewards may vary based on your location, payment method, and the cash value of your selected gift card.
These are the redemption options available in the US:
Amazon Gift Card:
0.50 USD- 400 Units
5 USD – 1800 Units
10 USD – 3000 Units
Prepaid Virtual Visa
5 USD – 1,800 Units
10 USD – 3,000 Units
Google Play
10 USD – 3000 units
15 USD – 4500 units
Once you request your payment, you will receive the code for your gift card via email within 24 – 48 hours.
How Much Money Can You Earn? 
This is tricky because it depends on the game, your level, and probably other things you have no control over. To give you an idea, I played Final Fantasy XV, and after 5 minutes, I reached level 2 and got 15 units.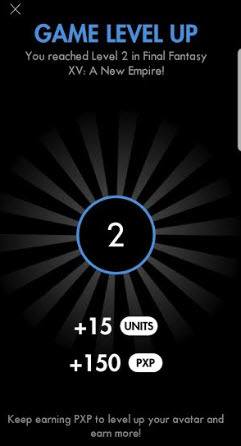 Considering 2000 units are worth a £5 Amazon gift card in the UK, I made £0.03 for playing 5 minutes. 
One Mistplay user reported reaching 3,000 points ($10) after playing 12 hours per day for five days. Another player received a $10 Amazon gift card after three months and a half. As you can see, you may have to play for over 60 hours to claim your $10 gift card!
Can Mistplay Block Your Account?
Lots of reward apps ban people's accounts only to avoid payments. 
Mistplay doesn't have a clause that says they can terminate your account for no reason. The Terms and Conditions state the company will only block your account if you use an auto clicker, a VPN, or any software to game the system. These are fraudulent activities!
I have seen some YouTube videos explaining how you can earn a Ton of money with Mistplay by installing the Click Assistant or the Auto Clicker app. These apps will click automatically and repeatedly so that you can generate Units while sleeping.
Well, you can try and see if they work. But I believe Mistplay has systems to detect these apps, I'm afraid.

You will also get banned if you try to use Mistplay in a country where the app is unavailable. They blocked me while trying to log in from the Philippines.
Unfortunately, the fraud identification system can be faulty and block your account even if you have done nothing wrong.
If you think Mistplay suspended your account for no reason, contact the team at [email protected].
Recent Complaints 
According to recent reviews on the Play Store, Mistplay has faced some technical problems that should not be ignored.
Many users have reported issues with the app crashing or failing to start correctly, causing frustration and loss of points.
This has led some people to uninstall and reinstall the app multiple times in an attempt to fix the problem.
But the issue persists, causing users to question the app's reliability in the long term.
The company should investigate these issues and compensate those affected by these bugs and inconveniences.
Conclusion 
Mistplay has been a popular app among mobile gamers for years, allowing them to earn gift cards for playing games.
Although it's a legit app, I can only recommend it if you already play mobile games regularly.
The reason is that you could make more money doing other simple online tasks such as taking online surveys and completing offers. Check out a decent GPT (get-paid-to) site! 
If you love mobile games, then why not install Mistplay and earn money at the same time? Even if it takes months to earn $10, it's free money for you!
Unfortunately, not everyone has a positive experience with Mistplay. With frequent crashes and missing points, the app's overall rating has dropped to 3.8 stars.
Despite that, I think Mistplay is one of the best options for monetizing your gaming experience.
The worst-case scenario is that you may not receive any money after playing for hours.
Verdict: Legit
Other Apps Like Mistplay
As far as I know, there are six other similar apps available on Google Play:
Coin Pop
AppStation
Money RAWR
App Flame
All these apps will record your gameplay and give you points you can exchange for cash rewards.
Unfortunately, none of them will pay you a decent amount of money for playing games. However, if I had to choose one, I'd stick with Mistplay because it seems to be the most reliable app. 

The other apps receive far too many complaints! The only disadvantage of Mistplay is that it doesn't pay via PayPal.
There are much better ways to earn an online income. Please keep reading to find out my # 1 recommendation.
Are You Serious About Making Money Online? 
If you are serious about making money online, it's crucial to get rid of all the distractions and start providing value to the internet.
In 2015, I was wasting long hours taking surveys and earning less than £3 per day. Luckily, I discovered an excellent step-by-step program that showed me how to earn affiliate commissions.
The method comprises creating a simple WordPress site, writing helpful content, and promoting other people's products. What motivated me to build my affiliate site was the possibility of quitting my job and working anytime, anywhere I wanted.
I can work my own hours and earn money even when on vacation!
If you want to learn about this business model, check out my No.1 Recommended platform. This remarkable training and community has been turning newbies into 6 figure earners since 2005!
The best part is that it has a free starter membership to test the waters!
Final Words
Thanks for taking the time to read my Misplay app review. Please let me know if you have any questions in the comment section below.
Stay safe, and peace out!