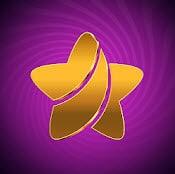 Welcome to my Fitplay app review!
What if you could earn some money for discovering and playing new games on your mobile device? Sounds cool, right? Well, you can actually do that thanks to an app called Fitplay!
The company claims that Fitplay will give you coins for every minute that you play a game through the mobile application. Then, you can trade them for cash via PayPal or various gift cards from major retailers.
With over 5 million installs, Fitplay is one of the oldest and most popular apps of its kind available for Android devices. Who wouldn't like to earn free money while indulging in addictive mobile games?
In this review, I am going to expose how Fitplay works, how much money you can make, and whether you can really trust this app. Is there any catch? Is Fitplay legit or not?
Read this before you install it!
If you want to learn step-by-step the same strategy that earns me over $1,600/mo from my laptop, check out my #1 recommendation. No previous experience required! 
Fitplay Review
---
Name: Fitplay
Website: http://www.fitplay.info/
Company: JustDice GmbH
Type: Earn money by playing games
Price: Free
App installs: 5,000,000+
Similar apps: App Flame, Mistplay, AppStation
Overall Rating:

1.5/5
What is Fitplay?
Fitplay is a mobile application that rewards you for downloading and playing games on your smartphone. You can also earn 25% of all your friend's coins when they install Fitplay through your referral link.
When I first tried Fitplay in 2018, they rewarded users for listening to their favorite audiobooks. At that time, I reached the minimum payout threshold of £0.50 just by listening to it for a few minutes. Now, they are only featuring mobile games.
Fitplay is owned and operated by a German company called JustDice GmbH, which is part of the AppLike Group. JustDice is currently operating lots of similar apps such as Cash Alarm, Money RAWR, CoinPop, App Flame, and Lucky Miner.
These apps are funded by game developers and advertisers who want to gain more exposure to their apps. In return, Fitplay shares its revenue with you for downloading and using these apps. It's a win-win situation!
While you are playing a game sponsored by Fitplay, you will accumulate Coins that you can redeem for cash via  PayPal or gift cards from places like Amazon, Google Play, and Spotify.
Is Fitplay Legit? Does it Pay?
If you check the review section on Google Playstore, you will find a staggering number of negative comments. There are many reasons people are frustrated and upset with Fitplay. But these are the most common complaints that I need to share with you:
Fitplay failed to track the gameplay.
Coins were not credited correctly.
Users got banned for suspicious behavior, but the company didn't bother explaining the exact reason.
All the apps vanished from the list after an update. Now, users cannot earn Coins for the games they play.
In the app description, it says Fitplay provides fast and guaranteed payouts.

However, the Terms of Use clearly states that Fitplay doesn't guarantee any winning and that users have no right to receive the payment.
The provides does not guarantee the User any winnings. In particular, the User has no right to the payout of a certain award.
This is wrong! They cannot tell people there are guaranteed payouts when the Terms of Use clearly states otherwise.
Also, Fitplay states that they can ban a user for fraudulent activity without stating the specific reason. But what if the person didn't break any rules? Well, unfortunately, you won't be able to dispute their decision!
As you can see, the company can block your account and forfeit your earnings. The truth is that some lucky people will get paid while others won't.
The facts are exposed, so I will let you decide whether Fitplay is a scam or a legit app!

Pros and Cons
Pros
Free to join
Earn 4444 Coins just for signing up.
It's available worldwide.
Get paid through PayPal and gift cards.
No ads while playing games.
Cons
The game selection is very limited.
Many people complain that Coins are not credited correctly.
The earning potential is too low.
Unresponsive support.
The more you play a game, the longer you have to play to earn the same number of Coins. At some point, Coins will stop adding up.
It's only available for Android devices.
Your coins will become invalid if you don't redeem them within 1 year.
How Does Fitplay Work?
Installation and Registration
Fitplay is only available for Android devices, so you can download it on Google Playstore. The first step is to give Fitplay permission to use your personal data for registration and apps usage tracking.
After that, you must create a free account using your email, Google, or Facebook account. Next, enter your age and gender so that Fitplay can match you with games you are likely to enjoy.
The final step is to grant Fitplay access to your usage data so they can detect your playtime and reward you.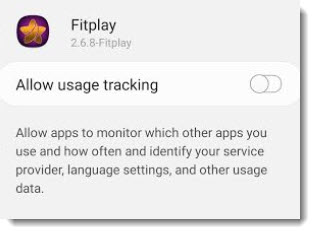 Once everything is set up, you will receive a welcome message with a signup bonus of 4444 coins. Speaking of which, let's have a look at how the point system works.
How Much are Coins Worth?
It depends on your country. If you live in the US, for example, you can exchange 4999 coins for $0.50 via PayPal. Therefore, 1000 coins equal $0.10. 
Considering you will start with 4444 coins, you just need to collect 555 coins to request your first payout.
How to Earn Coins

When you log in, you will see is a brief description of each game and the number of coins that you will earn per minute. Swipe to the right to see other games. There are not many titles, but new ones can become available at any time.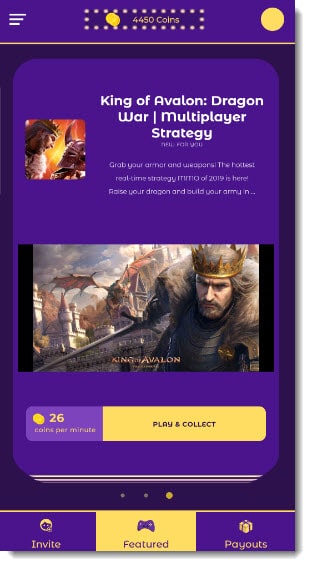 Now, click on 'Play & Collect', download the game, and start playing!
Don't be surprised if your earnings don't add up as you expected. Here is why: As you play, the time required to earn the same number of coins keeps going up. In other words, the more you play, the less you earn! 
After a few hours playing the same game, you will only collect a small percentage of the Coins used to get in the beginning. At some point, your coins will stop adding up and you will have to install another app. This happens because the ad revenue that Fitplay receives from game developers is limited.
Fitplay will allocate all the games to the 'My Apps' section. There, you will see how many Coins you will get for playing for a specific amount of time.

This reward platform is going viral! Cash out via PayPal, Visa, Gift Cards, and in-game currencies - Click here to find out how to generate an extra $10+ per day!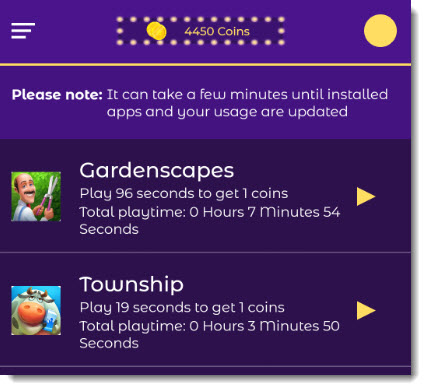 Make sure you open the game through this section so that Fitplay can record your gameplay. Otherwise, you won't get credited!

Earn Coins By Listening to Audiobooks
My favorite way to earn Coins is by listening to audiobooks via the Audible app. It's a smart marketing strategy because it encourages users to sign up with the free 30-day Audible trial.
By using Fitplay in combination with Audible, you are basically getting a discount on your membership fee. I don't think you will be able to earn enough Coins to cover your monthly fee and still make a profit.
Here is one important thing that I noticed. As I was listening to my audiobook, I realized the length of time required to collect the Coins was getting longer and longer. So, the more you use Audible, the fewer coins you will earn. 
Update 2020: Unfortunately, Audible is not available for download through Fitplay anymore.
How Much Money Can You Earn With Fitplay?
Fitplay will pay you very little money if any! In the beginning, you can cash out your first $0.50 within a few weeks because you will start with a signup bonus of 4444.
After the initial payout, users have to play for months only to make the same amount of money. That's why you should only use Fitplay if you care more about games rather than money.
Invite Your Friends
Fitplay will give you a commission for every friend that downloads the app through your referral link. You will get 25% of all Coins your friend earns, and your friend will also get 25% of all Coins you earn.
You can share your affiliate link with anyone via email, messenger, WhatsApp, Facebook, etc. It's a generous affiliate program, but it's still a significant challenge to refer lots of people and earn a decent income.
How Do You Get Paid?
You can redeem your Coins through PayPal, bank account, and a variety of gift cards from major retailers such as Amazon, iTunes, Steam, Starbucks, and Tesco. If you want to cash out via Paypal, you can exchange a minimum of 4999 Coins for $0,50.
Before you can withdraw the money, you must provide your phone number to validate your identity. Fitplay will send you an SMS with a security code that you must use in the two-factor authentication process.
If you don't receive the payment within 1 week, then you should contact the company at [email protected]. Unfortunately, many users complain that they never reply to their queries.
Final Thoughts
Fitplay is a popular app that people can use to collect coins for downloading and playing new games. If you already play games on your phone, then why not earn a little extra cash while having fun?
The problem is that many people don't get paid even though the company promises fast and guaranteed payouts. This is not right!
Lots of users had their accounts suspended for suspicious behaviors just when they are trying to cash out. Not only that but Fitplay may put the blame on you without showing any proof that you broke a specific rule.
That being said, I don~t recommend Fitplay for making money with games.

Is There a Better Alternative to Fitplay?
It's difficult to find an app that you can trust 100%, but I'd say Mistplay is your best bet. I have seen complaints about payments too, but a lot fewer.
Money RAWR, App Flame, CoinPop, Cash Alarm, and Lucky Miner are not great options because they are all operated by the same company and are almost identical to each other. 
Another great platform you can use to earn a little extra money is Prizerebel. This is my top-rated GPT (get-paid-to) site where you can collect points for completing offers, taking surveys, downloading apps, and more!
How I Make a Full-Time Income From Home
In a nutshell, I write helpful content for my website, which attracts readers from all over the world. Then, I earn commissions when visitors click on my affiliate links and purchase other people's products. This business model is called affiliate marketing!
Turning a website into a money-making machine takes time and effort. However, those who put in the work can eventually earn a full-time income from home and quit their soul-crushing job.
I walked the way, and I can tell you, it was worth it!
The good news is that you can start small, work in your spare time, and scale your business to any level. Many affiliates earn over $10 K per month as the earning potential is unlimited!
This excellent step-by-step program helped me set up a website, attract a huge audience, and generate over $1,600 per month.
The good news is that you can start small, work in your spare time, and scale your business to any level. Many affiliates earn over $10 K per month as the earning potential is unlimited!
Wanna see how it works? Check out my #1 recommendation here! 
Final Words
Thanks for reading my Fitplay app review. If you have any questions, please let me know in the comment section below.
I wish you all the best.