9
Fitplay Review – Make Easy Money Just For Using Other Apps!
What if you could earn some money while playing a game or even listening to audiobooks on your mobile? Sounds cool, right? Well, you can actually do that thanks to an app called Fitplay.
In this review, I am going to explain how Fitplay works and how much money you can make. Is there a catch? Can you really get paid?
Read this before you install it!
By the way, if you want to learn step by step the method that earns me $1,000/mo from home, check out my #1 recommendation.
Fitplay Review
---
Name: Fitplay
Type: Get paid to use apps.
Price: Free to join

LEGITIMATE

Overal Rating:

2.9/5
What is Fitplay?
---
Fitplay is a mobile application that reward users for downloading and using other apps.
The company behind Fitplay is AppLike GmbH, which also operates a very similar "money app" with the same name.
I've recently reviewed Applike and gave it a low score due to low-income potential and few apps available.
Now, although Fitplay's income potential is also low, I like the experience because I was able to reach the minimum balance requirement (£0.50) within just a few minutes.
Not only that, I was able to earn this money while listening to my favourite audiobooks!
Pros and Cons
---
Pros
Free to join
Earn 5,555 mCoins just for signing up.
It's available worldwide.
Cons
There are not many apps available.
Low-income potential.
The more you use the app, the longer you have to use it to earn the same amount of mCoins. In other words, the pay rate gets lower and lower.
It's only available for Android devices.
How Does it Work?
---
Fitplay is currently only available for Android devices, so you can only find it on Google Play.
The points you will earn by using Fitplay are called mCoins, and you should know that 1000 mCoins is approximately £0.08.
The installation is free and straightforward. You can sign up using your email address, Facebook or Google account.
Before using Fitplay, they want to know your age and gender to match apps that you are more likely to enjoy.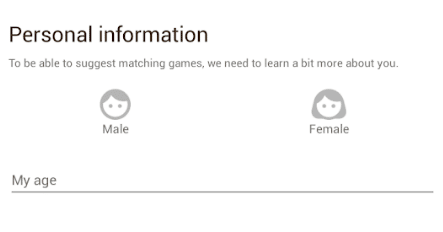 You will earn 5,555 mCoins as a signup bonus, which will put your balance very close to the minimum cash out threshold of 6,399 mCoins (£0.50).
When you open the dashboard, you will see a list of proposed apps.
The list is quite small, but the company can invite you to join new apps later in the day.
All you have to do is click on "Play & Collect," download the app and start using it.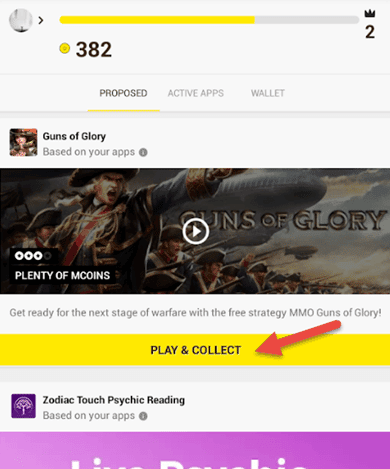 Earning mCoins
All the apps that you install will be located on the "active apps" tab.
In the "Active apps" section, you will see how many mCoins you will get for using the app for a specific period.
Here is one example: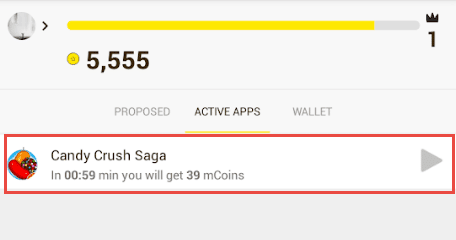 As you can see, I had to play Cady Crush for 59 seconds to earn 39 mCoins. The next milestone was to play for 2:17 min to earn 44 mCoins.
My Preferred Method to Earn mCoins
---
My favourite way to earn mCoins is by listening to audiobooks via the Audible app.
It's a smart marketing strategy because it encourages us to sign up with the free 30-day Audible trial. After the first month, we must pay £7.99/mo for the membership.
By using Fitplay in combination with Audible, you are basically getting a discount on your membership fee.
I don't think you will be able to earn enough mCoins to cover your monthly fee and still make a profit.
Here is one important thing that I noticed. As I was listening to my audiobook, I realized the length of time required to earn mCoins was getting longer and longer, but the payout was almost the same.
So, apparently, the more you use the app, the lower your pay rate.
Invite Your Friends and Earn Commissions
---
Fitplay rewards users for inviting others to join.
For every friend you invite, you will earn 250 mCoins plus 25% of all mCoins he/she earns.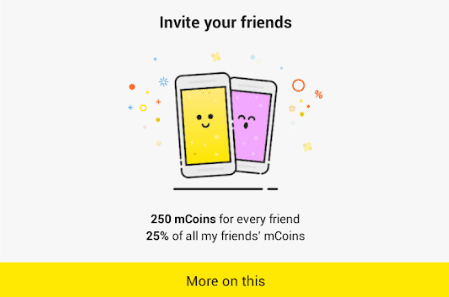 You can choose to send an instant message with your affiliate link via email, messenger, Facebook, and Google.
It's a generous affiliate program, but it's still a significant challenge to refer lots of people and earn a decent income.
Payments
---
You can redeem your mCoins through PayPal and a variety of gift cards (Amazon, iTunes, Steam, Starbucks, Tesco)
If you want to cash out via Paypal, the minimum threshold requirement is 6,399 mCoins, which is £0,50.
After you place the order, your payment will be processed within 5 business days.
Final Thoughts
---
Fitplay is a legitimate app to earn money with your smartphone.
However, not only their payout is too low but also the pay rate gets lower and lower the more you use one particular app.
At some point, it's better to download another app and repeated the process.
How I Went From $0 – $1,000/mo Online
---
In 2015 I discovered a step by step course that helped me build a profitable internet business!
It works for me 24/7 and generates affiliate commissions without having to handle direct sales or inventory.
I basically write content on my website and attract people all over the world.
When visitors click on my affiliate links and purchase products that I recommend, I earn great commissions.
It's not too complicated, and anyone can accomplish remarkable results!
If you want to learn step by step how to create a website, attract visitors and earn passive income, check out my #1 recommendation.
It's the exact same training program that I used 3 years ago to build my site from scratch. I had zero experience probably just like you! But I put in the time and effort because my WHY was, and still remains big enough!
Thanks for reading my Fitplay review. If you have any questions, please let me know in the comment section below.
I wish you all the best.