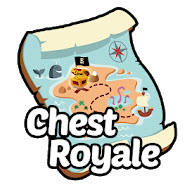 Welcome to my Chest Royale app review!
Chest Royale is advertised as the most entertaining method to earn money online. The app gives you the chance to win real money while playing the game.
The reason why thousands of people are downloading this app is that they think it will be very easy to make money. But as you will see, it takes a significant amount of time to request your payment.
In this Chest Royale Review, I will explain how this game works and give you my honest opinion about it. Is Chest Royale a scam or a legit app? What are your chances of making real money with this app?
Before you leave this page, don't forget to check out the step-by-step program that helped me reach $1,600+ per month from my laptop and quit my job. No special skills required! 
Chest Royale App Review 
Name: Chest Royale
Company: Dorre Makes Games
Membership Eligibility: Worldwide
Minimum Payout: $10
Income Potential: Low
Price: Free
LEGITIMATE
Overall Rating:

1.8/5
What is Chest Royale? 
Chest Royale is a simple mobile game where you will collect coins by opening chests. The goal is to accumulate enough coins so you can convert to cash via PayPal or Google Play gift card.
Although it doesn't require any effort, you will have to be very patient and watch a ton of ads before you can cash out. What's worse, reaching the minimum payout threshold is not a guarantee of getting paid.
The app is owned and operated by Dorre Makes Games, a company that also runs Raffle Royale and Play Cash app.
Is Chest Royale Legit? Will They Pay You?
First of all, it's important to understand that Chest Royale is a non-gambling game designed only for entertainment.
So, even though they offer the possibility of exchanging virtual coins for real money, there is no guarantee that you will get paid.
It takes "ages" to reach the minimum number of coins, and when you finally do, the company can simply deny your payment for no specific reason. That doesn't mean Chest Royale is a scam.
Chest Royale has launched recently so most players are still trying to cash out. That's why there not many critical reviews on Google Play yet.
However, after testing lots of similar apps, I assume that your chances of making money are very low.
Pros and Cons
Pros 
Free to play.
Get paid via PayPal.
Cons
There are too many ads.
It will consume a lot of internet data.
The game is very boring in my opinion.
It takes a long time to cash out.
How Does Chest Royale Work? 
Chest Royale is available on Android devices and requires no registration. After opening the game, you can play it straight away!
In a nutshell, the game consists of 4 chests with a specific number of coins or energy inside.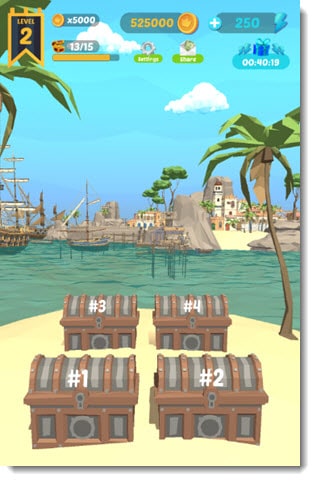 All you have to do is tap on a chest to collect coins and level up. The higher your level, the more coins you will collect from each chest.
At level 1, you will get 2,500 coins per chest and you will need to open 3 chests to unlock level 2.
Once you reach Level 2, you will earn 5,000 coins, and you must open another 12 chests to unlock the next level.
The higher your level, the more chests you must open to unlock the following level. There are a total of 99 levels and the reward section will only become available at the third level.
You would certainly collect lots of coins quickly if it wasn't for the excessive amount of advertisement and the energy requirement.
Energy
Unfortunately, you will always need 150 Energy to open a chest. If you run out of energy, you will be forced to watch an ad, complete an offer, or wait for 1 hour to earn more.
In other words, energy is both an obstacle for you and a source of revenue for the app developer.
Every hour, you can claim 350 Energy by watching an ad. If you don't want to wait for 1 hour, watch a video ad at any time in exchange for 45 Energy each.
The last option is to complete an offer, which consists of downloading and trying other mobile applications.
To get Energy from offers, you must download the app and follow the instructions. Most apps are games that you need to play for a while and achieve a specific level or score. Depending on the app, you can earn 1000+ Energy, which is enough to open 6 chests.
Invite Friends
Share your User ID with your friends and if they play Cheat Royale, you will earn 50% of all their earnings.
How Do You Get Paid? 
If you tap on your coin balance at the top, Chest Royale will tell you they will unlock rewards at level 3. It makes you think you will be able to cash out as soon as you reach this level, but that's not the case.
Once you open the reward section you will discover that the minimum payment is $10 and that you will need 10 million coins to cash out.
How Much Money Can You Earn? 
You might think the higher your level, the more coins you will earn, and thus, the quicker it will be to cash out. Well, unfortunately, that's not the case.
You will get stuck on a level for a very long time because the more you play, the harder it gets to unlock new levels.
Even if you play Cheat Royale every single day, you may reach 10 million coins after 1 or 2 months. Then, you have to count on the company's goodwill to pay you.
Conclusion
I don't think Chest Royale is a fun game to play because it "forces" you to watch a ton of ads just so you open chests. Therefore, I believe everyone who continues to play this game do it for the money and not for entertainment.
The problem is, it takes a long time to collect 10 million coins, and there is no guarantee the company will let you cash out.
Me, personally, I cannot afford to play a game for so many hours just to make $10, let alone $0!
If you are searching for an opportunity to make money online, Chest Royale should be right at the bottom of your list. The reason is that you can waste many hours of your life for nothing!
Now, if you just want to play it for fun, and if you really enjoy this game, then ignore what I just said.
Verdict: Legit 
Is There an Alternative to Chest Royale? 
If you want to earn a little extra money while playing games, I believe Mistplay is the best option.  This app rewards you for downloading and playing different games on your Android device.
I've seen many positive comments from people who actually got paid. Just keep in mind that are no guarantees.
How I Prefer to Make Money Online
If you are spending hours on your phone only to make 10 bucks, I am sure you would do whatever it takes to achieve $1000+ per month!
How would your life be like if you could make a job-replacing income while working from your laptop whenever and wherever you want?
The business model that I use is called affiliate marketing, which allows me to earn commissions for promoting other people's products.
As an affiliate, your main "job" is to publish helpful content on your own website and link to trusted products that your readers may like. If they click on your link and purchase the product, you get a commission from the vendor!
In 2015, I discovered a step-by-step program that helped me build my own internet business based on affiliate marketing and quit my job.
You can achieve great results too if you watch the lessons and take massive action. It's well worth it!
Final Words
Thank you for taking the time to read my Chest Royale review. I hope it was helpful!
If you would like to share your thoughts on this app or ask any question, drop us a comment below.
Stay safe and peace out!