Welcome to my Raffle Royale app Review!
Many websites and YouTube channels are promoting Raffle Royale as an easy way to make money online.
The app allows users to get free raffle tickets for a chance to win daily prizes ranging from $10 up to $500.
There are lots of money-making applications that don't reward users, which is why it's so important to do proper research.
Is Raffle Royale a scam or a legit app? Will they let you cash out? Is it worth completing tasks only for a chance to win?
In this review, I will reveal all you need to know about the app and give you my honest opinion.
Before we get right into it, let me ask you one important question: Have you ever dreamt of making a full-time income online?
If so, you may want to check out my #1 recommendation! This is the same program that helped me build a lucrative online business, reach $1,600 per month, and say farewell to my boss and co-workers.
Raffle Royale App Review
Name: Raffle Royale
Company: Dorre Makes Games
Operating system: Android
Price: Free
Minimum payout: $10
Payment method: PayPal
Membership Eligibility: Worldwide
Similar app: Daily Raffle
Overall Rating:

1.8/5
What is Raffle Royale?
Raffle Royale is a sweepstakes app where users can enter daily raffles for a chance to win $1, $10, $50, $100, and $500.
The app was developed by Dorre Makes Games, which also operates this simple reward app.
As of writing, Raffle Royale has been downloaded over 100,000 times and has been rated 4.2 stars on Google Playstore.
Pros and Cons
Pros
Earn 100 credits as a signup bonus.
Get paid via PayPal.
Cons
This is a sweepstakes app, which means there is a risk of not making any money after completing tasks.
You can only request your payment once you reach $10.
Many participants claim they couldn't cash out because winnings stopped before they reached $10.
The developers don't provide the key, and hash number of the prize draws. So, it's impossible to know whether the draw was fair.
You cannot redeem Crowns for real cash.
There is no FAQ.
How Does Raffle Royale Work? 
Raffle Royale app is currently available for Android devices and is 100% free.
Instead, you will earn credits (Crowns) by watching videos, taking surveys, completing offers, and trying new apps. Then, you can use your Crowns to buy tickets required to enter the daily prize draws.
Each ticket costs 100 Crowns, and you can get 20 tickets daily. The more tickets you have, the more your chances of winning the prize.
The app is entirely funded by advertisers, who pay Raffle Royale to display adverts and entice users to complete sponsored offers. That's how the company can make profits and reward participants.
Installation
You can download Raffle Royale on Google Play and get access without registration. After installing the app, you will earn a start-up bonus of 100 Crowns.

Raffle Royale Levels
Raffle Royale has a total of 5 levels, which represent the different cash prizes:
Bandit: $1
Blacksmith: $10.
Merchant: $50
Knight: $100
King: $500
You will start at the "Bandit" level, which only allows you to enter the $1 cash prize. Use your first 100 Crowns to buy your first ticket and unlock the Blacksmith level.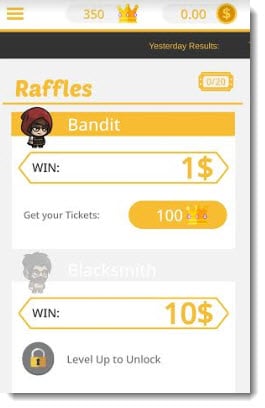 Remember that you can only enter a specific prize draw if you unlock the previous level. For example, you can only unlock the $50 prize if you already joined the $10 prize draw, and so on and so forth.
If you are serious about making money online, check out my #1 recommendation review.
Earn Crowns
As I already mentioned, you can buy up to 20 tickets daily with the digital currency called Crown. Each ticket costs 100 Crows.
You can collect Crowns by downloading apps, taking surveys, and watching videos. For example, you will collect 45 Crowns for playing a video that usually lasts for 30 seconds.
You will find tasks by tapping on "Earn Crowns" on the menu. Then, you can choose to watch a video or complete offers.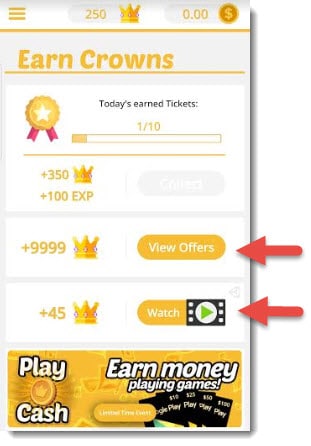 Most offers require you to install and play a mobile game. Some of them will even ask you to make a purchase before they give you Crowns.
I don't recommend spending your hard-earned money on offers because you may never get the return for your investment.

Prize Draws
At the top of your screen, you will see the lucky numbers of yesterday's sweepstakes. Every day, a lucky number will be drawn for each of the five prizes.
You can always see the five lucky numbers moving at the top, and if you are a winner, the money will be credited to your cash balance.
One thing that is worth mentioning is that, unlike this transparent raffle app, Raffle Royale doesn't provide the key and hash number for the prize draw.
Therefore, users still can't check whether the winning number was randomly generated.
Let's hope they add this feature so that users are more confident in the fairness of the draw.

This reward platform is going viral! Cash out via PayPal, Visa, Gift Cards, and in-game currencies - Click here to find out how to generate an extra $10+ per day! 
Daily Login Rewards
Raffle Royale will give you daily bonuses for logging in consecutive days. During the first 7 days, you will get the following rewards:
1st day: +100 Crowns
2nd day: +200 Crowns
3rd day: +300 Crowns
4th day: +0.25 USD
5th day: +400 Crowns
6th day: +500 Crowns
7th day: +0.75 USD

Referral Program
Another way to make money with Raffle Royale is by inviting your friends. Simply share the app with your friends, and you can earn 25% of their earnings!
As Raffle Royale rewards are based on luck, so does your referral commissions.
How do You Get Paid? 
You can only withdraw the money to your PayPal account once you have earned $10. To request the payment, enter the "payment" tab, select "request payment," and provide your PayPal email.
In the app description, Raffle Royale claims to process payments super fast.
You May Never Get Paid! 
Yes, you heard that right! Some people claim they cannot cash out because they don't get more cash rewards once they reach $8 – $9.
If they say actual, the winning numbers are not randomly generated, and the raffle is manipulated. Otherwise, people would keep earning regardless of their cash balance. However, I don't have any proof that this is the case.
I found two testimonials on Google Play, which show how frustrated people are with this app.


I have reviewed many reward apps that use the same tactic to avoid paying members. Once they are very close to the minimum cashout amount, the system prevents them from earning more credits.
Conclusion – Is Raffle Royale a Scam? 
I have no proof to call Raffle Royale a scam. However, I am concerned about the lack of transparency regarding the prize draws and payments.
The company doesn't tell users the number of tickets entered each day. So, it's impossible to estimate the odds of winning future prizes.
Many users report collecting cash prizes until they reach $8 – 9, so they can never reach the minimum cashout requirement of $10. This indicates that raffles may not be running fairly.
Another drawback is that you don't get points redeemable for real cash after completing tasks. You can only exchange Crown for raffles, so there is no guarantee that you will make any money with this app.
Most people enjoy getting tickets for a chance to win cash prizes, but I am yet to find someone who actually got paid. After reading many reviews, I became more and more skeptical of Raffle Royale.
Is There an Alternative to Raffle Royale?
The Daily Raffle app seems to be a much better alternative for many reasons:
The prize drawing is transparent, as people can check the integrity of the results with the HMAC-SHA512 Algorithm.
You select the numbers, so the company cannot manipulate the winning tickets.
The minimum prize for people who match 4 numbers is $125. Those who reach 6 numbers win the jackpot of $500 or $1000.
You can also try Lucky Day, is one of the most popular sweepstakes app available on Google Playstore.
The downside of apps like Raffle Royale and Daily Raffle is that you must rely on luck or the honesty of developers to make money.

If you want to build a reliable source of income from home, read the next section, and discover the business model I use and recommend.
How To Make a Full-Time Income From Home
Many people are making a living through the internet using different strategies.
They fall into two main categories: Freelancing and Online Business!
You can excel with either, but personally, I think having your own internet business is a much better option!
One of the best ways to start an online business is to create a website and promote products as an affiliate.
Thanks to this excellent step by step program, I learned how to properly set up a website and attract a significant audience.
It takes time and hard work, but in the end, a lucrative online business can provide an outstanding level of freedom. The freedom to work whenever and wherever you want!
After working consistently, I could go from $0 to $1,000 per month within three years and reach $1,600 per month in the following year.
Read more about my success story and Start your first 10 lessons completely free here! 
Final Words
Thanks for taking the time to read my Raffle Royale App review. If you have any questions, feel free to leave me a comment below, and I'll be more than happy to help! 😉
Stay safe, and till next time!