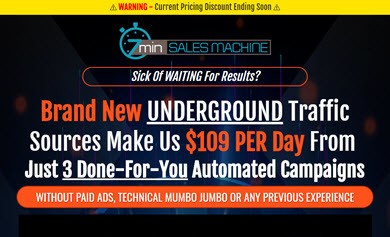 Frank Pellegrino and Jono Armstrong have just launched a new course called 7 Min Sales Machine.
According to the sales page, it will teach you 3 secret traffic sources that will supposedly allow you to make quick money online.
I have reviewed lots of internet marketing courses that don't live up to the hype.
Most of them will teach you short-term strategies and encourage members to buy traffic for fast results.
This time, the creators are telling us that we don't need to purchase Facebook nor solo ads.
So, what is 7 Min Sales all about? Is it a scam or a legit product?
Read my 7 Min Sales Machine review below before you buy!
If you want to generate a job-replacing income from home, check out my #1 recommendation! This is the same program that helped me reach $1,300 per month, quit my job and buy a one-way ticket to South East Asia! 
7 Min Sales Machine Review
---
Name: 7 Min Sales Machine
Price: $12.95 + Upsells
Website: https://7minsalesmachine.com/7minsystem
Authors: Frank Pellegrino, Jono Armstrong, and Brendan Mace
LEGITIMATE
Overall Rating:

4/5
The Sales Page
---
The promotional page tries to convince potential clients that 7 Min Sales Machine is the fastest shortcut to make daily profits.
The creators are marketing the course as a shortcut that you can use to achieve fast results.

I am not a fan of this type of advertisement because it implies that you won't have to put in a lot of time and effort.
Usually, people who start with this mindset are the first ones to give up in search of a better method.
The truth is that there is no secret that will give you a significant advantage over other internet marketers.
There are lots of things you can do to improve your internet business, but there is no magic bullet to make quick money.
What is 7 Min Sales Machine?
---
7 Min Sales Machine is a video training that will teach you 3 "powerful" traffic sources to make money using CPA marketing.
CPA stands for cost per action, which means you don't need to sell anything to make profits.
You will make money whenever someone clicks on a link and signs up to an offer or website with their name, email, zip code etc.
With 7 Min Sales machine, you will learn how to choose the best offers to promote and use those free traffic sources effectively.
Is 7 Min Sales Machine a Scam?
---
No, it isn't! 7 Min Sales Machine is a legit training that will show you a proven strategy to make money online.
In my opinion, the sales page can make people have unrealistic expectations about the method.

You should read it with a little bit of salt.
Please, be aware that this is like any other online business, and as such, requires a lot of time and effort to generate real profits.
Pros and Cons
---
Pros
30-Day money-back guarantee.
Simple way to make money online.
100% free traffic sources.
Traffic sources are not very competitive and have relatively high conversion rates.
The training will show you how to get approved by CPA networks without any issues.
No previous experience required.
Cons
The sales page doesn't expose the traffic strategies.
You have to be approved by CPA networks before you can apply the method.
It does require some effort to create landing pages. So, if you just buy the front-end product, it's not 100% done-for-you.
Expensive upsells.
How Does it Work?
---
The first step to make money with this method is to select and apply for a CPA network.
7 Min Sales Machine will give you valuable information to choose your network and get approved.
Once you get approved by a CPA Network, you will use one or all traffic sources that you will learn inside the member's area.
Unfortunately, I can't reveal the exact 3 sources because it would be unethical to expose them without the author's permission.
The only hint I can give you is that the traffic is targeted to your local area or any other location you want to target.
So, the CPA offer will be highly targeted to specific locations in the world, increasing your chances of making sales.
The great thing about these traffic sources is that you will have less competition too!
I would only expose them if they didn't give any money-back guarantee.
However, they do offer a money-back guarantee.

So, if you want to purchase 7 Min Sales Machine, try their strategies first and see if they work for you.
If you don't see fast results as advertised, I highly advise you to ask for a refund instead of buying an upsell.
What I can say about these methods is that they don't require Facebook Ads, Solo Ads, Launch Jacking or email list.
Therefore, those are free traffic strategies that you can use completely risk-free.
The Member's Area
---
7 Min Sales Machine is a quick training that consists of the following lessons:

This reward platform is going viral! Cash out via PayPal, Visa, Gift Cards, and in-game currencies - Click here to find out how to generate an extra $10+ per day! 
Welcome to 7 Min Sales Machine.
Method overview.
Setting up for CPA Networks.
Picking CPA offers.
Craigslist (Extra traffic source).
Recap
Secret Traffic 1
Secret Traffic 2
Secret Traffic 3
Conclusion: Wrap up.
You don't need to have any previous experience to take the course and implement the strategies.

The course is concise, well structured and is 100% newbie-friendly.
Upsells
---
7 Min Sales Machine has 3 upgrades that will supposedly help you reach even higher profits and faster results.
Here is a breakdown of each upgrade:
Upsell #1 – 7 Min Sales Machine Done-for-You ($47)
If you want to speed up the process and eliminate the guesswork, you can buy this upgrade.
With upsell #1, you will get Done for you landing pages, offers and funnels.
Upsell #2 – 7 Minute Sales Machine Advanced Training ($67)
In this advanced training, Frank is going to show you how to scale the business and make over $100 -$500 per day.
Upsell #3 – The Ultimate Traffic Package ($197)
Here you will get a 7-hour video training on Adwords, Facebook Ads, Retargeting, and SEO.
These are strategies that can help you make even more money as an internet marketer.
Upgrade #4 – License Rights to 7 Min sales Machine ($167)
With this upgrade, you will be able to promote 7 Min sales Machine as if it was your own product and keep 100% of the profits.
Conclusion
---
7 Min Sales Machine is a decent course that combines untapped traffic and CPA marketing to make money online.
Many people who promote this course on blogs and Youtube will try to convince you that it's an easy way to generate fast profits.
However, not everyone will make it work because there is no magic formula!
Like any other method, there is a learning curve, and you must work hard to achieve significant results.
If you are interested in getting 7 Min Sales Machine, go for it with realistic expectations.
Verdict: Legit
How to Make a Full-Time Income Online
---
CPA marketing can be a great source of income, but I am currently making a full-time income with Affiliate Marketing.
My strategy consists of building affiliate sites that keep working for me 24/7!
All I have to do is create articles that rank on Google and attract visitors looking for information.

Then, I make a commission whenever someone clicks on my links and purchase the products that promote on my website.
I am a fan of affiliate marketing because it helped me achieve a steady $1,300 per month and quit my job in 2019.
If you are motivated to build a profitable affiliate site as I did, check out my #1 recommendation.
This training program has been creating successful online entrepreneurs for over 12 years, myself included 😊.
You can be the next one if you follow the lessons and put in the time and effort.
Once you are willing to put in the time and effort to complete the training and implement the strategies, you sure can achieve the financial goals that you have set for yourself.
Final Words
Thanks for taking the time to read my 7 Min Sales Machine review. I hope it was helpful to you!
If you have any questions, feel free to ask in the comment section below! 🙂