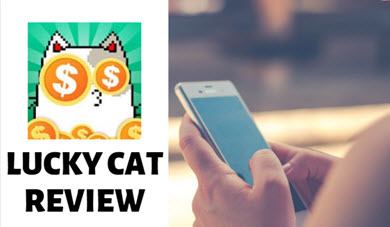 Welcome to my Lucky Cat App review!
I've recently found an extremely popular app to earn free rewards called Lucky Cat.
The Android application has been downloaded more than 1 million times on the Google Playstore and has been rated 4.7 out of 5.
I was very excited to download this app and see if it provides a real opportunity to make money.
Is Lucky Cat a scam or a legit app? Does it pay or not?
In this review, I am going to explain in detail how this app works and give you my honest opinion about it.
If you want to generate a job-replacing income from home, check out my #1 recommendation! This is the same program that helped me reach $1,300 per month, quit my job and buy a one-way ticket to South East Asia! 
Lucky Cat App Review
---
Name: Lucky Cat
Website: https://lbsbanana.com/
Company: Lbsbanana Ltd
Minimum Payout: $10
Membership Eligibility: Worldwide
Overall Rating:

1/5
What is Lucky Cat App?
---
Lucky Cat is a mobile app where you can play free scratch cards for a chance to win cash prizes.
The app is very similar to Lucktastic, Scratch Royale, Lucky Go and Scratch day.
There are other similar scratch games on Google Play, but these ones are the most popular.
Every day, you will get 50 scratch cards with prizes ranging from a few cents up to $1000.
You will also collect Tokens which, in theory, should be redeemed for gift cards.
But, as you will see later, the app is not giving users the option to cash out nor convert tokens to cash rewards.
Is Lucky Cat App a Scam?
---
Unfortunately, I don't have any proof to claim that Lucky Cat is a scam or a legit app.
What I can say is that many users don't seem to earn any money with it.
This is not a surprise to me as I have reviewed lots of apps that make it hard for users to cash out.
The company claims that winners are selected at random, but they don't tell you the odds of winning.
Would you spend a significant amount of your time playing a game whereby your chances of winning are 1 in 1 million?
In the beginning, you can save up a few dollars relatively fast.
But as you approach $10, your earnings will start getting less until you realise you are just earning Tokens.
Don't be surprised if you don't reach $10 even after scratching hundreds of cards!
You will probably get stuck before you have the chance to cash out your $10.
Pros and Cons
---
Pros
It's 100% free.
It works worldwide.
Cons
Slim chances of winning.
Lack of transparency – The company doesn't say how many prizes they are giving away per week or month.
As you approach $10, you will probably earn less and less.
Many people get stuck before reaching $10 and can't cash out.
The app doesn't allow users to exchange tokens for cash anymore!
You will watch lots of ads.
There is no FAQ.
How Does Lucky Cat App Work?
---
Just like most reward apps, Lucky Cat is entirely funded by advertisers.
The company generates revenue by displaying frequent video ads to the user.
As a result, a percentage of the revenue is shared with players in the form of cash prizes.
Therefore, it doesn't seem on the company's best interest to give away lots of prizes.
The more people cash out, the less money the company will keep as profit!
Installation and Registration
Lucky Cat app is currently available worldwide for Android devices.
You can download the app for free on the Google Play store and sign up with your Facebook or Google account.
Once you sign up, you can start playing immediately!
Playing Lucky Cat
As I mentioned earlier, you will get 50 new scratch cards every day.
The game is very simple!
If you match 3 symbols, you will earn the prize stamped on the card.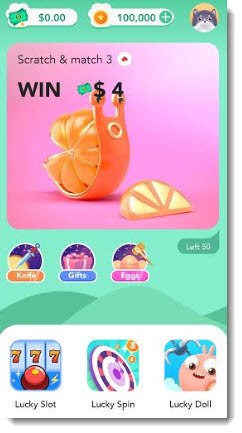 The cards are free, but you will be "forced" to watch 30-second ads to keep playing or unlock new cards.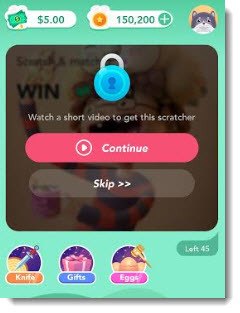 In other words, you are trading your time for scratchers that won't give you any money!
Not surprisingly, the higher the prize, the lower your chances to match 3 symbols.
Most scratchers will just award you Tokens, which, unfortunately, can't be exchanged for cash rewards.
When you get Tokens, you can double your earnings by watching a video ad.
I scratched the first 15 cards and amassed a total of $5.
After another 10 cards, I got $0 and a few thousands of Tokens.
So, in my opinion, winning cards don't seem to appear at random.
In addition to scratch cards, you can also play other games such as the Lucky Slot, Lucky Spin, Daily Egg and the Lucky Doll.
I also played the lucky spin over 50 times without any luck!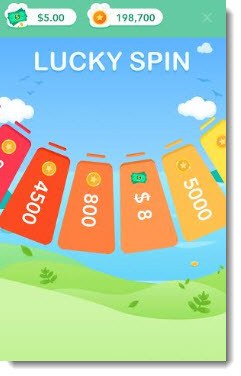 Although there are $4, $8, $40 and $200 prizes on the wheel, I only got tokens.
So, regardless of which game you play, your chances of winning are very slim!
How Do You Get Paid?
---
The minimum payout threshold is $10, but Lucky Cat doesn't explain how to cash out. There is no FAQ!
If you tap on your cash balance before reaching $10, nothing will happen!
Before a recent update, Lucky Cat required a minimum of 10.000.000 Tokens to redeem for a $2 Amazon Gift card.
However, if you tap on your Token balance now, they will show you a list of apps that you can download in order to earn more Tokens.
But what for?
Unfortunately, there is no place where you can redeem your tokens anymore.
And even if there was, saving 10 Million Tokens would take FOREVER!
User Reviews – Complaints
---
Lucky Cat app has been rated 4.7 out of 5, which came as a big surprise to me!
If you check the review section on Google Playstore, you will see lots of and lots of complaints.
Some people claim that their prizes disappeared before they could cash out.

Also, lots of people complain that they can never cash out because they stop winning even the smallest of prizes.

If that wasn't enough, people can't find a way to cash out through the app.

Conclusion
---
Lucky Cat is one of those apps that probably will waste your time and give you nothing in return.
The number of complaints that I have seen on the Playstore is staggering!
You need to extremely luck to win any prize, and besides, you may never redeem your tokens.
Usually, I don't recommend money-making apps on my blog because most of them are a complete waste of time.
There is no guarantee that you will make any money because the company have total control over your earnings.
As I said, I can't claim that Lucky Cat is a scam!
However, I'd avoid this app at all costs.
How to Earn a Full-Time Income from Home
---
Apps like Lucky Cat look very attractive in the beginning, but people get very frustrated over time.
Instead of counting on luck, I decided to build my own internet business back in 2015!
During this time, I've grown a successful affiliate site that generates over $1,300 per month in passive income.
I was a complete newbie when I decided to create this site. But this excellent step by step program showed me the way.
Building an affiliate website is a great way to grow a steady income online.
It takes a lot of upfront work, but if you keep at it, you can gradually earn enough money to cover all your living costs.
At this point, you can quit your job and enjoy time and location freedom!
>> Click here and start your online business for free! 
Final Words
Thanks for taking the time to read my Lucky Cat app review. If you have any questions about this app, feel free to ask in the comment section below!