Welcome to my Lucky Cat App review!
I've recently found a very popular mobile application to win free rewards called Lucky Cat.
Over one million people have installed Lucky Cat in hopes to make $50 just for scratching cards and playing other games.
I was overly excited to download this app and see if it provides a genuine opportunity to make money.
Is Lucky Cat a legit app? Does it pay or not?
In this review, I will explain how this app works and give you my honest opinion about it.
If you want to generate a job-replacing income from home, don't forget to check out my #1 recommendation! This is the same program that helped me reach $1,600 per month, quit my job, and buy a one-way ticket to South East Asia! 
Lucky Cat App Review
---
Name: Lucky Cat
Website: https://lbsbanana.com/
Company: Lbsbanana Ltd
Minimum Payout: $50
Membership Eligibility: Worldwide
Price: FREE
Overall Rating:

0/5

Recommended?

No
What is Lucky Cat App?
---
Lucky Cat is a mobile app where you can play free scratch cards for a chance to win cash prizes.
The app is very similar to Lucktastic, Scratch Royale, Lucky Go, and Scratch day.
There are other similar scratch games on Google Play, but these are the most popular.
Every day, you will get unlimited scratch cards with prizes ranging from a few cents up to $1000.
You will also collect Tokens which you can supposedly exchange for Gift cards.
At first glance, Lucky Cat seems like an interesting app to earn some easy cash.
But unfortunately, lots of people have reached the minimum payout threshold and didn't get paid.
Is Lucky Cat a Legit App? 
---
If you check the Lucky Cat reviews on Google Play, you will find lots of people who didn't get paid after reaching $50.
Some people don't even reach the minimum payout threshold because their earnings drop over time.
This is not a surprise to me as I have reviewed lots of reward apps that make it hard or even impossible for users to cash out.
Nevertheless, I cannot claim that Lucky Cat is a fraud because of this.
It's simple to understand why by reading the Terms and Conditions.
It says:
"Lucky Cat cannot guarantee and does not promise any specific results from use of the app"
Well, that means they can deny your payment without breaking any laws.
It's unfortunate that most people use Lucky Cat for a long time, unaware they are unlikely to get paid.

The company claims to select winners at random, but they don't tell you the odds of winning.
Would you waste many hours of your life playing a game that only gives you one chance in a million?
Pros and Cons
---
Pros
It's 100% free.
It works worldwide.
Unlimited scratch cards.
Cons
There are lots of negative reviews. Many people cannot cash out!
The more you play, the less you earn.
Lucky Cat may stop giving you cash rewards when you are close to the minimum payout.
The odds of winning are slim.
Lack of Transparency. The company doesn't say how many prizes they are giving away per week or month.
It takes months to request a payment. Expect to scratch over 1000 cards before you can reach $50.
There is an excessive amount of advertising.
It drains your battery and consumes a lot of internet data.
There is no FAQ.
How Does Lucky Cat App Work?
---
Lucky Cat app is funded by advertisers, meaning the company makes profits by displaying sponsored clips to the user.
Then, they share a percentage of the revenue with players as cash prizes. That's how the business is supposed to work.
Installation and Registration
Lucky Cat app is available worldwide on Android devices.
You can download it for free and register with your Facebook or Google account.
Once you create your free account, you are free to play.
Scratch cards
When I first reviewed Lucky Cat one year ago, there was a limit of 50 scratchers per day.
Now, you can play as much as you want.
It's very simple!

Scratch the card, and you match 3 symbols, you win the cash or token value stamped on the card.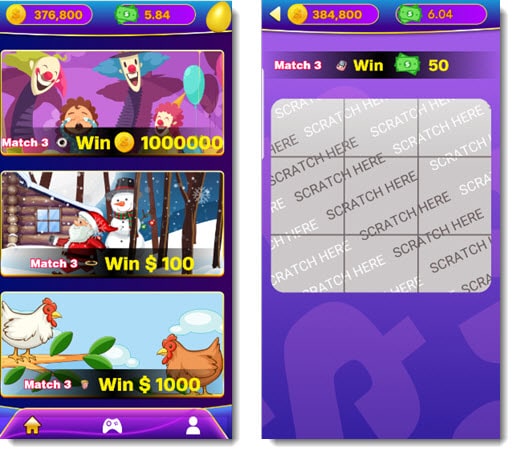 Scratchers are free, but you must watch videos to keep playing or unlock extra cards.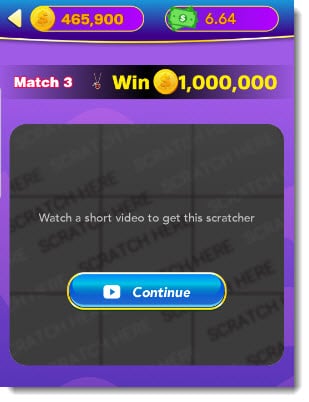 Note that you are trading your precious time for tokens that may never convert to real money.
What's worse, Lucky Cat will expose you to an insane volume of advertising!

This reward platform is going viral! Cash out via PayPal, Visa, Gift Cards, and in-game currencies - Click here to find out how to generate an extra $10+ per day! 
The higher the prize, the lower your chances of matching 3 images. In fact, it's almost impossible to win a decent prize.
The app awards you anywhere between 1000 – 3000 Tokens even if you don't match 3 symbols.

Furthermore, you can double your earnings by watching a 30-second clip.
Your balance adds up slowly considering you need at least 10 Million Tokens to cash out.
I made $5 by scratching the first 15 cards and $0 after another 10 cards.
So, that is enough proof to me they do not select winners at random.
Lucky Cat also has other games such as the Lucky Slot, Lucky Spin, Daily Egg, Lucky Knife, and Lucky Doll.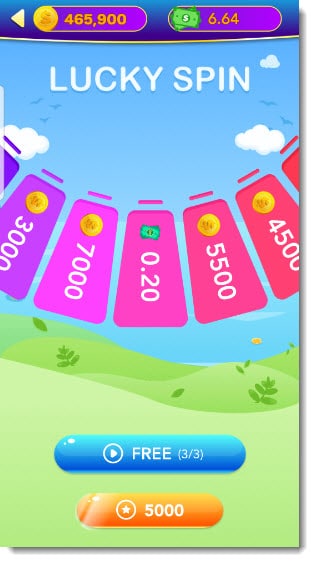 I need to mention that I played over 50 times with no luck!
Although there are $4, $8, $40 and $200 prizes, the wheel is rigged because it gives tokens most of the time.
Lucky Knife
The goal is to throw all the knives on the turning wood to pass the level.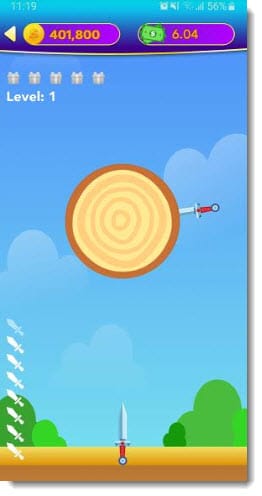 You will earn cash or token whenever you pass 5 levels. It's a hard game, but if you fail, you can revive it by watching a video.
Lucky Slots
With the Lucky Slots, you will win a prize if you match 3 cash icons.
You can still earn a few cents if you match only 2, though.
Just like the Lucky Spin, you get 3 chances to win by watching a video. After that, Lucky Cat will charge you 5000 for each gameplay.
Lucky Doll
In this simple game, the goal is to grab gift boxes with the claw so you can collect prizes.
Most of the time, you will get a few Tokens as usual.
How Do You Get Paid?
---
As you know, your Lucky Cat account has a cash balance and a token balance.
You can withdraw your cash balance via PayPal once you accumulate $50 or $40 depending on your country.
As for tokens, you can redeem for PayPal and gift cards from major retailers when you reach the minimum requirement:
Amazon ($4) – 10,000,000 Tokens.
PayPal, Google Play, Starbucks, Walmart ($12) – 30,000,000 Tokens.

User Reviews – Complaints
---
Users have rate Lucky Cat app 4.7 out of 5, which came as an enormous surprise to me.
If you check the review section on Google Play, you will see lots of and lots of complaints.
People report that their prizes disappeared before they could cash out.

Also, lots of people complain that they have been stuck somewhere below $10 and thus can never cash out

Not only that, but some people don't find the withdraw option on the app.

Update: 2020: Hordes of people still unable to cash out for the following reasons:
As soon as people claim the reward, the app blocks them because of suspicious activity.
The cash out button doesn't work.
The withdraw option has disappeared.
Lucky Cat stops giving cash rewards when players are close to $50.
There is a "Loading Failed. Error" when people request a payment.
Conclusion
---
Lucky Cat is just one among hundreds of apps that will probably waste your time and give you nothing in return.
The number of complaints I have seen on Google Play and different forums is staggering!
There is an unusual level of disappointment and anger towards this app.
Some people say they will report it to Google.
However, until strict regulations are in place, Lucky Cat can continue their business as usual.
You need to be extremely lucky to match 3 symbols and win a decent prize.
But even if you reach $50, the chances of getting paid are close to zero!
I'd avoid Lucky Cat app at all costs!
Verdict: Not Recommended
I there a Better Alternative to Lucky Cat?
---
I don't recommend any similar app on my blog because most of them are a complete waste of time.
There is no guarantee that you will make any money because the company has total control over your earnings.
How to Earn a Full-Time Income from Home
---
Apps like Lucky Cat look very attractive in the beginning, but the chances of making money are slim.
Instead of counting on luck, I promised myself that I would build a successful online and quit my job.

And so I did it!
From 2015 to 2019, I've grown a successful affiliate site that is covering all my living expenses.
I was a complete newbie when I started, but this excellent step-by-step program showed me the way.
An affiliate website offers an exceptional opportunity to grow a steady income from home.
It takes a lot of upfront work, but if you are consistent, you can achieve remarkable results within 1 or 2 years.
Eventually, can quit your job and enjoy time and location freedom!
>> Click here and start your online business for free!
Final Words
Thanks for taking the time to read my Lucky Cat app review.
If you have questions about this app, let me know in the comment section below!
Till next time! 😉