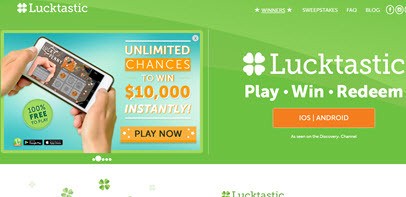 Welcome to my Lucktastic app review!
I found the Lucktastic app in 2018 while I was searching for ways to make money online.
The official website claims that Lucktastic will give you unlimited chances to win $10,000 by playing free scratch cards.
Is it really possible to earn money with Lucktastic? Is it a scam or a legit app?
Keep reading as I am going to reveal all the important details that you must know before playing!
You may also want to check out the step-by-step training that helped me reach $1,300 per month working from my laptop (no special skills required).
Lucktastic App Review
---
Name: Lucktastic
Company: Jump Ramp Games, Inc.
Website: https://lucktastic.com/
Membership eligibility: US (+13)
Price: Free to join
Similar apps: Lucky Day App, Happy Scratch, Scratch Day app
Overall Rating:

1/5
What is Lucktastic?
---
Lucktastic is a mobile application that allows US residents to play free scratch cards for a chance to win up to $10,000.
Unfortunately, you won't be eligible for rewards if you don't live in the United States.
If that's the case, there are many similar scratch games available Worldwide such as Scratch Royale and Scratch Day.
Both of them reward members from all over the world.
Apart from the daily contests, Lucktastic also gives you Tokens redeemable for gift cards from over 30 retailers such as Amazon, Walmart, Starbucks and more!
Is Lucktastic a Scam?
---
Due to lack of proof, I can't tell you whether Lucktastic is a scam or a legit app.
However, there are many users complaining about this app on the internet as they can't exchange their tokens for real cash.
If you visit the BBB (Better Business Bureau) website and search for Jump Ramp Games, Inc, you will see that the company has been rated F.
On that website, there is a total of 52 complaints, most of which haven't been answered by the company.

That's very alarming!
Many people complain that when they try to cash out, the gift card is out of stock! 
According to the website, Lucktastic has already paid over $3 Million in prizes and rewards to over 220,000 members.
But it's impossible to know for sure whether the cash prizes are real or fake.
You can see the pictures and videos of many winners on the website.
Also, you can see many testimonials on their YouTube channel.
Here is one of them:

The question is: How do we know those are real winners?
Their full names are never disclosed, and even if they were, how could anyone prove that they won the prize?
I want to believe in the good faith of Lucktastic and think the company would never forge a winner.
However, the company should be more transparent regarding the winning cards.
For example, they could address how often they issue a winning card and the approximate odds of winning.
Pros and Cons
---
Pros
It's 100% free – No in-app purchases.
Lucktastic is available for both Android and iOS devices.
All you have to do is play scratch cards.
Cons
The odds of winning cash prizes are very low.
Lucktastic doesn't provide an estimate of the odds of winning.
It takes months to earn enough tokens to be able to cash out.
Many users report that they can't cash out for several reasons.
There are lots of ads.
If your account is inactive for more than 30 days, they will debit $1 per month. If your balance account is zero, you may lose your account permanently.
How Does it Work?
---
Lucktastic provides free scratch cards that you can play every single day for a chance to win prizes.
The app can afford to reward players because it's entirely funded by advertisers.
As you play scratch cards, you will see video ads after 3 or 4 games, which is how the company generates revenue.
Then, part of the revenue is shared with members in the form of cash prizes.
Installation and Registration
If you want to play Lucktastic on your Android or iOS device, you must download the app on the Google Playstore, or App Store.

The next step is to register for free using your email address, Facebook or Tweeter account.
Playing Lucktastic
Lucktastic will offer you lots of scratch cards that will reset daily at 5 am EST/2 am PST.
There are extra cards every day at 9 pm EST and sometimes, you can get new cards between 1 and 5 pm EST.
But don't worry! Lucktastic will send you a push notification whenever new cards are available.
Now, pick your card and scratch it!

This reward platform is going viral! Cash out via PayPal, Visa, Gift Cards, and in-game currencies - Click here to find out how to generate an extra $10+ per day! 
If you match 3 of the winning symbols, you will earn instant rewards of up to $10,000.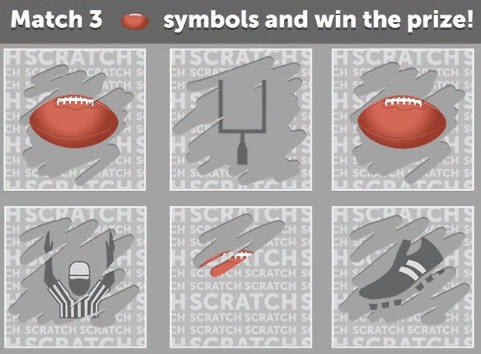 After playing 3 or 4 scratch cards, you will see a video ad that usually lasts for 30 seconds.
Keep in mind that in order to unlock the $10,000 prize, you will have to play at least 150 scratch cards.
Every time you play a scratch card, you also earn an entry to participate in the following contents:
$500 to spend on groceries (monthly contest).
$200 to spend on gas (monthly contest).
$500 worth of Amazon gift cards given out to over 50 winners daily.
A chance to play the Pots of Gold game and have a chance to win up to $1 Million (available until March 17, 2019).
Digital Tokens 
---
As a consolation for not matching 3 symbols, Lucktastic will offer bonus tokens every time you scratch a card.
You can exchange tokens for a variety of gift cards or use them to get additional contest entries.
According to a user on a Reddit thread, it took him around 6 months to get enough tokens to redeem a $10 gift card.
But as you will see later, many people don't have the same luck!
What Are the Odds of Winning?
---
The company claims that your odds of winning contests depend on the number of entries.
As for instant rewards, the odds depend on the number of people playing the scratch cards.
There is no way of knowing the exact odds of winning because they don't know how many people or entries there will be in total.
However, they could at least provide an estimate based on past contests and instant prizes.
Unfortunately, Lucktastic doesn't tell people how difficult it is to win a decent prize!
Nevertheless, it's safe to assume that winning a big prize is very hard due to the large number of participants. 
Many people express their frustration on social media and forums for not winning any prize despite playing for months or years.
Does Lucktatic Pay?
---
After reading lots of user reviews on both Google Play and BBB, I was shocked by the sheer number of people having issues with payments.
As you already know, matching 3 symbols is very difficult, so people count on their tokens to exchange for gift cards.
However, it seems that all sorts of issues will happen to prevent you from cashing out.
Many people complain that when they try to redeem tokens for a gift card, it's always out of stock.

Other users get stuck between $3.50 – $4.50 regardless of how many scratch cards they play. So, they can never reach the minimum payout threshold of $5.
A user claimed that when she finally earned enough token to redeem for a $100 Amazon gift card, she was told to install a bunch of partner apps. Despite downloading those apps, the gift card was still unavailable.
Here is a review on the BBB site reporting a similar requirement:


But wait, there is more!
Recently, a user complained about getting a "Network Call Error" on half of the scratch cards.
Here is what another person said about Lucktastic:

Tokens Are Not Real Money! 
As a loyal user, you play Lucktastic because you expect to convert your tokens for gift cards in the future. Fair enough!
But it's important to read section 26 in the Terms and Conditions, where it says:
"Virtual Tokens are not real money, and do not have monetary value. You acknowledge that Virtual Tokens are not real currency. We make no guarantee as to the nature, quality or value of the features of any third-party good or services that will be accessible through the use of Virtual Tokens, or the availability or supply of Virtual Tokens."

You have no property interest, right or title in or to any such Virtual Tokens.
In other words, there is no guarantee that you will redeem your tokens as you don't have any rights to them.
This also applies to most, if not all reward apps available on Android and iOS devices.
That's why most of these apps receive an avalanche of complaints day after day!
I believe that, at some point, Google will start cracking down on these money-making apps that underdeliver.
Final Thoughts 
---
I don't recommend playing Lucktastic because you may not get paid after scratching hundreds of cards.
The truth is that even if the app is legit, it's extremely difficult to match 3 symbols and win a decent prize.
Members don't know the odds of winning, and besides, there are many people who can't redeem their tokens.
If you decide to play Lucktastic, don't set high expectations because the app doesn't seem to work in your favor.
Verdict: NOT RECOMMENDED
How to Make a Full-Time Income Online
---
Apps like Lucktastic will only waste your time for very little money if any!
If you want to grow a steady online income capable of replacing your full-time job, then here is my advice.
One of the best strategies is to create a website that generates passive income.
In 2015, I discovered this excellent step by step program that showed me how to grow a lucrative affiliate site.
The strategy revolves around setting up a WordPress site, writing helpful articles and promoting other people's products.
I knew that all my hard work would eventually pay off, so I persisted! I pushed hard and now the site generates over $1,300+ per month.

I highly encourage anyone who wishes to make a full-time income from home to join for free, watch the first 10 lessons and take massive action.
The potential is huge, but it only works if you consistently apply the strategies and give your business enough time to grow.
Final Words
Thanks for reading and I hope this Lucktastic review. I hope it was helpful!
If you have any questions, feel free to ask in the comment section below.
Peace!