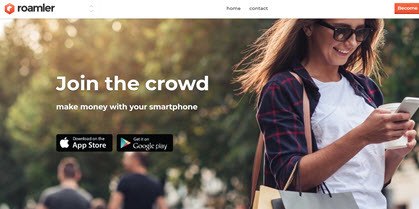 Welcome to my Roamler app review!
If you are trying to make some extra cash with your smartphone, you may have come across the Roamler app.
Roamler is an Android and iOS application that allows you to become a mystery shopper and complete simple tasks for supermarkets, restaurants, cafes, and other businesses.
Once you download the app and complete your training, you can start completing paid tasks whenever you want. The company will ask you to complete short questionnaires, act as a mystery shopper, and take pictures in-store.
Many mobile applications reward users for completing these mystery shopping tasks, so you need to make sure you are using a decent one.
I know you are probably wondering if Roamler is a legit and safe app to make money. Will you receive the payment or work for free?
In this review, I will explain everything you need to know about this popular application and give you my honest opinion. In the end, I will also compare it with some alternatives available for European residents.
Let's dive in!
Before you leave, you may also want to check out the step-by-step training that helped me reach $1,600 per month working from my laptop (no special skills required).
Roamler Review
Name: Roamler
Website: https://www.roamler.com
Company: Roamler B.V.
Price: Free to join
Similar apps: appJobber, Premise, Mobeye
Overall Rating: 

3.8/5

This reward platform is going viral! Cash out via PayPal, Visa, Gift Cards, and in-game currencies - Click here to find out how to generate an extra $10+ per day! 
What is Roamler?
Roamler is a secret shopping app that allows you to complete paid tasks for stores and leading brands in your area. As a Roamler, your job is to provide valuable information and insights for companies.
The app is operated by Roamler B.V., an information technology company based in the Netherlands.
As a Roamler, you can make money by
Providing in-store insights – taking photos and answering questions.
Acting as a mystery shopper – providing feedback on services.
Refilling shelves.
Doing merchandising.
Selling products on behalf of clients.
And more!
Most tasks are location-based, meaning you will have to visit a business's premises to complete them.
The great thing about joining an app like Roamler is that you can choose tasks based on your preferences, skills, and locations. Not only that, but you will have the flexibility to work anytime you want as an independent contractor.
The Roamler app is currently available in the following countries: The UK, Ireland, the Netherlands, Portugal, Spain, France, Italy, Germany, Poland, Belgium, Denmark, Sweden, Norway, Austria, Turkey, and Chile.
Is Roamler a Legit App?
Absolutely! Roamler is operated by a reputable company that is trusted by big brands like Coca-Cola, Unilever, Philips, Heineken, and Red Bull.

Most people enjoy being part of the Roamler crowd and working closely with local businesses. I was impressed with the number of 4 and 5-star reviews that I've seen on Google Play, App Store, and Trustpilot.
The reason why Roamler has an excellent reputation is that the company doesn't reject missions slightly. Unlike other apps, Roamler reviewers are not pressured to reject tasks due to minor details. They will allow you to appeal and assume responsibility for your mistakes.
Secret shopping apps like Field Agent, Mobee, and Premise are stricter and thus, receive a lot more complaints than Roamler.
However, it's important to read the instructions carefully and aim for perfection. Mistakes that may seem irrelevant to you might be significant to the company.
I advise you to always double-check all the requirements before submission.
Pros and Cons
Pros
Incentives are low, but it's better than other mystery shopping apps.
The reviewing process is very fair and not as strict as other apps. It doesn't reject you outright because of little mistakes.
Earn money in a flexible way.
Most tasks are easy to complete.
Get paid instantly via PayPal.
Fast payment.
It's available in many European countries.
The support team is very helpful.
Cons
Most tasks are location-based, meaning you have to visit a nearby store.
You have to reach level 2 before you can accept paid tasks.
There are not many tasks depending on your location.
Depending on your country, you may need an activation code to join.
How Does Roamler Work? 
Install the App 
If you want to become a Roamler, the first step is to install the app on Google Play or the App Store.
Before getting access to the app, you must enable the location permission. This will allow Roamler to see if you live in a supported region and display tasks near you.
Invitation Code 
Depending on your country, you may have to enter an invitation code, which you can find on their Facebook group or Twitter page (use #Roamler or #Roamlerinvite).
I thought it would be easy to find this code, but it isn't. You have to ask people on Twitter and hope someone will give you one active code. Besides, each code only works for a limited number of people, so they have an expiration date.
You won't need the code if you live in a country where the Roamler community is expanding.

Browse Tasks
You can browse for tasks by selecting the  "paid" tab, where you can find a list of opportunities at your level.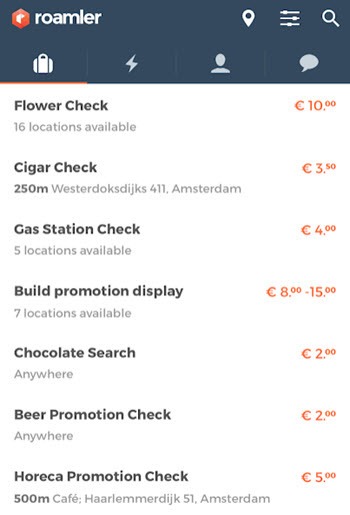 Alternatively, you can see on the map all the tasks that are closer to you.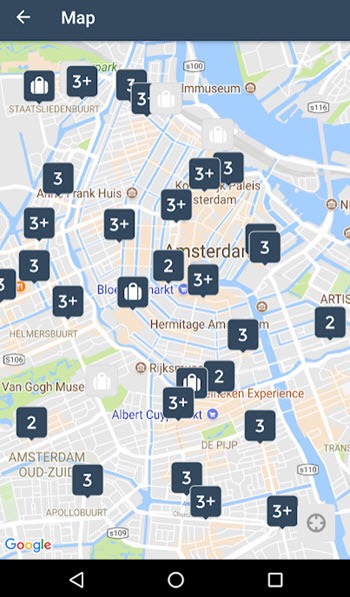 The availability of tasks depends on your location, but there are usually lots of missions in big cities. Dense urban areas offer more opportunities, but the competition is higher.
I advise you to browse for tasks every night as most opportunities become available on the night before.
You will also receive a push notification whenever a new task is close to you.
Complete the Task
Read the instructions carefully before you start so you know what to do once you are at the location. Then, reserve the task if you are prepared to complete the mission within 2 hours.
When completing tasks, pay attention to every detail and make sure you meet all the requirements.

Avoid submitting photos that are too dark, too light, or blurred. Also, it's very important that you don't photograph people's faces.
Before taking the photo, wait for a clear view of the shelf and make sure all products are visible by moving them to the front.
Remove any obstacle in the front of the shelf, and if there is a pillar on your way, take a picture from an angle and mention it in the comment.
Unlike other mystery shopping apps, Roamler will give you a second chance if you make a mistake or if any information is missing.
Next, I will show you what you can expect from each type of task.
Types of Tasks
According to the website, there are over 2 million tasks every year divided into four main categories: In-store insights, mystery visits, merchandising, and sales.
In-store insights
This is one of the easiest and more common tasks that you can do for Roamler. You just have to visit a nearby store, supermarket, petrol station, etc. and report on the availability and visibility of products.
Your job usually involves answering a few questions and submitting photos of products and shelves.
Mystery Visits
As a mystery shopper, your job is to visit the business premises and interact with staff as if you were a real customer. Then, you should provide feedback on the customer service and maybe upload some pictures as well.
As always, Roamler will give you clear instructions on what you must say and do for each assignment.
For example, you may be asked to visit a supermarket and ask the staff if he/she can help you find a product. Or, you may have to visit a pub and ask the server which beer he/she recommends.
Don't worry! You will get reimbursed for any expense incurred as part of your secret shopping mission.
Merchandising
You can apply for the merchandising role and work filling up shelves, organizing displays, and setting up promotional materials. This role requires you to complete a few experience tasks and reach level 3 before applying.
Sales
As part of the sales crowd, you will be asked to sell products or services on behalf of clients. The payment is based on your performance, meaning the more products you sell, the more money you will make.
Just like the merchandising role, you can only apply for sales tasks if you reach level 3. However, you must have either some sales experience or excellent interpersonal skills.
Roamler Levels
After completing each task, you will earn not only cash but also experience points (XP) that help grow your level.
You will start at level 1 and jump to level 2 once you accumulate 500 XP.

As I mentioned, you will only get paid by completing tasks at level 2 and above. By reaching higher levels, you will not only unlock better-paid tasks but also reserve more tasks simultaneously.
For example, level 2 can reserve two tasks at once. Level 3 can complete three tasks at once, and so on and so forth.
How Much Money Can You Make With Roamler?
It depends on the level of task you complete and the availability of missions in your area. Higher-level gigs offer higher incentives because they are more complex and thus, take more time and effort to complete.
Most missions pay between 3 and 10 euros, which is slightly better than other mystery shopping apps. Some people claim to make over 100 euros per month with Roamler.
However, before accepting any task, you should ask yourself:
How much time do you have to spend driving/walking to the location and completing the tasks? Is it worth the time and effort?
Most of the time, you will make less than the minimum wage. 
Big companies are taking advantage of these crowd-sourcing applications to save a lot of money.
On the other hand, many people are struggling financially and will accept working for very little.
How Do You Get Paid? 
Another great thing about the Roamler app is that you don't need to reach a minimum amount to cash out. You can withdraw the money to your PayPal account as soon as your mission is approved.
You can also request an instant payment to your bank account, but this option is only available in Europe.
Conclusion 
Roamler is a legit app that has been rewarding mystery shoppers since 2011. It's a decent app, especially if you live in the Netherlands, Germany, and the UK, where you will find lots of missions.
Roamler is the best app of its kind because they offer generous incentives and review submissions fairly. Moreover, there are always tasks available and many reasons, and you don't need to wait a long time before you get the money in your account.
Nevertheless, only you can decide whether it's worth the time and effort after considering the time and transportation costs.
Verdict: Legit
How to Make a Full-Time Income Online
In 2015, I decided to build an online business to pursue time and location freedom. I must confess it was not easy to attract an audience and start making money. It took me one year and a half to reach $100 per month.
However, I knew that all my hard work would eventually pay off and keep earning me a residual income for years.

So, I pushed hard, and now the site generates over $1,600 per month. This business model allowed me to quit my job and make money while traveling the world.
My job is to write helpful on my own website and promote products as an affiliate marketer.
It's a solid strategy that successful marketers have been using for decades to rank sites on Google and make lots of commissions.
I started as a complete newbie, but thanks to this excellent step-by-step program, I learned the ropes.
I highly encourage anyone who wishes to make a full-time income online to join for free, watch the first ten lessons, and take action.
The potential is huge, but it only works if you apply the strategies daily and give your business enough time to grow.
> Click Here and Check Out My No. 1 Recommended Program
Final Words
I hope this Roamler review was helpful to you. If you have any questions, please let me know in the comment section below.
Stay safe and peace out!