Roamler Review – It it a Legit App? Will You Get Paid?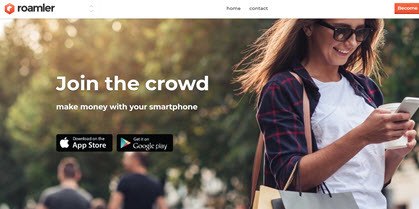 There are lots of mobile applications these days that reward users for doing simple tasks. In this post, I will review an app called Roamler and give you my honest opinion about it.
Is Roamler a scam or a legit opportunity?
Let's check it out!
You may also want to check out the step-by-step training that helped me reach $1,000 per month working from my laptop (no special skills required).
Roamler Review
---
Name: Roamler
Website: https://www.roamler.com
Price: Free to join
Overall Rating: 

3.4/5

[yasr_overall_rating size="medium"]
What is Roamler?
---
Roamler is a crowdsourcing app that gives you the opportunity to make money by completing simple tasks (missions) such as:
Taking pictures of products in-store.
Answer questions about an advertisement on the street.
Acting like a mystery shopper and provide feedback on services.
Build up promotional displays.
And more!
Most tasks are location-based, meaning you will have to go to a certain location or store in order to complete them.
The app was created by a Dutch company called Roamler B.V, and it's not only available in the Netherlands but also in many other European countries, the USA, the UK, Canada, and a few others.
Pros and Cons
---
Pros
Fair pay rate.
Most tasks are easy to complete.
Payments are processed via PayPal.
Fast payment.
It's available in many countries.
Cons
You must visit the store.
It's location dependant – There are not many tasks depending on your location.
You need an activation code to join.
How to Become a Roamler?
---
Roamler is available for download on Android and iOS devices.
Depending on your location, you will be asked to provide an invitation code, which you can get by asking for it on their Facebook group. There is always someone willing to share the code.
After that, you will have to complete some training tasks before you start receiving paid ones.
Completing Tasks
---
As Roamler is focused on location-based tasks, you must keep the GPS service on so it can identify tasks near you.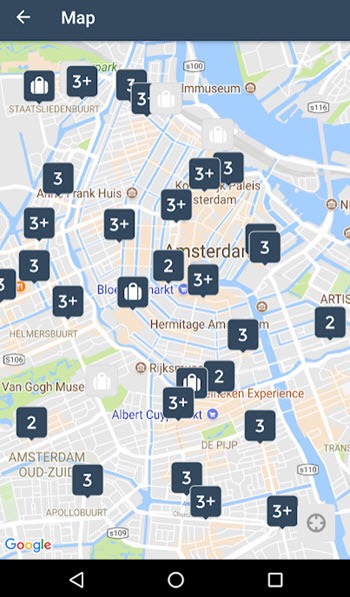 Check the task list every night because most tasks will appear on the night before they become available.
Some countries or places naturally have more opportunity than others, and it's also important to mention that if you live in a big city, you will face more competition.
When completing tasks, make sure you don't miss any instruction, avoid blurred images and images showing people's faces.
If your task is rejected, they will send you a message explaining the reason why.
Levels
---
After you complete a task you will earn not only cash but also points (XP) that contributes to growing your level. You will start at level 1 and rise to level 2 when you reach 500 XP.
Keep in mind that you will only get paid from level 2 and above.
The higher your level, the more privileges you will have. For instance, the higher your level, the more tasks you will get, and the more tasks you can reserve simultaneously.
So, level 2 can reserve 2 tasks at once. Level 3 can complete 3 tasks, and so on…
How Much Money Can You Make?
---
Most tasks pay between $2 and $5, but it's possible to earn more depending on complexity.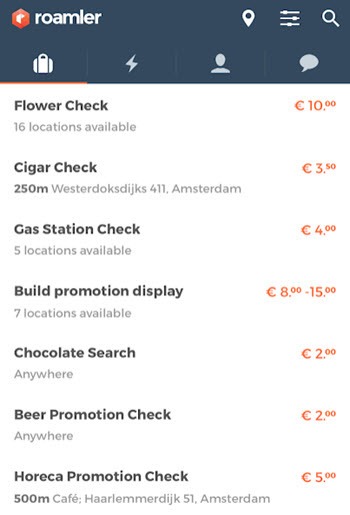 Some people claim to make hundreds of dollars per month with Roamler. One person said he or she made 150 euros in 2 or 3 weeks.
Well, that is possibly true, but the reason this person makes a lot of money is probably that he or she is from the Netherlands.
What discovered was that in the Netherlands, which is the country where Roamler's firm is located, companies spend a lot of money to acquire in-store insights and all sorts of information to improve performance.
So, how much you will make really depends on your country and how many opportunities are near you.
Payment
---
You can cash out anytime (no minimum balance required) via Paypal or current account. However, current account payment is only available for EU residents.
Conclusion – Is Roamler a Scam?
---
No, you can rest assure Roamler is a legit app that has been paying users since 2011!
It's a great app, especially if you live in the Netherlands and the UK where you will find many opportunities.
Verdict: Legit
How I Make Money Online
---
In 2015 I decided to build an online business to pursue time and location freedom.
I must confess it was not easy to attract an audience and start making money. It took me one year and a half to reach $100 per month.
However, I knew that all my hard work would eventually pay off and keep earning me a residual income for years.
So, I pushed hard, and now the site generates over 1,000 per month.
My job is to write helpful content that people are searching for on the internet. It's a solid strategy that internet marketers have been using for decades to rank sites on Google.
I started as a complete newbie, but thanks to this excellent step by step affiliate marketing training, I learned the ropes.
I highly encourage anyone who wishes to make a full-time income from home to join for free, watch the first 10 lessons and take action.
The potential is huge, but it only works if you consistently apply the strategies and give your business enough time to grow.
Click Here and Check Out My No. 1 Recommended Program
I hope this Roamler review was helpful to you. If you have any questions, please let me know in the comment section below.
All the best.