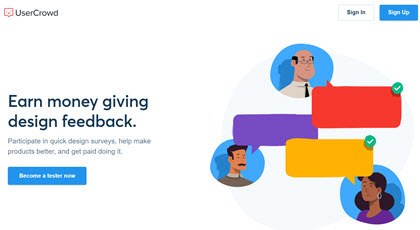 I recently discovered UserCrowd and the possibility of making money by giving design feedback.  At first glance, the site doesn't look suspicious, but I decided to sign up and check whether this is a real opportunity or another scam.
You may also want to check out the step-by-step training that helped me reach $1,000 per month working from my laptop.
UserCrowd Review
---
Name: UserCrowd
Website: https://usercrowd.com/
Price: Free to join
Overall Rating: 

3.2/5
What is UserCrowd?
---
UserCrowd is a platform that allows you to get paid for providing quick design surveys.
You don't need to have any design knowledge or experience to become a tester.
Therefore, you won't have to go through an exam, only a simple sign up form and a short profile questionnaire.
The company which operates this platform is called UsabilityHub Pty Ltd. It uses Usercrowd.com to recruit testers, and another one called to sell its usability testing services.
Is UserCrowd Legit?
---
What worried me when I first visited UserCrowd was the omission of the Terms and Conditions and the About Us page.
I don't know why those important pages are missing, and if UserCrowd were not operated by UsabilityHub, I would not recommend it to you.
The fact that UsabilityHub helps big brands such as Amazon, TaskRabbit, Google, and Philips led me to believe UserCrowd was a legit site.
Then, I came across many positive testimonials and people who received payments without any issues. So, now I am confident to say that UserCrowd is indeed a reliable platform.
Pros and Cons
---
Pros
Tests are short and easy!
No voice recording required.
It's available worldwide.
Cons
Very low pay.
There are not many tasks
It takes a long time to cash out.
How Does UserCrowd Work? 
---
Registration
The registration is free, and there is only a quick profiling questionnaire in the beginning before you can start taking tests.
Tests
You have the options to receive push notifications and email notifications whenever a new test becomes available.
I recommend you keep the push notifications activated as you will know of new opportunities straight away. Because spots are limited, you need to act fast to guarantee yours.
There are many different tests that UserCrowd can invite you to perform. These include:
First Click Tests: Interact with websites
Design surveys: Provide feedback through quick surveys.
Preference tests: Choose the design that appeals you the most and provides follow-up questions.
Five seconds tests: Give your first impressions.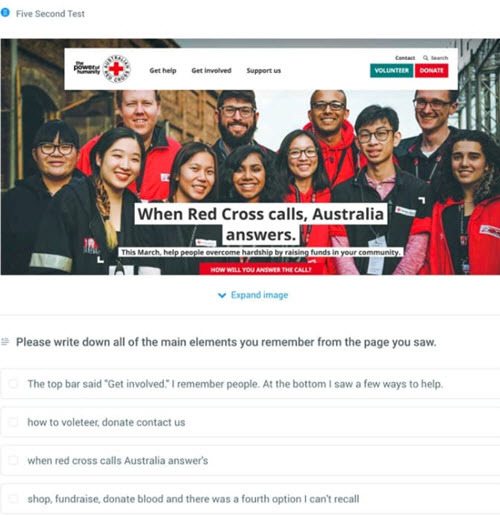 What is great about UserCrowd is that most tests take less than 2 minutes and are quite interesting sometimes.

Follow The Guidelines
When giving responses, it's vital that you follow the guidelines to reach the minimum quality standard.
Read the instructions and questions carefully
Don't rush.
Provide thorough and clear answers.
Be honest and professional.
Before payment, UserCrowd will review all your responses to make sure they comply with their guidelines. You will not get paid for answers that fail.
How Much Money Can You Make? 
---
The pay rate for each test depends on its length and complexity, but you can expect to earn approximately $0.10 per minute.
Most tests are worth $0.10, although on rare occasions it's possible to earn more.
You could make a good amount of money if there were lots of tests each day, but that's unusual. I signed up 3 days ago and only received one test so far!
Payment
---
You can request a payout via PayPal once you have earned $10. If approved, you will get paid within 30 days.
Final Thoughts
---
UserCrowd is a legit usability testing platform that you can use to make money online. It's trustworthy!
Tests are very easy to complete, the payout is fair, but the main problem is that there are not many opportunities.
So, even though the minimum payout was reduced from $20 to $10, it can still take months to cash out.
If you want to get paid more for usability tests, you can try What Users Do, and TryMyUI.
Verdict: Legit

A Life-Changing Path
---
I used to spend a lot of time taking surveys only to make less than 50 bucks per month.
I had no idea ordinary people were making a full-time income online and living an amazing lifestyle – without a boss and working anytime, anywhere they want!
One day I discovered how to build an online business and make money with affiliate marketing.
After working for 3 years on my initial project, I finally reached $1,000 per month in commissions!
It required perseverance, but thanks to a great step by step program and supportive community, I got the knowledge and motivation to succeed.

This reward platform is going viral! Cash out via PayPal, Visa, Gift Cards, and in-game currencies - Click here to find out how to generate an extra $10+ per day! 
You can get started with no specific skills and reach incredible results too!
I know many people who live the internet lifestyle and all of them had to work hard and persevere!

Now, if you want a lifestyle that very few people have and not depend on any job to pay the bills, you know it's well worth it!
Click Here and Check Out My No. 1 Recommended Program
Well, that's it for now. I hope this UserCrowd review was helpful to you. If you have any questions, please let me know in the comment section below.